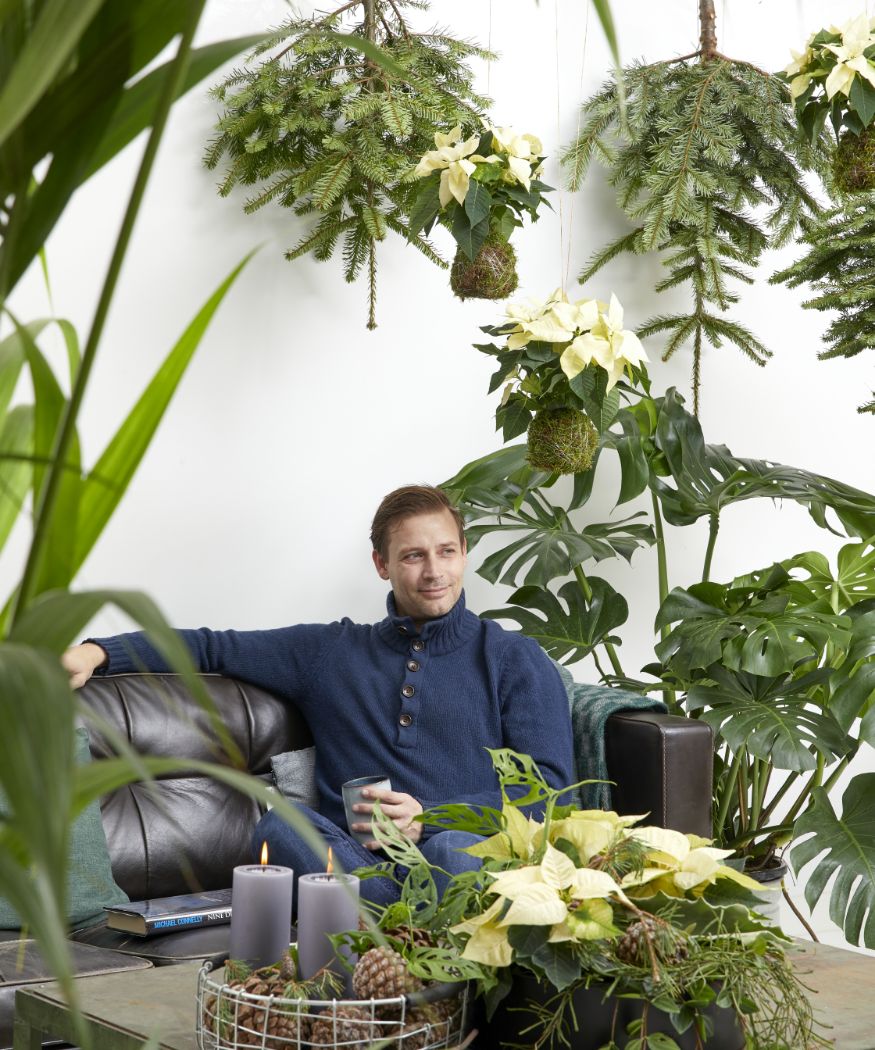 Relaxed loft look with poinsettias
This winter bloomer adds warmth to an urban industrial look and creates a festive mood
Regardless of space, the industrial look can be used to create a loft-like atmosphere in any home. This casual interior style is dominated by masculine elements. Muted colours such as grey, black, dark blue or khaki are typical, as is dark, large leather furniture, brick walls and vintage objects made of wood or metal. Accessories such as cushions and plants add a touch of warmth to this stark interior style.
In autumn and winter, poinsettias add softer accents and create a cosy mood. In the run-up to Christmas, these colourful indoor plants also herald the approach of the festive season with their magnificent, star-shaped bracts. The experts at Stars for Europe (SfE) show how poinsettias can be beautifully displayed in your home in an on-trend urban loft style.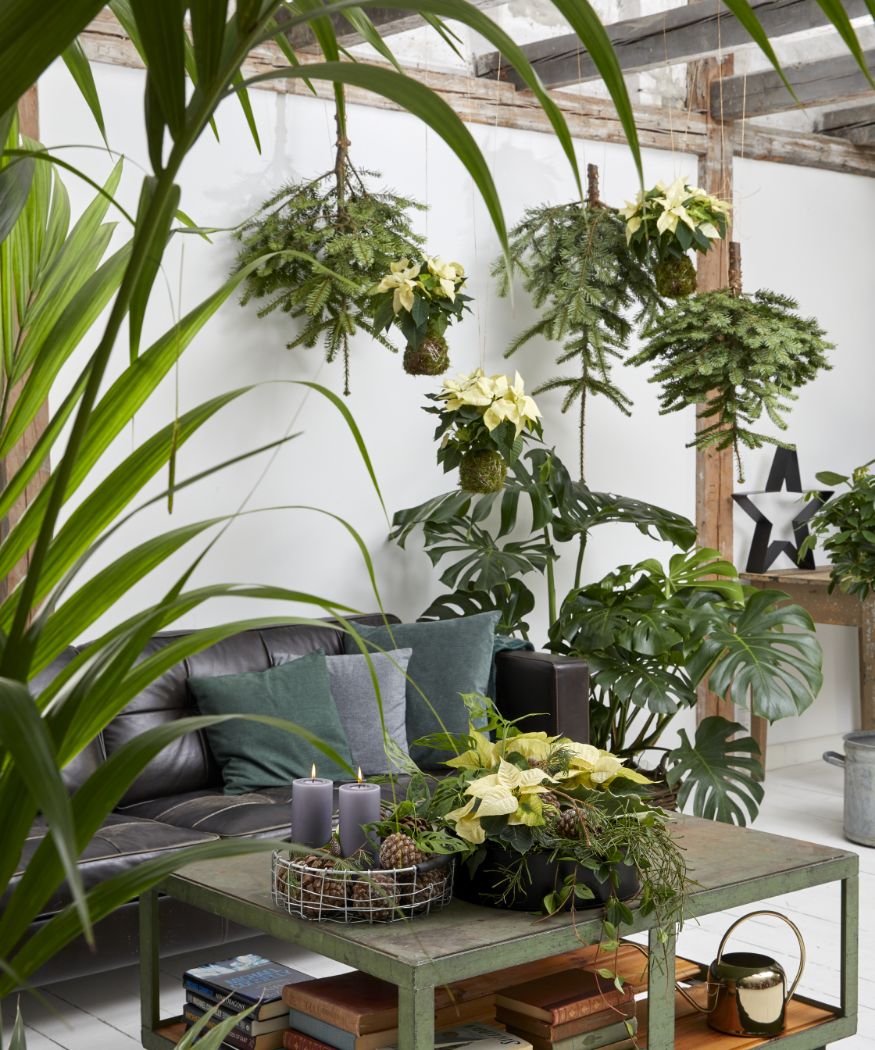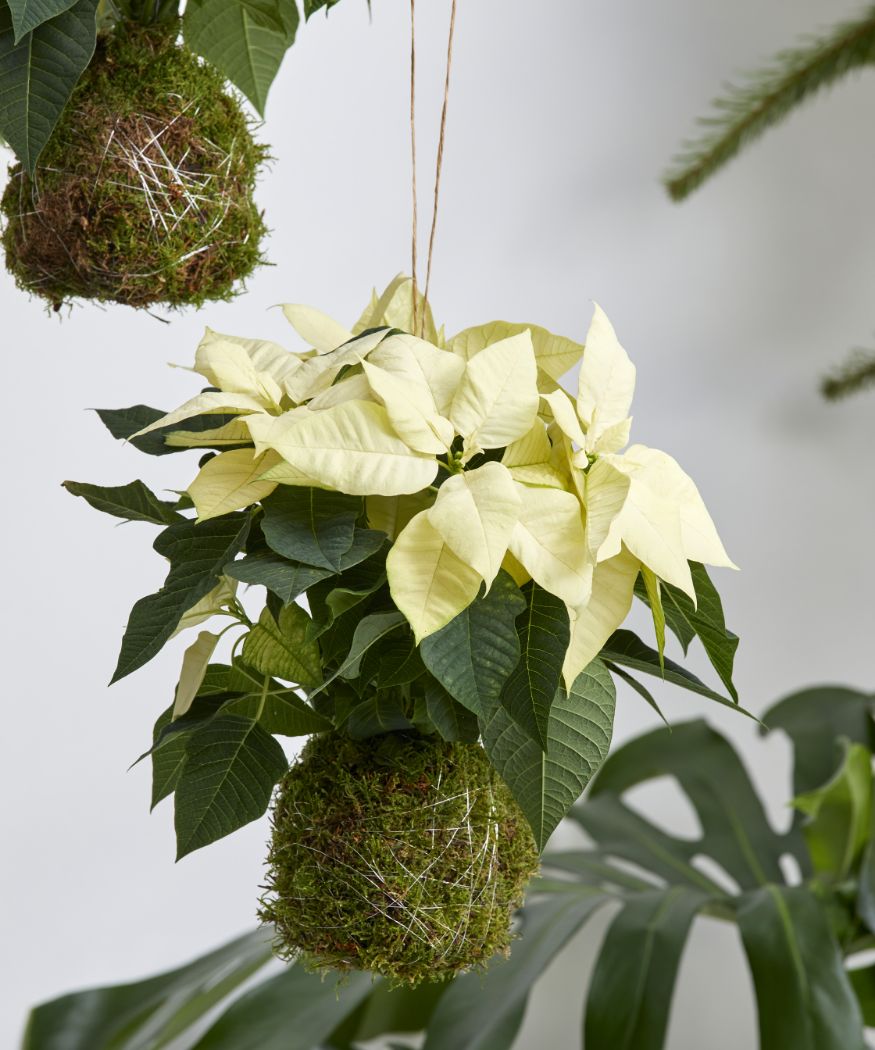 Get that jungle feeling with poinsettias and houseplants
A laid-back Christmas vibe with a jungle flavour. Surrounded by exotic foliage plants, pine trees hanging from the ceiling and cream-coloured poinsettias declare the upcoming festivities.
The natural decor, pared back to just a few colours, makes the industrial interior of this urban loft look inviting and homely.
A poinsettia hanging freely from the ceiling is a natural display that's easy to create. Remove the plant from its pot and wrap the root ball in moss.
Then wrap the moss ball with golden thread and hang it up. Water lightly from above. Alternatively, every few days, place the moss balls in a container with a little water die so they can soak it up.
Let them drain well before hanging back up.
A bowl planted with cream poinsettias, pepperomia, wax flower (Hoya linearis) and philodendron makes a stunning centrepiece.
Decorated with a feltbush (Kalanchoe berharensis) leaf, cones and pine branches, the arrangement creates a homely, yet natural, feel.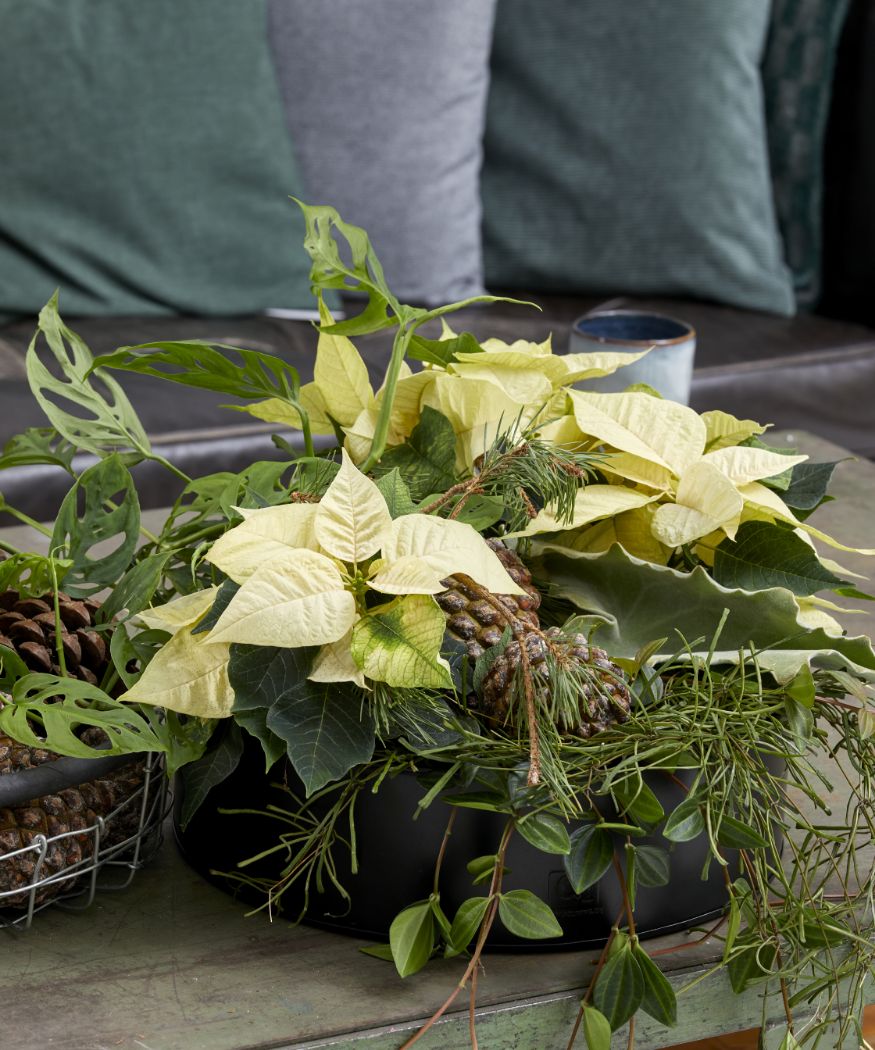 Vibrant accents in the grey-black interior
red poinsettias add bold accents to these black kitchen units. Together with the candles and the deer figurine, they signal the arrival of Christmas. A zigzag bush (Muehlenbeckia Astonii), echeveria, pepperomia, oyster plant (Tradescantia spathacea) and arrowhead plant (Syngonium podophyllum) further enhance the cosy atmosphere.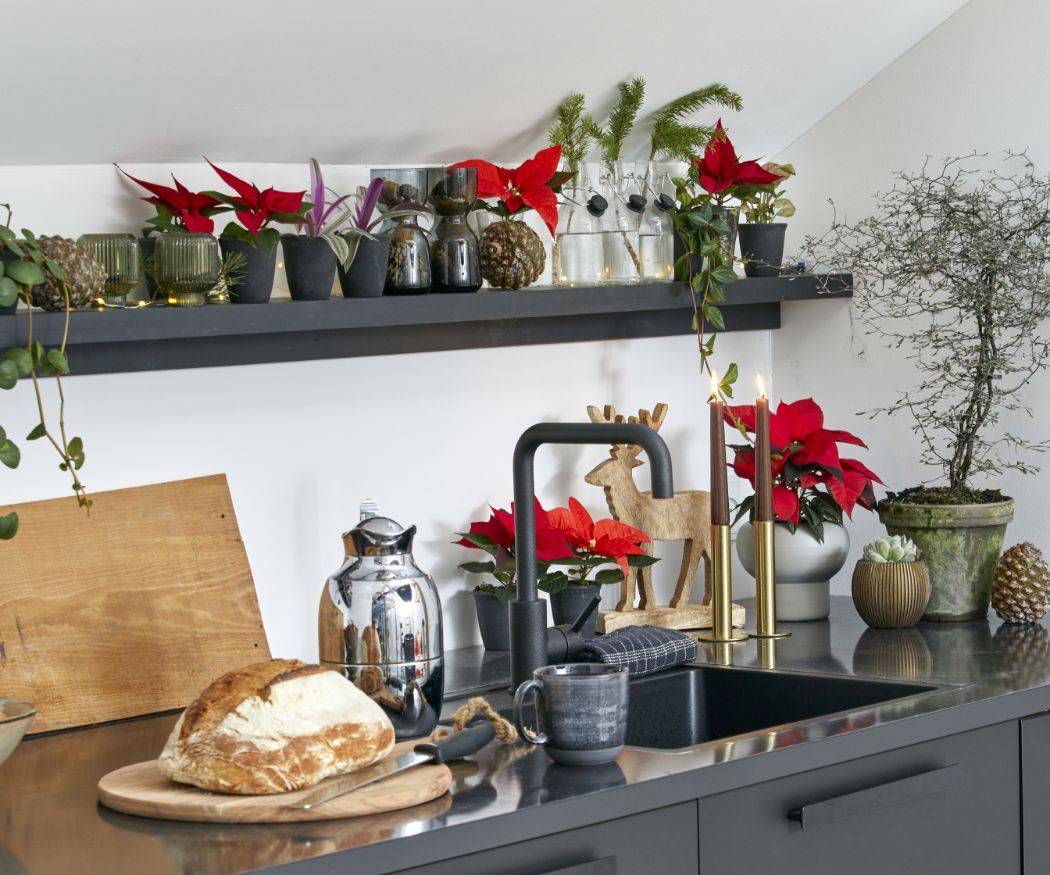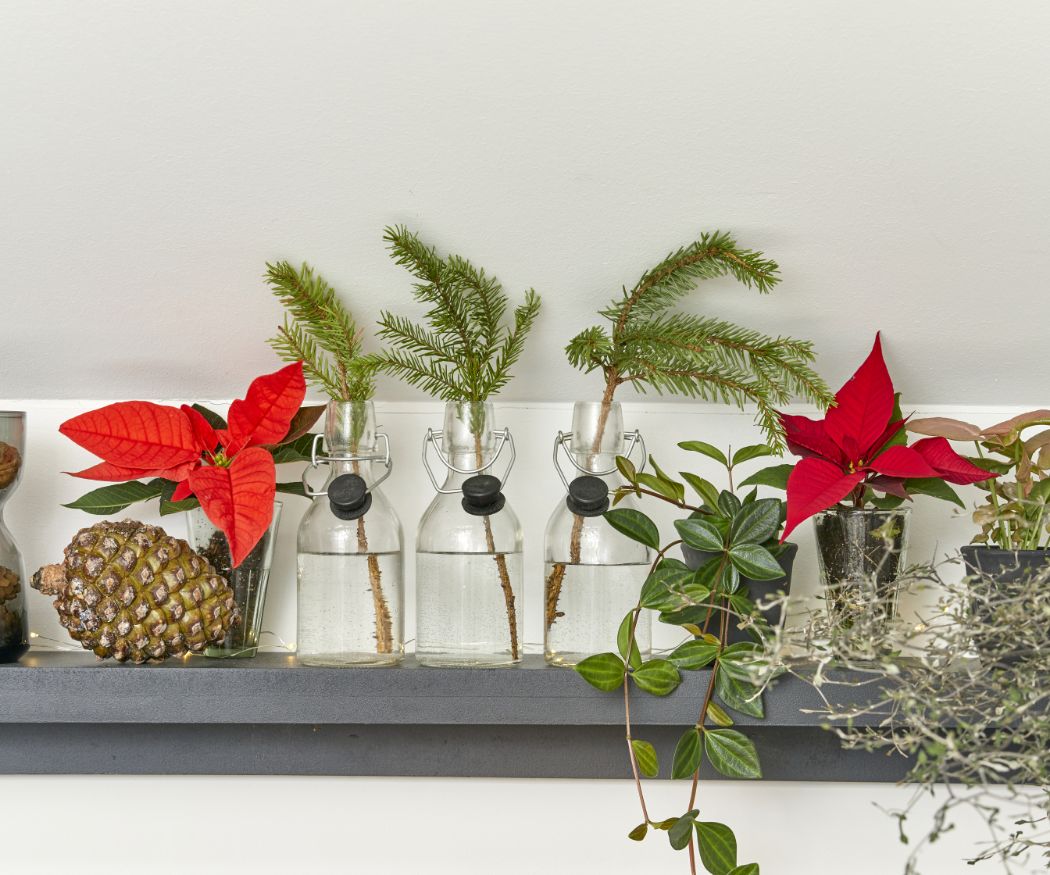 Mini poinsettias can even fit on a narrow wall shelf. With their star-shaped, bright red bracts, they bring colour into rooms in winter and create a festive feel in the run-up to Christmas.
Magical poinsettia centrepieces for the festive table
With a few simple steps, a cast-iron holder for eight candles can be transformed into a stunning Advent display. Cover the root balls of red mini poinsettias with moss. Then arrange the poinsettias together with cones in the centre of the candle holder and decorate with rosehip and pine branches. The red bracts and the red and yellow taper candles form a striking contrast with the black lacquered table.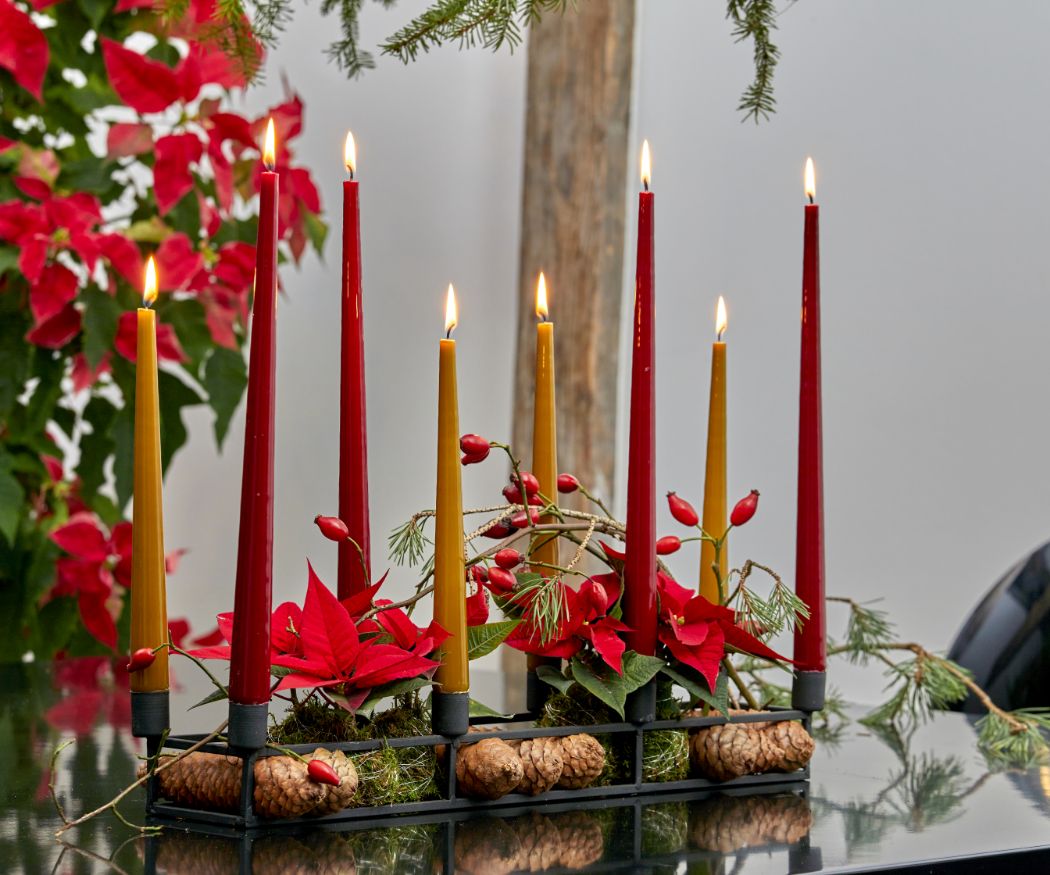 As floating plants in wine glasses, mini poinsettias are a stylish table decoration that's quick to make. Take the plants out of their pots, then carefully wash the root balls until the fine root system is exposed. Finally, arrange the poinsettias in glasses filled with water.
Tip: Poinsettias do not like waterlogging. As floating plants, they should only be kept for a short time.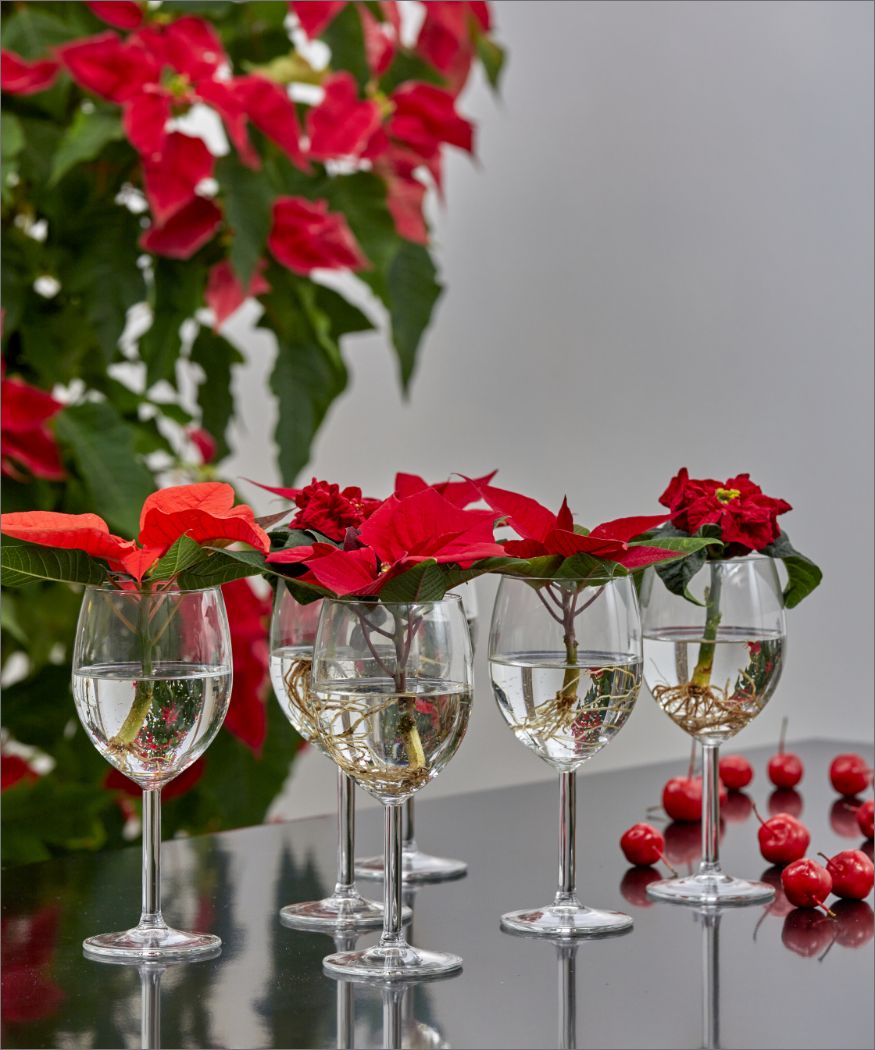 Craft project: Upcycled poinsettia plant stand
In these homemade plant stands made from old chairs, poinsettias can be displayed in a fresh and unconventional way.
Upcycled plant stands made from chairs containing a cactus and poinsettias and fir trees hanging from the ceiling.
Christmas trees hanging upside down from the ceiling combined with the cactus add a touch of originality to the scene. These upcycled plant holders are simple to make.
You will need an old wooden chair, a jigsaw, chalk, a terracotta pot and a large poinsettia.
Here's how to make it: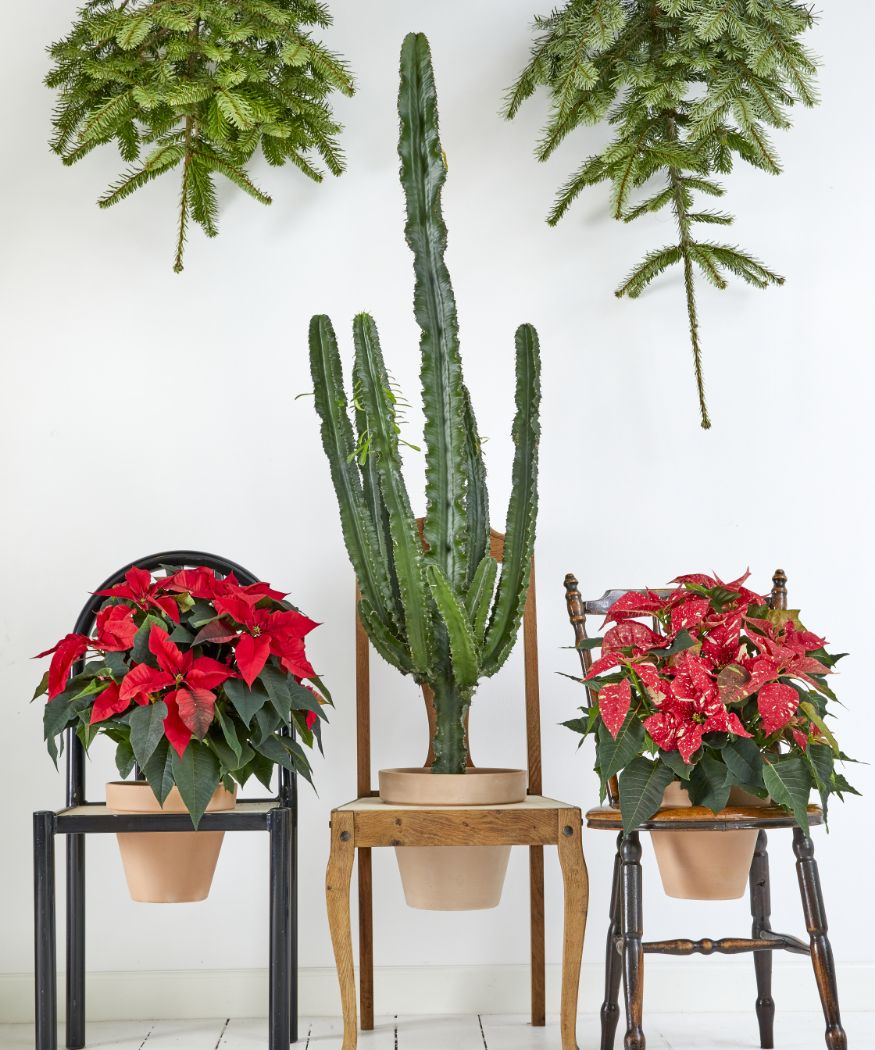 Draw a circle on the seat of the chair with chalk, making sure its diameter is smaller than that of the terracotta pot.
Saw out the circle with a jigsaw.
Place the terracotta pot in the hole and plant the poinsettia in it.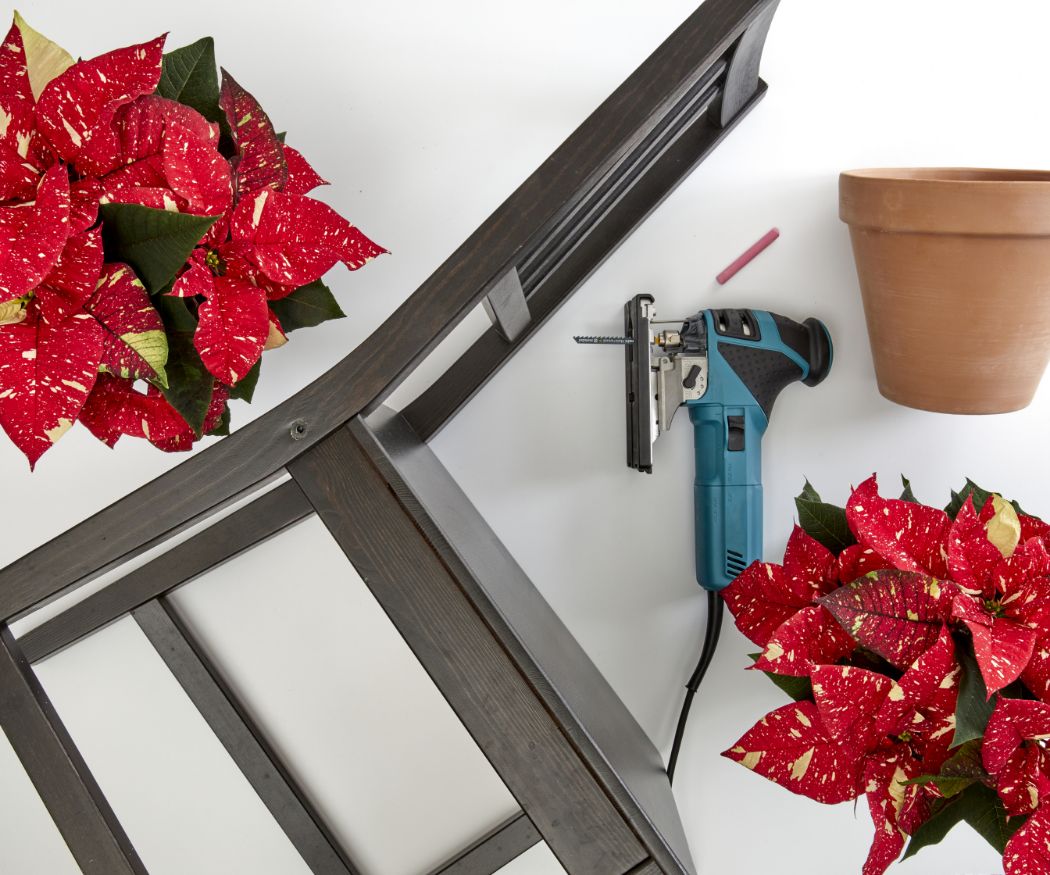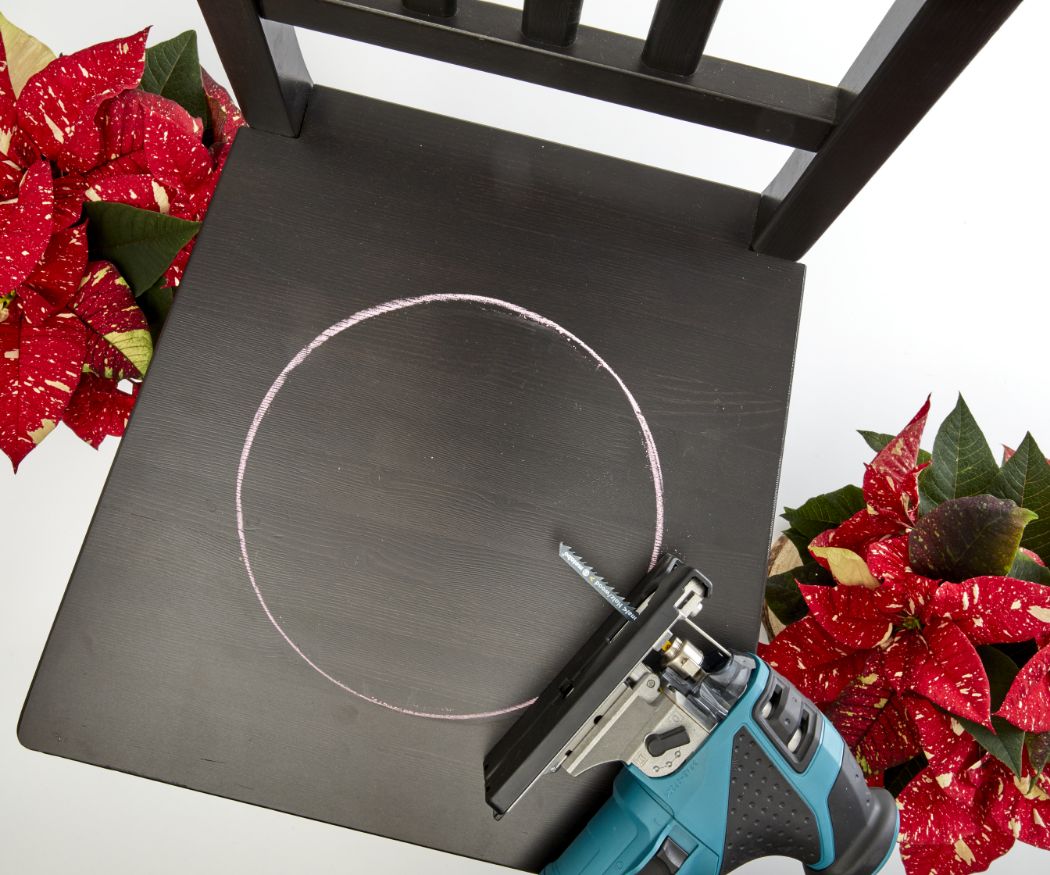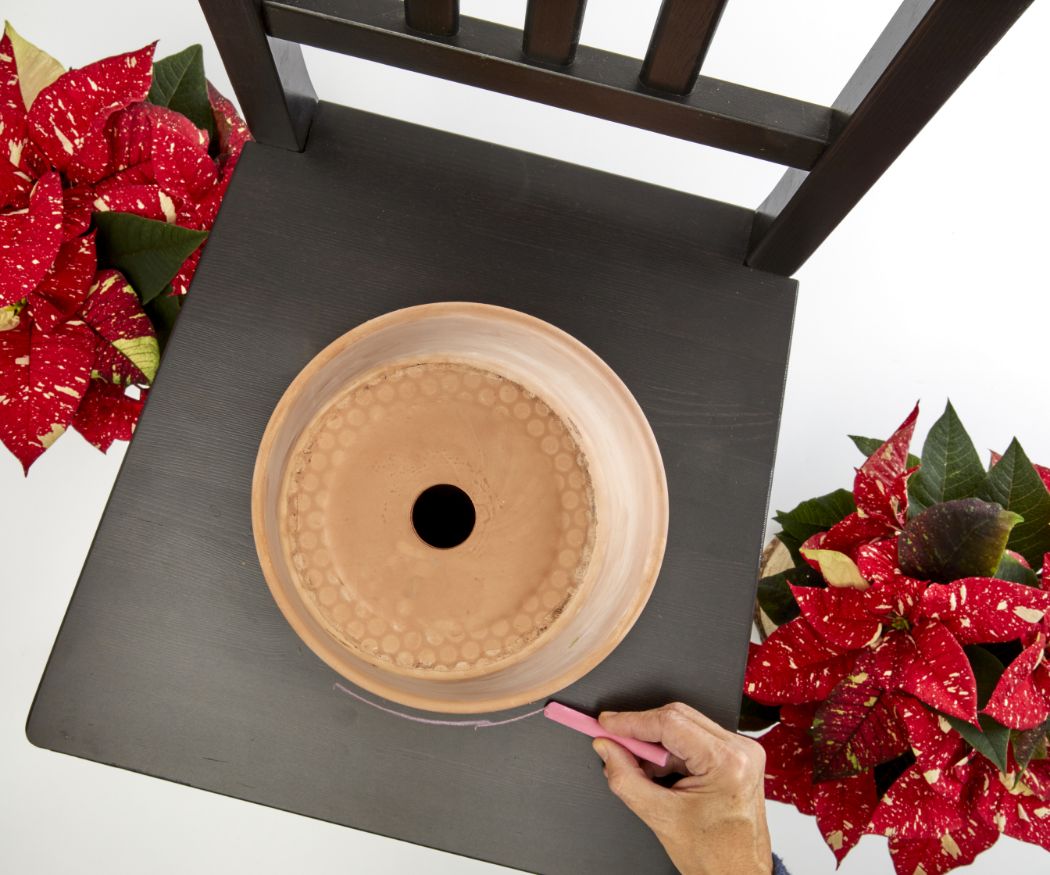 Tip: Position the chair where any water leaks won't be problem. If necessary, place a suitable terracotta drip tray under the chair when watering, as poinsettias don't like to be waterlogged. Make sure the plant pot has a drainage hole.
Advent still life with poinsettia
Instead of arranging them on a tray, Christmas accessories can simply be tied loosely together.
Here, a cream-coloured poinsettia in a planter, cones, bottles holding candles, twigs and a ceramic Christmas tree form a decorative still life.