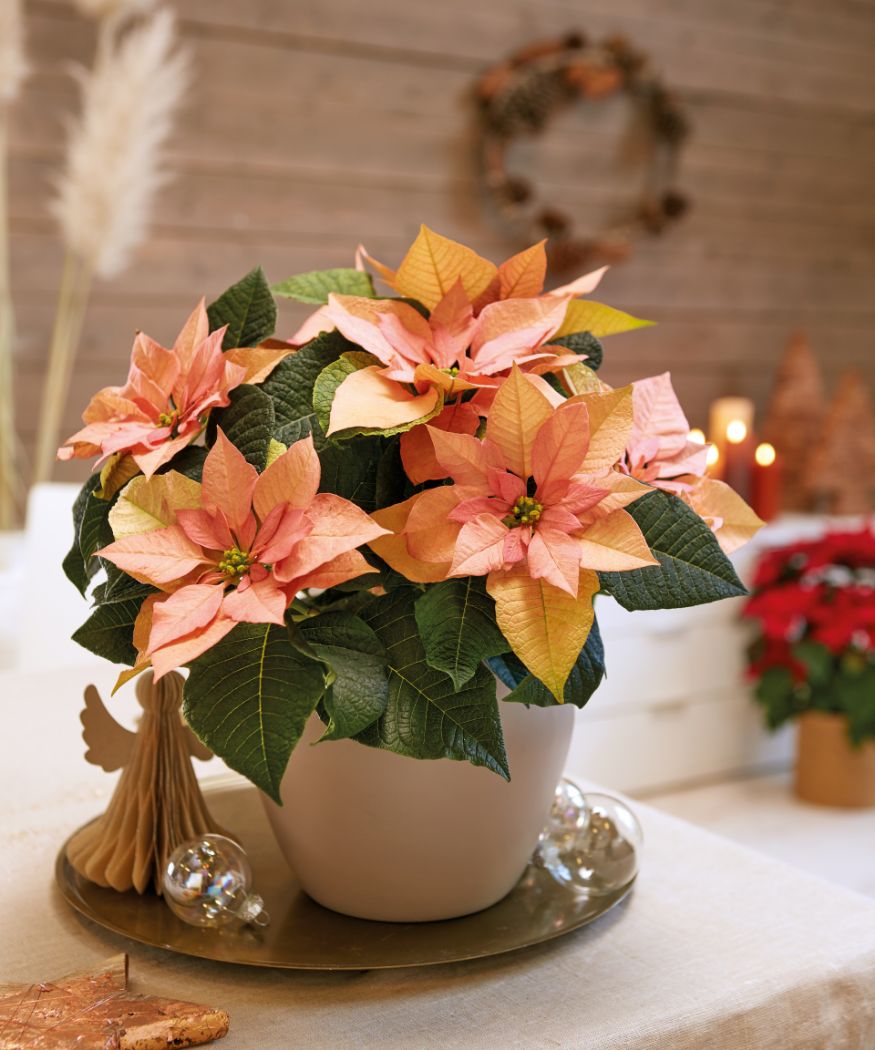 "Not Just for Christmas: How to create a colourful plant paradise with poinsettias".
From autumn onwards, poinsettias can win hearts with many colours and varieties. This beautiful winter-flowering plant has proved itself to be an essential accessory when it comes to styling living spaces with a special touch. The poinsettia is a versatile houseplant that can be used in creative combinations with other plants. Interior design experts at Stars for Europe demonstrate colourful ways to décor your space with poinsettias, which is especially easy at the start of the season as it's when the biggest selection of colourful variety is available. So, poinsettia fans don't have to wait until Advent!
Green Living
Take a seat and exhale. Your living space is turning green. Indoor plants play an important role in the trending style for green living; running like a green thread through life.
Poinsettias appreciate the same positioning as many other houseplants, so they can be easily combined with greens. Especially from October onwards, apricot or creamy white poinsettias can create seasonal colour accents between the rich green leaves of permanent houseplants like indoor palms, Pilea or Monstera. Soft shades combine with different tones of green to create a harmony between all elements.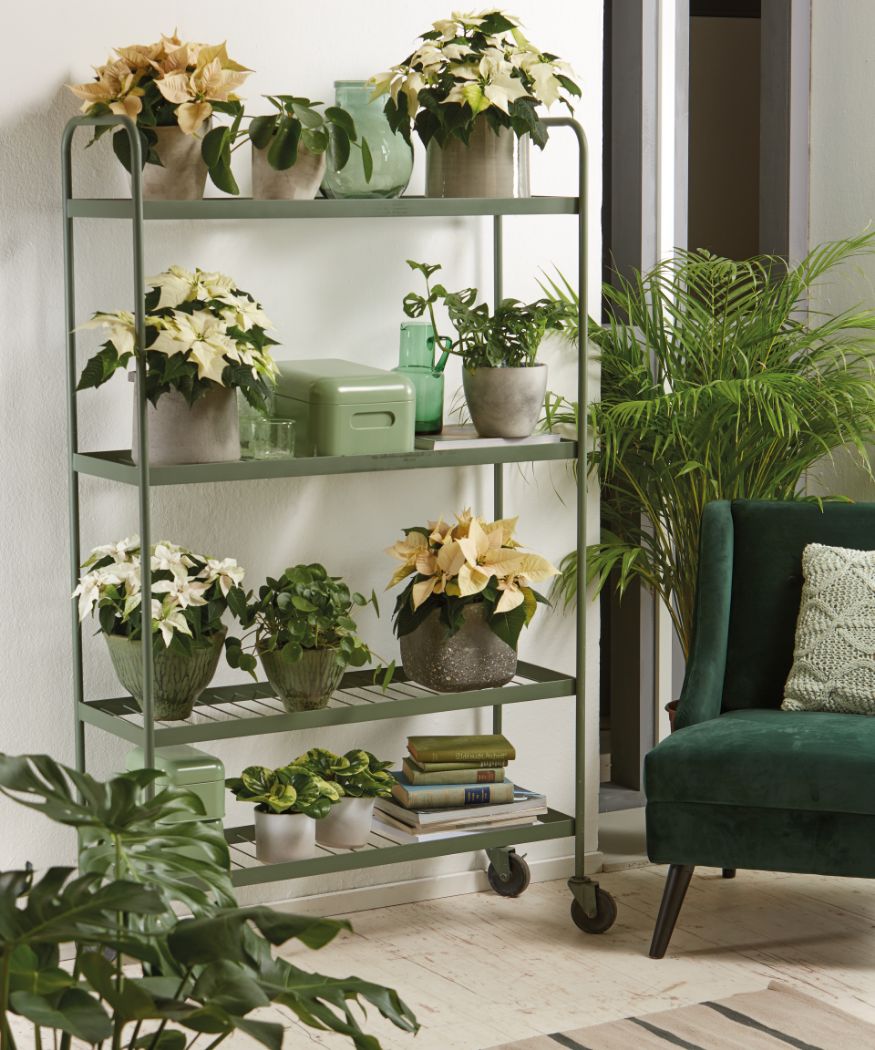 Tip: Grouped plants create a stronger look than placed alone, especially in neutral-coloured planters. Stone grey is ideal – either glossy or matt will work well.
Warm autumnal tones
Pure harmony: an evocative combination of apricot, terracotta and burgundy combine to bring a touch of late summer.
This is timed perfectly with the changing seasons, as colourful poinsettias start becoming available as early as October, meaning they can complement a broad range of year-round foliage houseplants. When it comes to pots, terracotta is the perfect choice. It's a classic favourite that never goes out of fashion – just like the poinsettia.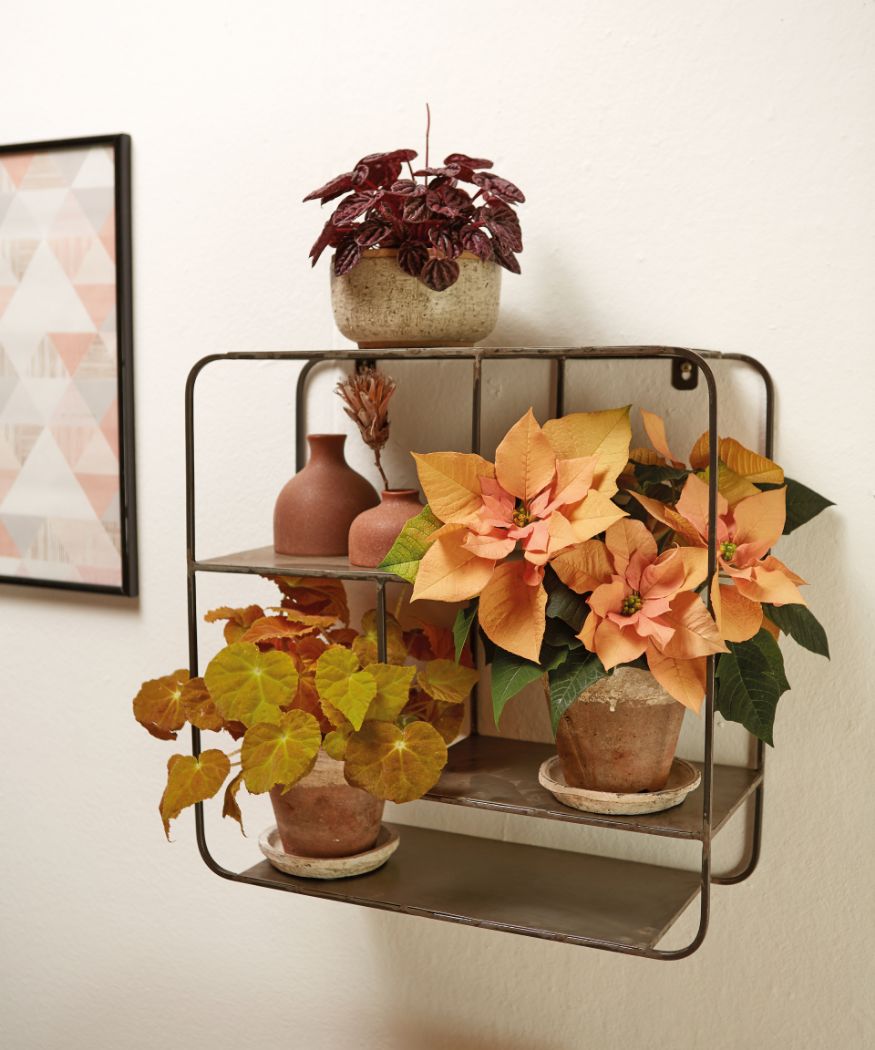 Soft blush tones
Subtle blush tones are everywhere these days – in fashion and cosmetics, as well as interior design. In fashion, a shade of pale pink is highly flattering; apply cheek blush to look fresh-faced in seconds.
In the home, a colour accent of blush has the most striking effect on muted interior colour schemes. Poinsettias in soft shades are available to capture hearts from October onwards.
Their colourful blush leaves look particularly on-trend in combination with yellow ochre accessories, giving depth to soft tones. Even in combination with hot pink, additional delicate tones are magic.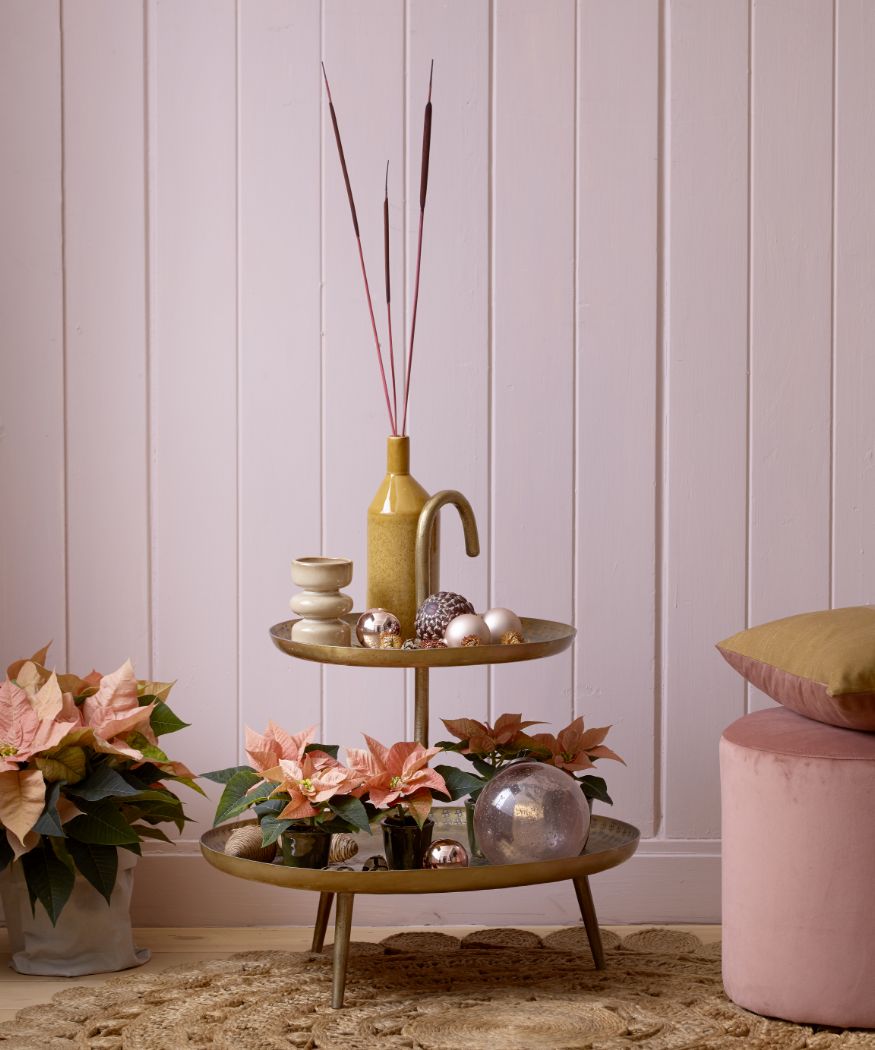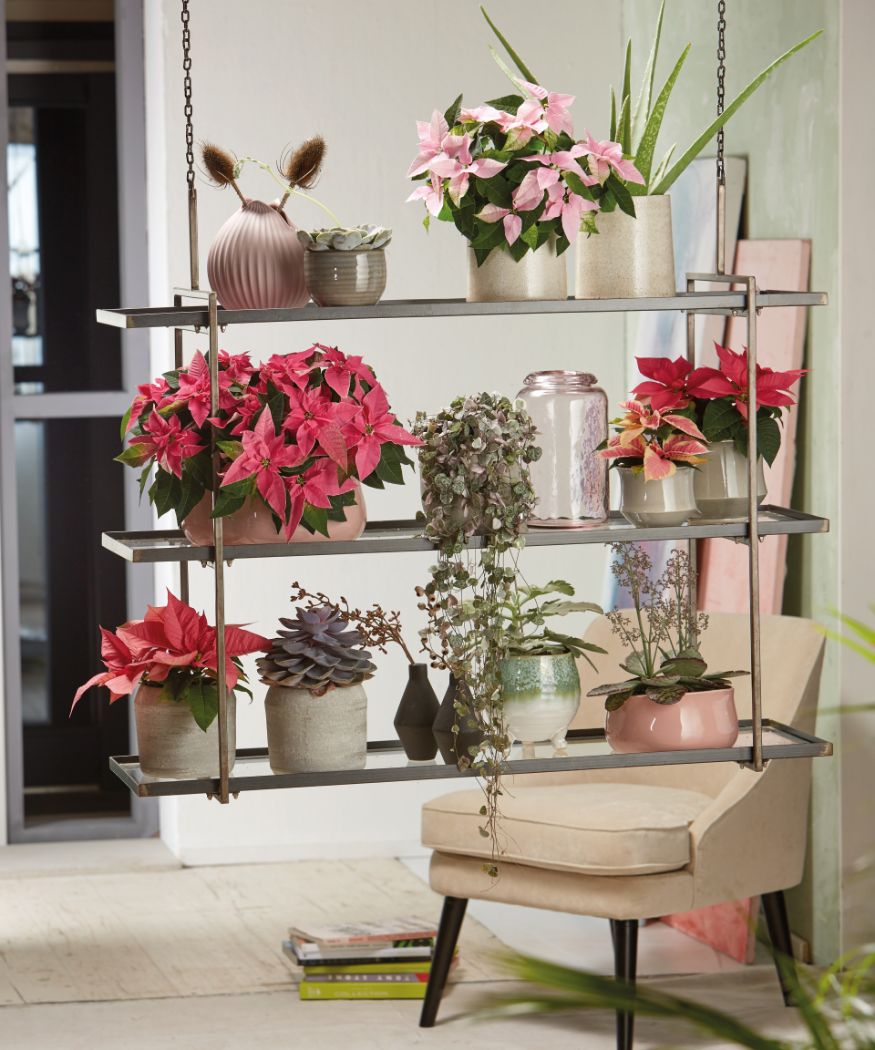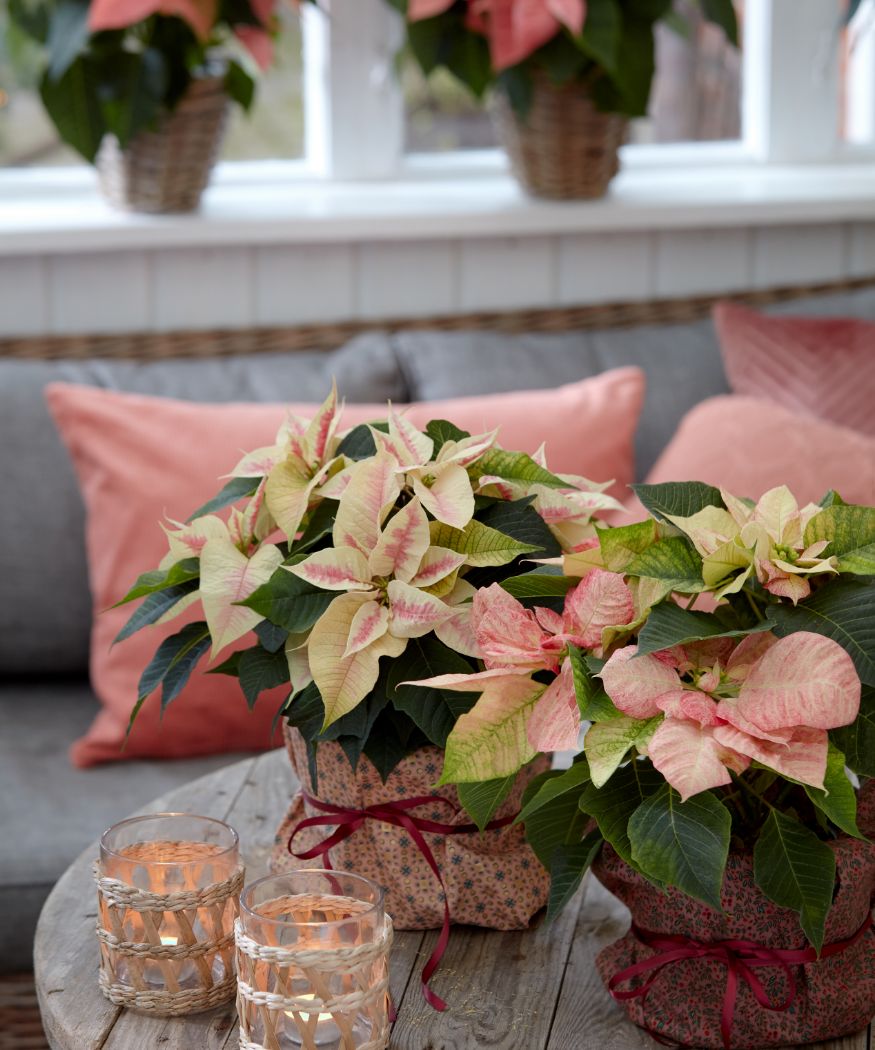 Left: Hanging shelves are perfect living room dividers. You can decorate to suit the seasons in a few easy steps by changing flowering plants. In winter, it's got to be poinsettias that share the shelves with succulents. Choose delicate blush tones and combine them with pink for an on-trend look.
Right: As if the room is blushing. Trending blush poinsettias appear delicate at first glance, but in fact they're tough as nails. These soft shades will make you fall in love with home all over again.
Natural country charm
The natural charm of country life may seem simple, but it's got a lot to give. Vintage features can be beautifully matched with on-trend furniture. Choice of material is very important and should be as natural as possible. In this trend, poinsettias can be displayed as everyday accessories long before Advent, giving a fresh look to non-seasonal decoration.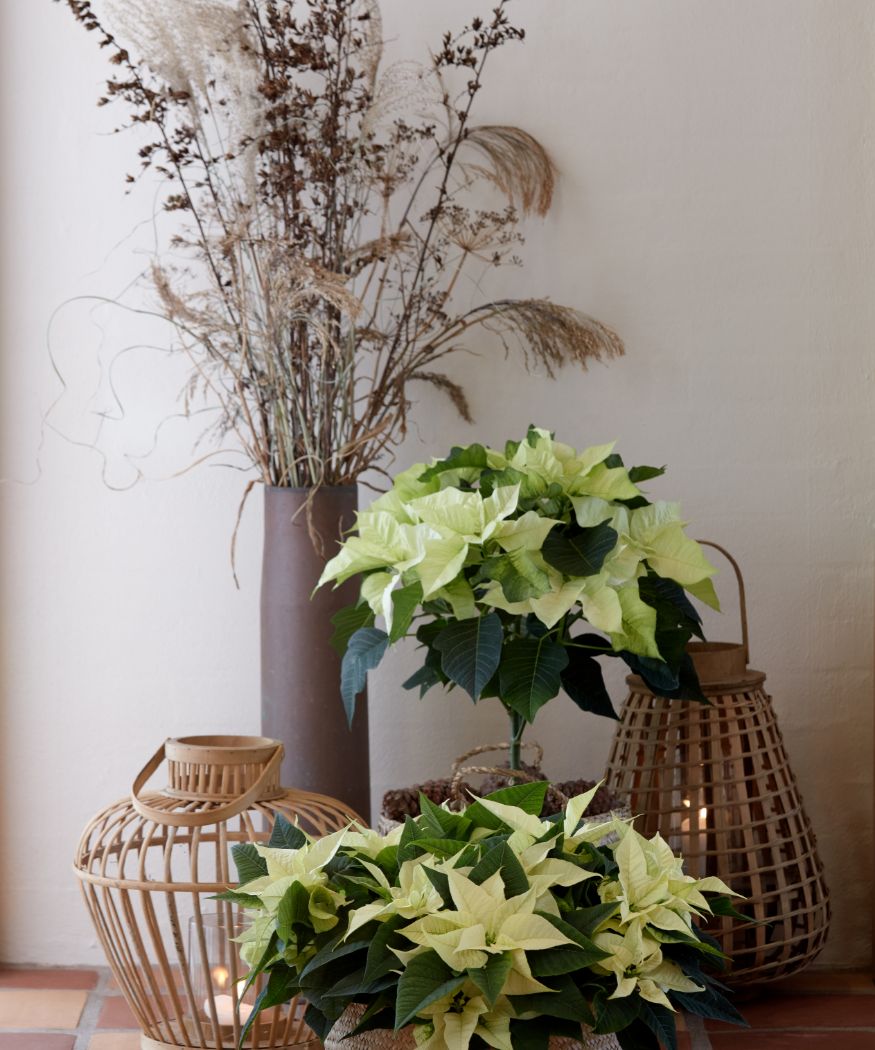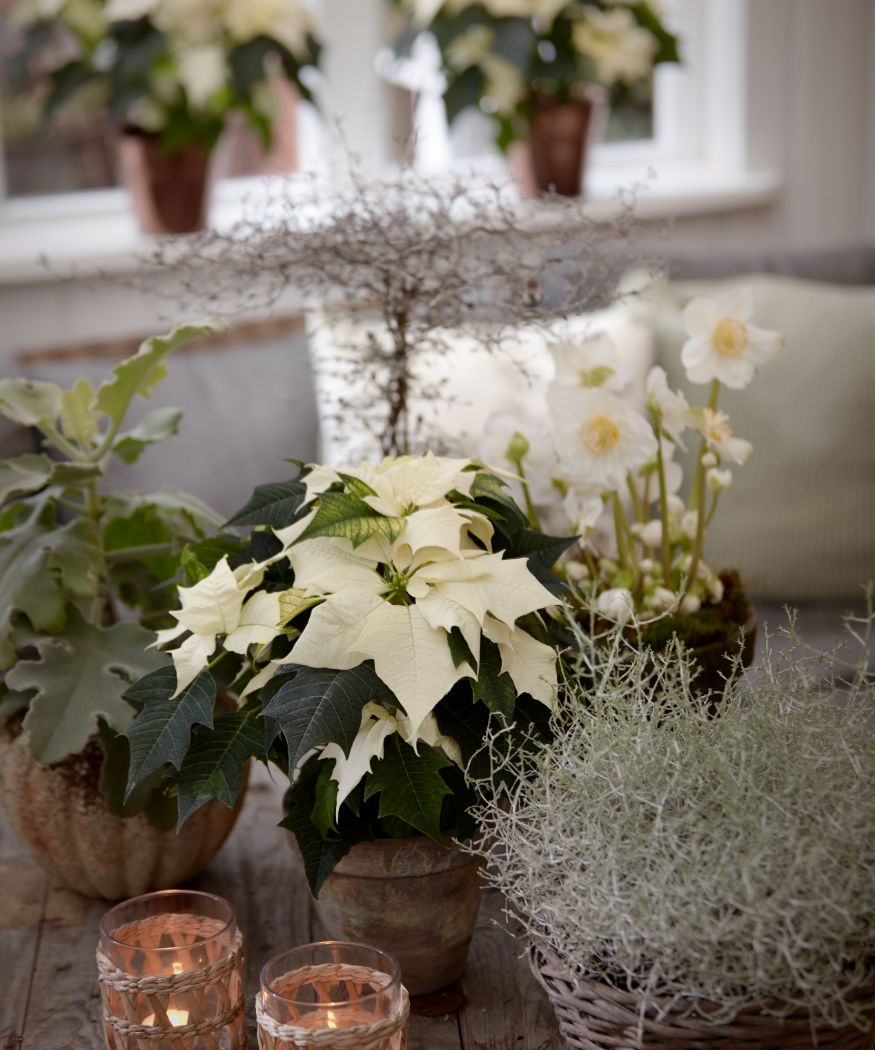 The possibilities are endless and range from small accents to an abundance of flower power. Why not present a whole row of pots on a ledge or fill woven baskets with these pretty winter blooms?