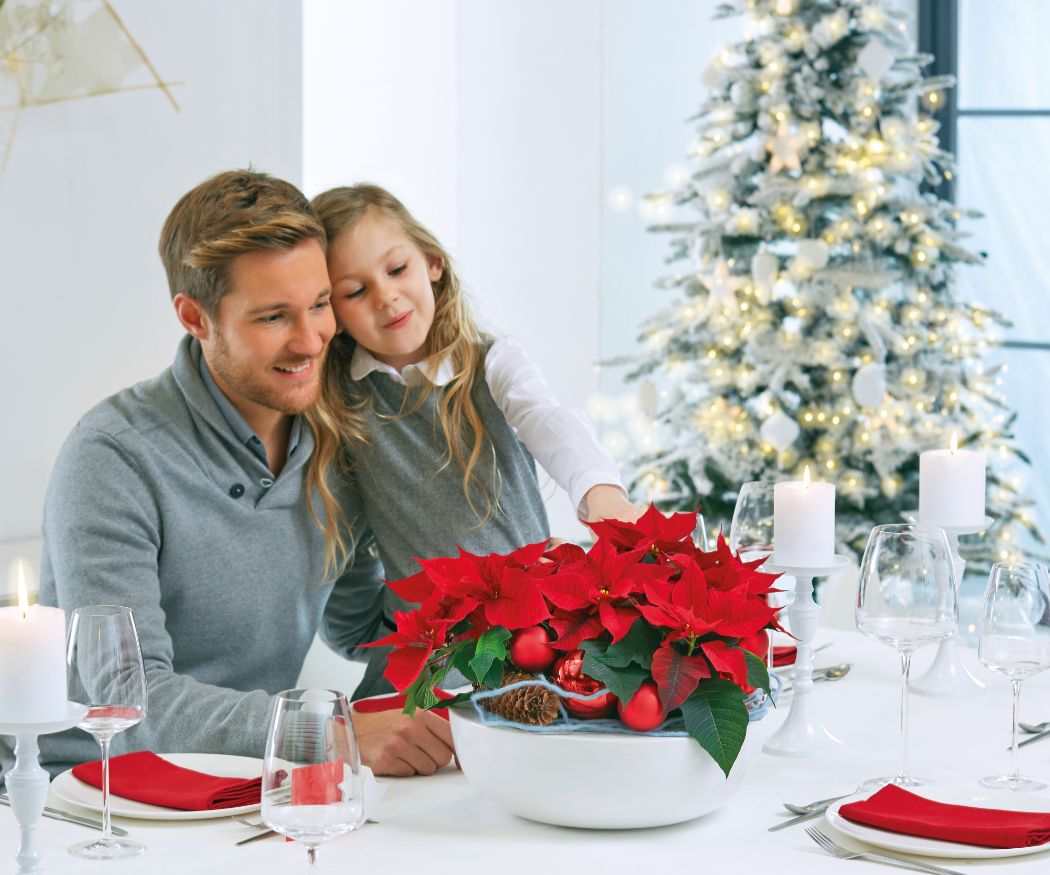 Festive table decorations with poinsettias
Why poinsettias are perfect for table decoration
Because of their magnificent bracts poinsettias are an ideal occupation for atmospheric table decorations. The bracts form large mock flowers that easily rival any real flower in terms of grace. But poinsettias have much more to offer: They come in countless colors, shapes and sizes. So you can easily adapt your table decoration to the look you want to create. Whether you arrange poinsettias as cut flowers in a vase or in a flower arrangement. Whether you present them in a pot, place them alone or combine them with other winter bloomers – the creative possibilities with poinsettias are almost unlimited.
Festive table decorations with pot Christmas stars and cut poinsettias
Discover inspiring table decorations with potted and cut poinsettias in different sizes, colors and looks. Get inspired by our ideas and turn your table into a blooming winter wonderland.
Table decorations with mini Christmas stars
Mini Christmas stars are popular. No wonder, they are in no way inferior to their big siblings in terms of color variety. Because of their small size, the plants also offer many possibilities for creating festive arrangements. See for yourself what magical table decorations you can create with mini poinsettias!
DIY idea: Mini Christmas star in upcycling pot
Looking for a sustainable table decoration? Then surprise your guests with a mini Christmas star in a tin can covered with clothespins.
The DIY project in upcycling style also serves as a place card. You can easily implement the decoration idea yourself.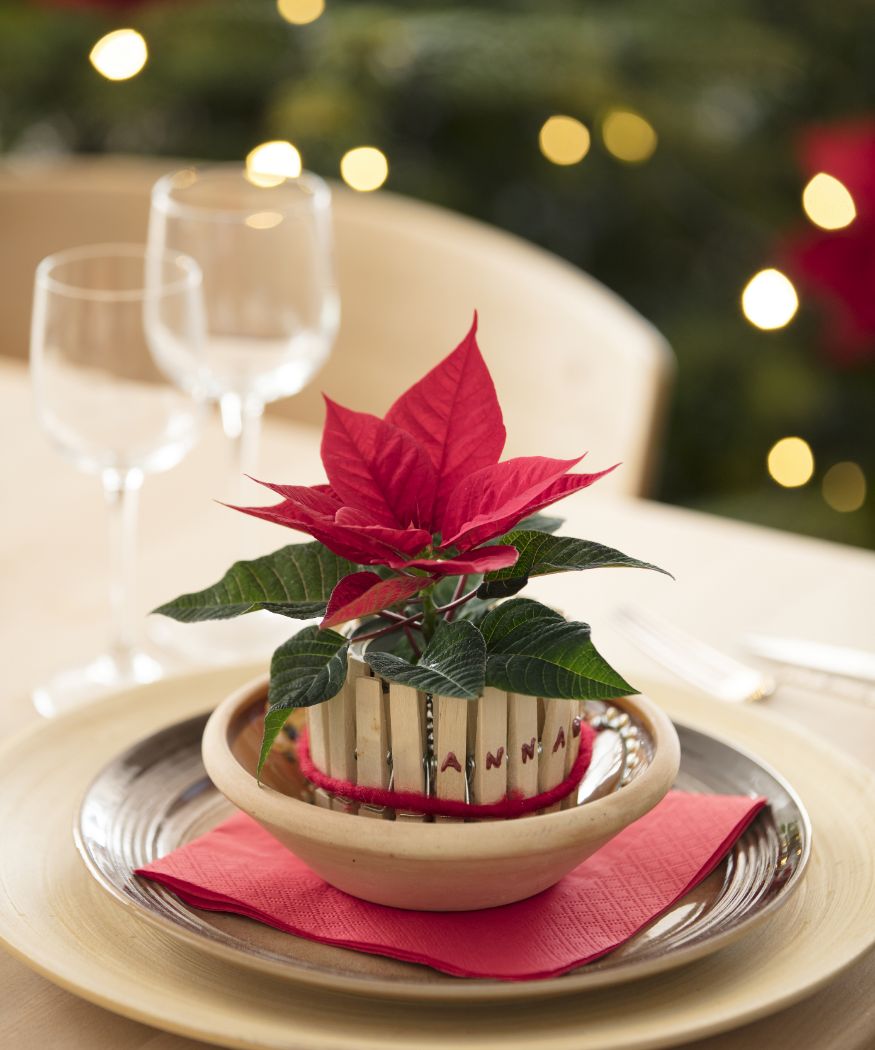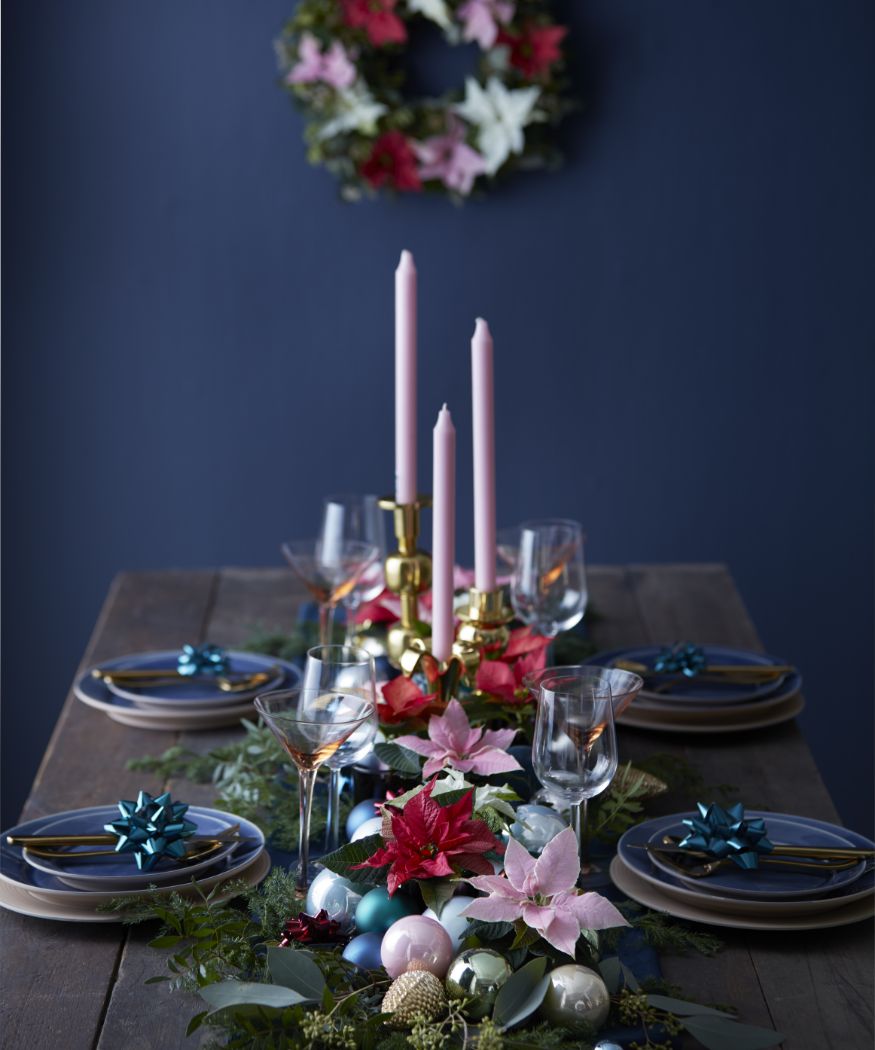 Christmas "table runner" with mini poinsettias and baubles
Give your table a festive glow with an enchanting table decoration: colorful mini Christmas stars and pink candles take their place on a bed of fresh cut greenery.
Accompany them with sparkling baubles and other Christmas accessories.
Here's another insider tip: add a few sprigs of eucalyptus here and there. Eucalyptus is all the rage and adds a unique touch to your decorations.
Christmas star magic in delicate pastel shades
Minimal effort with maximum effect:
For this uncomplicated table decoration in delicate pastel shades, you distribute different colored mini Christmas stars in matching planters on the table and put a few candles in between. Anyone can do this, even last minute!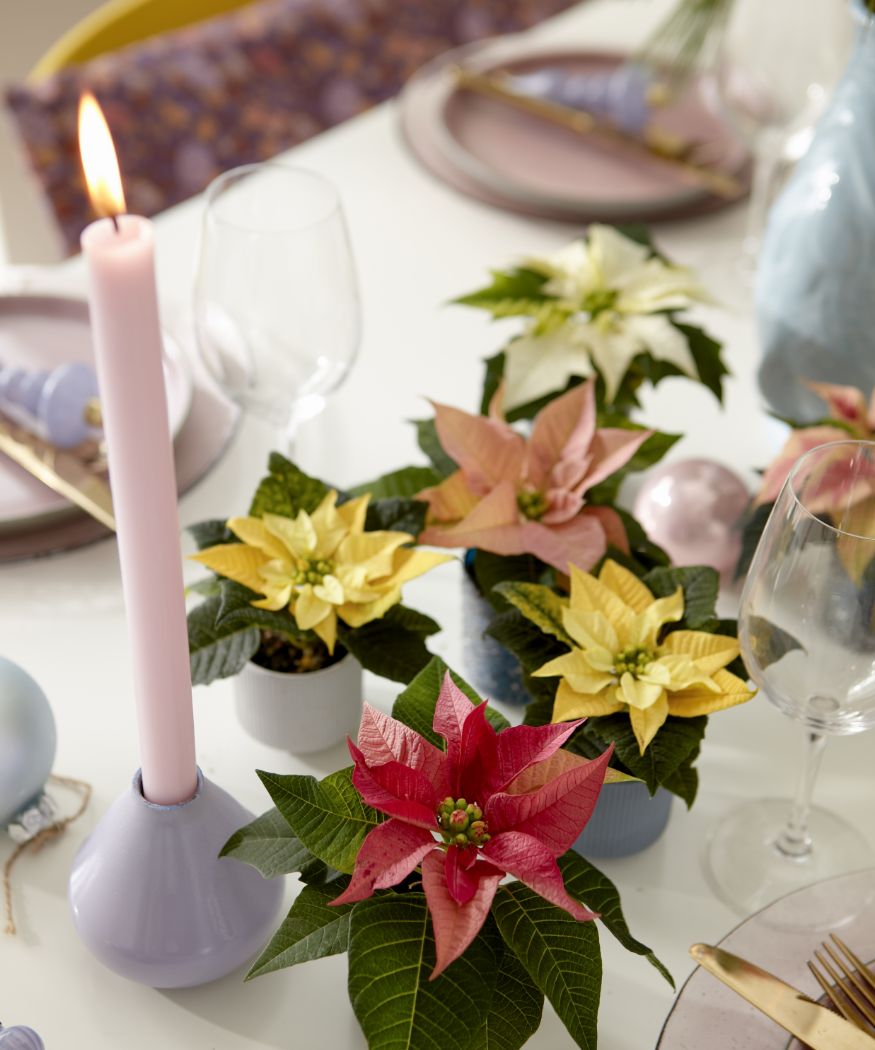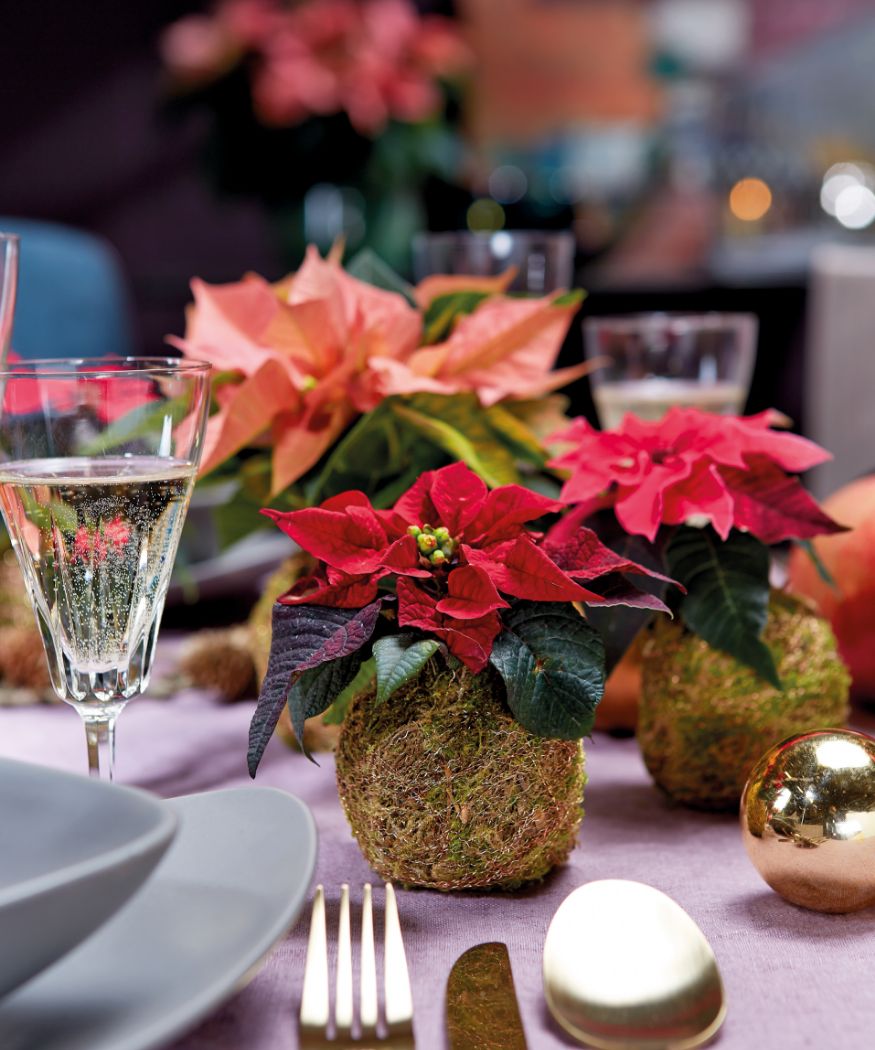 Kokedama style mini Christmas stars
In festive Kokedama dress these mini Christmas stars dare a glamorous appearance on the festive table.
You can easily make the filigree eye-catchers yourself.
Carefully remove the mini poinsettias from their plant pots, wrap the root balls with moss and wrap it tightly with golden decorative wire.
Finally, apply a touch of glitter spray. Done!
White mini Christmas star as welcome and name tag
White mini Christmas stars will give your guests a bright welcome to any place.
Write the respective name on a sign made of architect paper and attach it to the pot along with a gilded leaf and decorative ribbon.
This idea is a creative alternative to the traditional place card and is sure to leave a lasting impression.
Snowfloss around the planter looks beautiful and protects the dishes from dirt. Try it out and look forward to enthusiastic reactions from your guests! 😊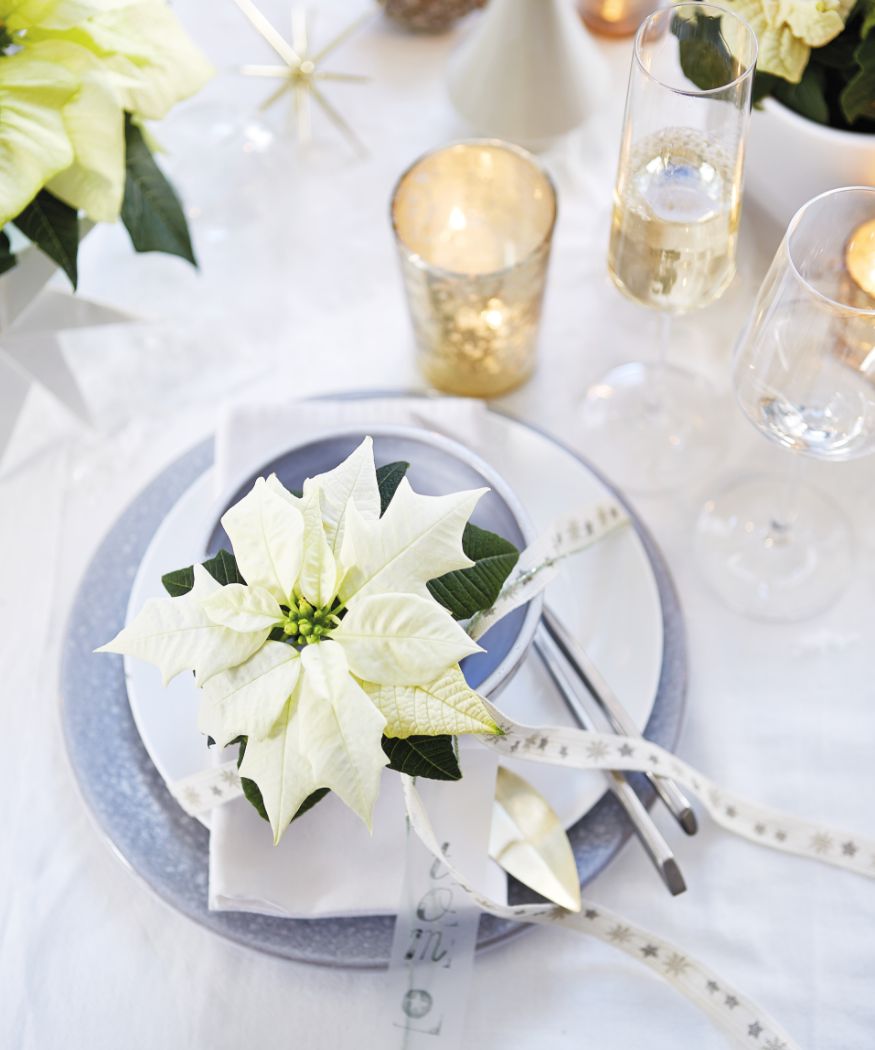 Opulent table decoration "Forest Christmas" with red mini Christmas stars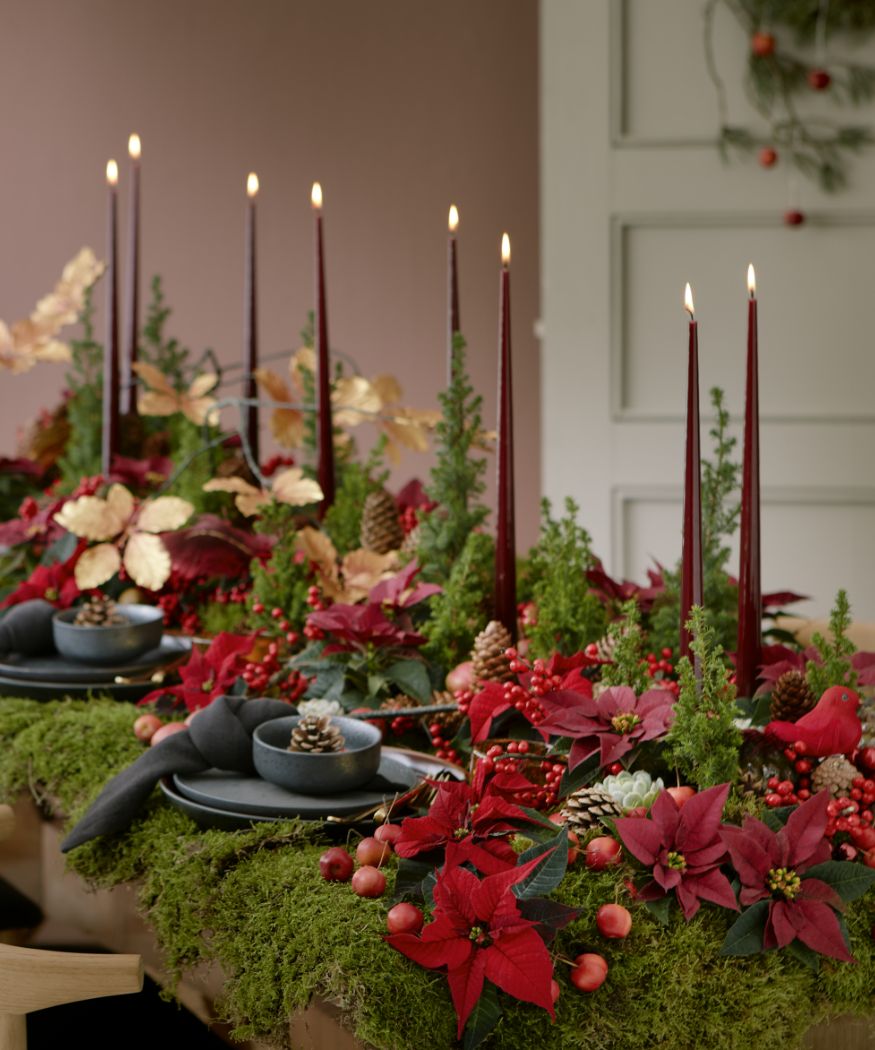 Admittedly: The chances that you make this sensational table decoration this year to yours, are not exactly high. Nevertheless, we don't want to deprive you of it 😉 The "Waldweihnacht" consists of a variety of natural materials, a living work of art!
On a lush layer of moss are red mini Christmas stars next to small mock cypresses and echeverias. Sprigs of holly, (ornamental) apples, various cones and leaves decorated with gold paint add decorative accents, while dark red stick candles provide cozy light. If you actually want to try them, note that there are rules and restrictions for gathering natural materials in the forest.
To be on the safe side, buy larger quantities of moss or cones at a garden center or craft store. Be sure to use a waterproof base for this table decoration idea to ensure that your table will not be damaged.
Table decorations with standard Christmas stars in pot
Not only with the filigree mini Christmas stars you can create magical table decorations. The normal-sized standard Christmas stars also make fantastic, splendid table decorations as potted plants. We hope you enjoy discovering our decoration ideas with standard Christmas stars in pots.
Nostalgic Christmas table "Childhood memories" with red poinsettias
Christmas makes you want to tell the stories of your childhood, memories come flooding back. How about this original table decoration that evokes happy childhood memories and invites you to tell stories?
Maybe you can find a good old wooden train set in your attic. Get it out and set it up on the table. In combination with animal figures and fir trees, you can give your table a wintry forest ambience in no time at all. Small candle holders – also in the shape of a tree – provide light in the "dark fir". Bright red poinsettias, which you simply scatter all over the table, set festive accents.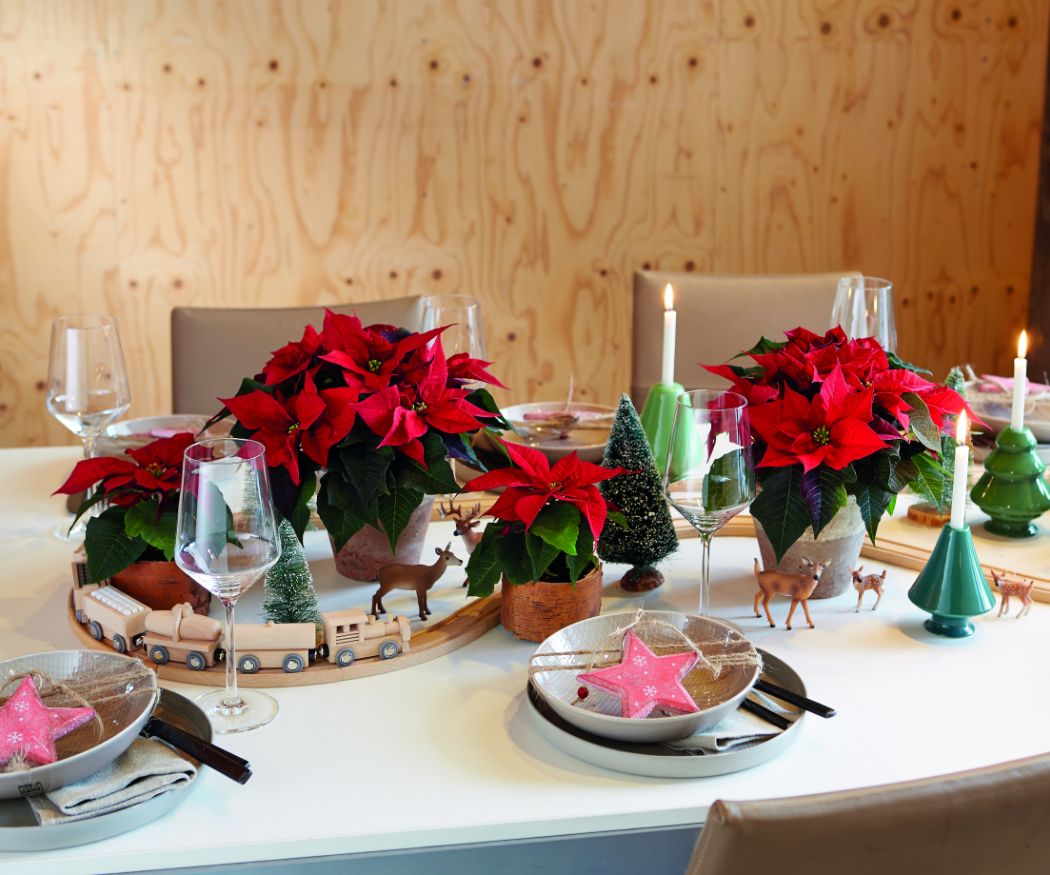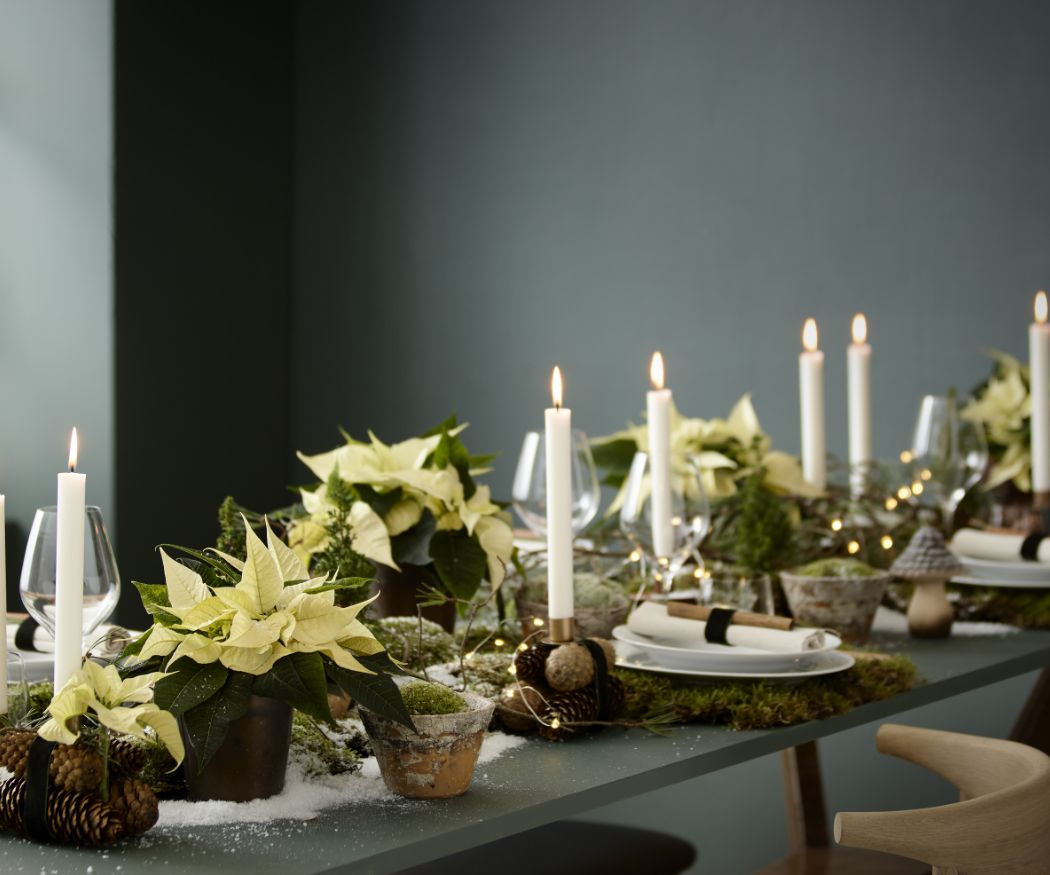 Natural table decoration "Winter forest" with cream poinsettias
Nature decor trend: Doesn't this Christmas table decoration remind you of a snow-glittering winter forest?
With natural materials such as moss, cones, small mock cypresses, artificial snow and wooden mushrooms, you can create a decorative setting in which the cream-colored pot Christmas stars are shown off to their best advantage. For atmospheric lighting provide fairy lights and white stick candles.
Cheerful table decoration with poinsettias in delicate pastel shades
How cheerful and carefree this festive table looks! And this despite the abundance of decorative accessories. The soft pastel tones give the table decoration a surprising lightness.
The stars are three lush poinsettias placed in simple planters in the center of the table. In delicate shades of pink and yellow, they exude good cheer and Christmas flair.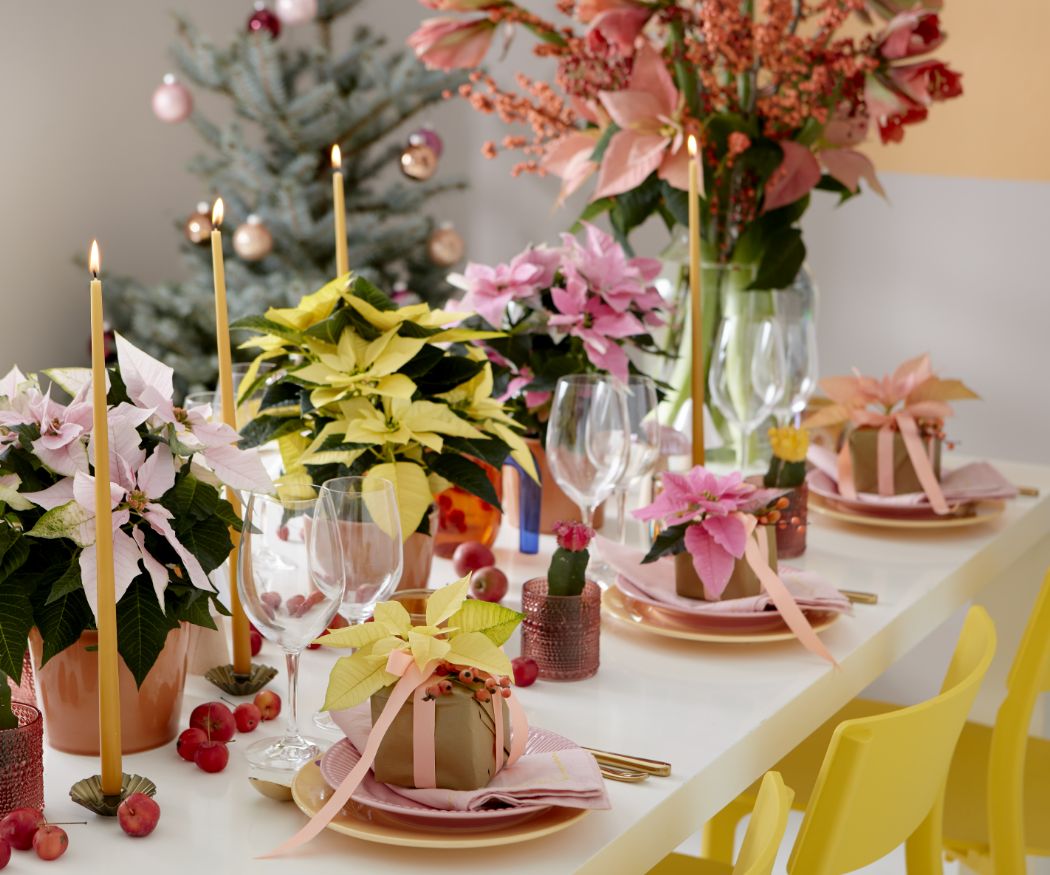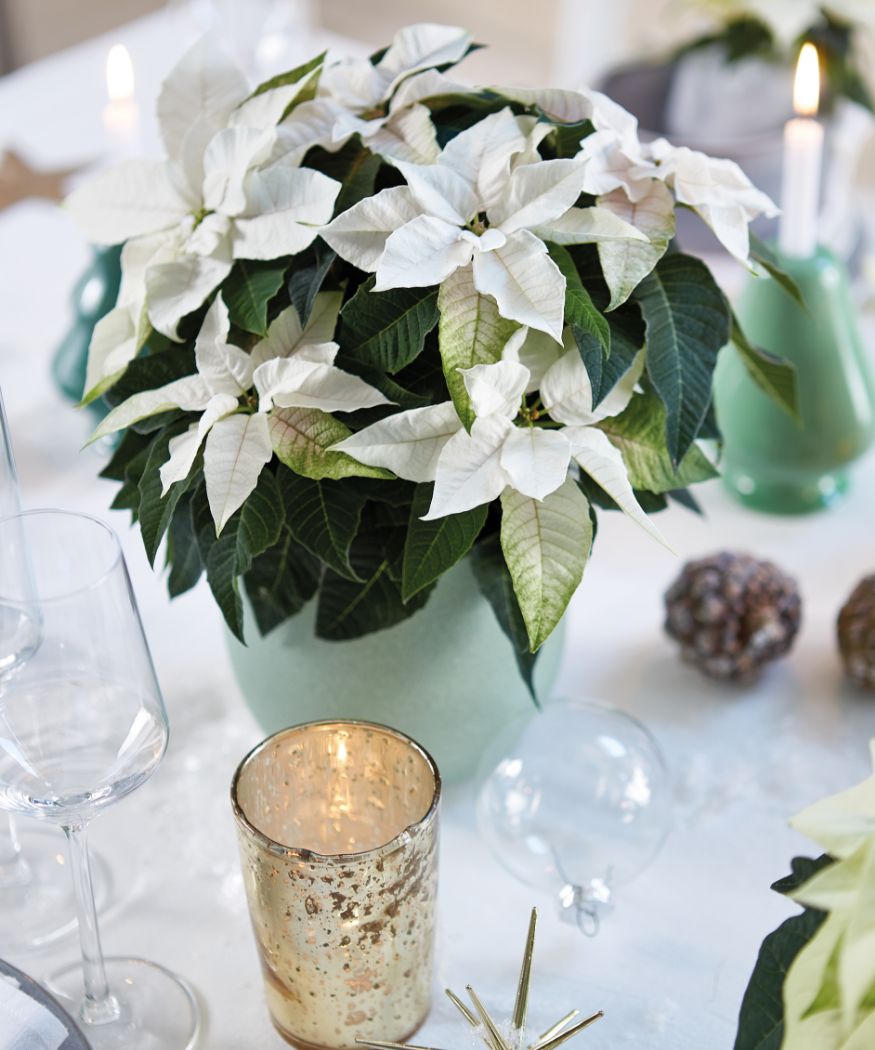 Minimalist table decoration with white poinsettia
Sometimes less is more. A bright white poinsettia in a simple lime green planter is a beautiful eye-catcher on any festive table.
Table decorations with cut poinsettias
Poinsettias are fantastic as cut flowers. With the right technique, cut poinsettia stems stay bright and beautiful for about two weeks. In our blog post "Poinsettias as cut flowers" you can read what the benefits of cut poinsettias are and how to go about making them last as long as possible. In our gallery you will find a small selection of table decorations with cut poinsettias in different styles. The decoration possibilities are endless. Just let your creativity run wild!
Natural light table decoration with cut poinsettia and eucalyptus
How do you like this romantic table decoration with eucalyptus and two-tone cut poinsettias in soft red and cream?
It doesn't need any precious fabrics, candles or glamour, which makes it look wonderfully natural and carefree.
The less Christmassy nature also makes it perfect for an autumn invitation, don't you think?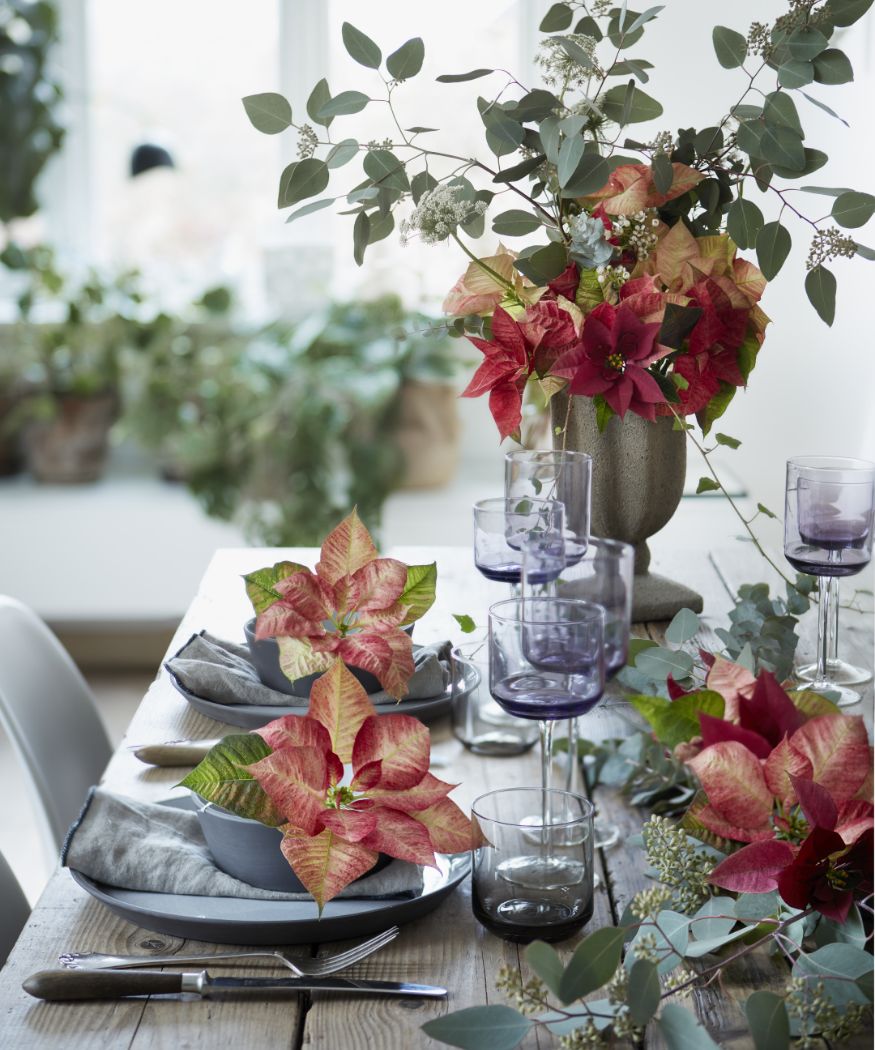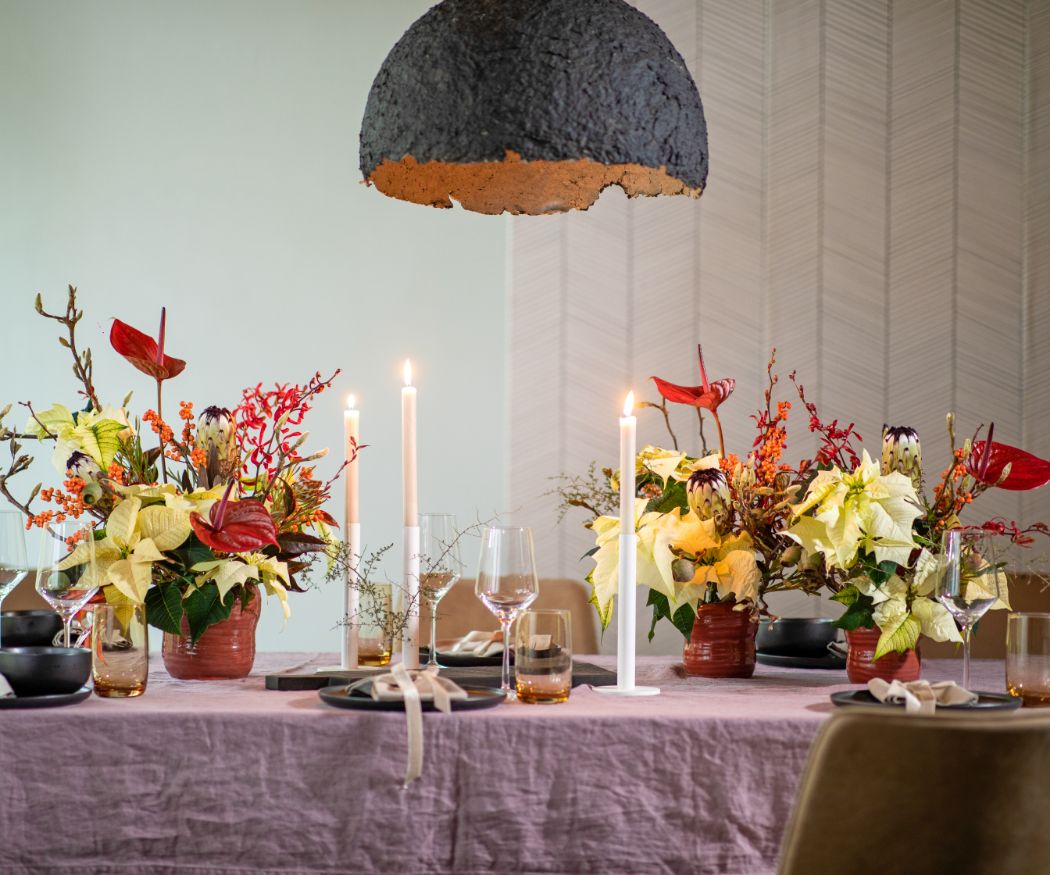 Autumn table decoration in skandi look with cut poinsettias
For autumn table decorations made from floral arrangements, we filled planters with watered plug-in foam and stocked them with cream-colored poinsettias, holly, flamingo flowers, magnolia branches, wild asparagus, eucalyptus pods, orchids and narrow-leaved sugar bush.
Perhaps you'd like to put your floristry skills to the test yourself? You'll see, it's not that difficult to bring the Scandinavian look home. 😊
DIY apple flower holder with cut poinsettia
With this cool apple flower holder you are guaranteed to win the admiration of your guests. You can easily make this original DIY table decoration idea yourself.
Take a fresh red apple and punch a hole in it. Put a test tube in it and decorate the apple with gold dust.
Fill the test tube with water, put a cut poinsettia inside and arrange the finished decoration together with gold-plated dried florals on a plate.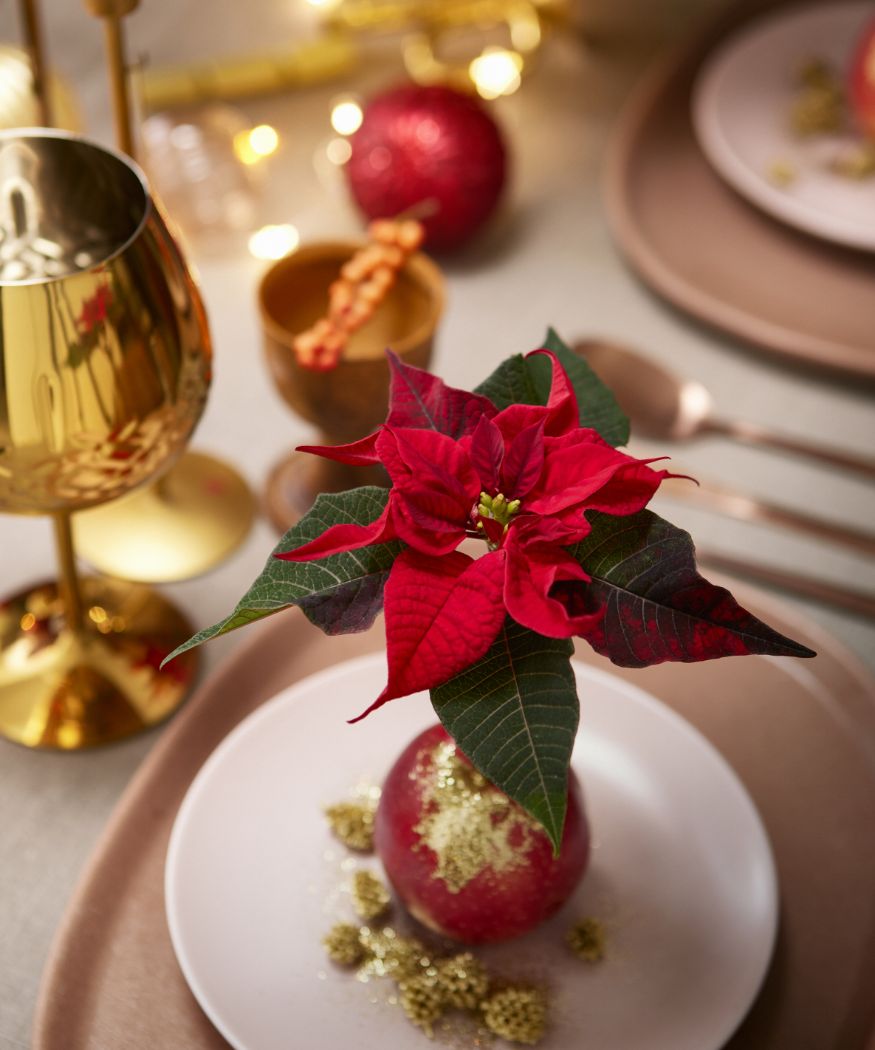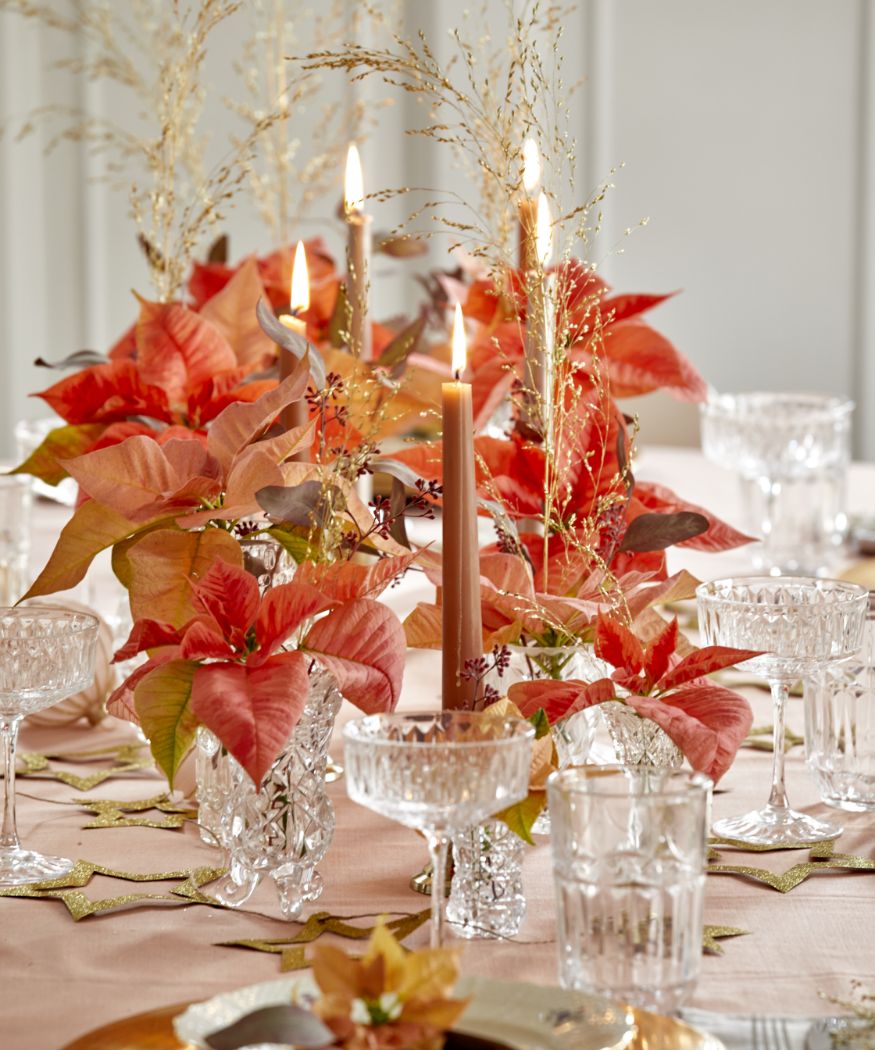 Vintage table decoration with cut poinsettias and lots of crystal
Let's get out the old crystal glasses and vases! And while you're at it, the fine porcelain of your ancestors may also come to light, because for this fabulous festive table in coral and orange-red you can use it all wonderfully. 😊
The table decoration of cut poinsettias, candles and decorative panicle millet is hard to beat for festive splendor.
The tableware and crystal glasses and vases add a nostalgic touch to the table.
Japandi style table decoration with white and cream cut poinsettias
Simple glass vases, white and cream-colored cut poinsettias, lunaria and ornamental grasses: that's all you need for this purist table in the natural, trendy Japandi style.
By limiting yourself to a few additional accessories and omitting a tablecloth, you emphasize the impression of unfussy elegance.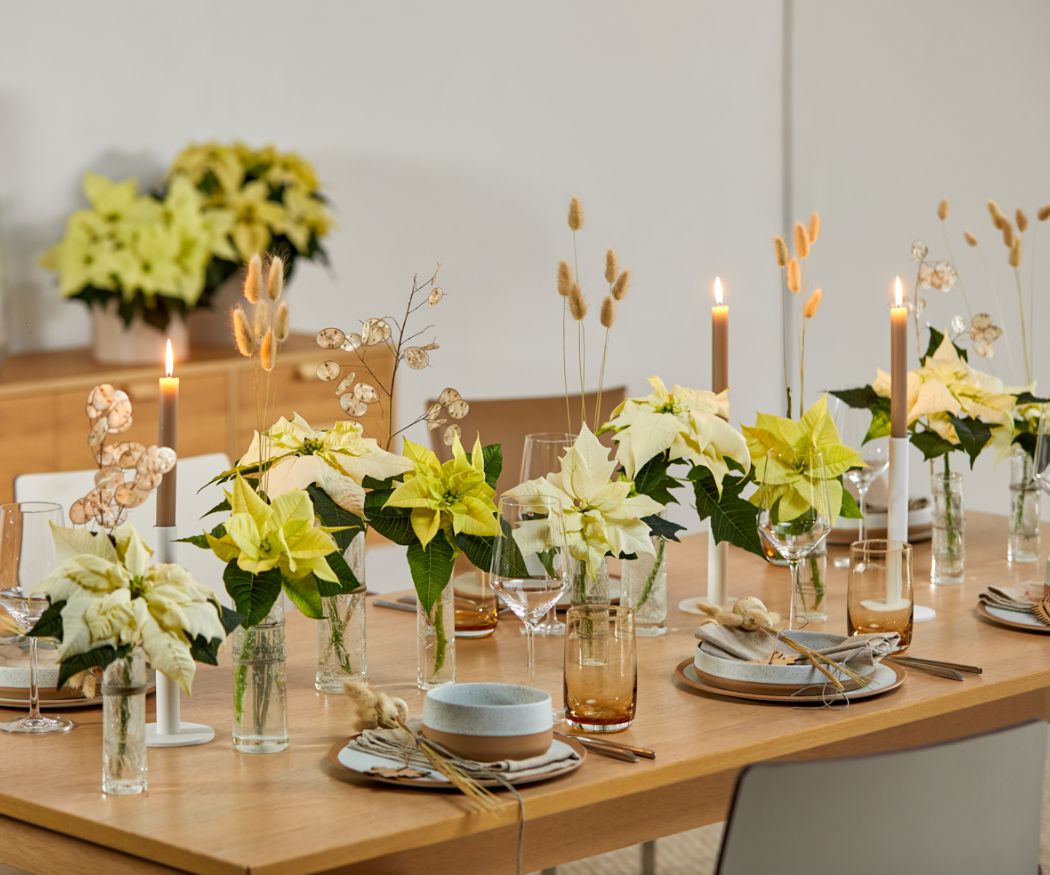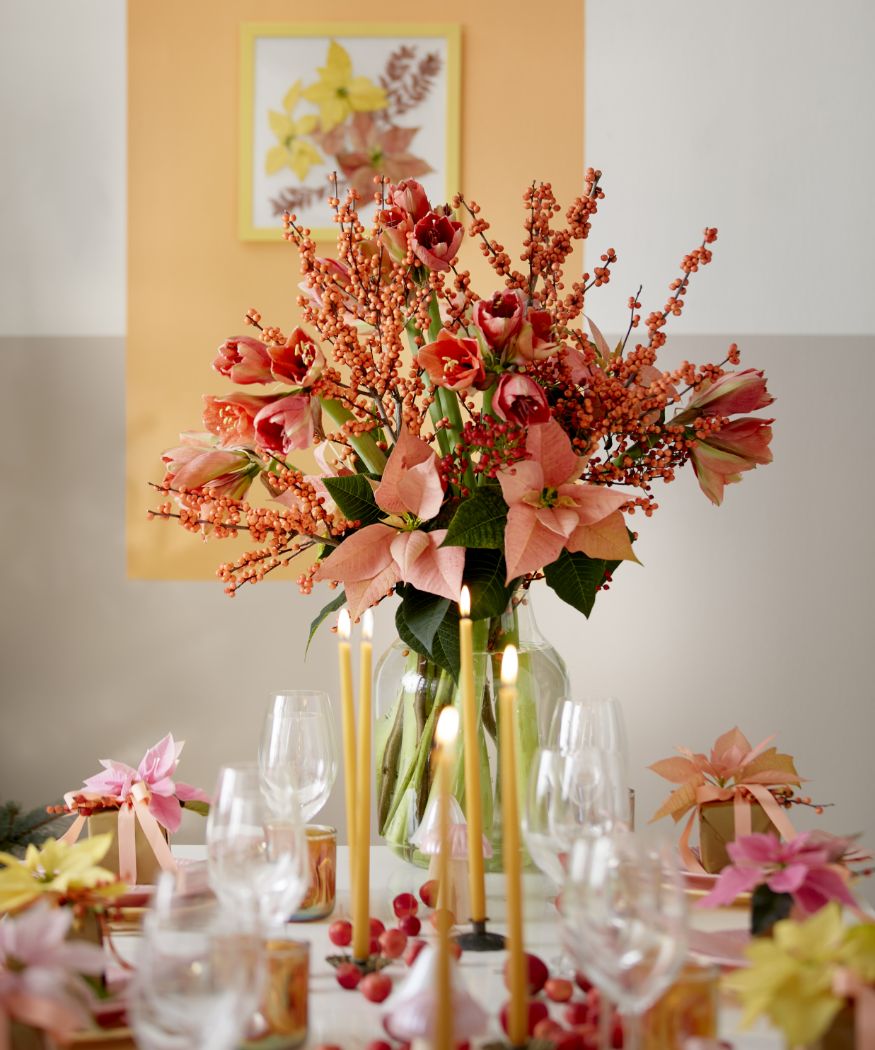 Modern table decoration with poinsettia amaryllis bouquet
How about a gorgeous tone-on-tone winter bouquet of cut poinsettias, holly and amaryllis as an eye-catcher for your Christmas table?
The effect is most beautiful if you pick up the apricot of the bouquet in the rest of the decoration and complement it with pastel yellow and pink tones.