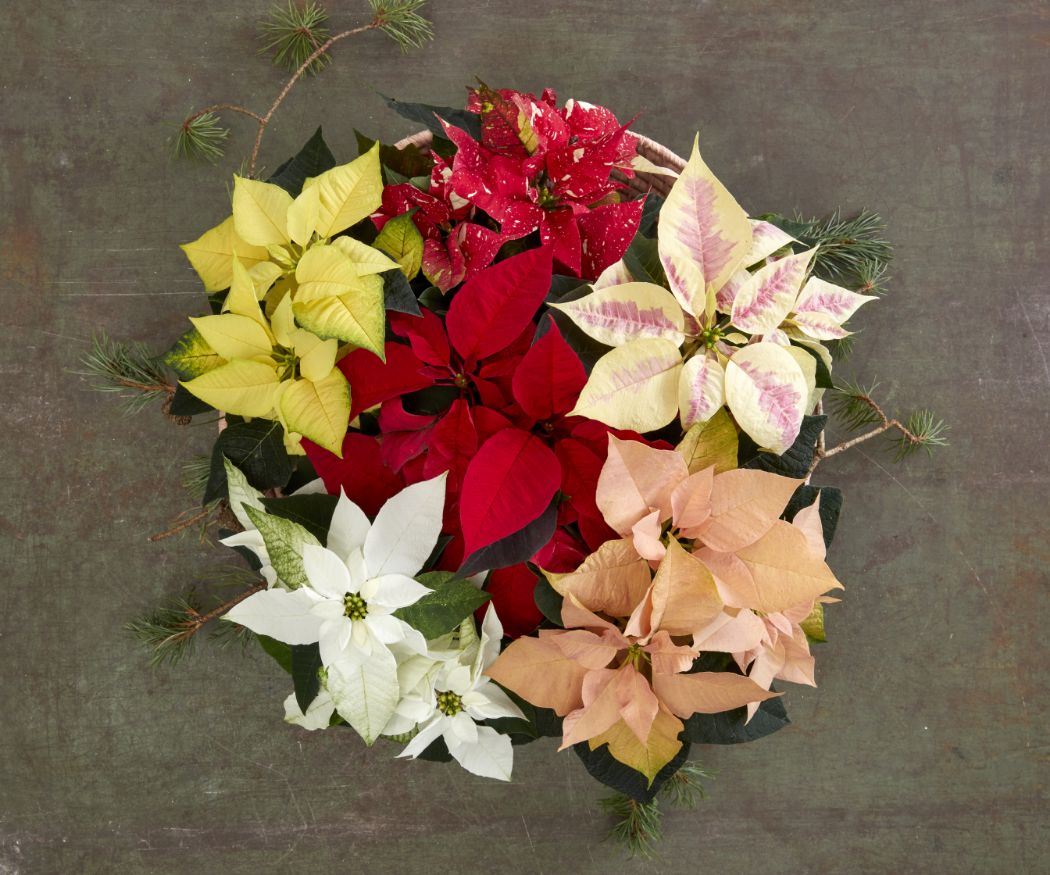 Mini poinsettias: gift ideas and care tips
In this blog we have five mini poinsettia gift ideas for you. With their many varied colours and leaf shapes, these tiny plants are perfect for creating a wide range of gift ideas. You'll also learn what to look for when buying mini  poinsettias so you can enjoy them for as long as possible.
Mini poinsettia gift ideas
The weeks leading up to Christmas are so packed with tasks that you wish there were more than 24 hours in a day. In addition to the normal madness of everyday life, there's Advent and Christmas to prepare for too.
On top of all the baking and decorating, there are often a whole load of Christmas parties to attend. And then there are presents to organise as well. Luckily, there are mini  poinsettias!  With them, you can quickly create imaginative arrangements that are perfect for gift giving (and decorating). For the stressful festive season, here are five beautiful mini poinsettia gift ideas! 😊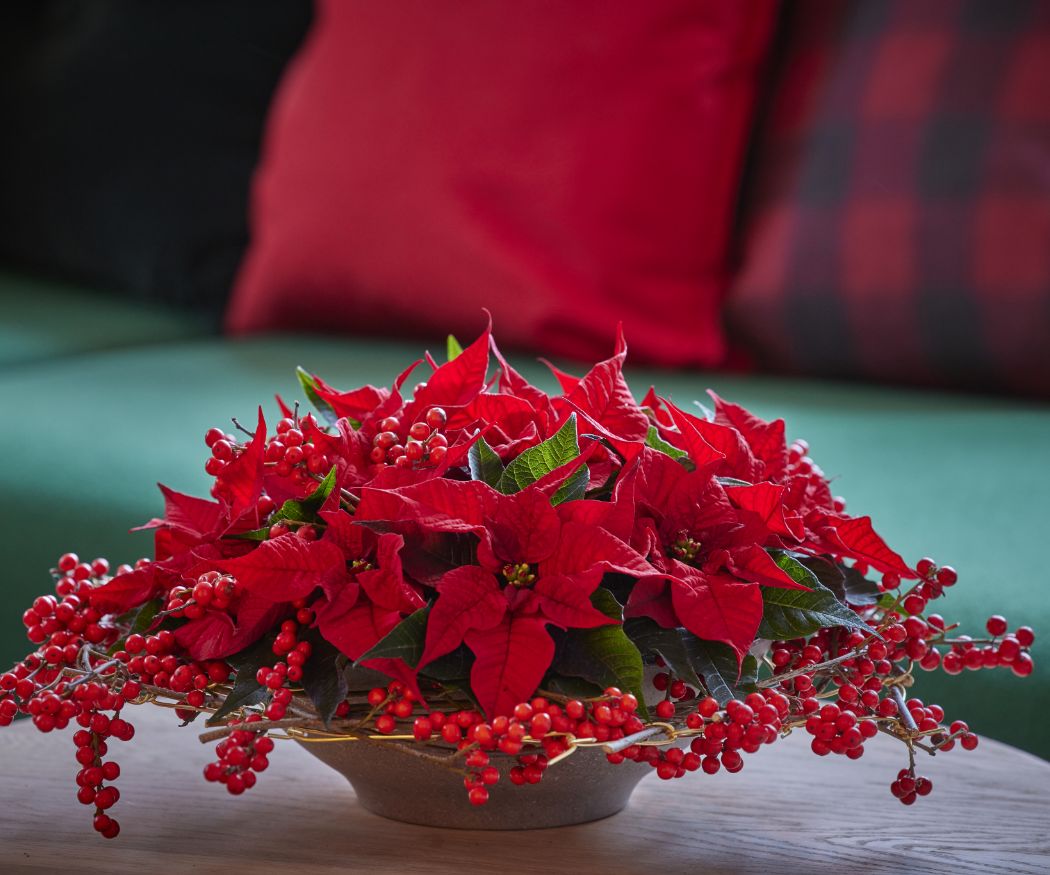 A star-filled bowl
With this gorgeous star-filled bowl, there won't be a dry eye in the house.
It's a wonderful Advent gift you just can't go wrong with.
Floral tray
This gift is perfect for those who love the natural look!
All you need is a wicker tray or basket and mini poinsettias.
If you choose varieties with different leaf shapes and shades of red, the arrangement will look more interesting. The choice of colours is up to you! 😊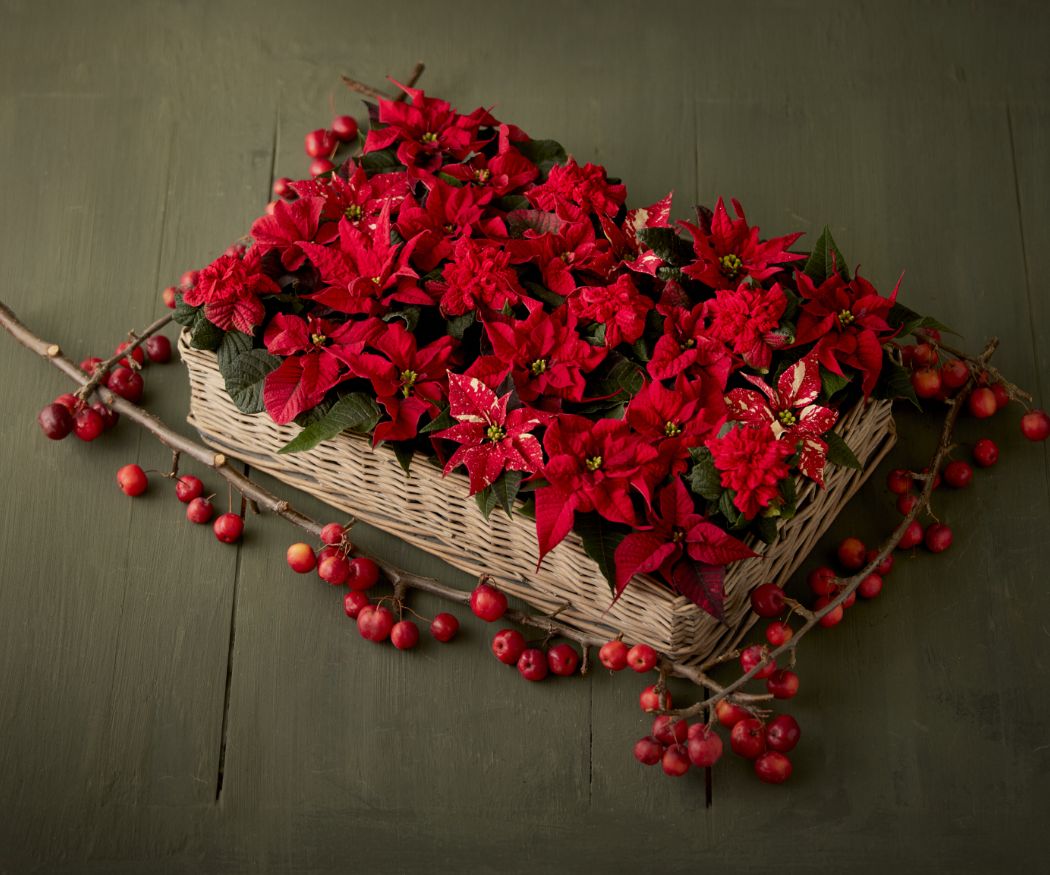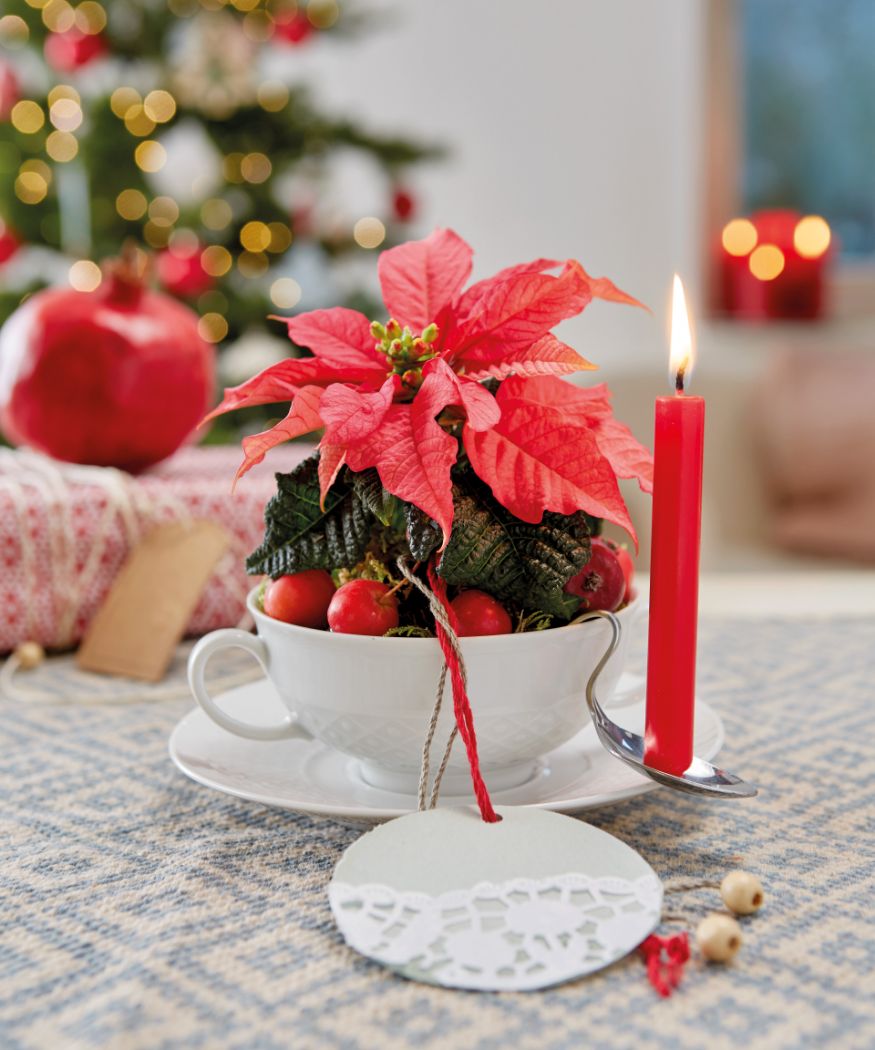 A gift for coffee lovers
This is the perfect gift for coffee lovers! It's super quick to make.
Simply pot up a mini  poinsettia and place it in a vintage coffee cup.
Fill any gaps around the pot with moss and decorate with mini apples. The gift tag is made of cardboard and a piece of paper doily.
Use a piece of wire to attach the gift tag's cord to the cup.
This gift will look extra special with a spoon candleholder.
Bend a teaspoon with pliers so you can hang it on the edge of the cup.
Hold the candle in place with a drop of hot glue on the spoon. Or you can use a special candle clip you just attach to the handle.
Poinsettia gift box
Place six mini  poinsettias in three different colours in a gift box and tie a ribbon bow around the box. For a luxury version, place the poinsettias in planters too.
No time to buy planters? Pack the poinsettias in small freezer bags or line the whole box with foil. This protects it from stains caused by wet compost or leaking water.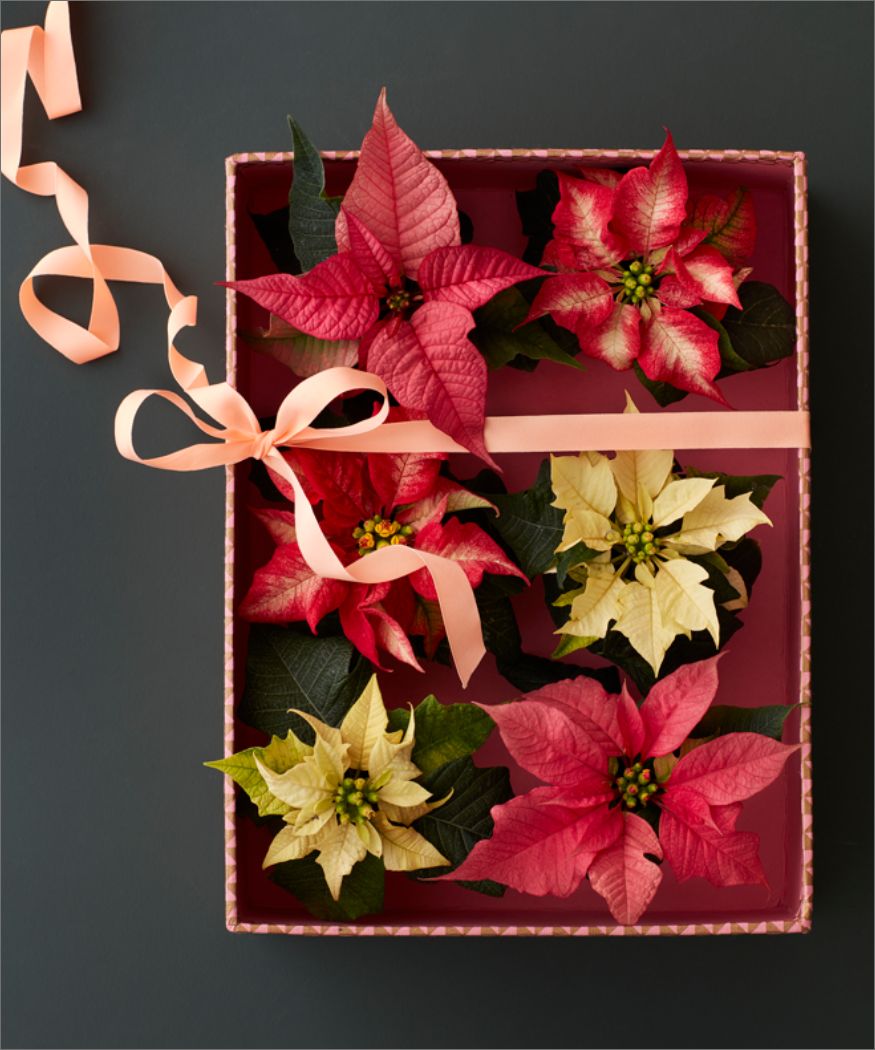 Minis in cartons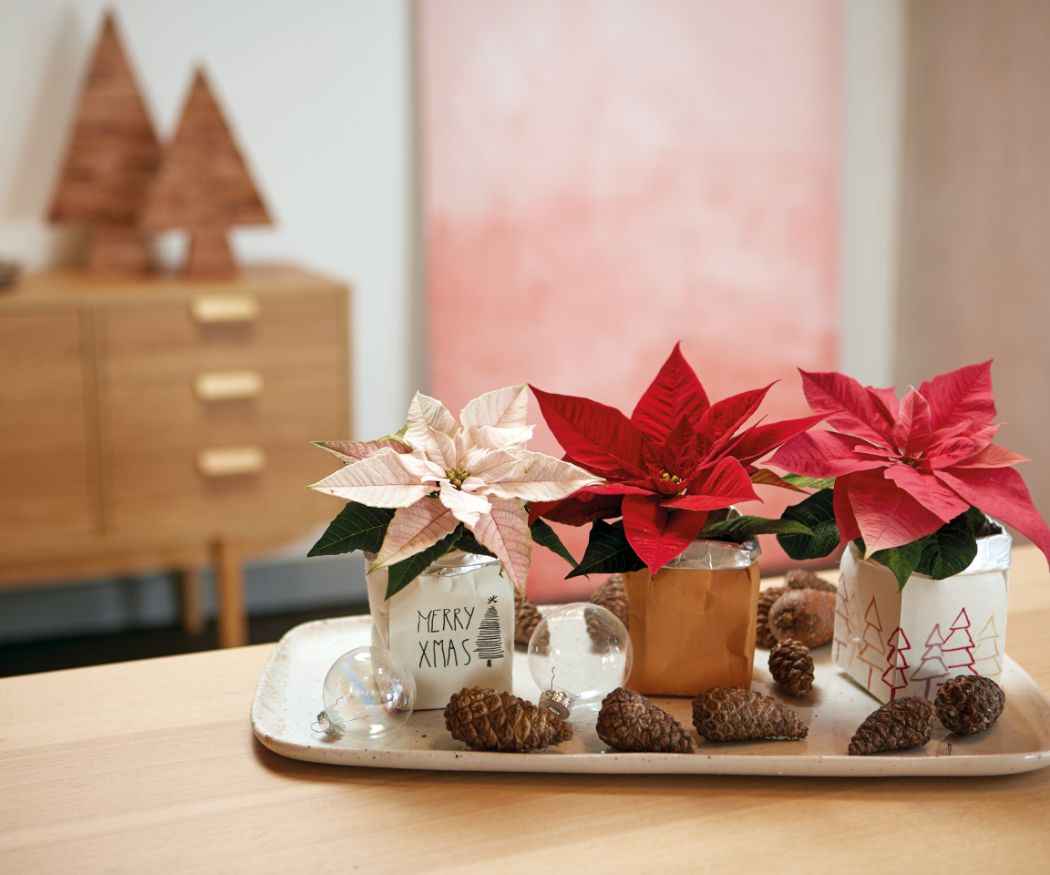 Take a clean, square-based drinks carton and cut off the top part and discard it.
Crumple the lower part of the carton until the printed layer starts to separate from the cardboard layer beneath.
Starting at the corners, use a small knife to peel the top layer off the entire carton, leaving the plain cardboard underneath.
Now you can add designs to this layer with paint or felt tip pens.
Next, cut a small notch at each corner to allow you to fold the cardboard over, so the silver inner layer is exposed.
Fold over one more time. Place a mini poinsettia inside and give each carton away individually or as a set.
Care tips for mini poinsettias
As magical as little mini poinsettias look, they can be challenging to care for. Basically, the needs of these dwarf varieties are no different from those of their larger siblings: they like to be in a position that's bright, warm and protected from draughts, and need just enough water so they neither dry out nor are dripping with moisture. However, there are two things that make their care demanding.
Mini  poinsettias are more sensitive to the wrong care due to their size. Also,, with their small pot means they have very little soil so, these delicate plants need extra special care. But don't worry, follow these tips, and your minis will feel right at home.
1.) Check the moisture of the soil daily. It should be neither too dry nor too wet.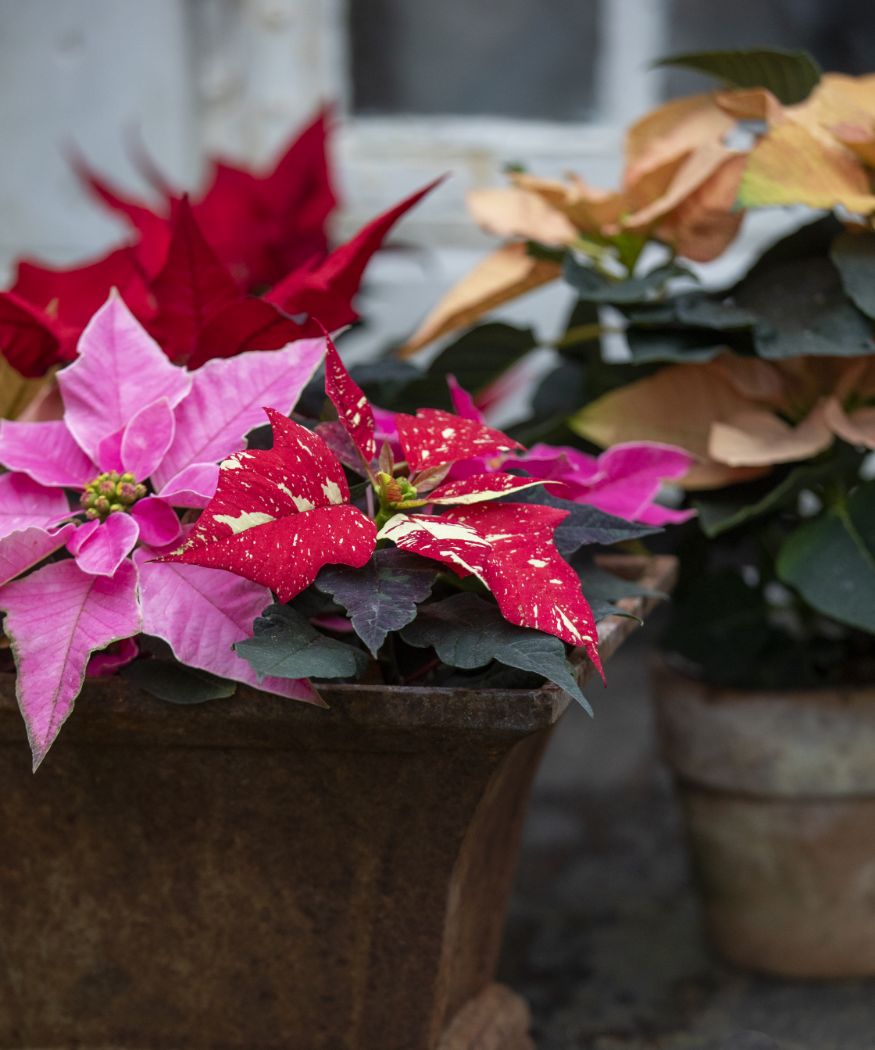 2.) Don't place minis in an overheated living room or near a radiator or fireplace. In these locations, the root balls dry out faster than you can see. A bright location with no draughts and with an ambient temperature between 17 and 20°Cis best. Find out more on this topic in our blog "The best location for your poinsettia".
3.) Water your minis by immersion. To do this, immerse the root balls completely in lukewarm water about every two to three days, or daily if necessary, then let them drain well. Pour off excess water from the planter or drip tray after no more than 15 minutes.
Too complicated? Then simply plant minis in a larger pot with more soil or place several minis together in a bowl. The larger volume of soil will allow your mini  poinsettias to develop freely and prevents the soil from drying out or becoming wet too quickly. Use cactus compost, as it allows excess water to drain away quickly.
When repotting, be careful not to damage these sensitive plants. It's also important that these little varieties aren't too deeply covered with soil when moving to the new container. Holes and a drainage layer at the bottom of the container will prevent waterlogging.