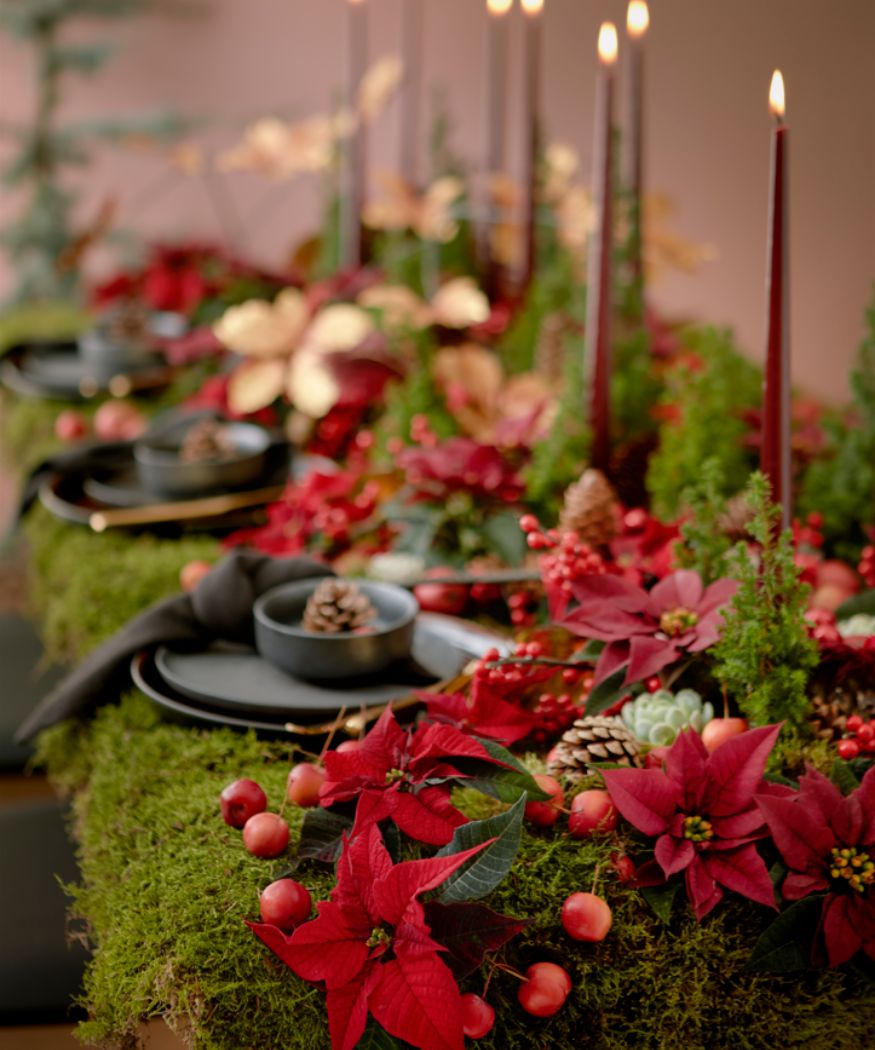 Woodland Christmas with poinsettias. Festive decoration ideas with poinsettias and natural materials.
Fir and pine branches, cones, moss and berries are typical items found in forests and are especially popular with decorating and crafting fans in autumn and winter. In the colder months, long walks are a great way to collect these natural materials, which can then be used as decorative accessories to bring nature into your home. The experts from Stars for Europe present ideas for festive table centrepieces, Advent wreaths and room decorations where poinsettias and natural forest materials take centre stage.
The festive table becomes a forest: woodland table centrepieces with poinsettias
When friends and families gather to celebrate and eat together at Christmastime, a lovingly decorated festive table is a must. With their showy bracts, poinsettias are ideal as floral table decorations. Combining them with moss, pine foliage and others elements enhances their bright colours even more.
A feast for the senses: this opulent table centrepiece made from a wealth of natural materials is a vibrant, showstopping creation for a festive Christmas table. On a thick layer of moss, red mini poinsettias are placed next to small mini fir trees and echeverias (succulents). Sprigs of holly, crab apples, cones and gold-sprayed foliage add decorative accents, while dark red taper candles provide atmospheric lighting.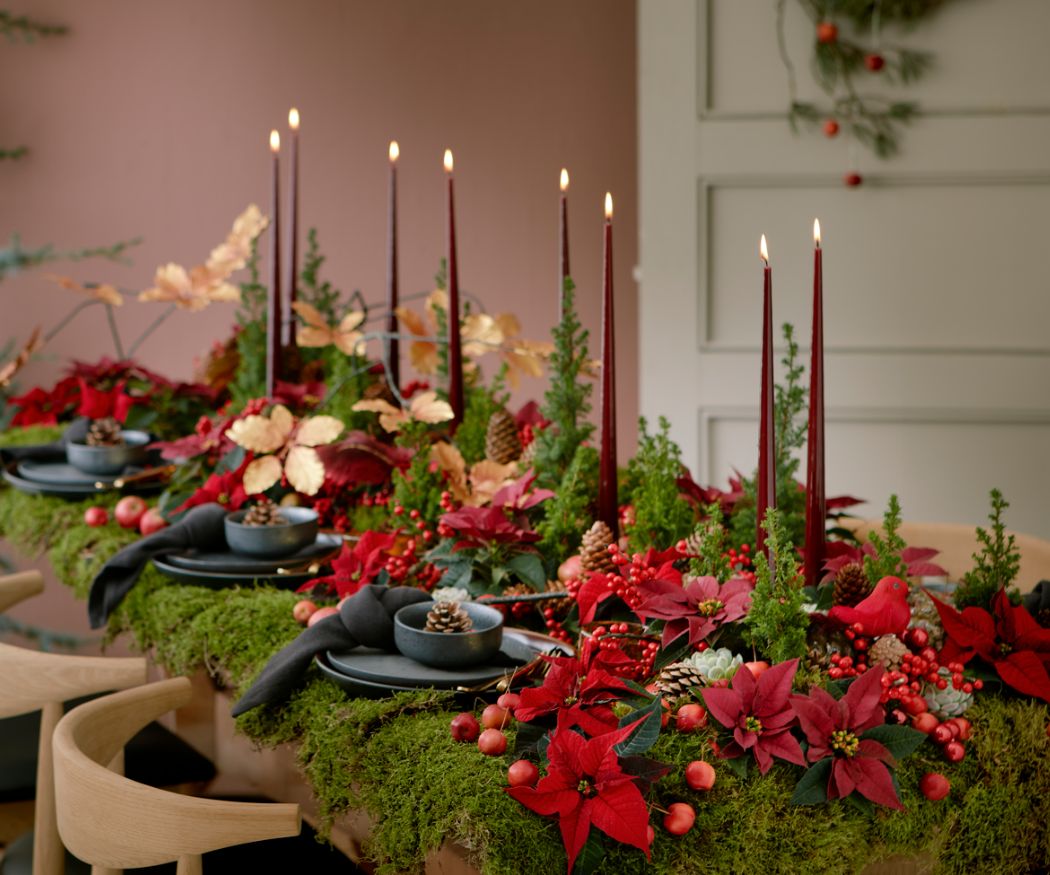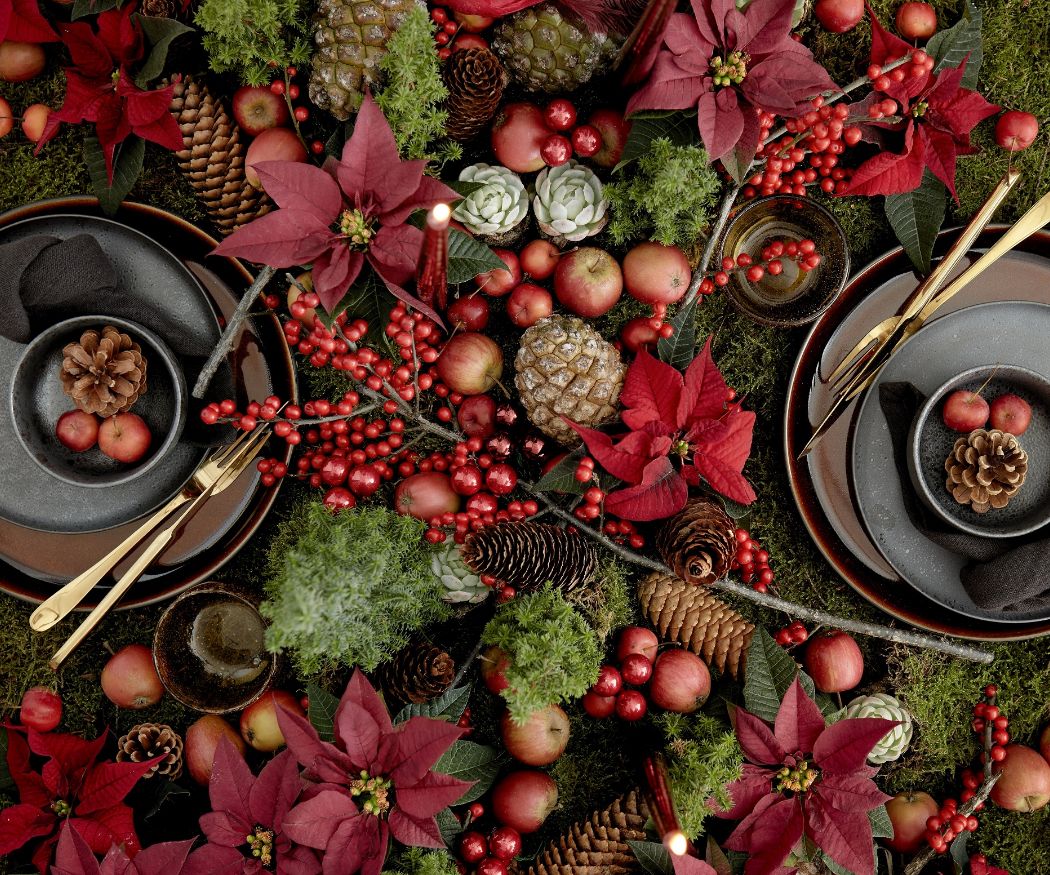 Tip: In the forest, in some countries you might be able to forage for natural materials in small quantities, but make sure you check the laws on uprooting wild plants in your area. If you need a larger quantity of moss or cones, as in this case, you can find them in garden centres. Natural, treated moss has the ideal amount of moisture for decorative purposes, so your table will not be damaged. However, it it's a good idea to use a waterproof covering for this table decoration idea.
The combination of white and green elements makes this festive table reminiscent of a winter forest glistening with snow. Natural materials such as moss and cones, small mini fir trees, artificial snow and wooden mushrooms create a decorative scene that beautifully accentuates the cream poinsettias. Fairy lights and white taper candles provide the perfect atmospheric mood lighting. A pine branch above the table, decorated with homemade cones, gives off a wonderful scent to create the perfect forest ambiance.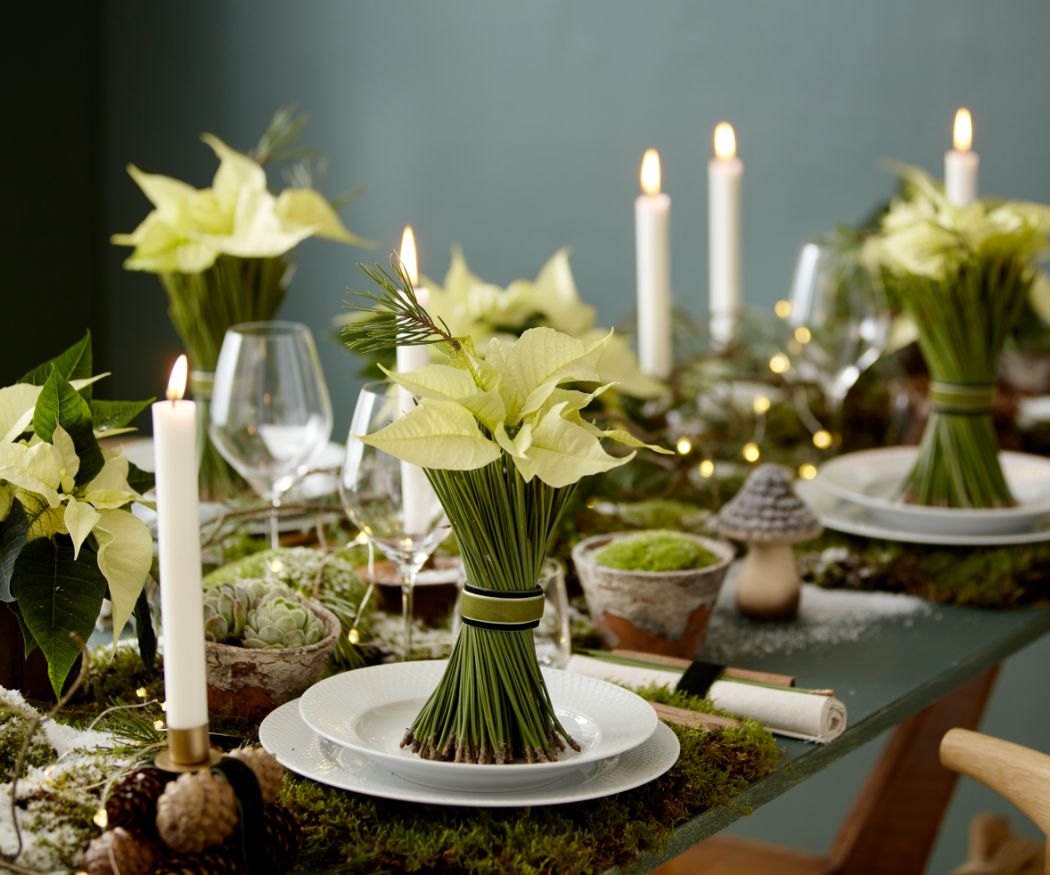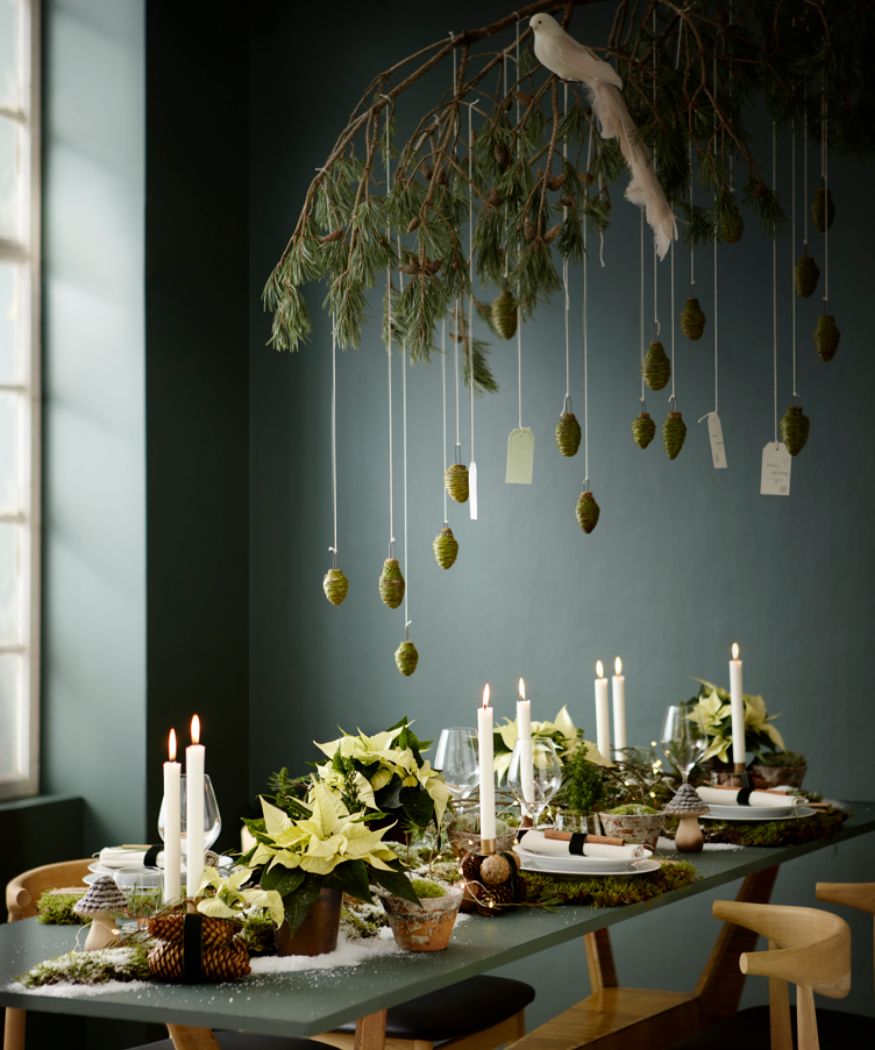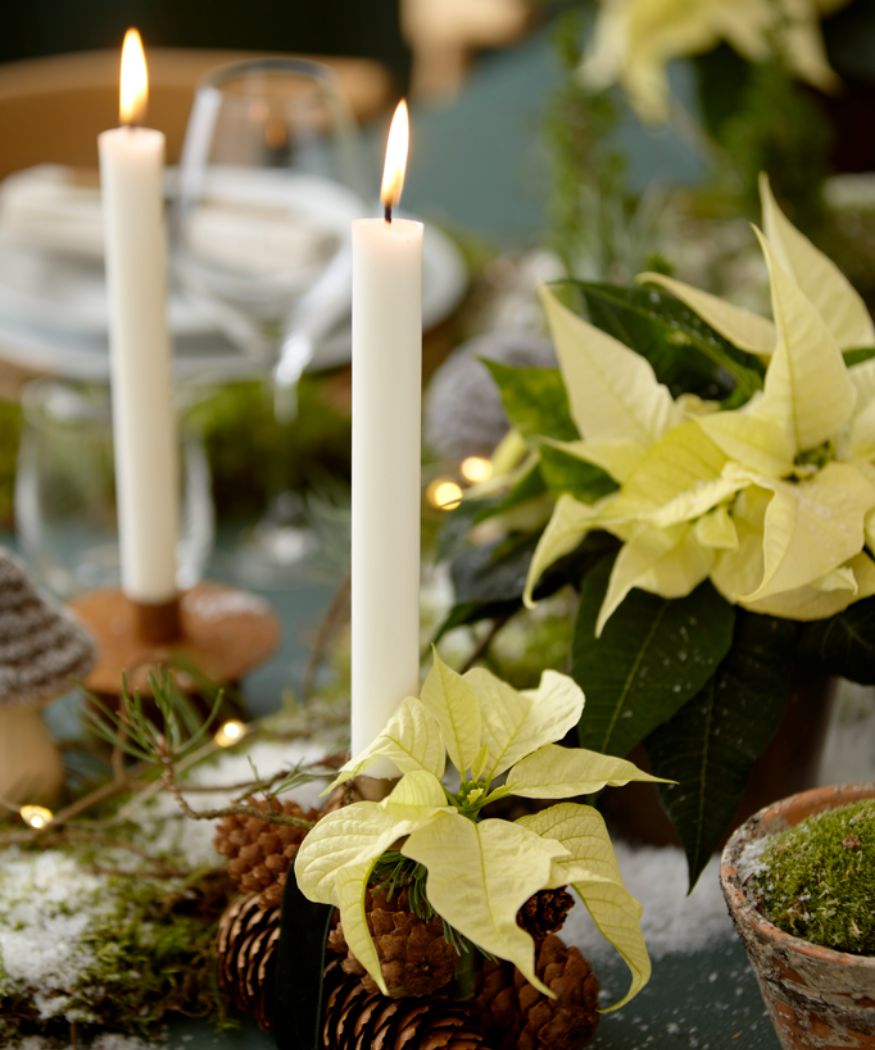 A lovely detail: at each place setting, a cream cut poinsettia on an artistic arrangement of pine needles welcomes guests. Small flower tubes filled with water in the middle of the bouquets serve as mini-vases.
DIY tip: With a little skill, you can make a decorative candle holder for the Christmas season from four equally-sized cones, a taper candleholder, a small flower tube, a cut poinsettia and ribbon.
Important: Immediately after cutting poinsettia stems, dip them briefly in hot water of about 60 degrees, then plunge into cold water to stop the sap leaking. This way, the beautiful bracts stay fresher for a longer.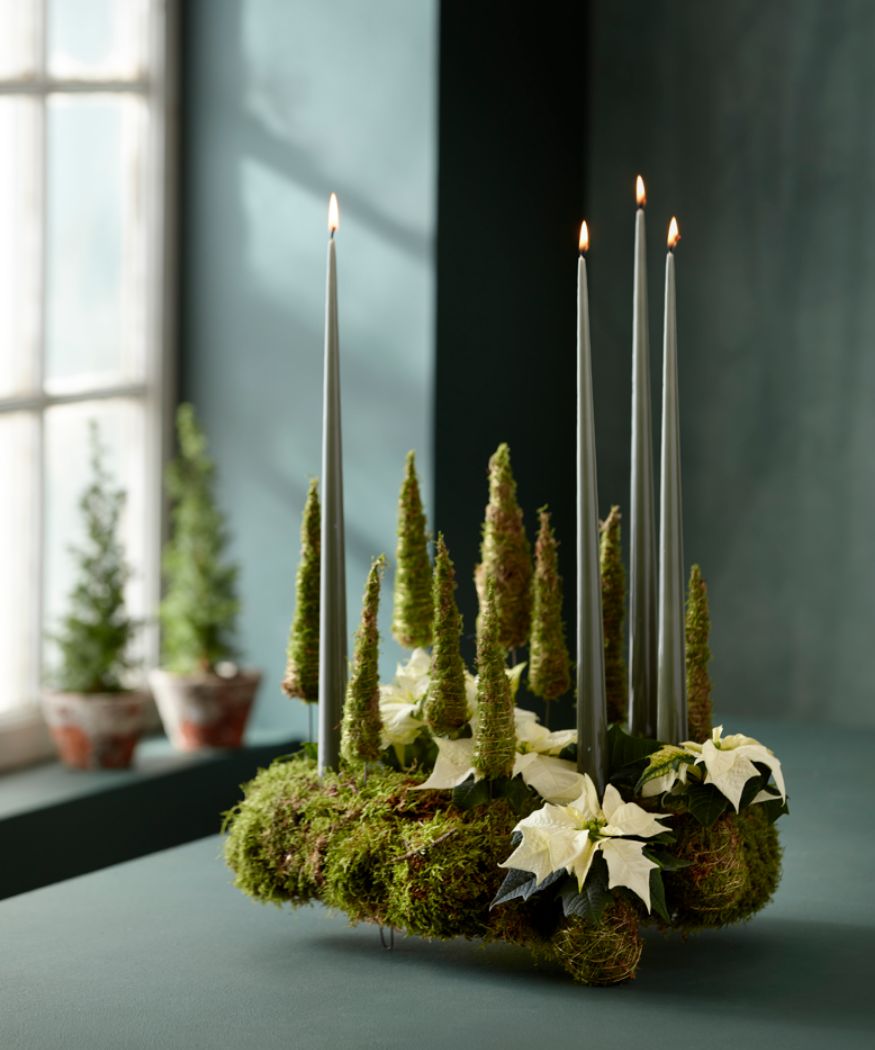 Stunning Advent centrepieces: Advent wreaths with natural materials
Like Christmas trees, Advent wreaths are one of the decorative highlights of the festive season.
The ritual of lighting a candle on each Sunday of Advent helps shorten the wait till Christmas Eve and heightens the anticipation of the festivities. An Advent wreath doesn't necessarily have to be made of pine greenery. Many other found objects from nature are perfect for the design, as these three ideas show.
This tasteful Advent wreath is both artistic and natural. Delicate moss fir trees and cream mini poinsettias create the impression of a wintry pine forest on the moss-wrapped straw wreath frame. The wreath stands on sturdy wire feet so it appears to float above the table. The root balls of poinsettias are wrapped with moss, secured with fine wire.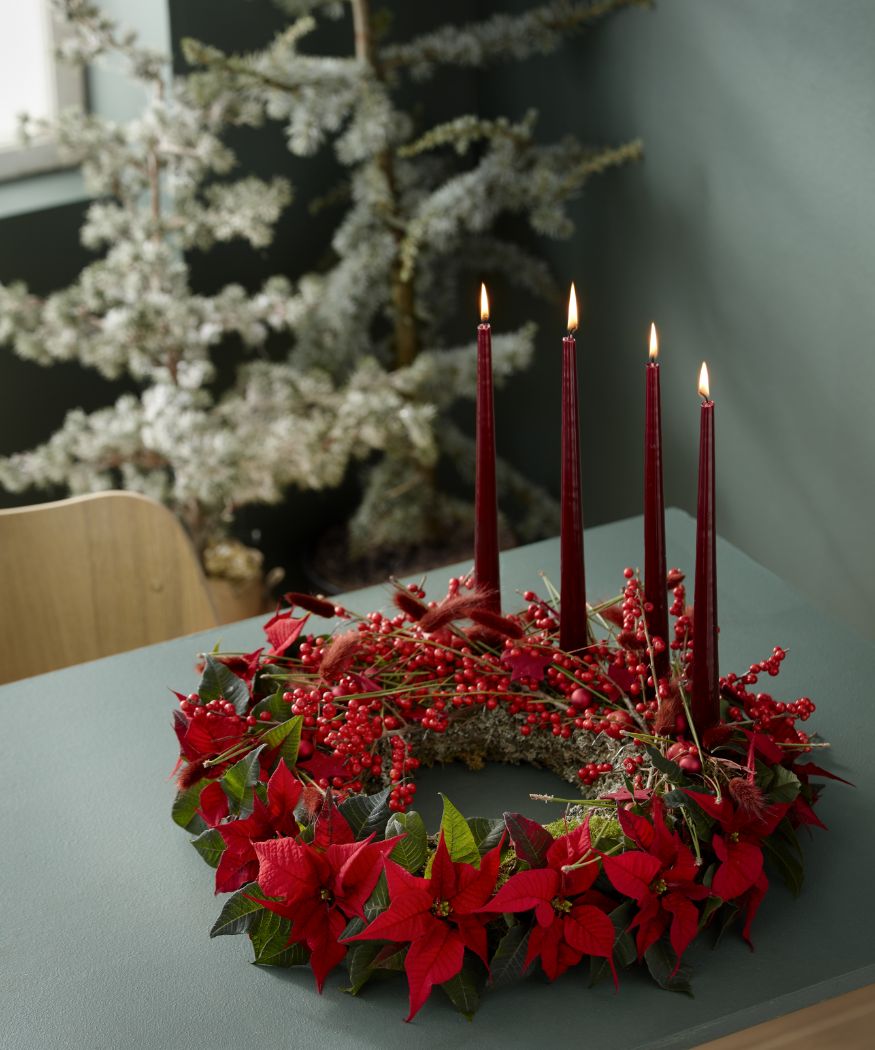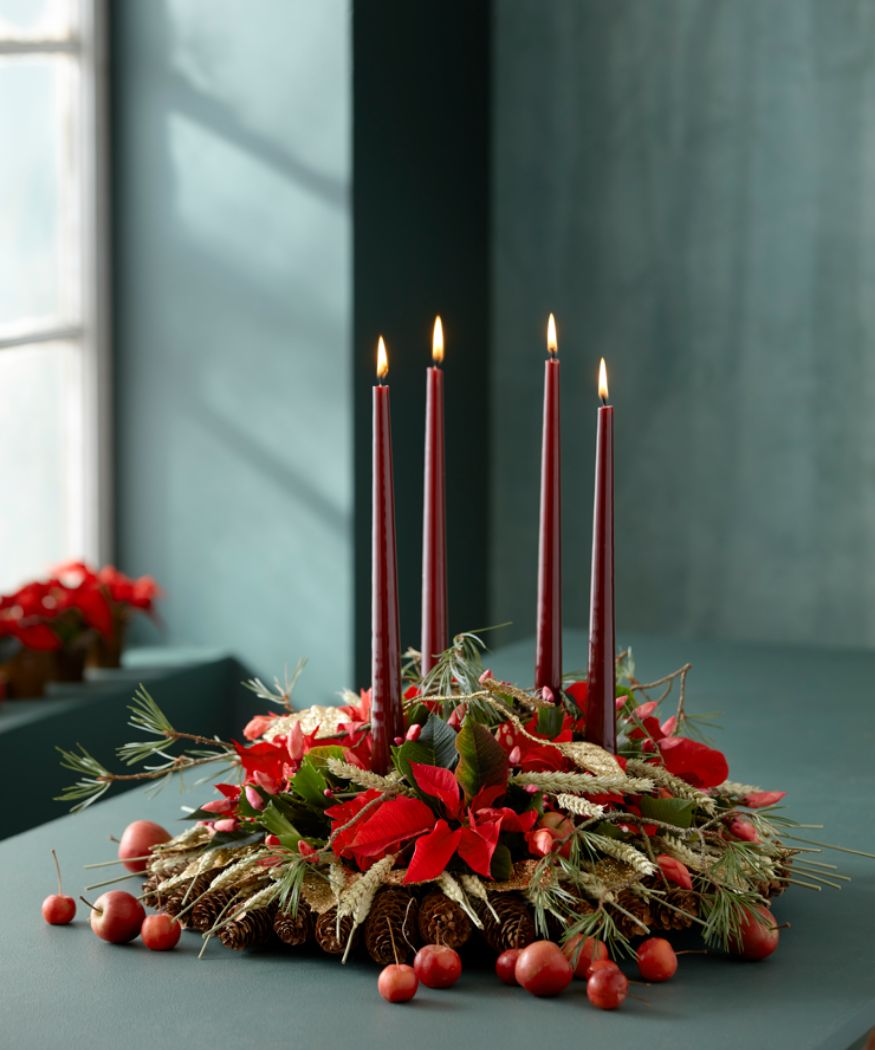 Moss, cut poinsettias, ilex (winterberry) and dyed lagurus (Bunny's Tail) grass transform a simple wreath of twigs and lichen into a beautiful, natural Advent display that will brighten any room with its vibrant red hues.
Wheat is not exactly a typical feature of Advent wreaths. In this natural centrepiece, together with cut Schlumbergera (Christmas cactus), poinsettias and pine branches they make a stylish display. The base of this beautiful arrangement is a shallow bowl lined with soaked floral foam, decorated all around with pretty cones and golden leaves.
Natural room decor with poinsettias
Natural deco-trend: real and artificial conifers on a bed of moss bring the forest into your home. Cream poinsettias in different sizes, some under glass domes, artificial snow and a small deer highlight the wintry feel. With co-ordinating wallpaper in the background, you really feel like you're standing in the forest.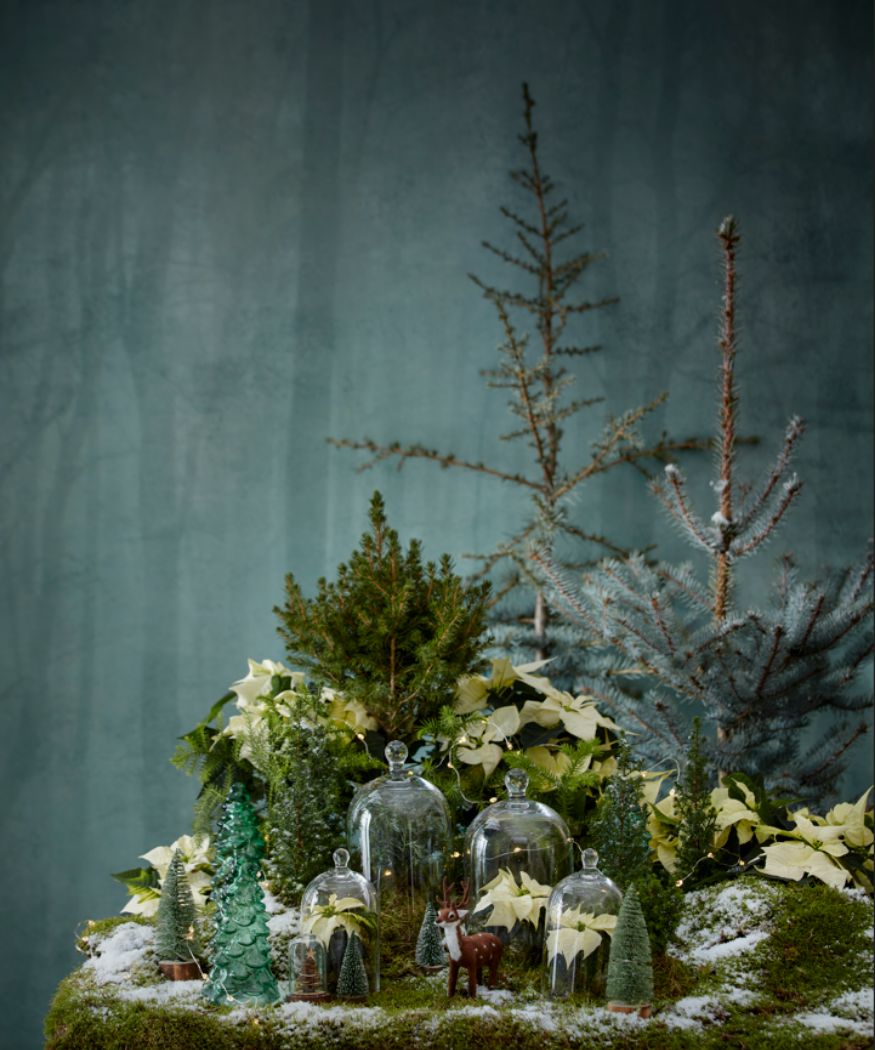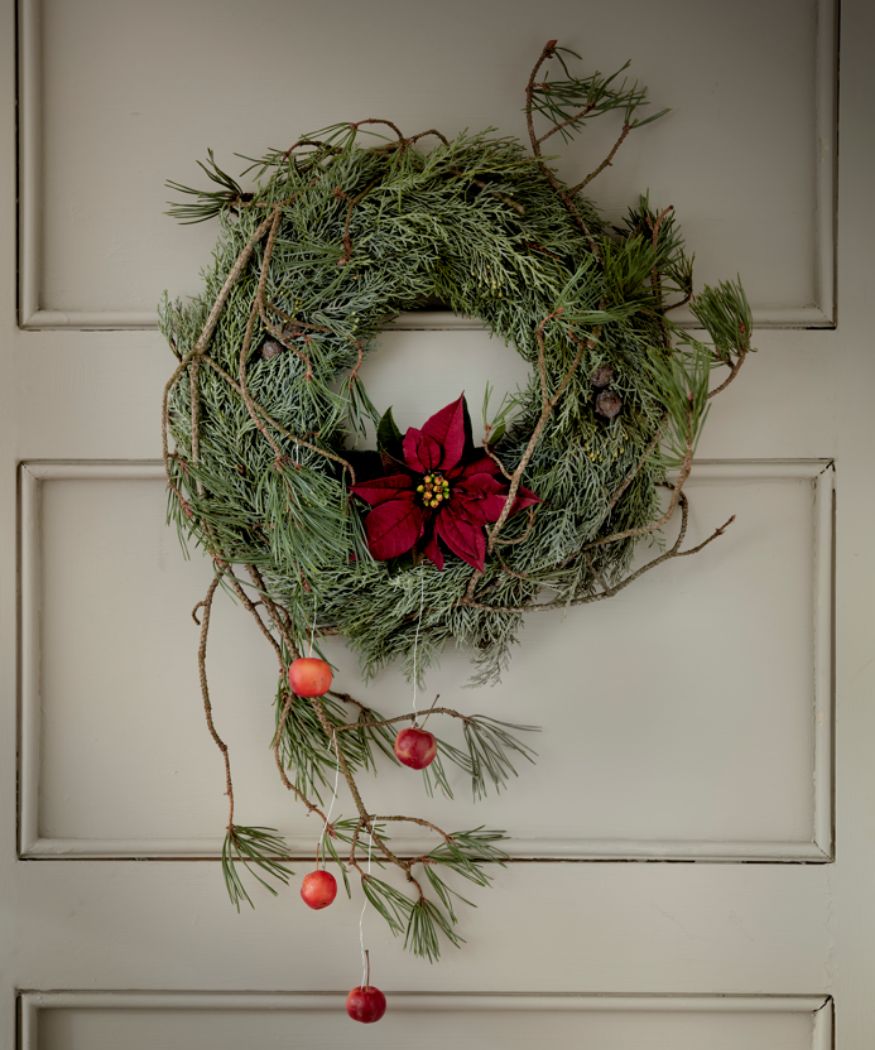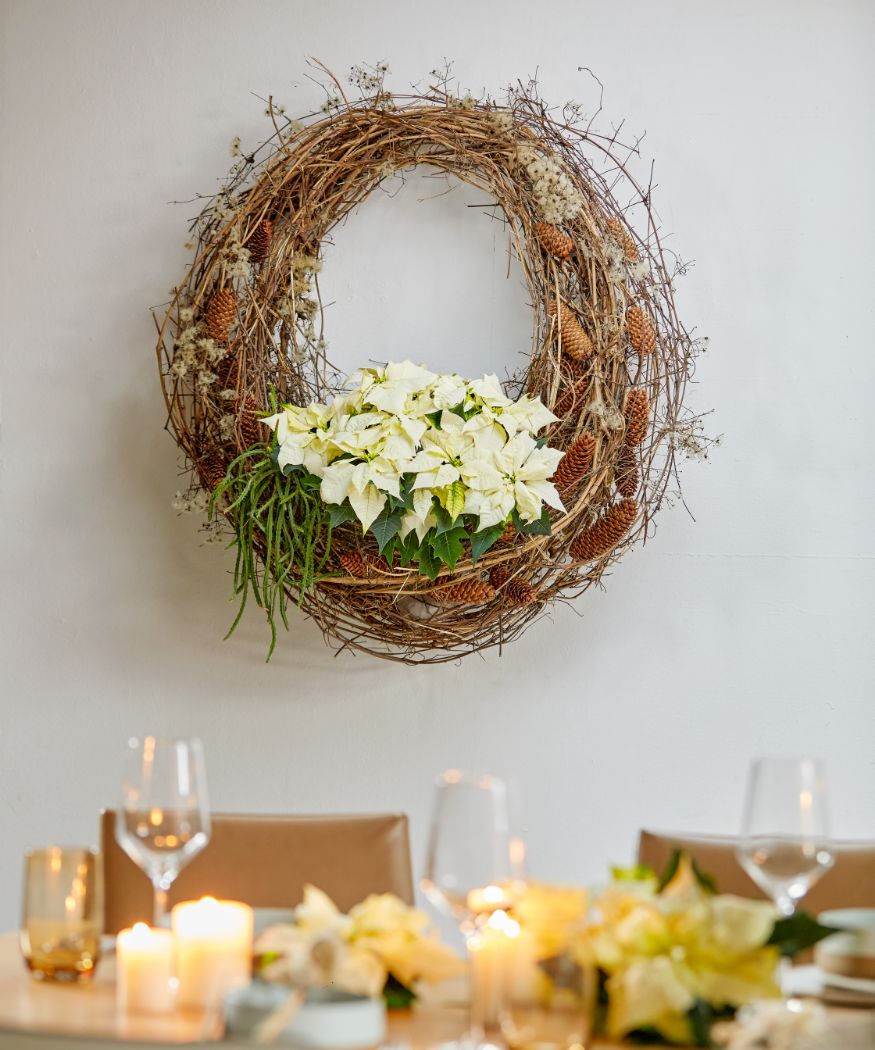 A cypress wreath decorated with long pine branches becomes a lovely Christmas feature thanks to the bright red cut poinsettia. Crab apples attached to the branches add additional accents of red.
This gorgeous wall wreath with a natural and contemporary look can be made by you with a little skill. You will need a poinsettia, a metal wreath ring, wild clematis vine (Old Man's Beard vine), spruce cones, twist wire, paper-covered binding wire and a drill.
Here's how: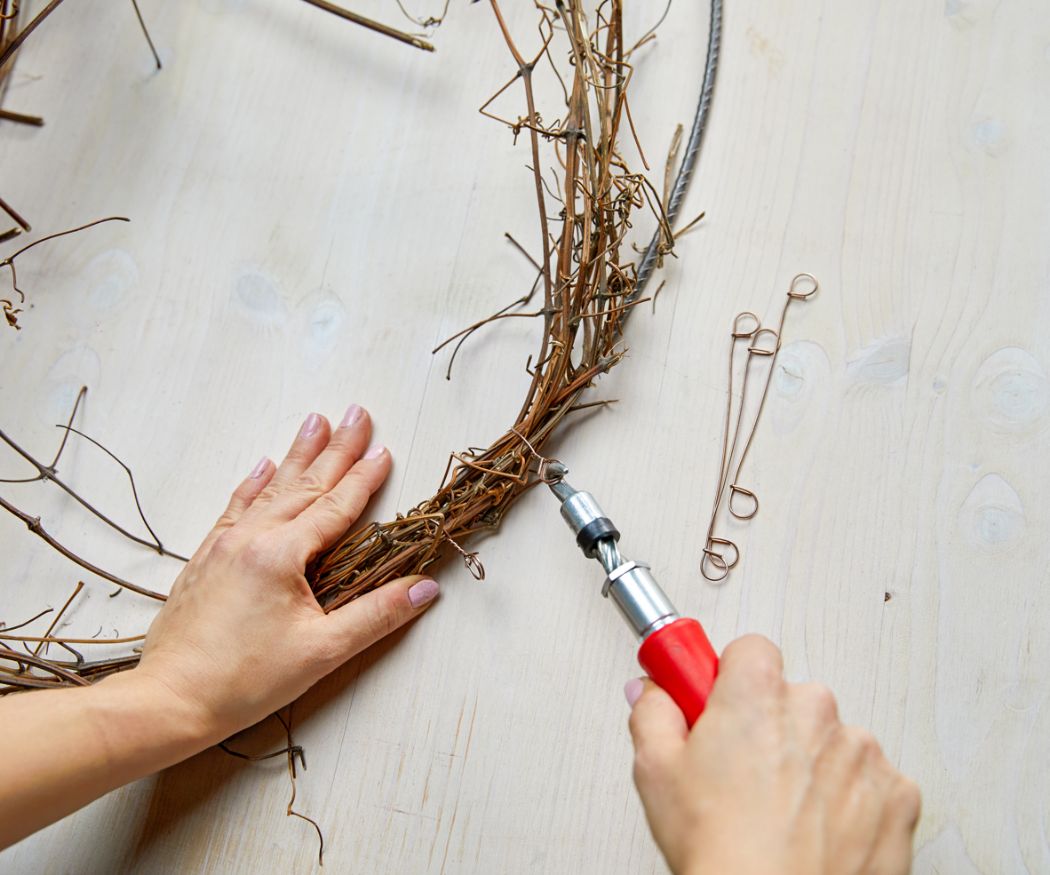 Step 1: With the help of the drill and hook attachment, attach vines to the design ring with twists of binding wire. Then gradually weave in more and more vines until the bottom half of the wreath is wide enough to fit a planter inside. The top half of the wreath may be much narrower.
Step 2: Then with paper-covered binding wire attach the cones and hang the wreath on the wall.
Step 3: Finally, gently place the poinsettia and planter in the densely woven vine. Done!