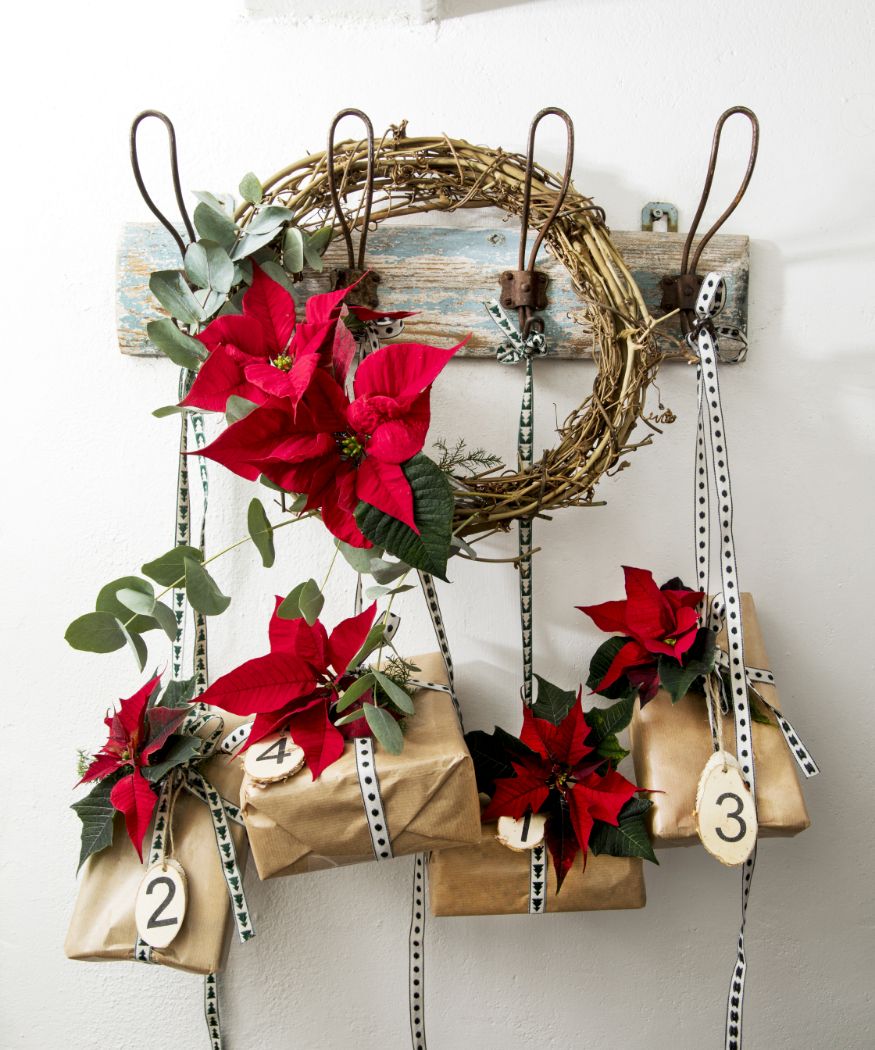 Kick-off for the Christmas season. Advent calendar ideas with poinsettias.
The Christmas countdown is on from 1 December. Those 24 days leading up to Christmas Eve are a precious time with the family. An Advent calendar filled with small gifts and lots of tradition will put particularly the children in the mood for the coming celebration. The main ingredients for the Advent calendar ideas presented here are poinsettias and love!
Hang it up!
The Christmas season includes four Sundays and this Advent calendar has a gift waiting for each one.
The little presents are wrapped in packing paper and tied to a coat rack with black-and-white patterned ribbon. Small numbered wooden discs mark the Sunday on which each parcel can be opened.
Cut poinsettias add that extra Christmas touch, adorning the little surprises together with eucalyptus leaves. Cut poinsettias and eucalyptus twigs can also be found in the wreath placed over the coat hooks, bringing the look of the design together.
To keep cut poinsettias fresh for as long as possible, the flow of milky sap must be stopped immediately after cutting the stems.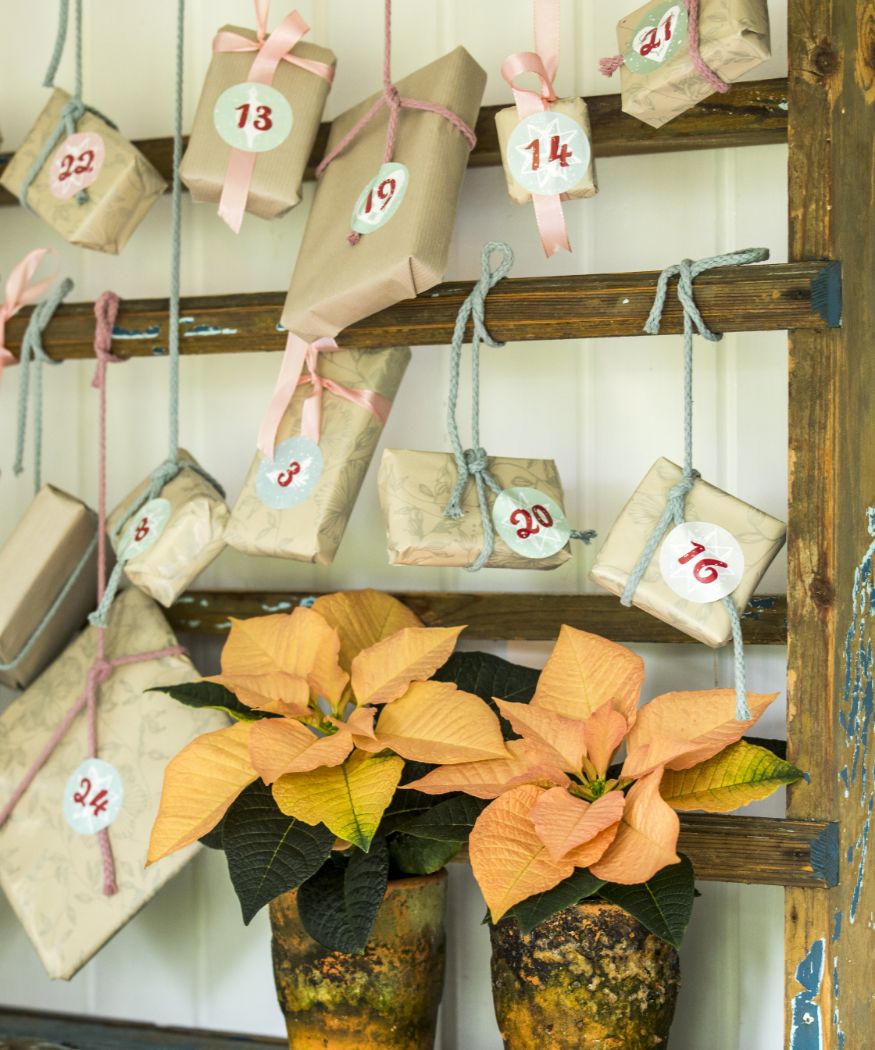 To do this, cut the stems at an angle and hold them in 60°C water for approx. 5 seconds, then dip them in cold water. When prepared in this way, the colourful bracts will stay dazzlingly beautiful in water-filled orchid tubes for up to two weeks. By the way: Contrary to what is often claimed, the milky sap of our local poinsettias is safe for humans.
Tied in knots
For our second Advent calendar the gifts are wrapped in brown packing paper and patterned wax paper. But this time there are 24 of them. Some of the little parcels are tied to the rungs of a wooden rack with cotton cord, the others with pink satin ribbon. The number stickers can be purchased as is, which reduces the handicraft work of this design to a minimum.
Place some salmon-coloured poinsettias next to it and your Advent calendar is complete.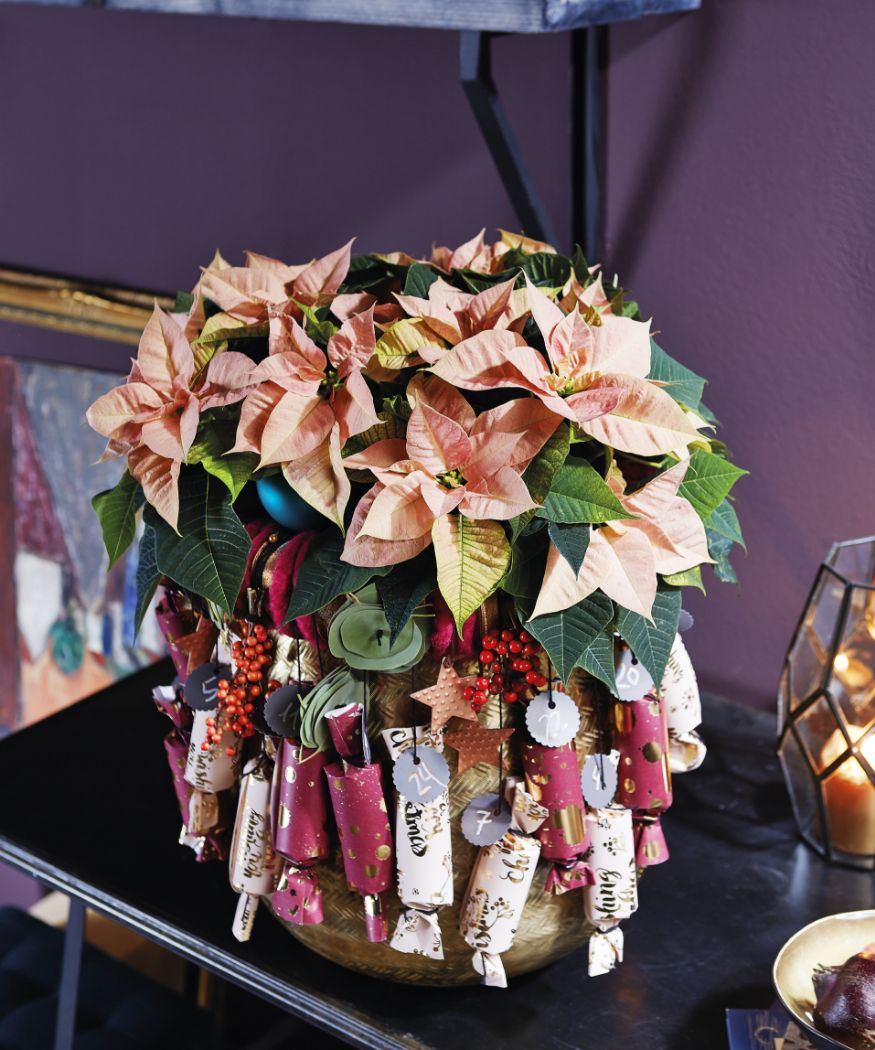 A little surprise for every day
With the joyful anticipation of Christmas comes a penchant for fancy decorations. This opulent Advent calendar is a real eye-catcher. It combines the joy of the Advent feeling with a small surprise every day. On centre stage: the poinsettia.
All you need are an opulent poinsettia, straw ring, deco pot, thick wool or felt strings, satin ribbon, organza ribbon, yarn, 24 cardboard tubes with a length of 8-10 centimetres, wrapping paper, construction paper, paint marker, fine-toothed saw, pinking shears, punch, freezer bag and deco materials such as straw stars, cones, dried berries or leaves as well as sweets and little Advent presents.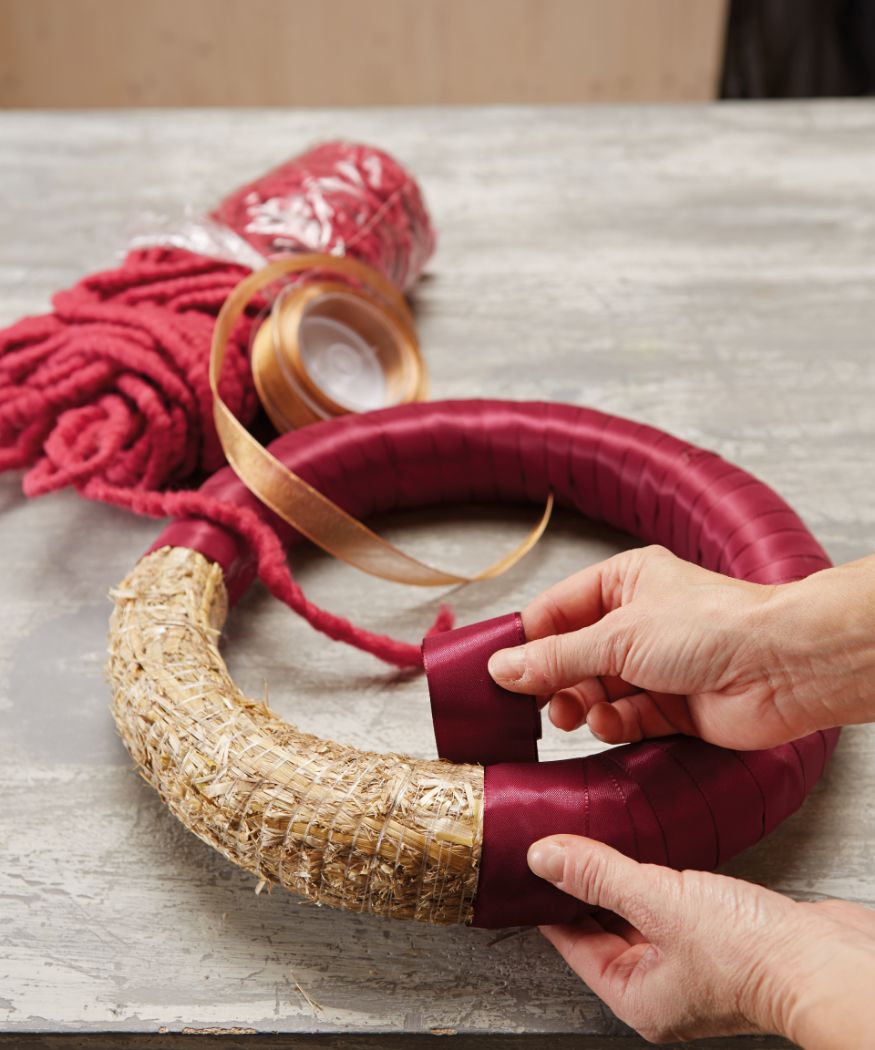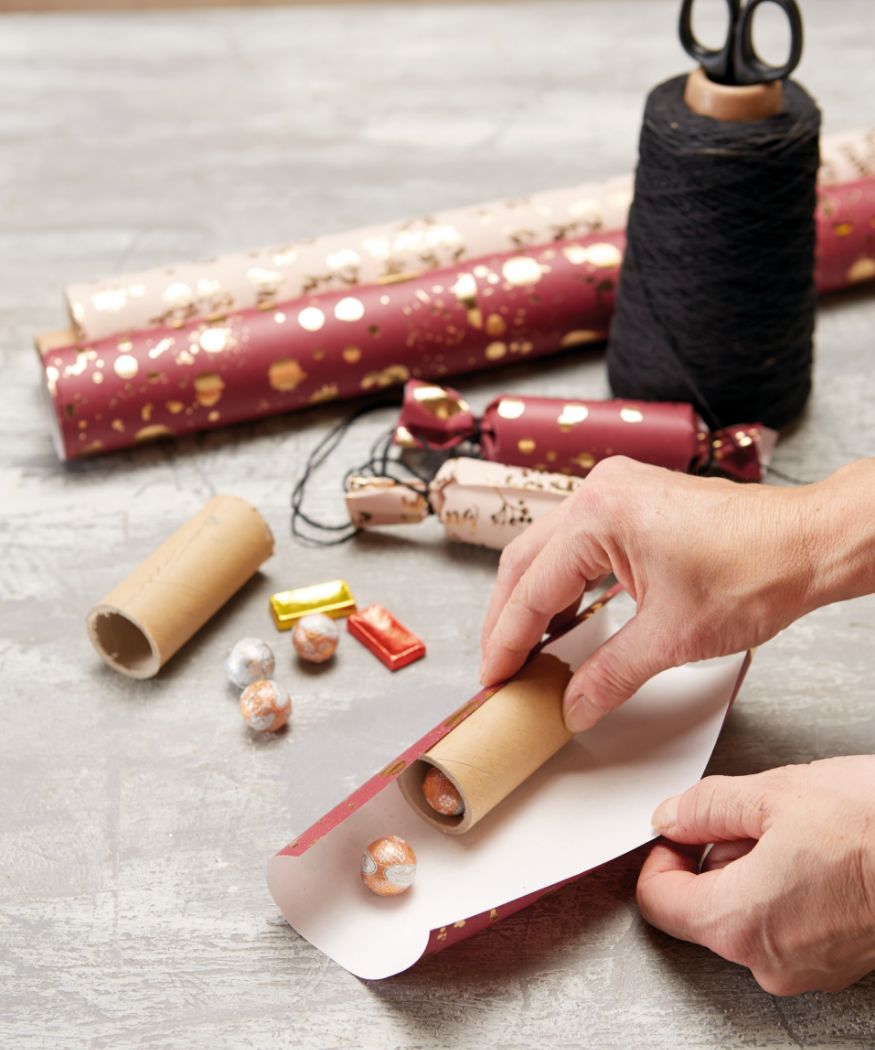 Step 1: Wrap wide satin ribbon around a straw ring. Next, wrap a second layer of more narrow organza ribbon and wool or felt string until a structured ribbed effect is achieved. Place the wreath on the rim of the pot.
Step 2: Cut sturdy cardboard tubes in lengths of 8-10 centimetres. The best way to do this is with a fine-tooth saw. You will need 24 of these. Now fill the tubes with sweets and little presents. Wrap each roll in wrapping paper, leaving an ample amount at each end, and with strong yarn tie off the ends like bonbons. Leave a long string at one end for hanging on the calendar.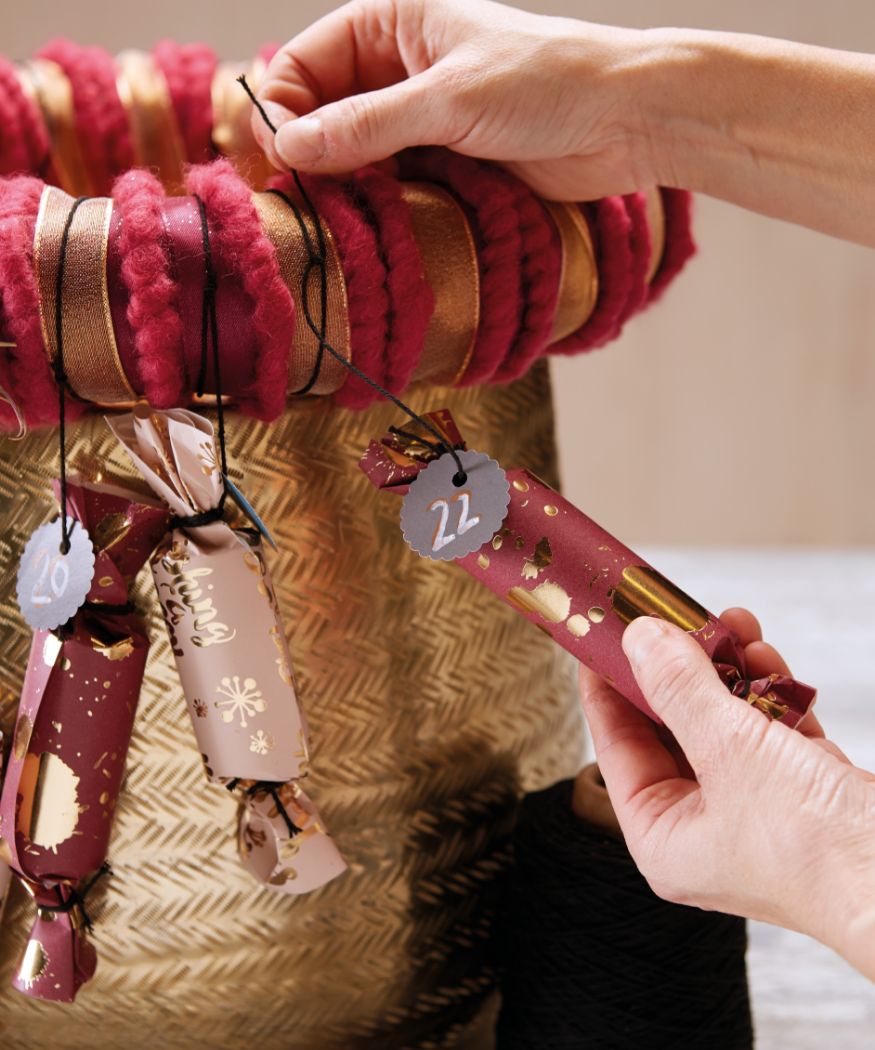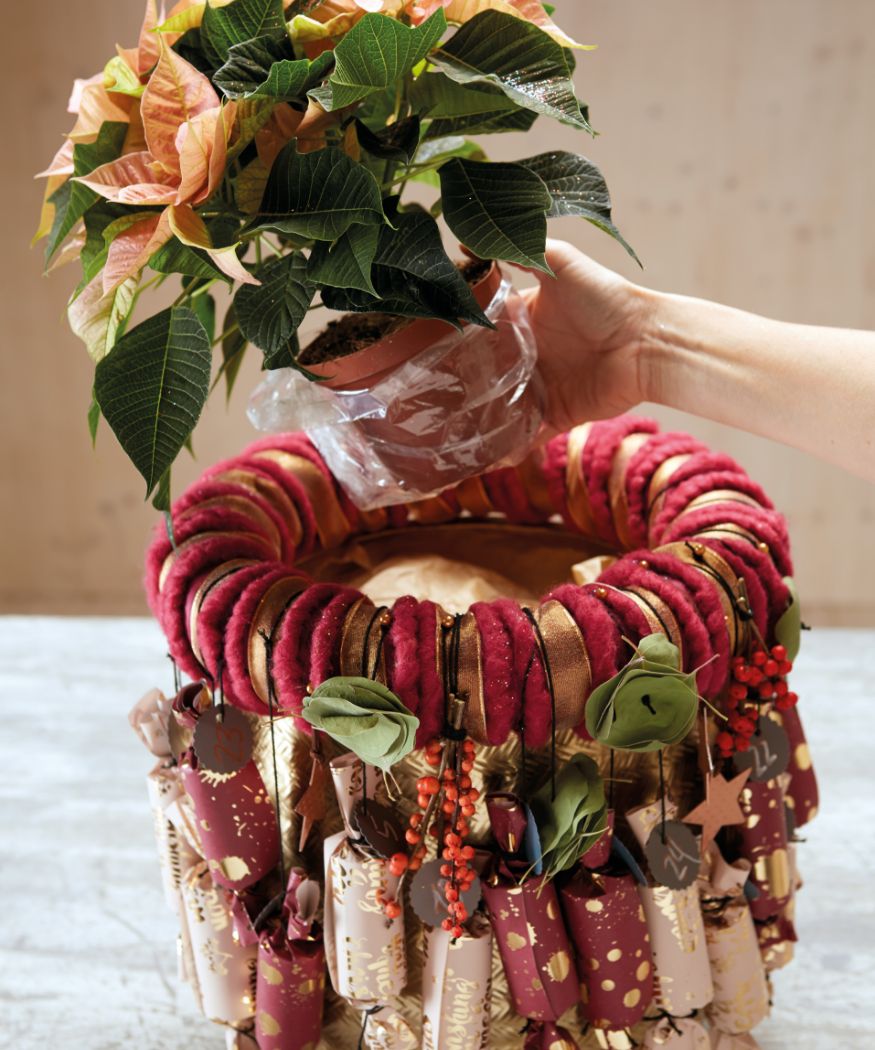 Step 3: Cut 24 circles out of construction paper with the pinking shears, punch a hole in each one and number them 1 to 24 with the paint marker. Thread the numbered circles on the long string. Tie the little presents to the wreath. For additional opulence, string cones, eucalyptus leaves, red holly berries, stars and other accessories on some yarn and tie it to the wreath.
Step 4: All that remains is the finishing touch: an opulent poinsettia with its culture pot waterproofed in a freezer bag. If necessary, first insert scrunched-up tissue paper to raise the plant up to the desired height.