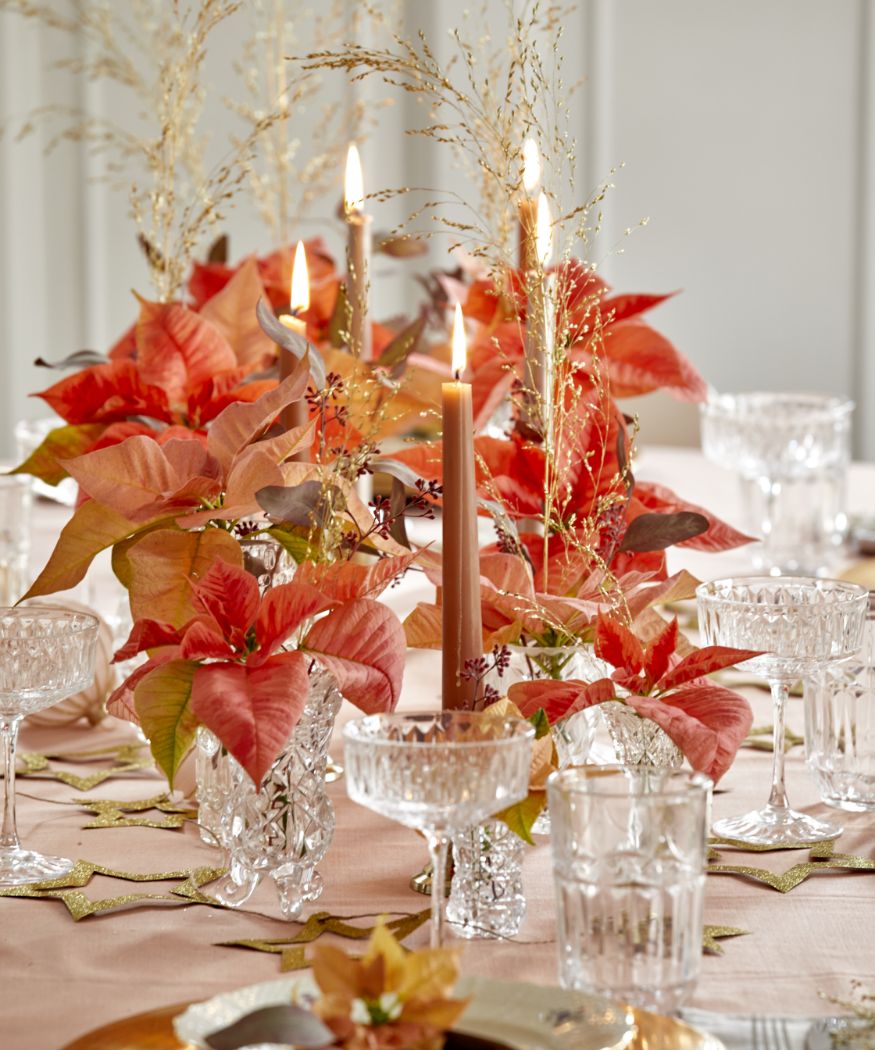 A feast for the senses. Floral table decorations featuring poinsettias.
For the perfect festive meal that appeals to all the senses, the table décor is as important as the choice of food and drink. After all, you eat with your eyes. In the autumn and winter months, poinsettias make the perfect floral decoration for a festive table. Their colourful, star-shaped bracts rival any real flower in terms of beauty. They also score highly with their numerous colours and shapes and can be staged in a variety of ways.
Whether in a vase or pot, as a solo plant or in combination with other winter flowering plants – the creative possibilities with poinsettias are endless. The experts at Stars for Europe (SfE) present floral table decorations featuring poinsettias in a variety of colours and styles.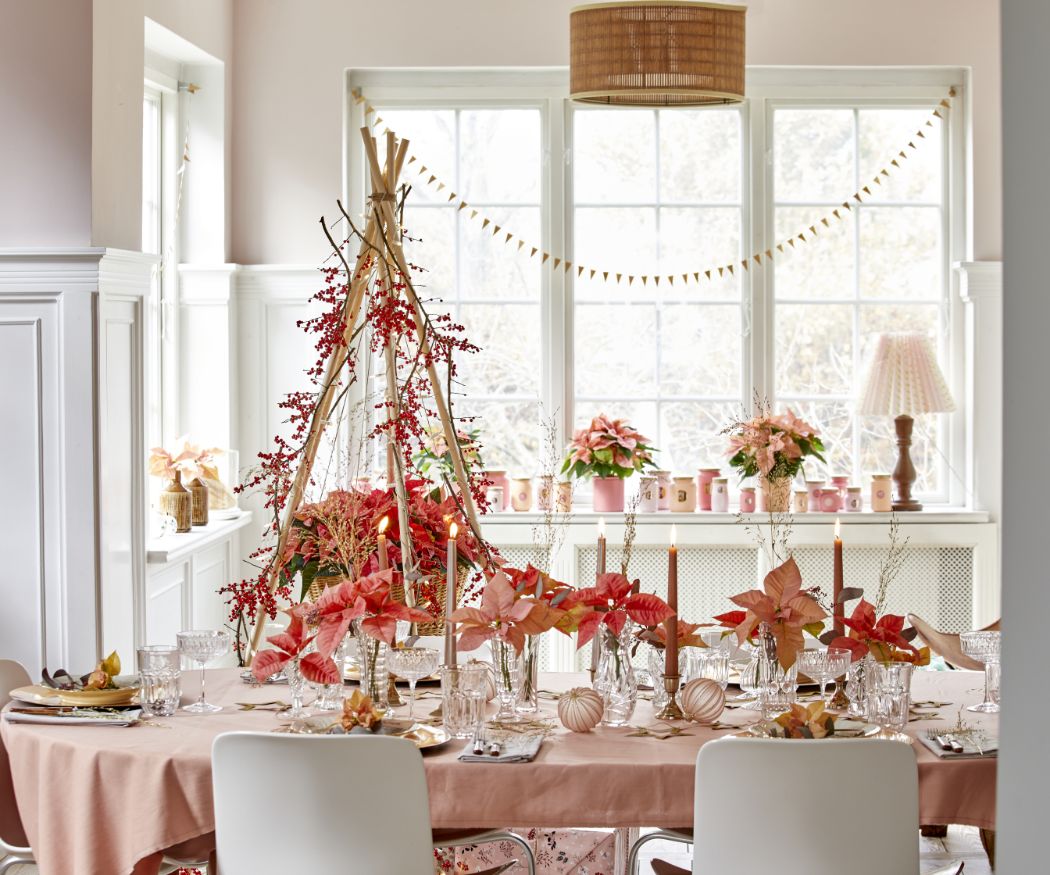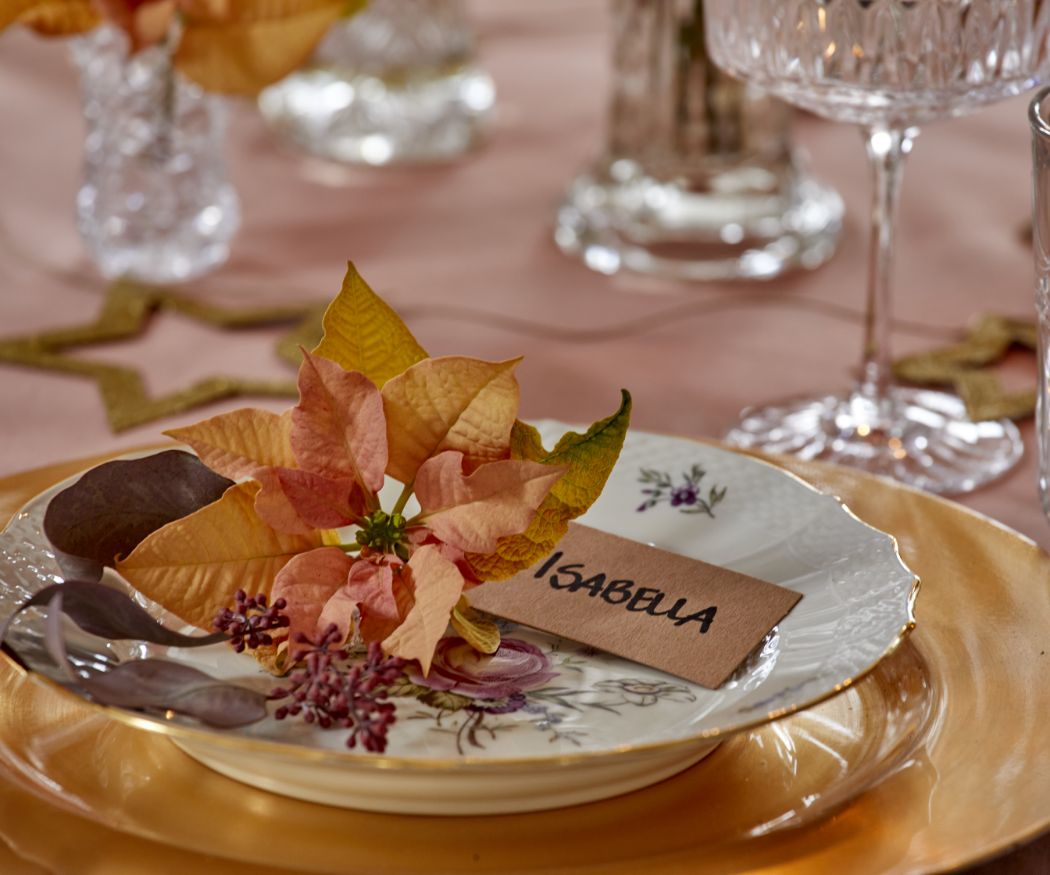 Fairytale festive table in blush tones
Cut poinsettias play the leading role in this fairytale table centrepiece in soft blush tones.
Festively set table with crystal glasses, taper candles and cut poinsettias in crystal vases and on the plate
Baubles, tableware, candles and vintage crystal glasses and vases create an exciting contrast to the modern homemade Christmas tree in the background.
At each place, a coral cut poinsettia and a sprig of eucalyptus greet the guest. Vintage-style tableware and a name plate made of brown felt/card create a retro vibe.
Tip: To protect your plates from mess, wrap the poinsettia stem with green tape or place it in a flower tube filled with water.
Dream in coral and crimson: this arrangement of cut poinsettias, candles and decorative panicum (fountain) grass is hard to beat for festive beauty.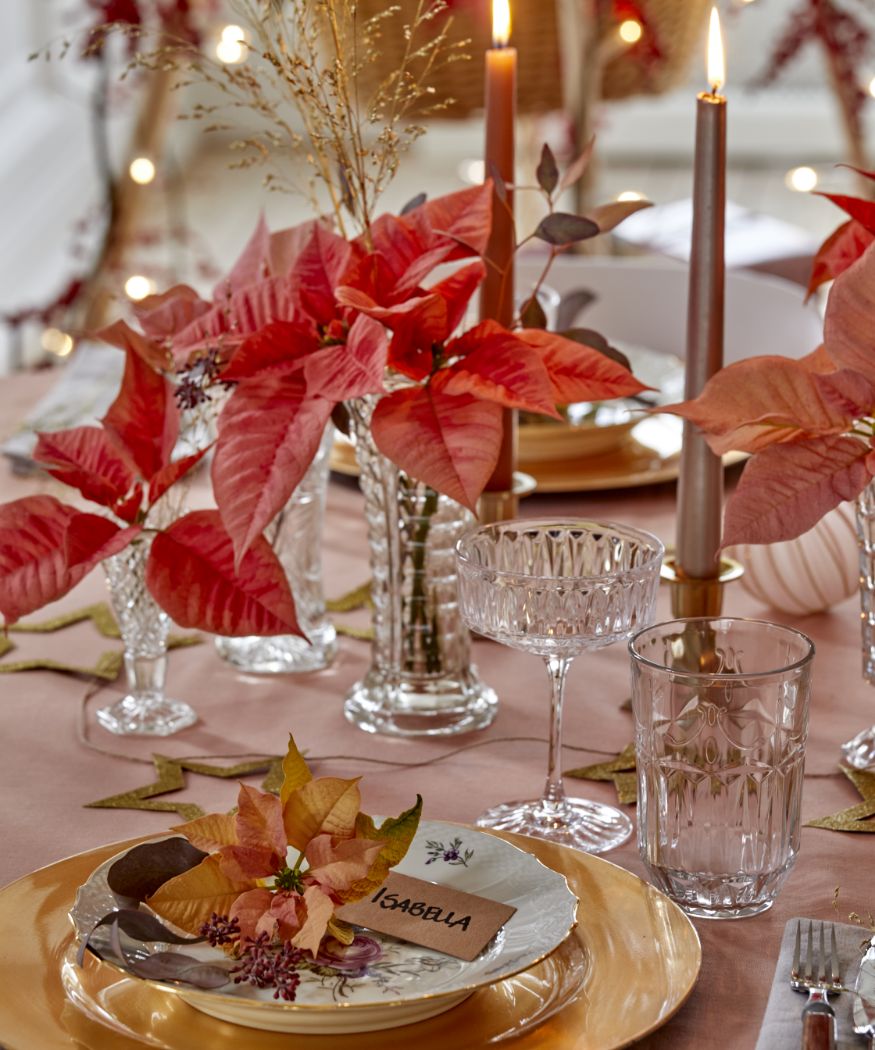 Romantic vintage table in soft pink
Pink, pale green and white give this festive table a romantic air. In the centre of the table, a tray filled with mini poinsettias in homemade paper bags, hyacinths and waxed cones draws the eye.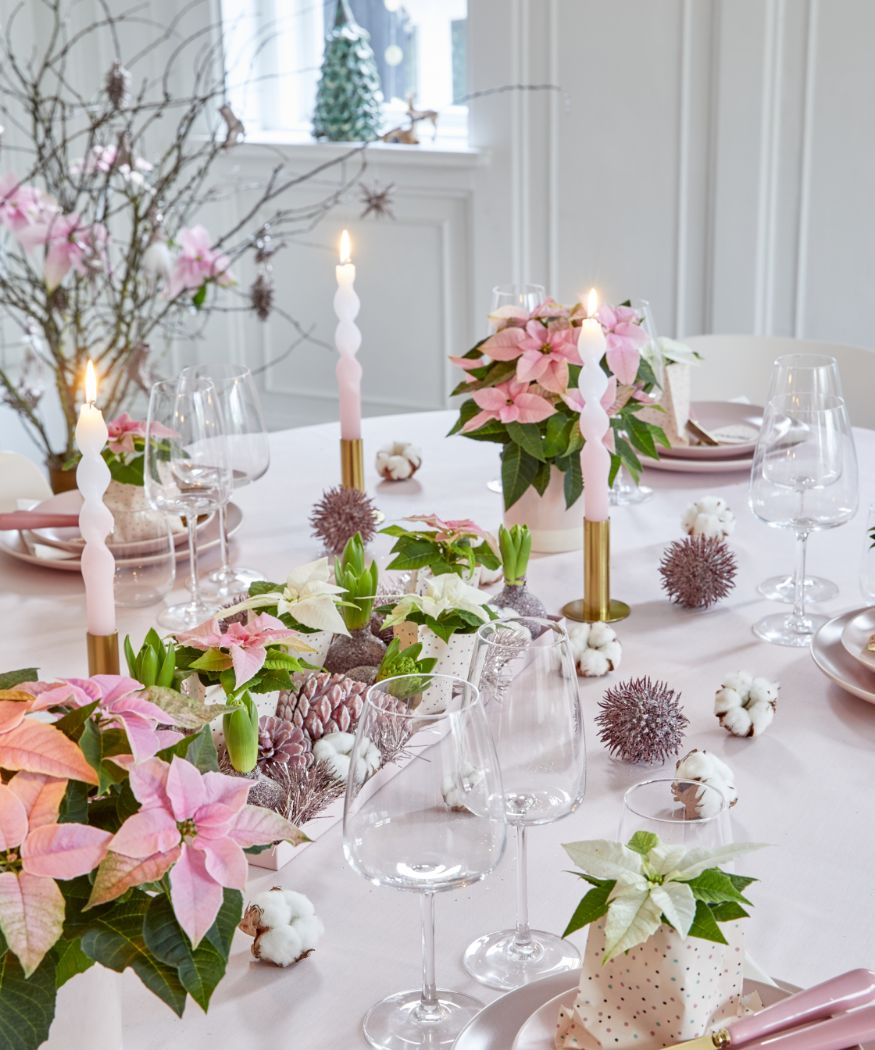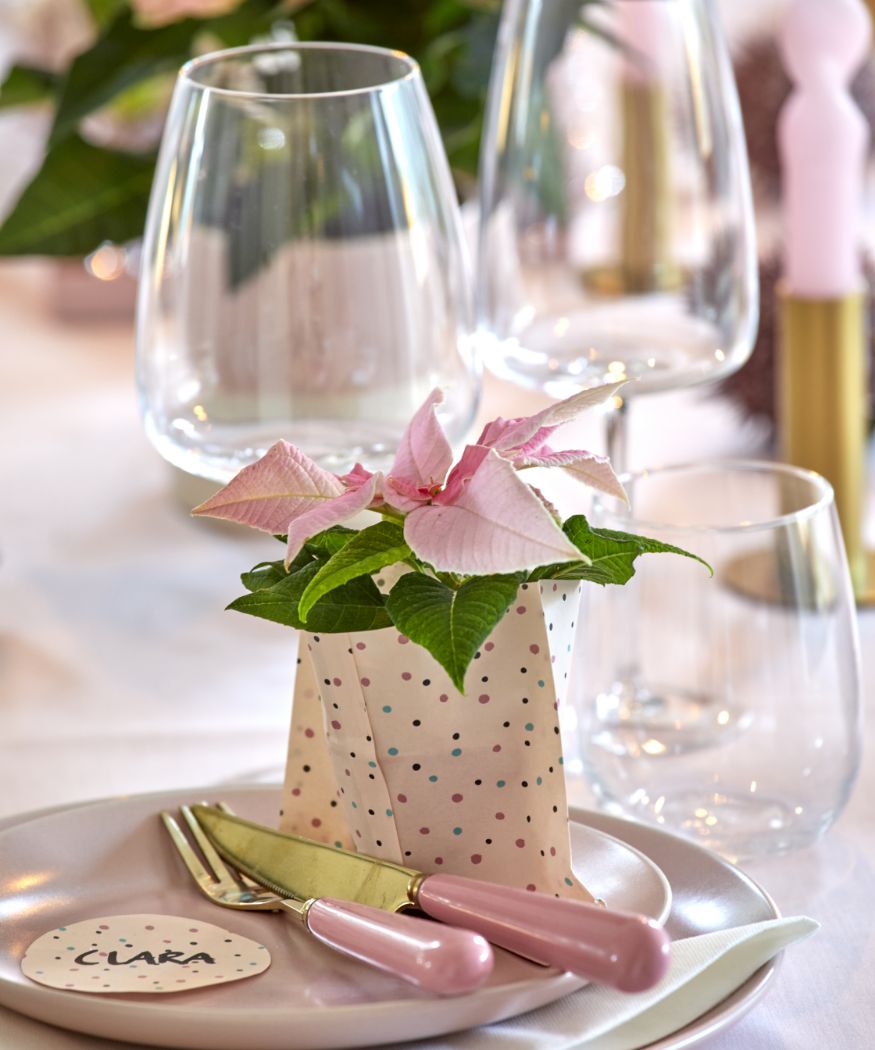 Twisted candles in golden holders, lush flowering poinsettias in co-ordinating planters and frosted rambutan fruits and cotton bolls scattered on the table make the perfect table setting.
Right: A mini poinsettia in a homemade paper bag at each place on this romantic vintage celebration table makes a welcoming gesture and gift all in one.
Natural elegance with cream poinsettias
Elegant and natural at the same time, this lush table setting features cream-coloured poinsettias, zigzag bushes (muehlenbeckia astonii) and hellebores in different sizes. Add moss, cones, spruce twigs and echeveria, as well as snow spray and baubles in coordinating colours. Two-tone white and green taper candles provide an atmospheric light.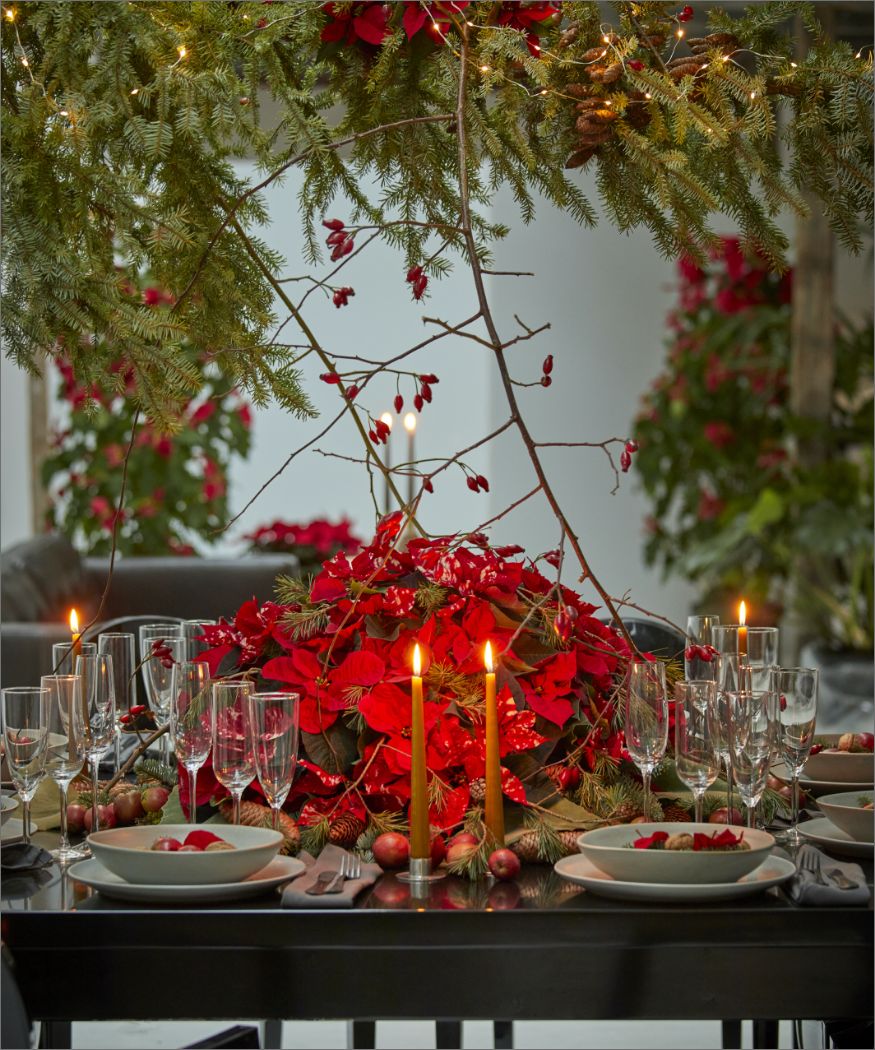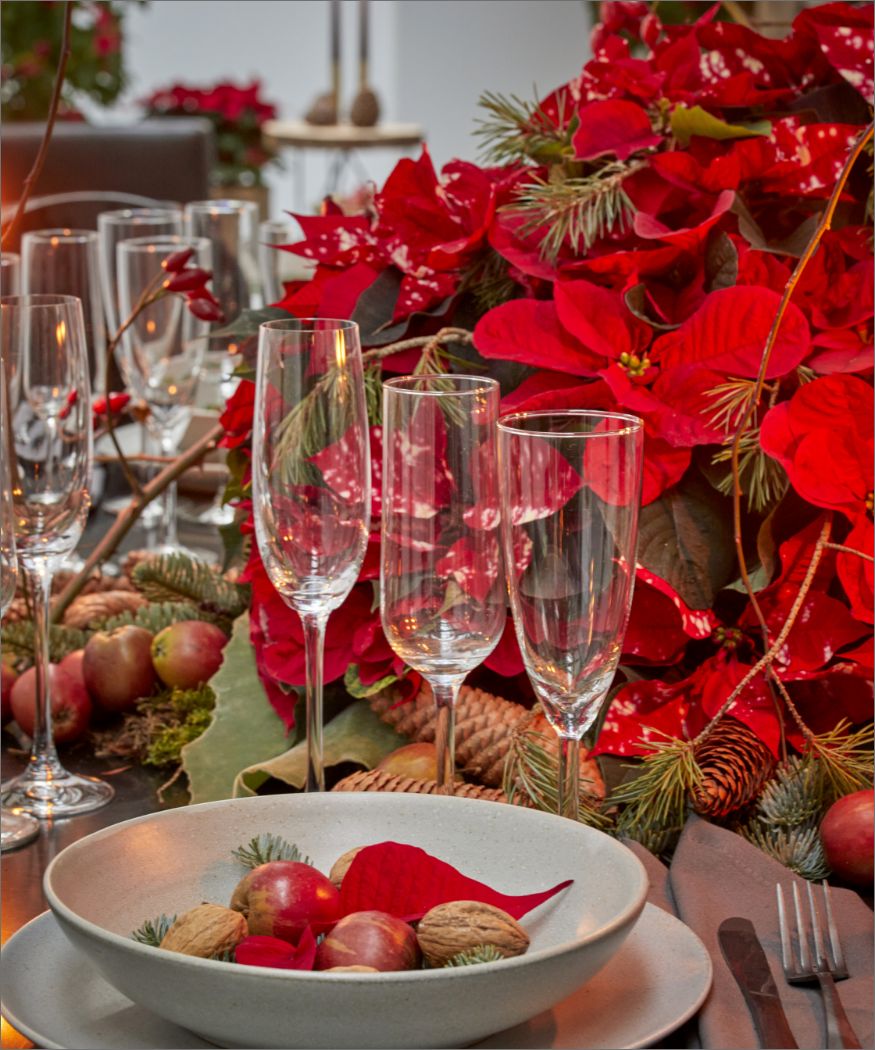 Glowing statement piece with red poinsettias
As a centrepiece, this bowl densely planted with red poinsettias makes a dazzling statement on a festive Christmas table. Spruce branches, nuts and apples arranged in and around the bowl makes the perfect natural table setting.
Tip: Varying shades of red and different leaf shapes on the poinsettias and pine branches tucked in between make a more dynamic arrangement.
A Christmas tree trimmed with mini poinsettias and a string of lights, suspended horizontally above the table, makes a fantastic feature in rooms with high ceilings. Hanging rosehip branches visually bridge the gap to the bowl planted with poinsettias on the table.
Poinsettias as cut flowers
Whether individually in a vase, as a flower arrangement or in a bouquet, cut poinsettias have a really long vase life. Their stunning bracts will stay fresh for about two weeks if you stop the milky sap from oozing out at the stems immediately after cutting. To do this, first immerse the stems in hot water of around 60°C for about five seconds, then immediately plunge them into cold water.