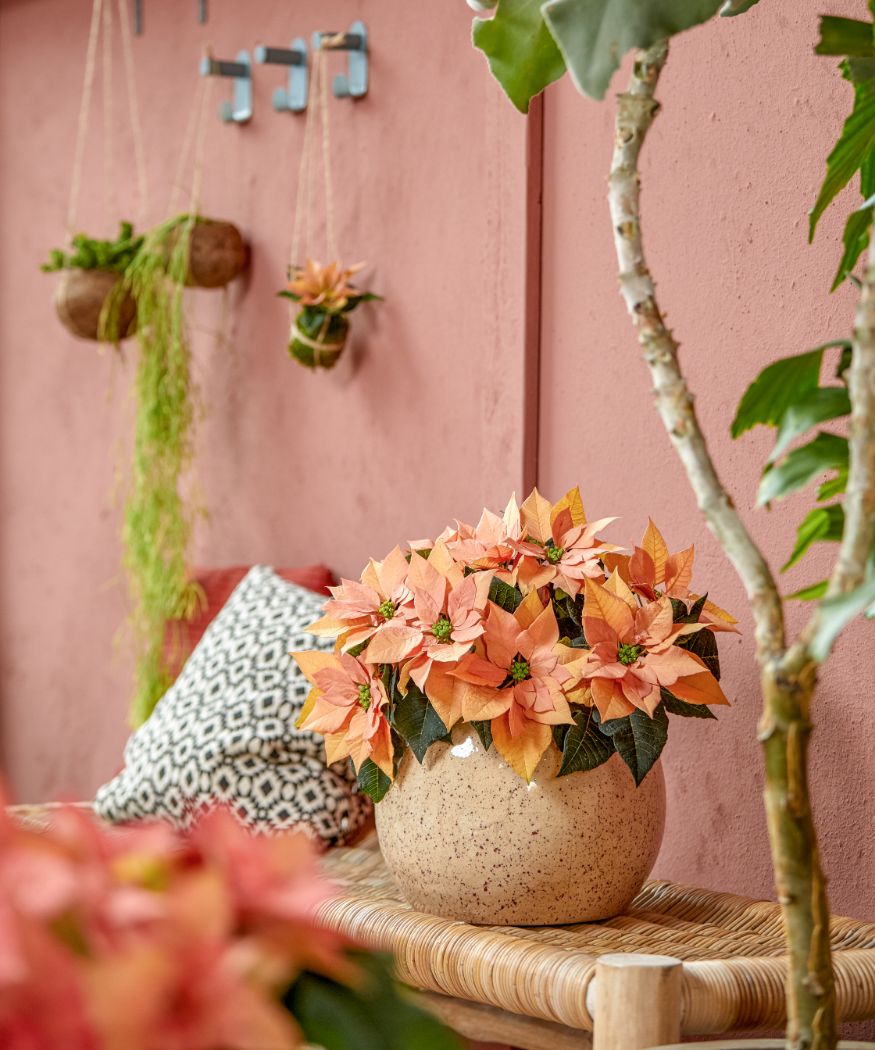 Use colour to fight the autumn blues. Poinsettias are decorative and boost your mood.
As temperatures and daylight drop in autumn, so do many people' moods. About one in three people suffers from low mood during the autumn and winter months. But you can do something about it. As well as outdoor exercise, bright colours and plants also have a positive effect on mood. No home should be without them. The poinsettia is the absolute star among winter-flowering houseplants. With its bright colours, it can instantly transform any room into a feel-good, joyful haven, leaving the autumn blues no chance. Depending on the shade, you can achieve quite different effects.
Blush poinsettias create a warmth and cosiness
Whether apricot, pink or salmon, blush shades are not only on trend for poinsettias, but the soft pastel shades give off a feeling of warmth and comfort and, especially when teamed with natural materials, can help you relax and unwind.
They have a both calming and invigorating effects on your mood. A large planter with apricot, pink and salmon mini poinsettias, trailing tradescantia zebrina, rust-coloured foliage begonia and calathea makes a stunning focal point in winter. The combination of poinsettias and ornamental foliages works well with other houseplants.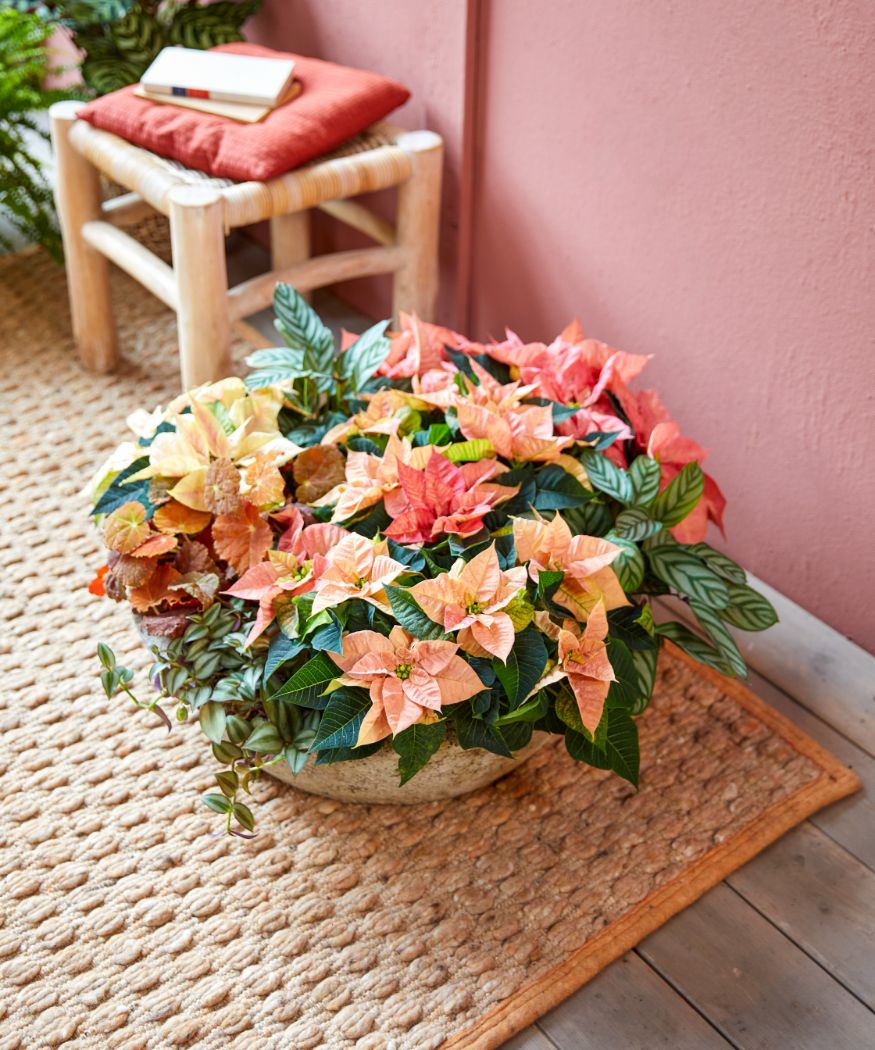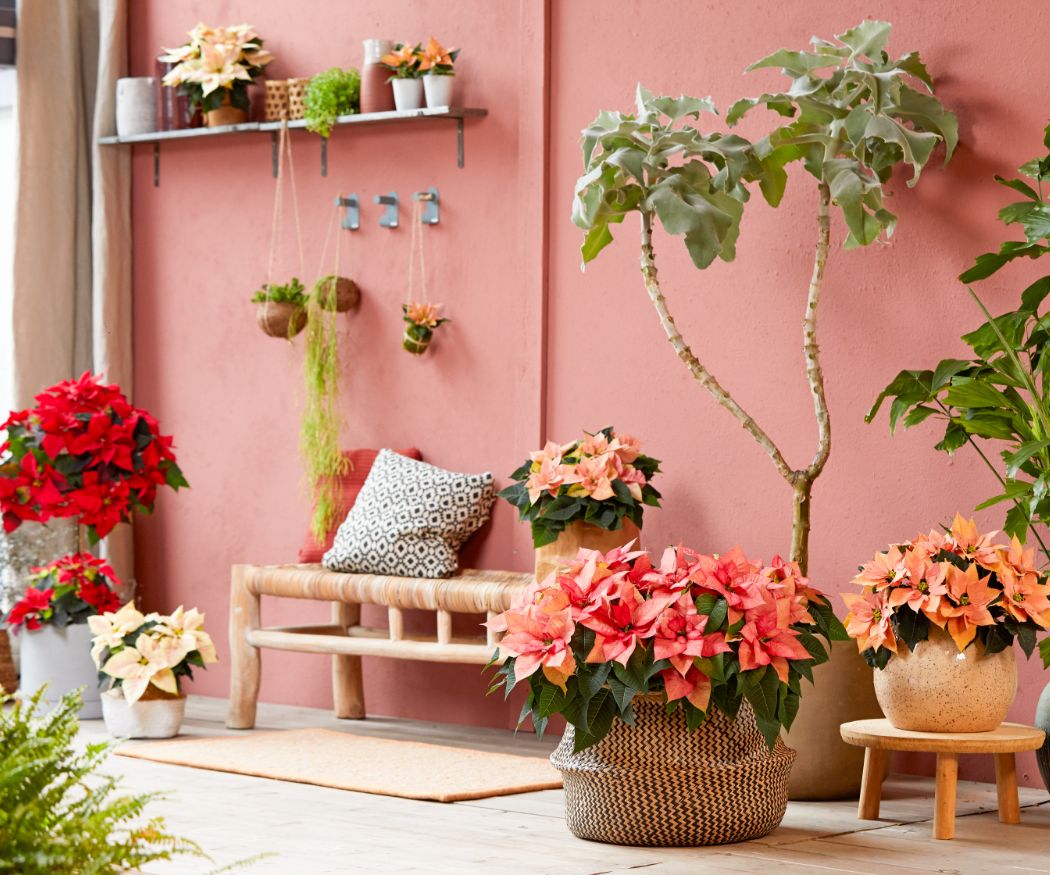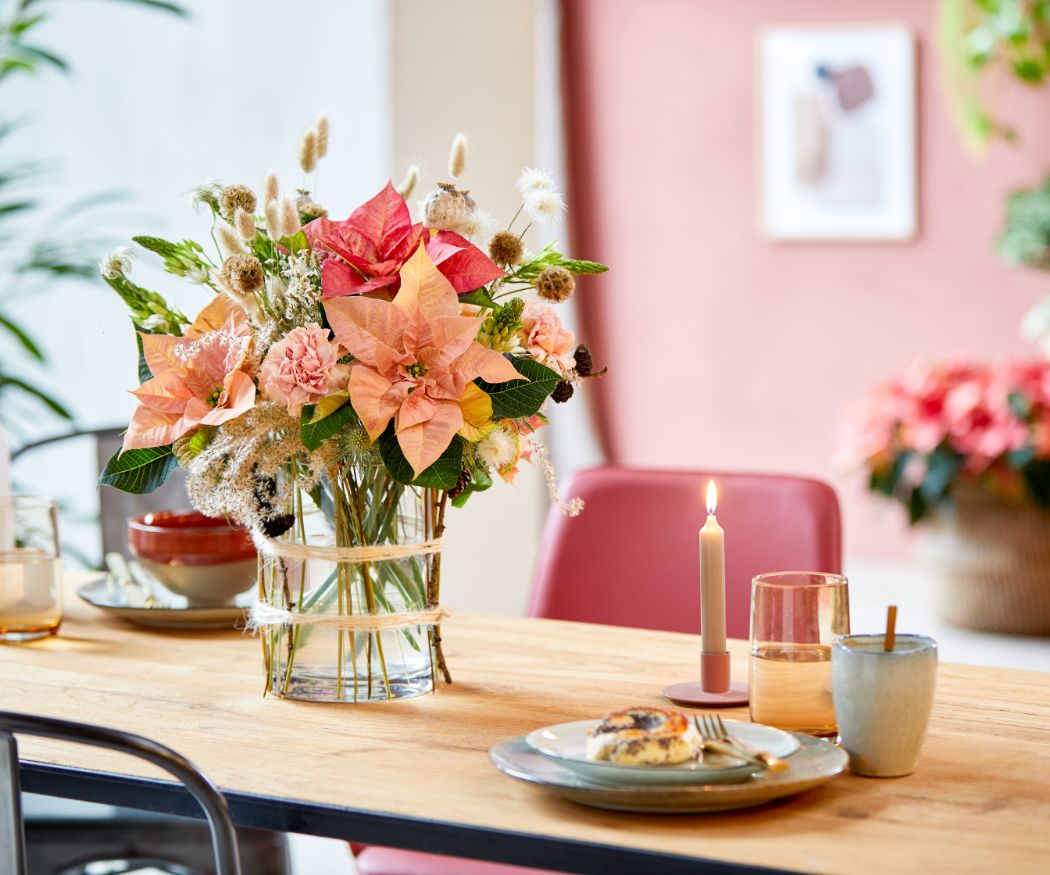 Poinsettias don't just make great pot plants, you can also use cut poinsettias to create beautiful bouquets or flower arrangements. The colourful bracts form such huge mock flowers that they look great on their own. Cut poinsettias have a long vase life too. They will stay fresh for up to two weeks if, immediately after cutting, you dip the stems in hot water (about 60 degrees) for a few seconds then plunge into cold water.
In the bouquet above, poinsettias are combined with carnations, poppy heads, limonium, thistles (eryngium), scabious seedheads, various ornamental grasses and larch branches. Some of the floral elements are placed on the outside of the simple glass vase and held in place with elastic bands and wool.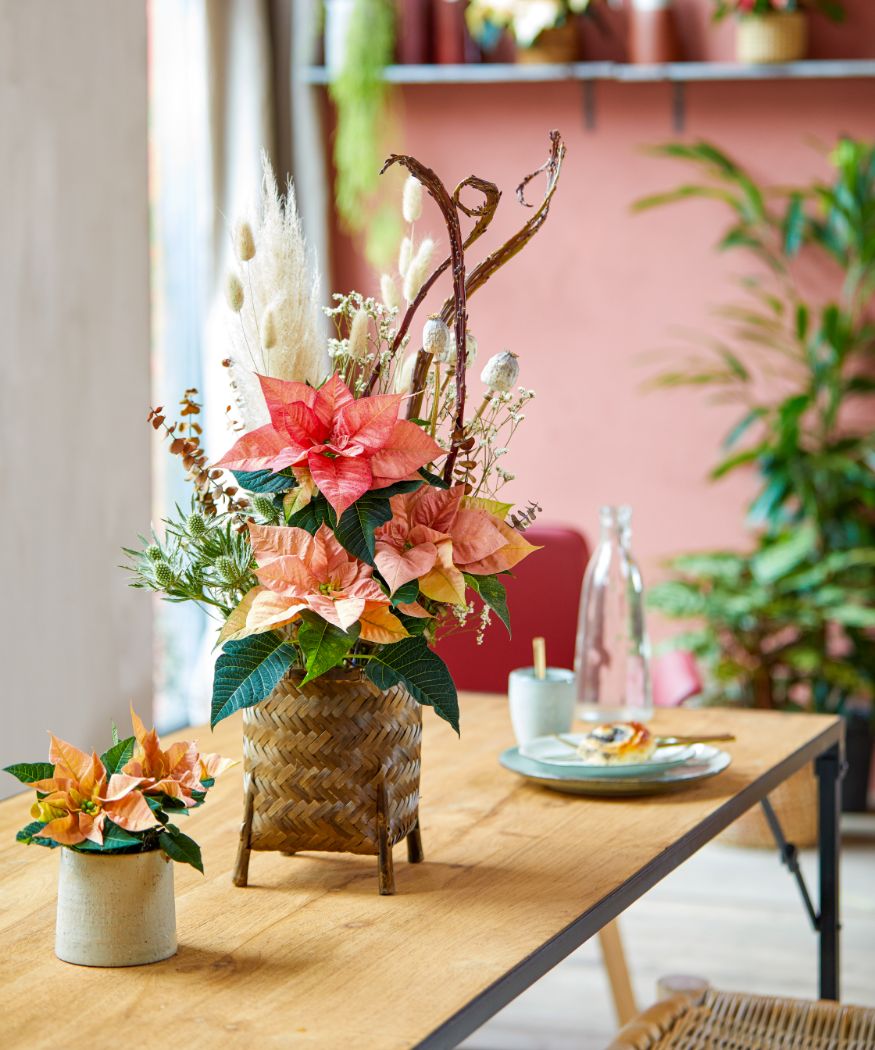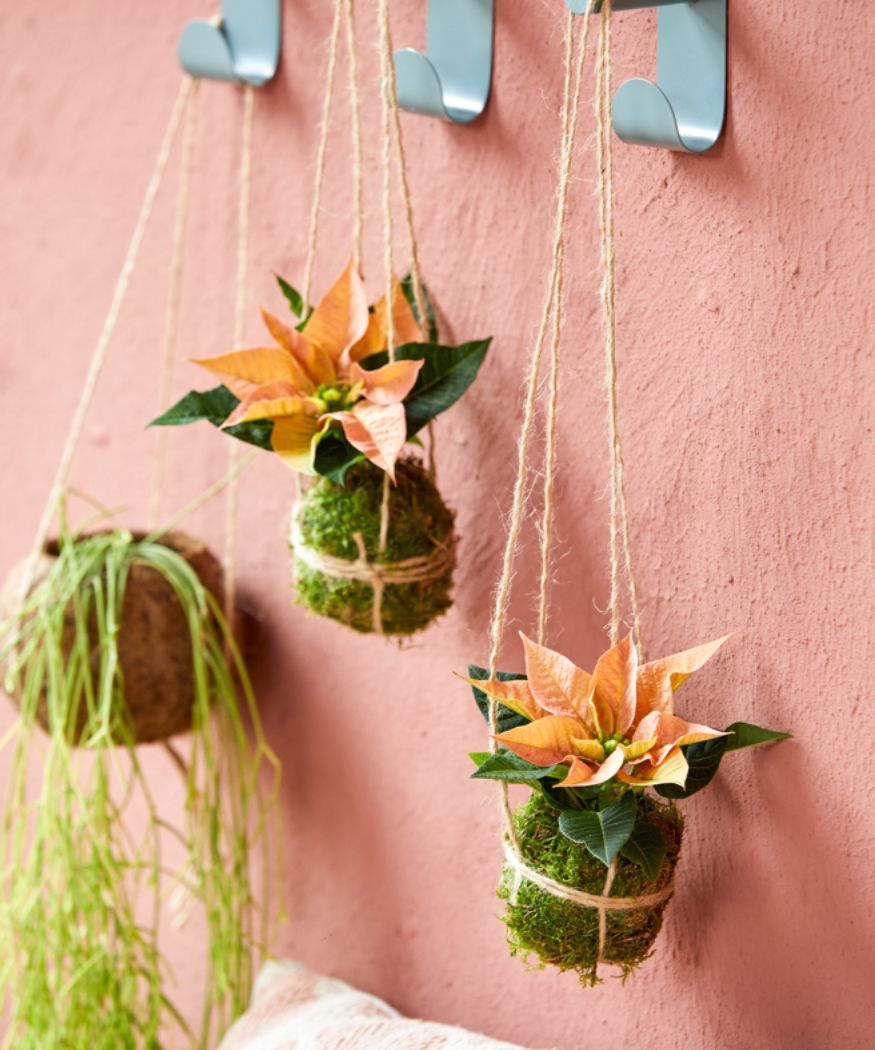 The arrangement on the right consists of cut poinsettias, various ornamental grasses, limonium, thistles (eryngium), eucalyptus and willow branches as well as poppy heads.
Another alternative to classic potted plants are kokedama. These are decorative moss balls with houseplants plants growing out of them. This plant trend from Japan, which is also becoming more and more popular here, is particularly suitable for mini poinsettias. Kokedama are simple to make yourself. There are plenty of instructions for making them online. It's definitely worth a try, as crafting has a positive effect on mood, just like colours and plants, so creative design with plants is a great way to beat the blues.
Yellow poinsettias spell cheerfulness and optimism
Yellow stands for the sun and light. In bright yellow, poinsettias brighten up a room and exude joy and optimism. So yellow poinsettias are ideal for banishing the blues and creating a positive mood on a gloomy winter's day.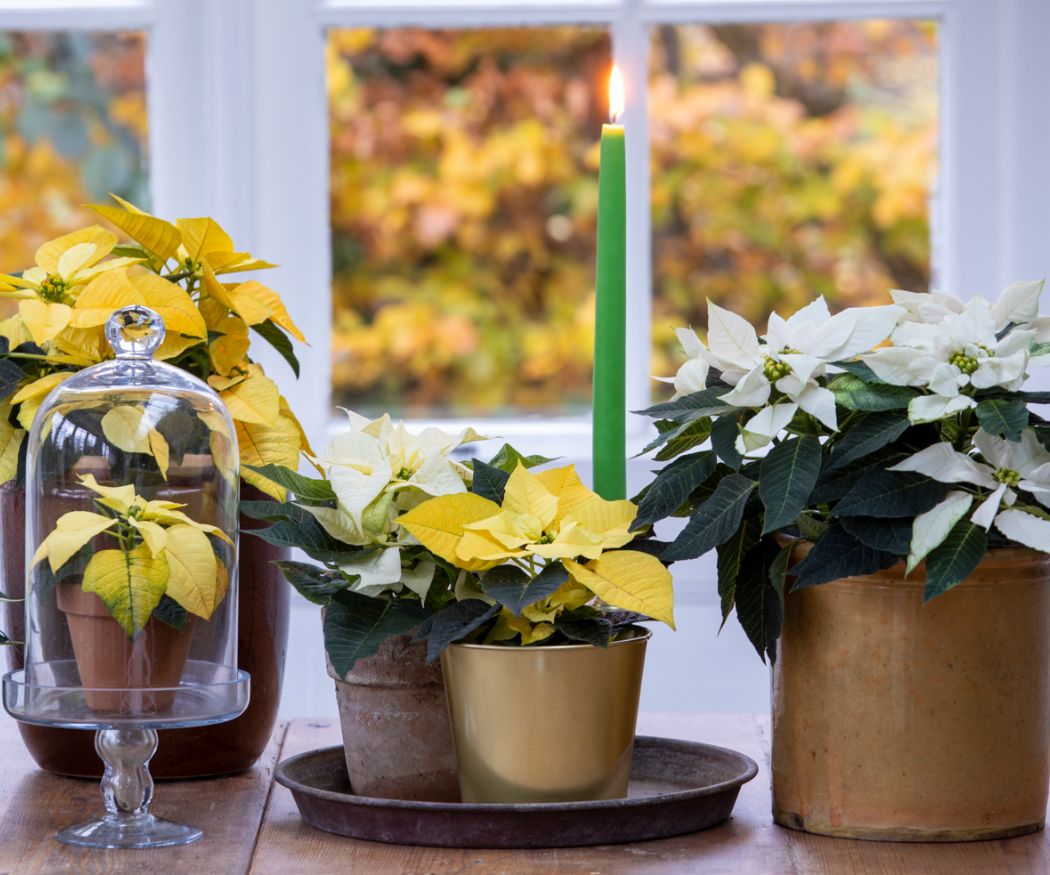 Red poinsettias mean vitality and energy
Welcome to the jungle! The bright red of the poinsettias contrasts perfectly with the green of the walls and the other houseplants, lending the room extra warmth and brightness.
Red poinsettias are ideal for anyone craving more energy and vitality, because red stands for dynamism and movement and boosts drive and momentum. If you're feeling tired and drained, you can't go wrong with red poinsettias. But red is not just red. The colour spectrum of poinsettias ranges from bright red to deep burgundy.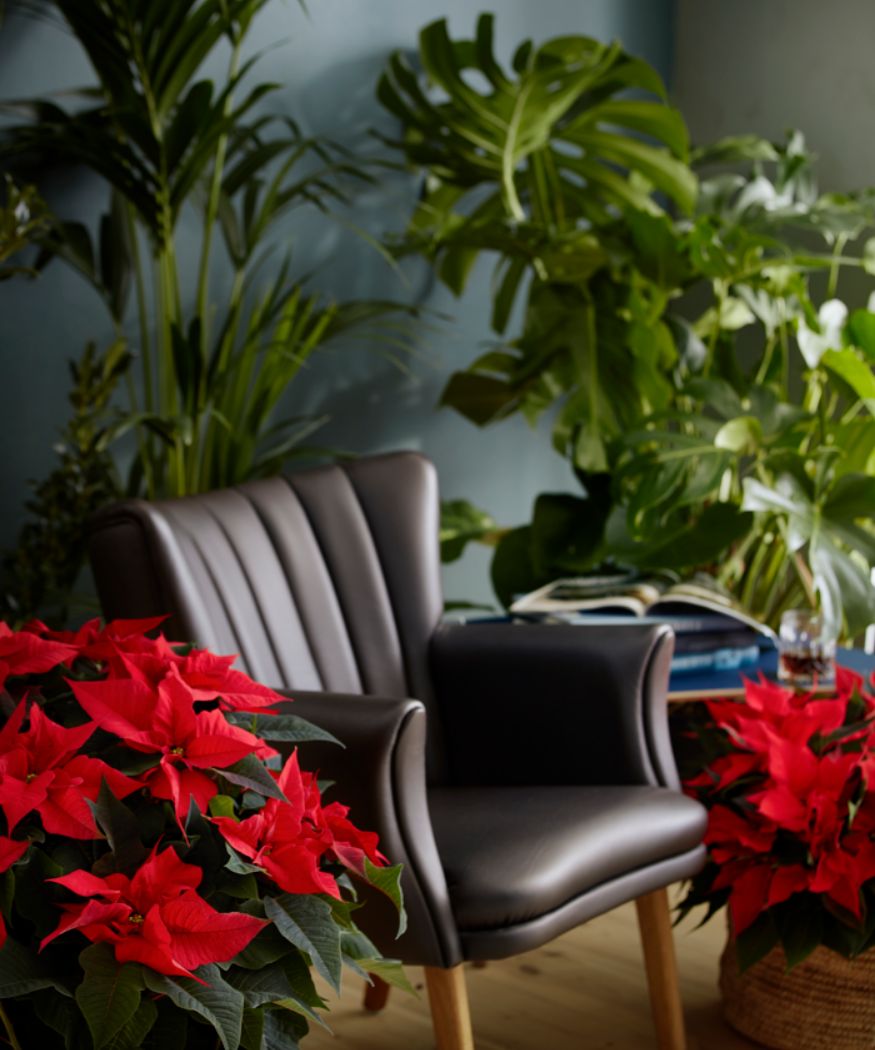 No matter which poinsettia colour you choose, these plants will definitely have a positive effect on your mood. And if you don't want to commit (to one shade), simply combine several poinsettias in different shades, because colourful decor always cheers you up.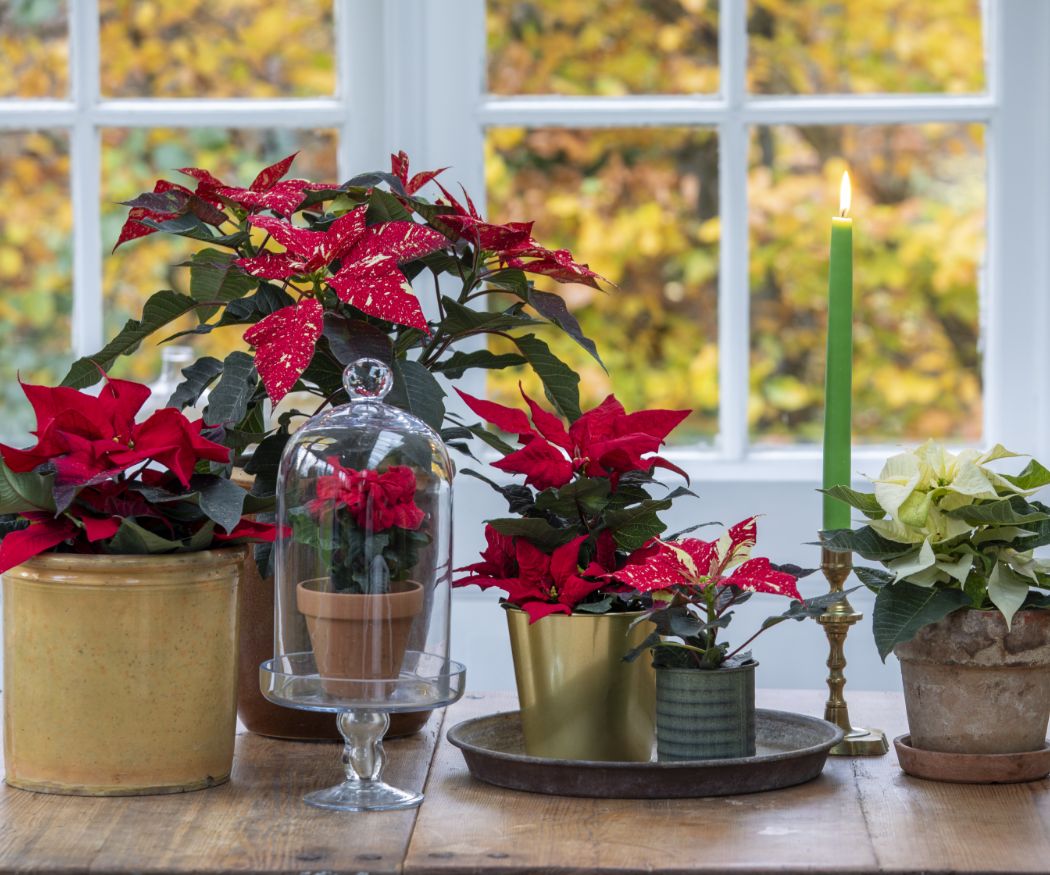 Die größte Vielfalt an Weihnachtssternfarben und -formen findet man im Fachhandel übrigens zu Beginn der Saison. Ab Mitte November ist die Auswahl häufig schon auf wenige Farben und Größen beschränkt.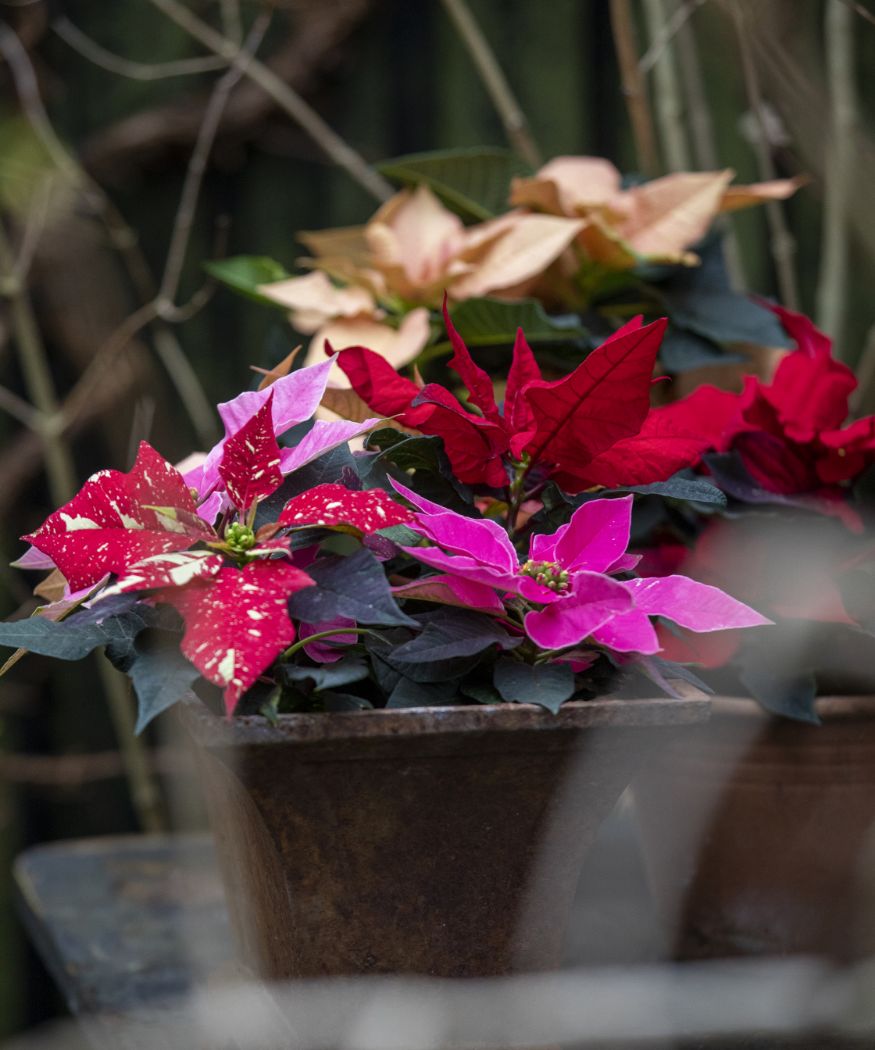 The widest variety of poinsettia colours and shapes can be found in specialist shops at the beginning of the season from October. From mid-November onwards, the selection is often limited to just a few colours and sizes, so if you are looking for particular colours or shapes, don't wait too long.