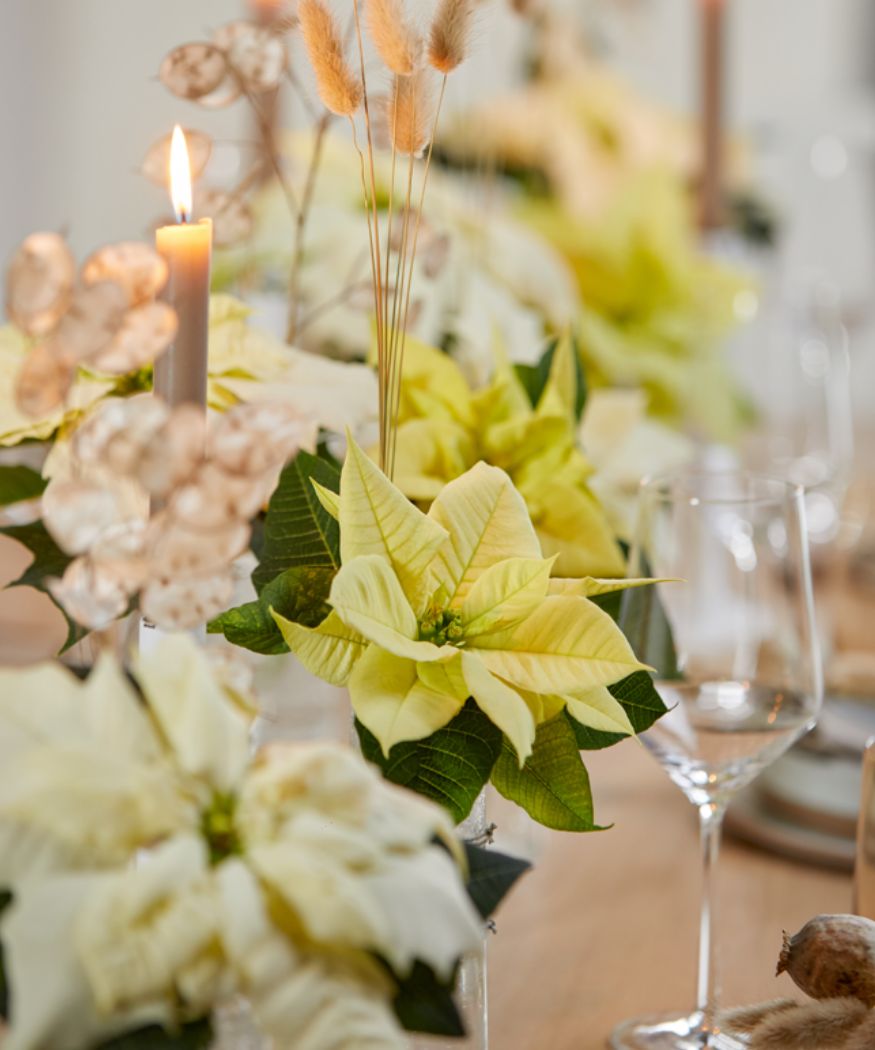 Christmas decorations for minimalists. Simple decoration ideas with poinsettias.
At Christmas time in particular, most of us are used to lavish decorations with plenty of glitter and gaudiness. However, simple décor doesn't need to be any less festive. With just a few carefully chosen pieces, any room can still look atmospheric. The experts from Stars for Europe (SfE) present stylish ideas with white and cream poinsettias for those who want restrained yet contemporary Christmas decorations.
Less is more: understated centrepieces for a festive table
Simple glass containers with white and cream cut poinsettias, lunaria (honesty) and ornamental grasses instantly transform a laid table into a festive one in the natural, on-trend Japandi style. Restricting accessories to just a few emphasises the look of simple elegance.
A cut poinsettia at each place setting gives a warm welcome to guests.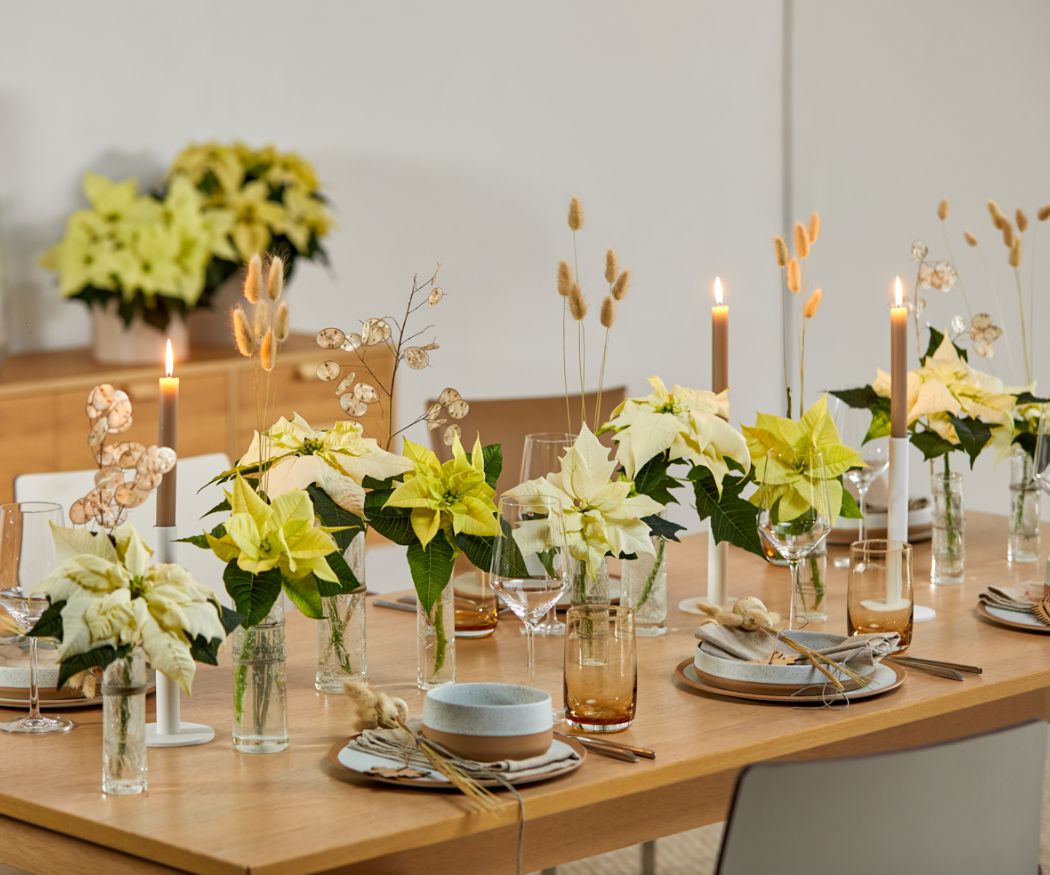 Tip: After sealing, you may want to wrap the poinsettia stem with green floristry tape or put it in a flower tube filled with water to avoid water contamination.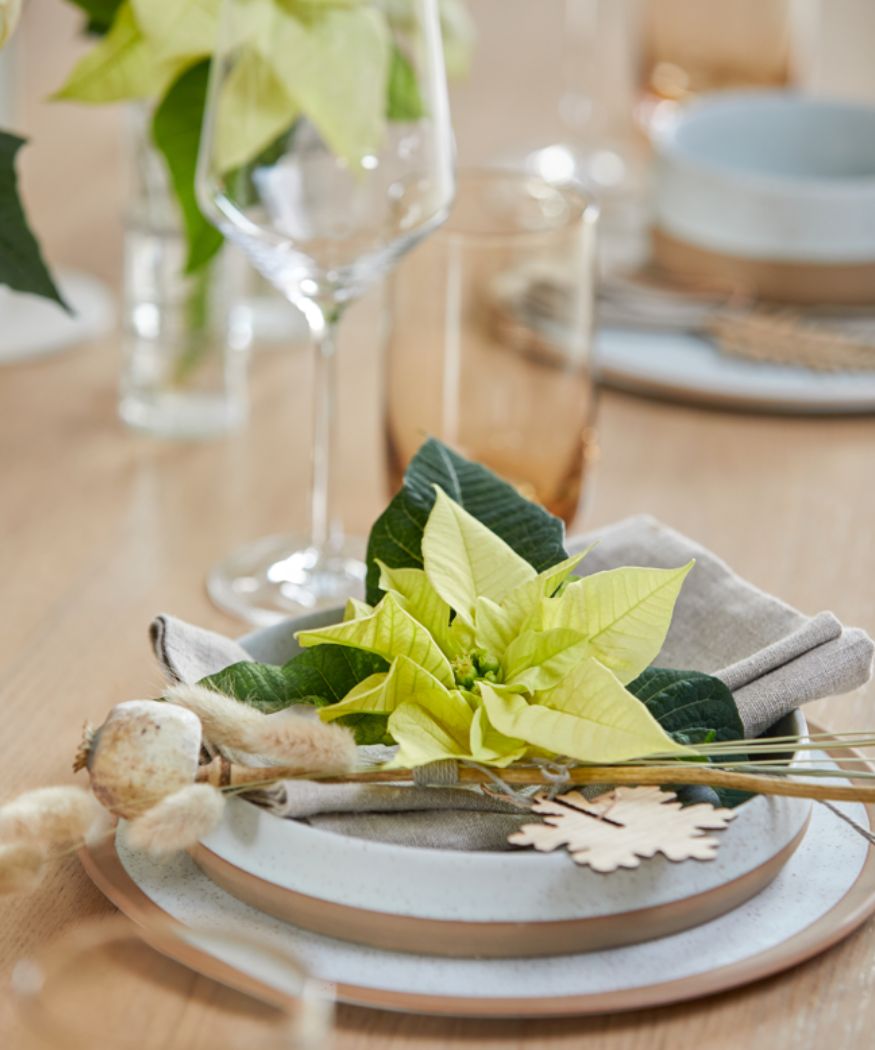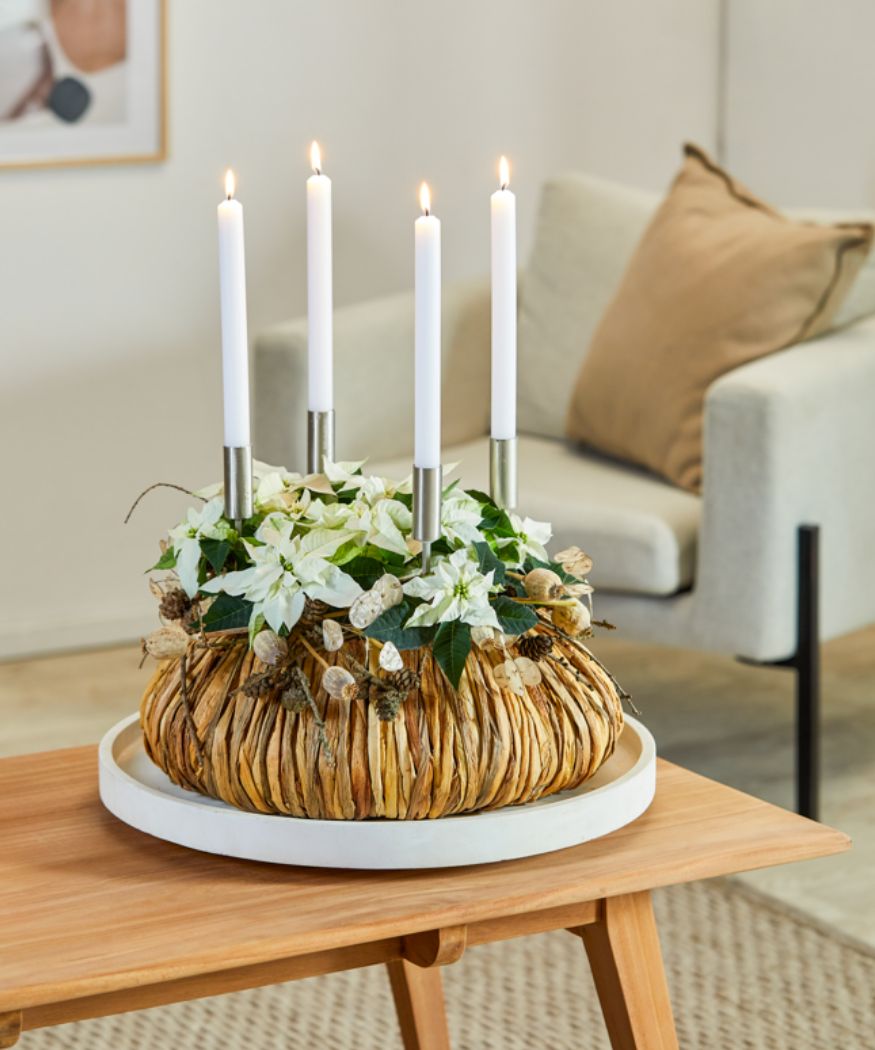 Simple no-frills, no-glitz Advent decorations
Not having lavish decorations doesn't mean you don't value the tradition of lighting a candle on each of the four Sundays of Advent. The following three Advent decorations don't need frills and glitter and work perfectly in a contemporary interior.
This tasteful advent wreath of white poinsettias, poppy heads, larch branches and Lunaria (Honesty) is both elegant and natural. With a little skill, and the right materials, you can make it yourself.
As well as the floral materials above, you will need two different-sized straw wreath frames, wooden skewers, wreath wrap tape, dried water hyacinth leaves, mossing pins, candleholders and pillar candles, as well as a suitable planter and a shallow bowl or plate to place them on.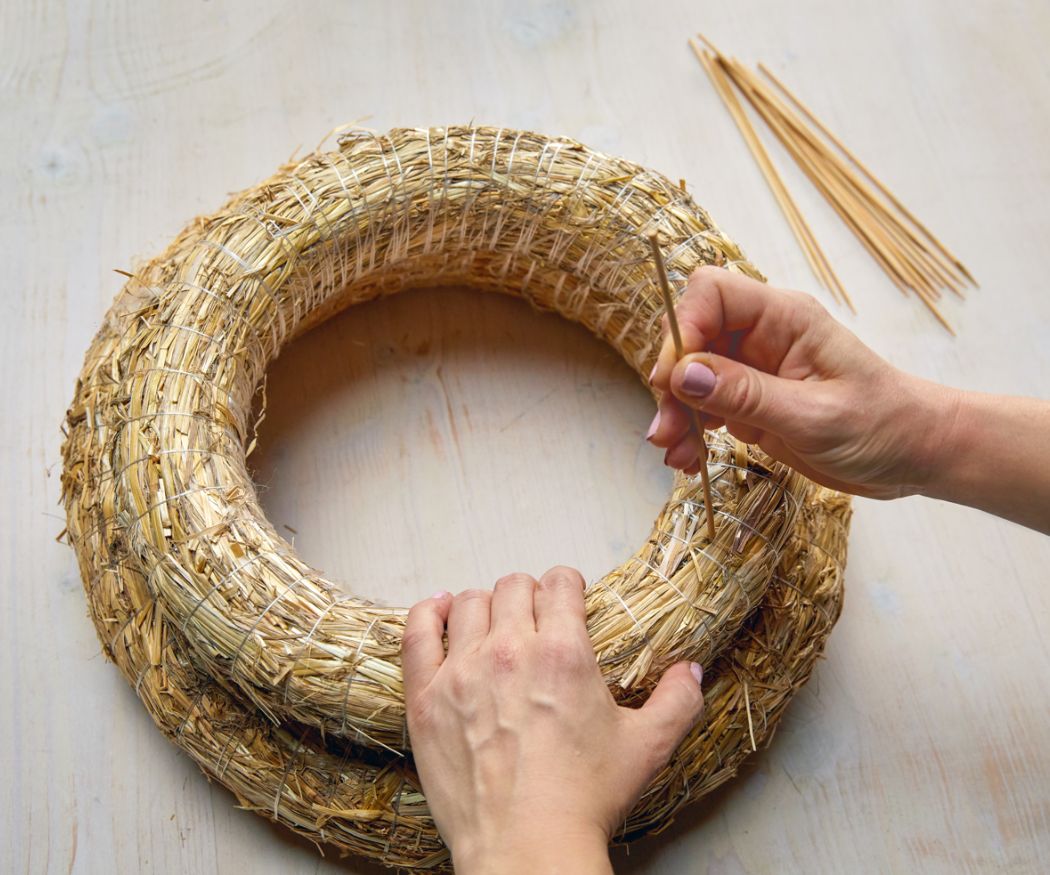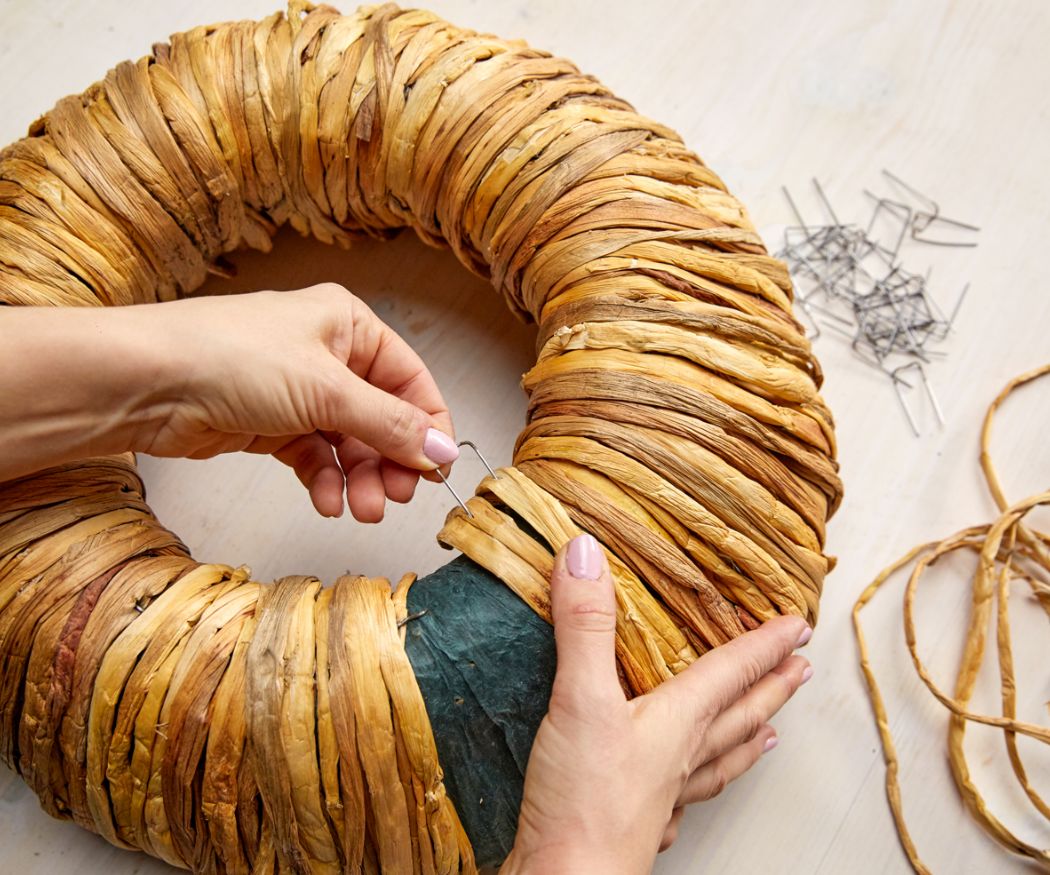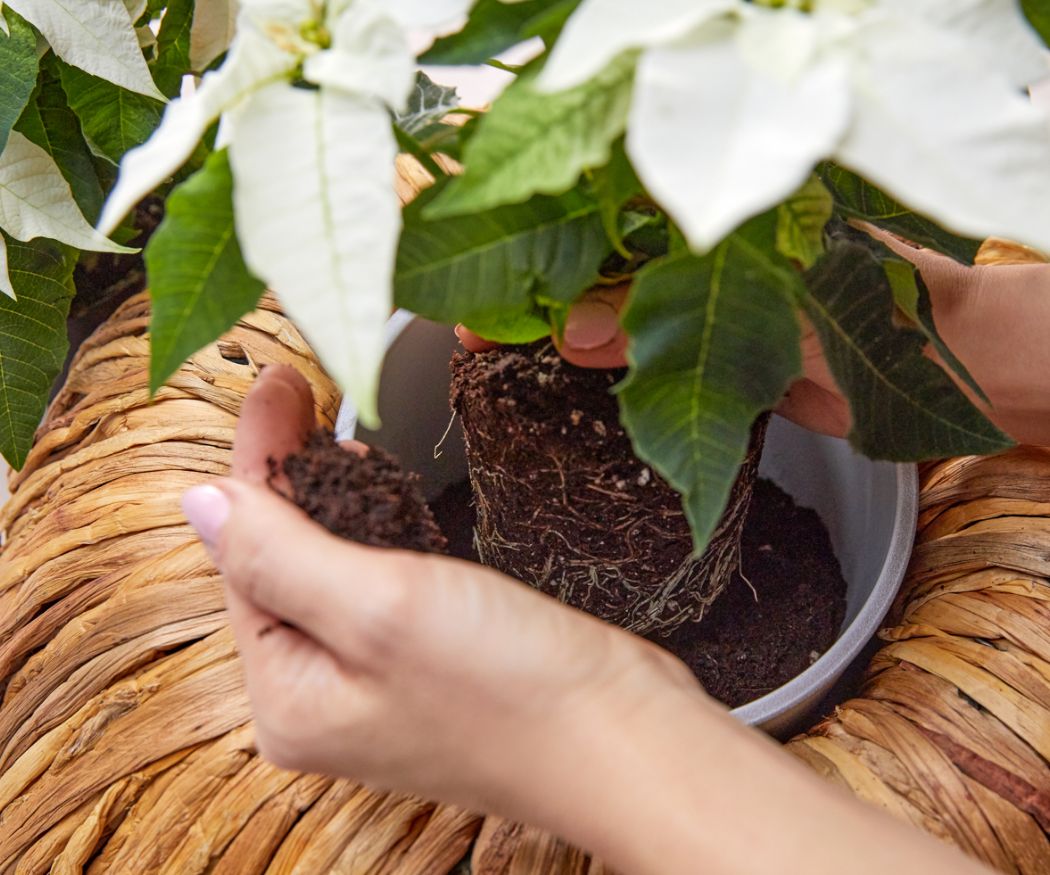 Step 1: Place the smaller straw wreath on top of the larger one and secure both wreaths together with wooden skewers, then bind with wreath wrap tape.
Step 2: Soak the water hyacinth leaves, wrap around the double wreath and pin in place with mossing pins.
Step 3: Place the planter in the centre of the wreath and plant up with poinsettias. Finally, attach candlesticks and candles and decorate the outer edge of the wreath with poppyheads, larch branches and lunaria (Honesty).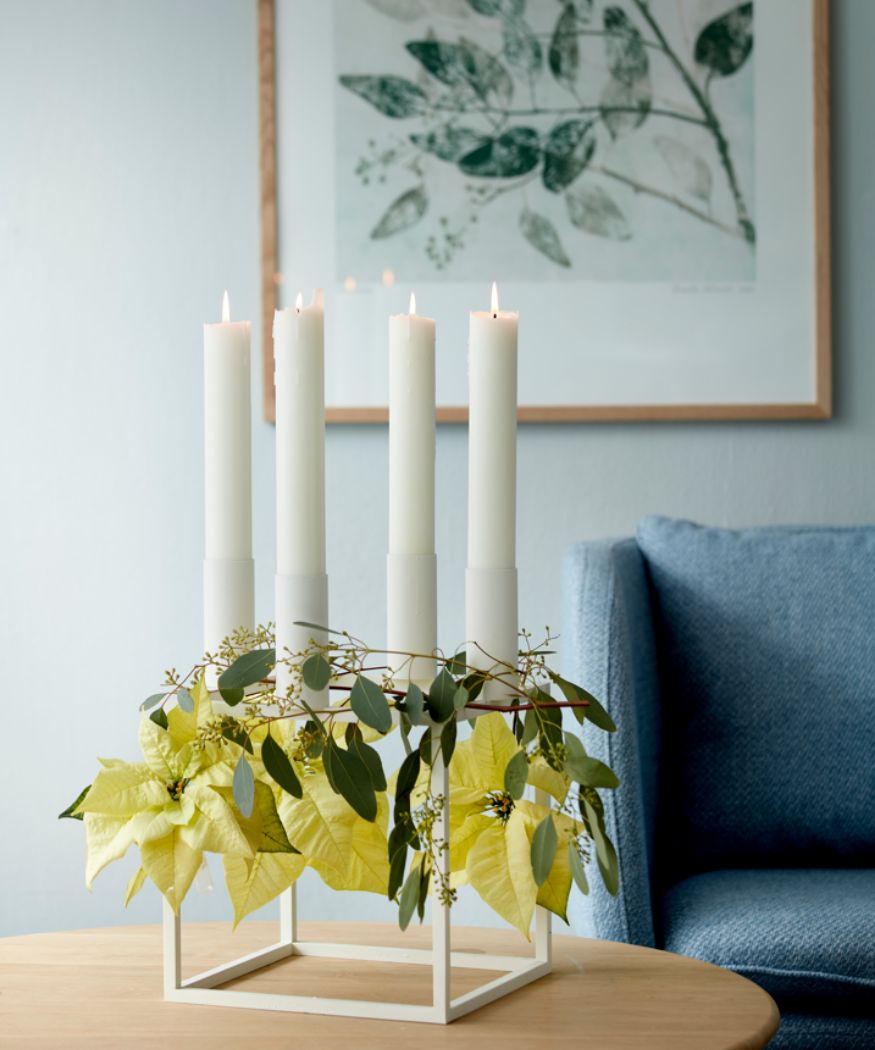 The base of this design is a modern metal candleholder, transformed into a minimalist alternative to the classic Advent wreath with cream poinsettias and eucalyptus stems.
The cut poinsettias are placed in flower tubes filled with water, hidden behind the hanging bracts.
With the third idea of the classic Advent wreath are the four candles. Simply place tea lights in four glass jars and decorate them with cut white poinsettias and sprigs of eucalyptus.
Small wooden hearts with the numbers 1 to 4 attached to the eucalyptus with simple twine symbolise the four Sundays of Advent.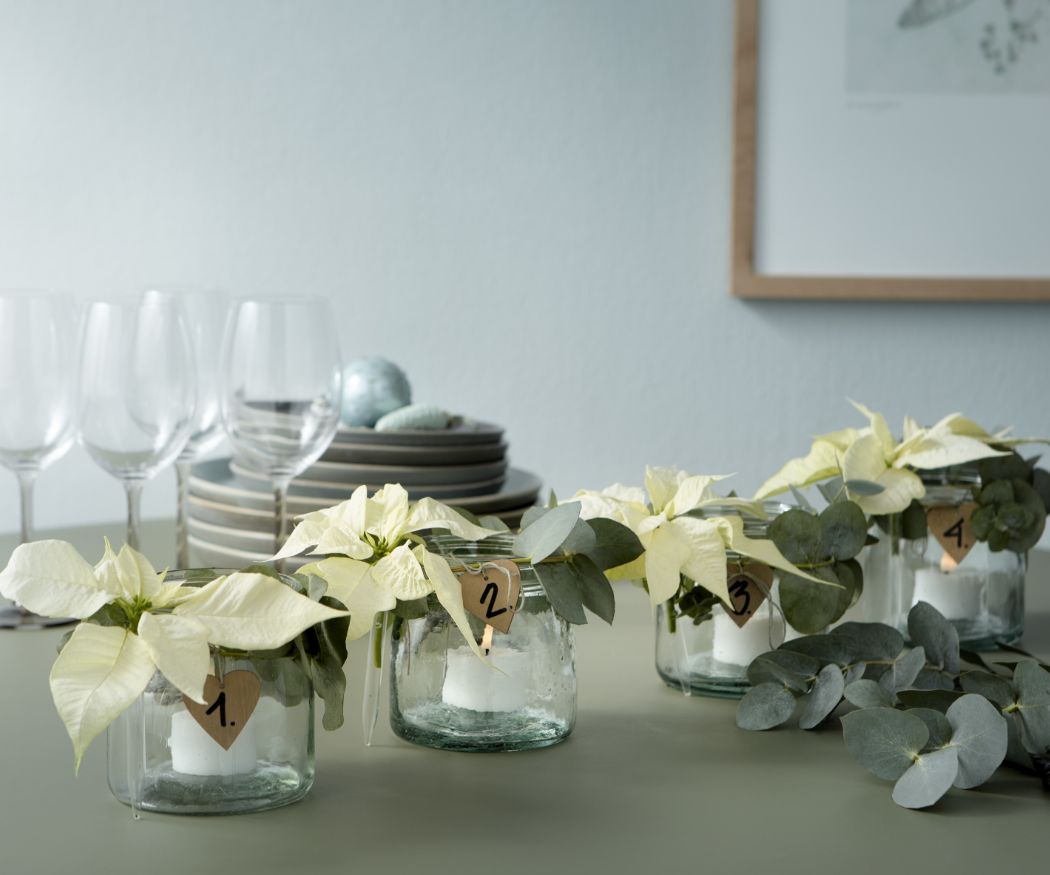 The right cutting technique for longer vase life
Cut poinsettias will stay beautiful and fresh for up to two weeks if you seal the cut ends to stop the sap escaping. To do this, immerse the stems in hot water (about 60 degrees) for a few seconds immediately after cutting, then plunge into cold water, before placing them in fresh water.