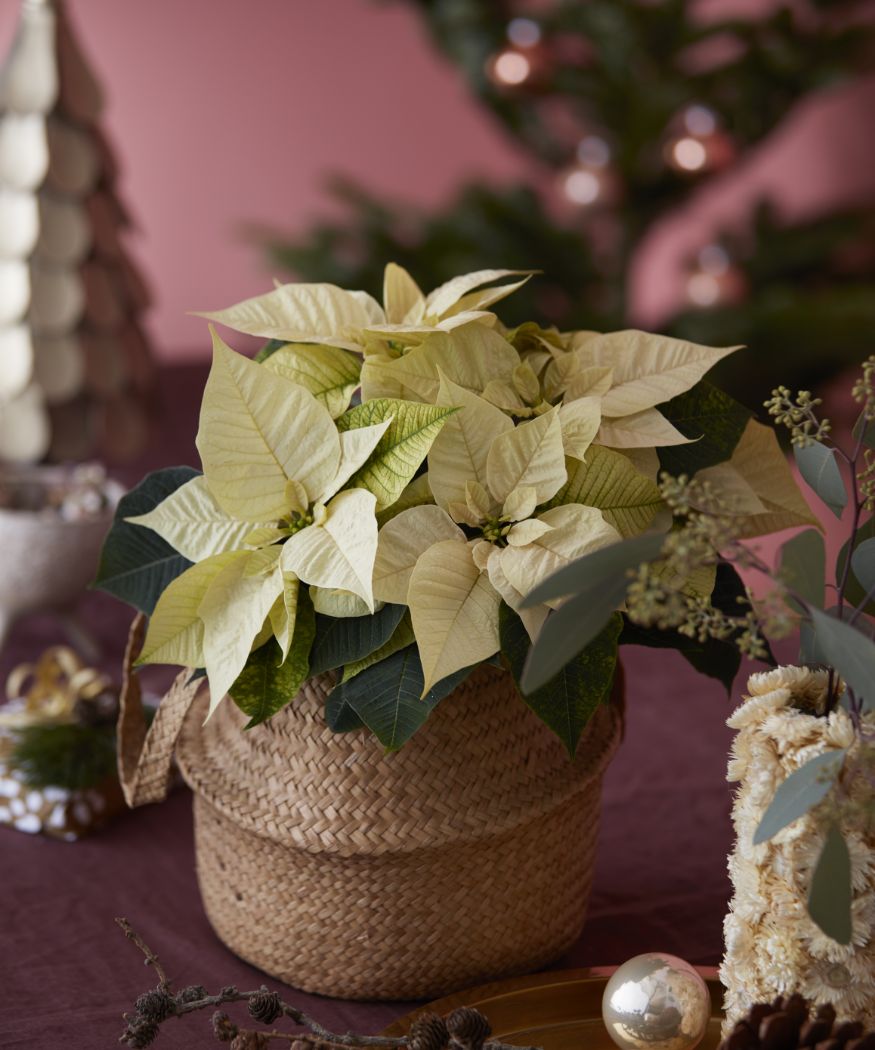 Brightly-coloured hostess gifts for every occasion
Poinsettia presents with pizazz
Bonn, 25.11.2019. If you're giving flowers in November or December, poinsettias are the obvious choice. These stars among the winter bloomers are everywhere you look during these months and are very popular due to their wide diversity of colours, growth patterns and sizes. When properly cared for, a poinsettia will keep its decorative, brightly-coloured bracts until well into spring. Additionally, with the right presentation this simple potted plant transforms itself in a wink into a gift that is as individual as it is personal. Here come a few ideas for poinsettia presents with pizazz.
Poinsettia in a coffee-filter bowl
Attention guaranteed: A lovingly fashioned bowl made of coffee filters and skeleton leaves lends this classic red poinsettia that special something and turns it into a very special hostess gift.
If you want to make this original arrangement yourself, you will need a container for the modelling form, plastic foil, paste, brown coffee filters, skeleton leaves, spinosa greens, larch and eucalyptus twigs, a Christmas bauble and a poinsettia.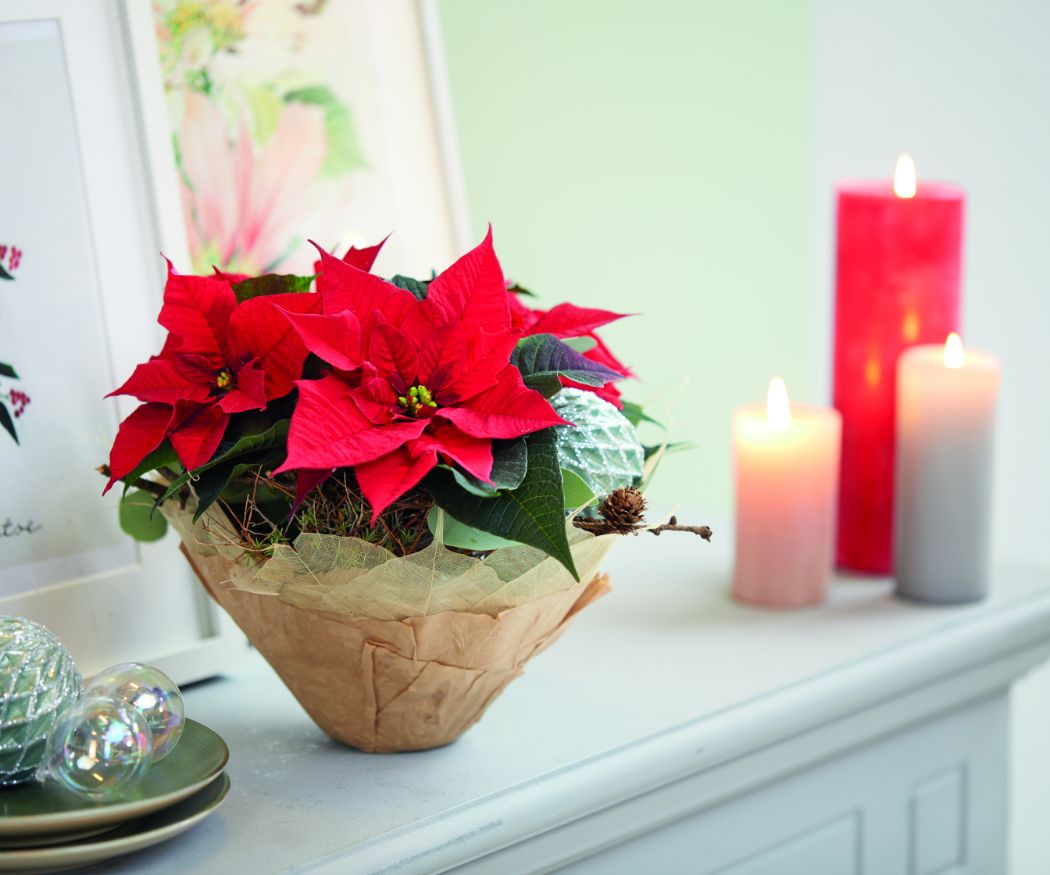 And here's how it's done: Wrap the modelling form in plastic foil. Brush paste on the coffee filters and stick them onto this form in four or five layers. Adorn the upper rim with skeleton leaves and secure them with more filters. Once the whole thing is completely dry, the form can be removed from inside and the poinsettia can be placed in the coffee filter bowl. Important: A waterproof bag wrapped around the plant pot and secured with a rubber band will prevent any water from seeping into the DIY bowl when watering the plant. Finally, decorate the arrangement with spinosa greens, larch and eucalyptus twigs and add a Christmas bauble. Done!
Upcycling: Old planter pots in new robes
Many people own more things than they need. This also applies to planter pots, which often accumulate in basements and garages.
Rather than adding even more new pots to the collection, it makes sense to decorate the old ones in creative ways and use them for poinsettias you want to give as presents. A nice side effect: DIY gifts are more personal and show others that you care. The experts at Stars for Europe show you two original upcycling ideas here.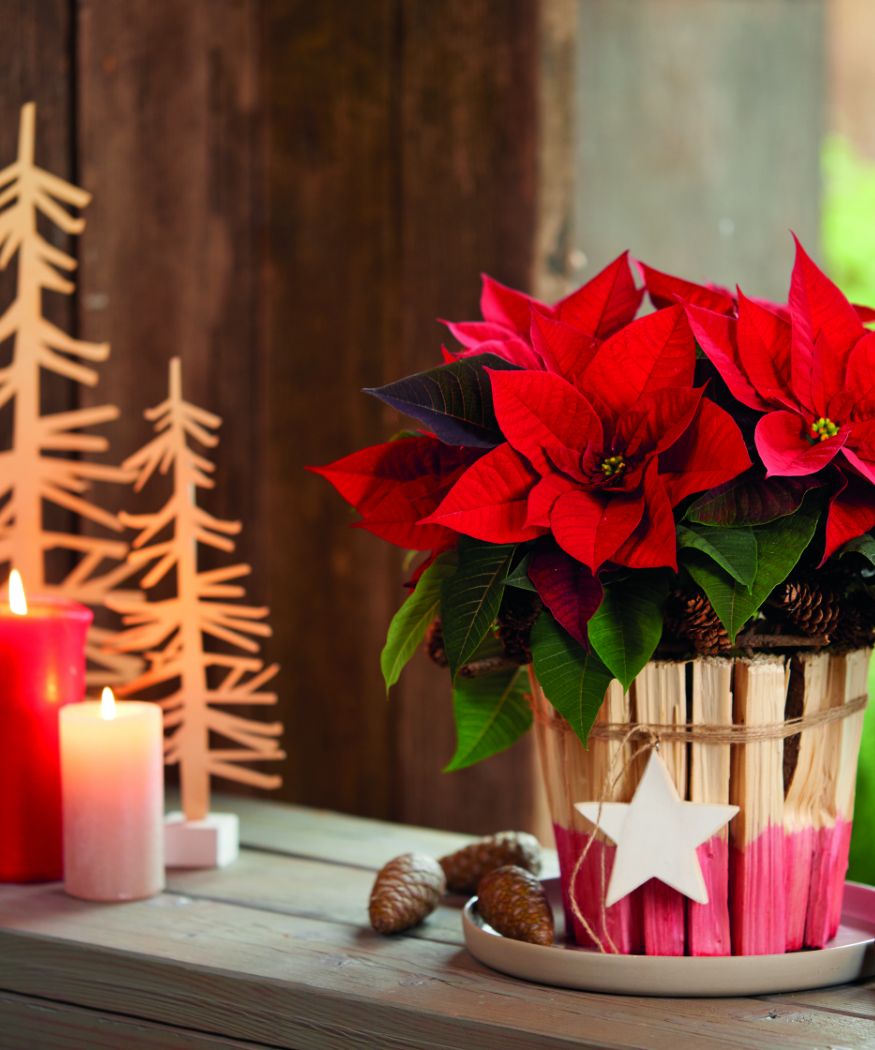 The first poinsettia arrangement is especially well-suited for fans of natural and rustic styles. The planter pot is dressed up in kindle wood, the lower halves of which have been dipped in red wood stain beforehand. A wooden star tied to the side of the pot with simple parcel string serves as a decorative eye-catcher. Larch cones artfully arranged around the plant make this pretty poinsettia the perfect present.
In gift idea number two, plaster bandages, gold string and deco wire give an old planter pot a new, elegant appearance. In this sophisticated-looking robe, the cream-coloured poinsettias show off their beauty especially well. Making this decoration is easy, even without a lot of artistic talent. Simply dip the bandages in water and wrap them around the old planter pot until it is covered completely. Wind string and deco wire around the still-moist pot. Allow to dry and it's done. Now set the poinsettia in the pot and add more ornaments, as desired. Here a ball on a bamboo split and ribbons serve as the decoration. A gift that is just as stylish as it is personal and one that will surely be well-received.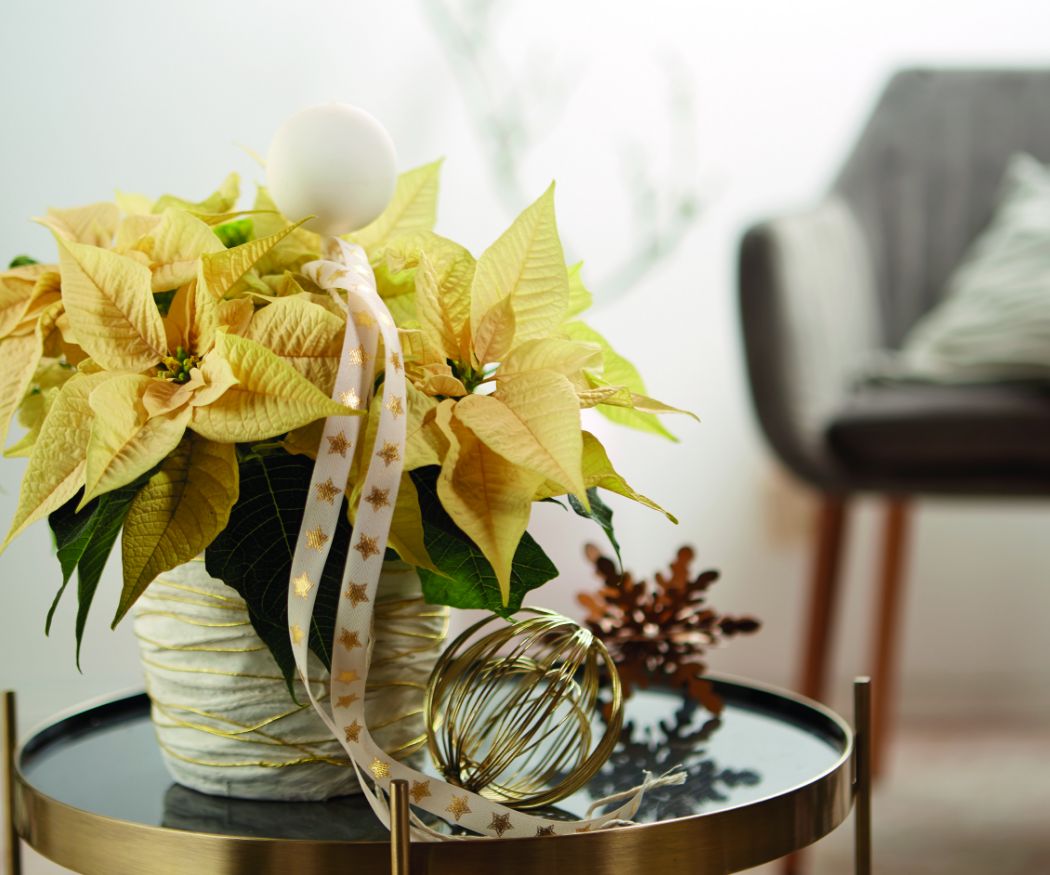 Poinsettia present without the DIY
Not everyone is fond of working with paste or hot glue. But even those who don't like doing arts & crafts should have original poinsettia gifts, as the following ideas show. Instead of the usual planter pot, this cream-coloured poinsettia is set in a small decorative basket. Thanks to the handles this little present can also be hung up and is therefore excellently-suited, for example, as a greeting from St Nick on a door. Careful: Poinsettias can't tolerate the cold or draughts, so the basket mustn't be hung outside on the front door.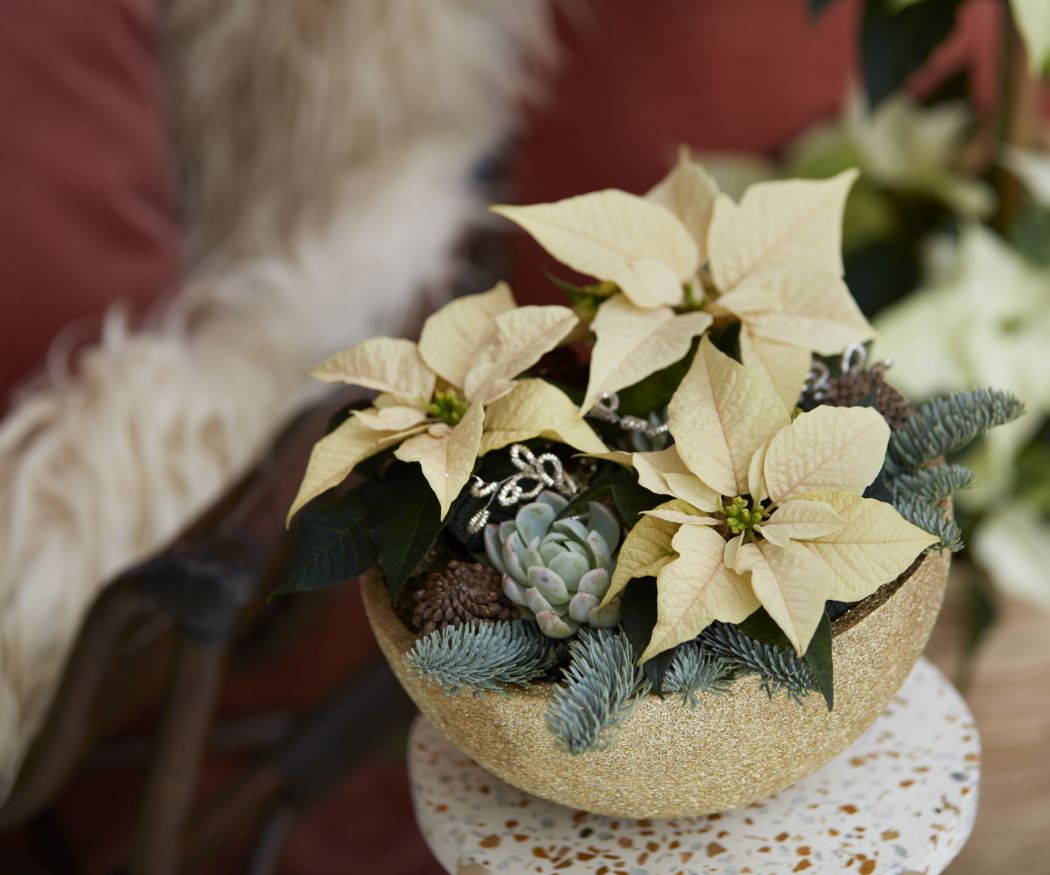 Another good alternative to DIY is to plant your own poinsettia presents. In the arrangement on the right, for example, three cream-coloured poinsettia miniatures are planted in a small golden bowl and lovingly adorned with pine cones, Echeveria and noble fir sprigs. An enchanting little hostess gift for invitations in the (pre‑) Christmas time.