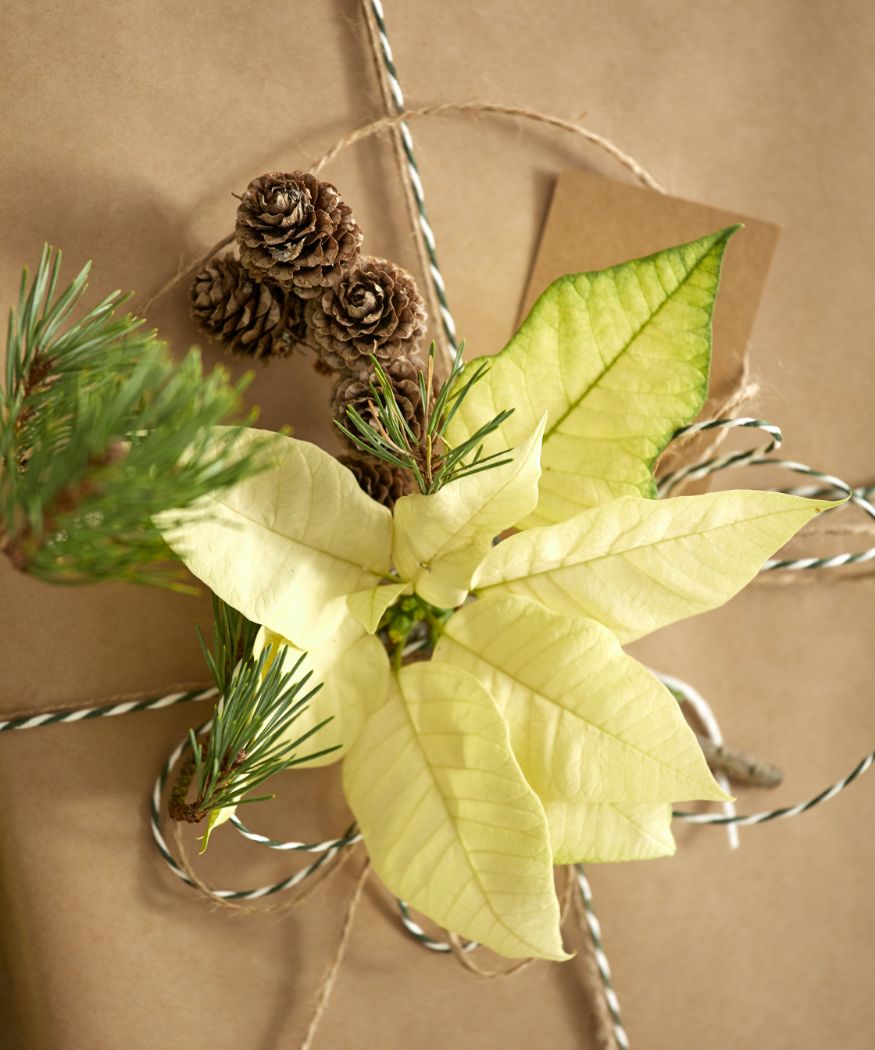 Say it with stars. Gift and wrapping ideas with poinsettias.
Whether as a pot plant or cut flower in bouquets and arrangements, with its beautiful bracts, the poinsettia, also known as the Christmas Star, is widely used in autumn and winter as interior decor and Christmas decoration. This winter flowering wonder is very popular as a gift too. And no wonder, as its variety of colours and shapes ensure you can find the right star for every interior. The experts at Stars for Europe (SfE) show you floral gift ideas using poinsettias and show how wrapping trimmed with their cut blooms can be transformed into a real treat.
Poinsettia gift to go
Sometimes less is more. With individual cut poinsettia stems, nothing distracts from the beauty of the colourful bracts.
For these little poinsettia gifts to go, you need glass drinking bottles with lids and integrated straws. Simply fill the bottles with water, replace the straws with cut poinsettias and attach evergreen sprigs to the rim of the lids with twine. Your spill-proof poinsettia gift is ready!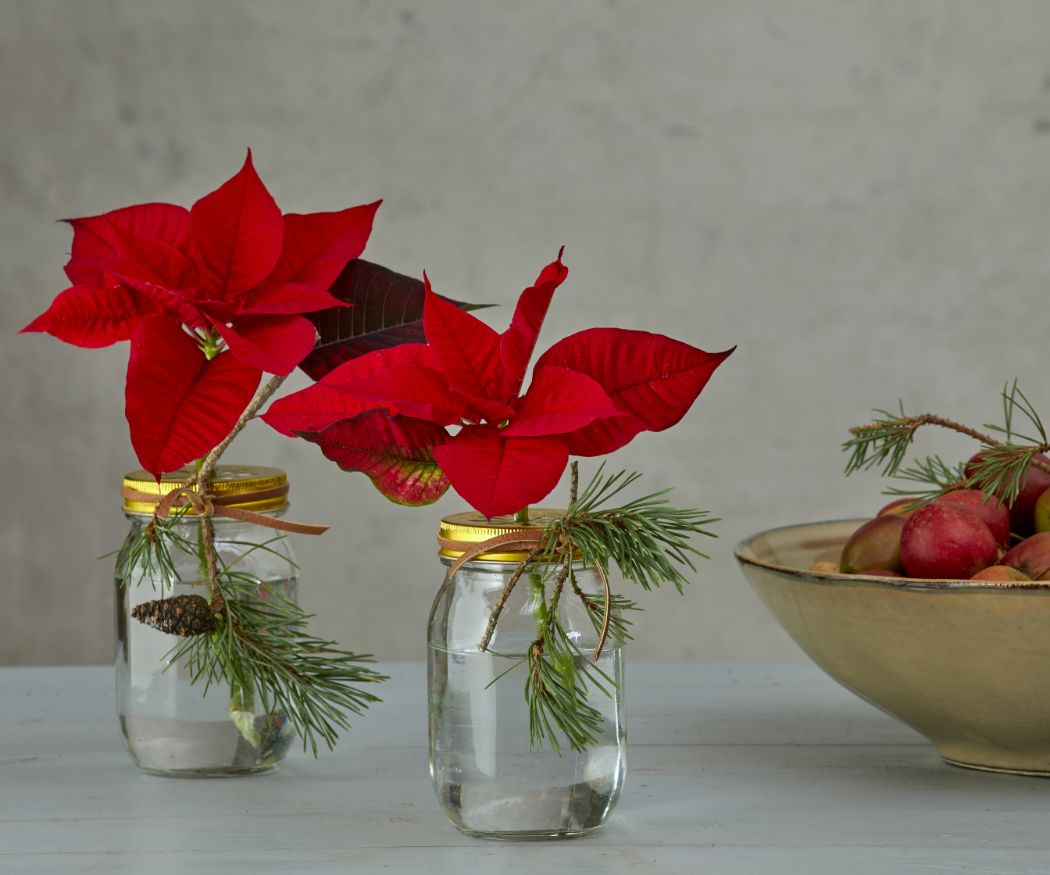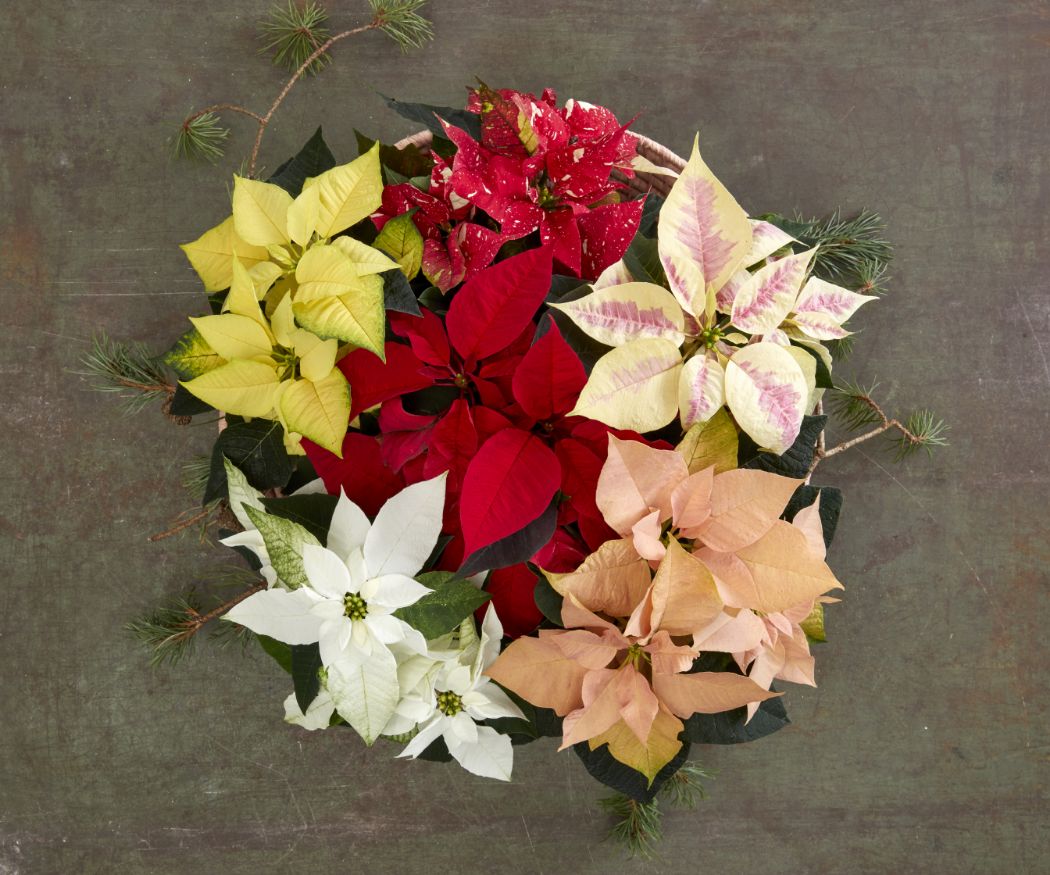 Arrangement of colourful mini stars
Unsure which colour to go for? Then an cheerful arrangement of mini poinsettias is a good choice. Simply place different coloured mini poinsettias on a plate or tray. Then, if you like, decorate the whole thing with Christmas decorations such as tea lights, pine cones or baubles.
Poinsettias as cut flowers
Cut poinsettias have a good vase life. Their beautiful bracts will stay fresh for about two weeks if you stop the milky sap from oozing out of the stem ends immediately after cutting.
To do this, first immerse the stems in 60°C hot water for about five seconds and then immediately plunge them into cold water.
If you use cut poinsettias to decorate gifts, wrap the end of the stem with tape or put it in a flower tube filled with water to keep everything clean.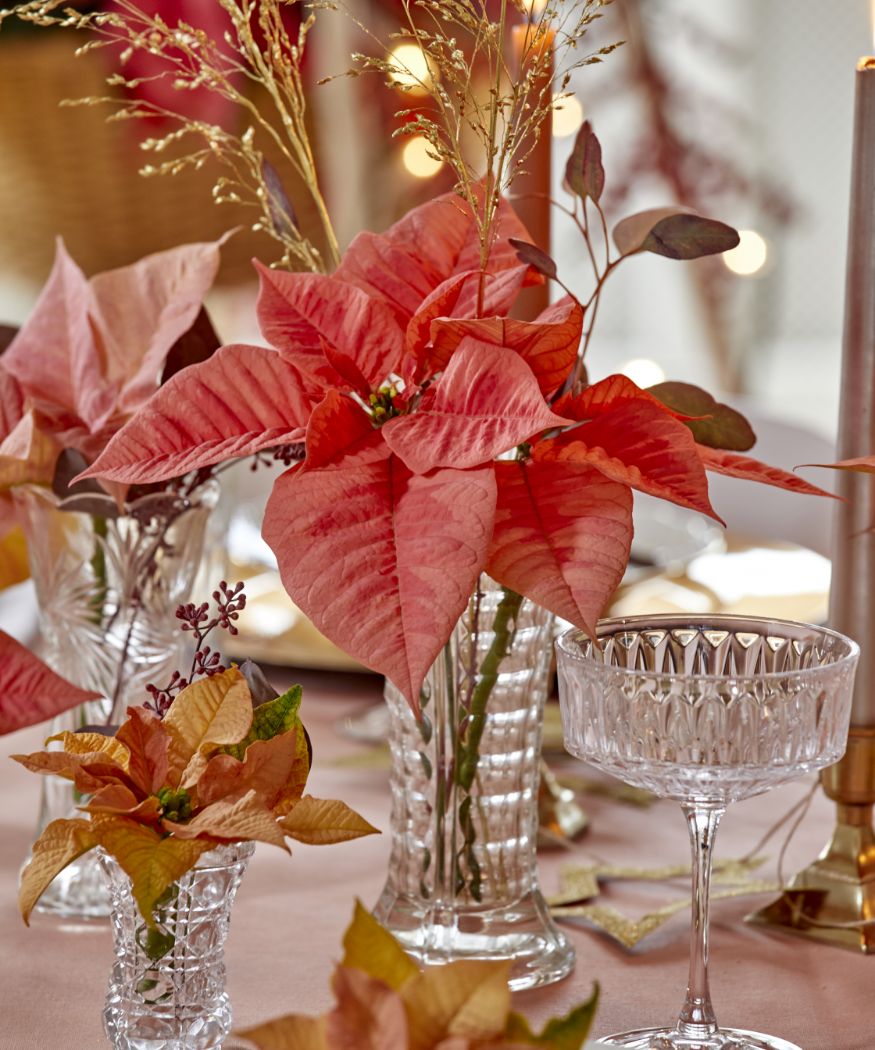 A basket full of nature's decorations
Whether as a gift or versatile decoration for your home – this basket decorated with mini poinsettias, cones, nuts, apples, echeveria and moss is a great centrepiece for the autumn and winter months.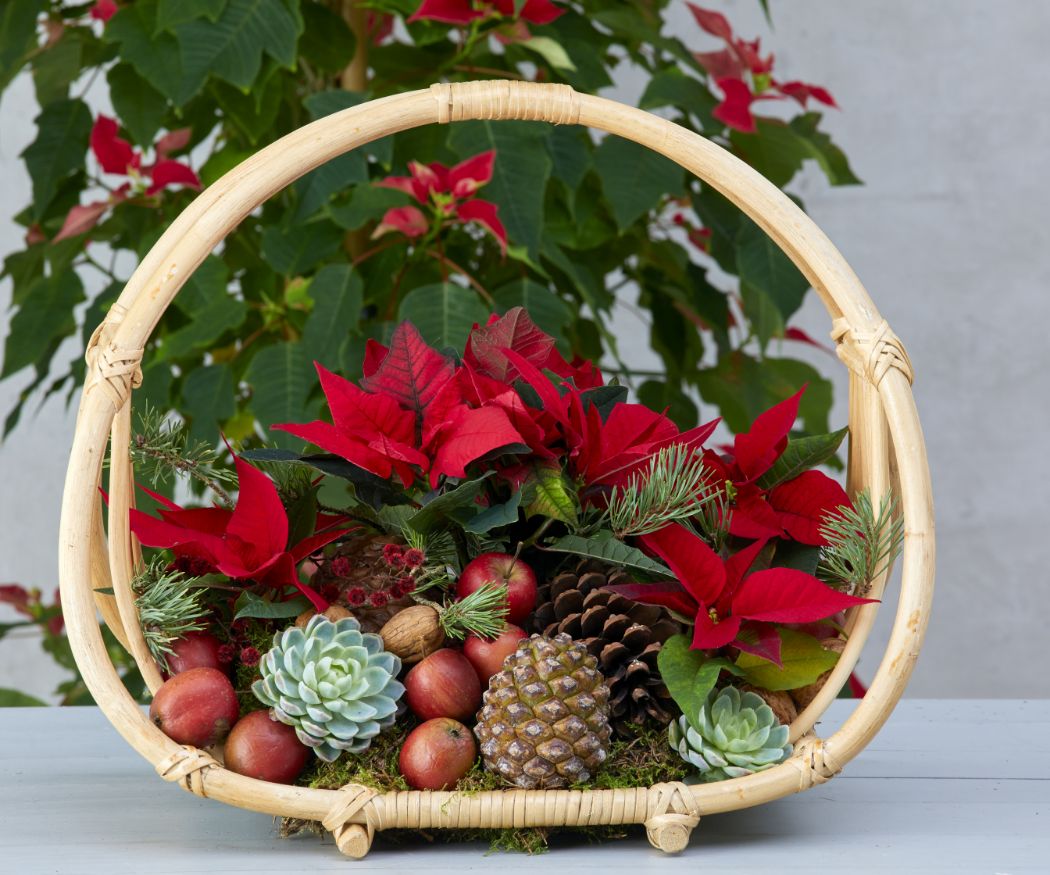 Poinsettia with decorative DIY plant sticks
A poinsettia in the classic Christmas colours of red and green is a popular gift during Advent and Christmas. The rounded leaves and the homemade decorative plant sticks in the shape of big and little snowmen make this one very special. These plant sticks are easy to make in just a few steps.
You will need wooden sticks, matching wooden beads in various sizes, hot glue and a glue gun, an orange and a black pen and coloured string. You can vary the size of the snowmen as you wish. For the larger version, we used a 40cm wooden stick and wooden beads with diameters of 4, 3 and 2cm.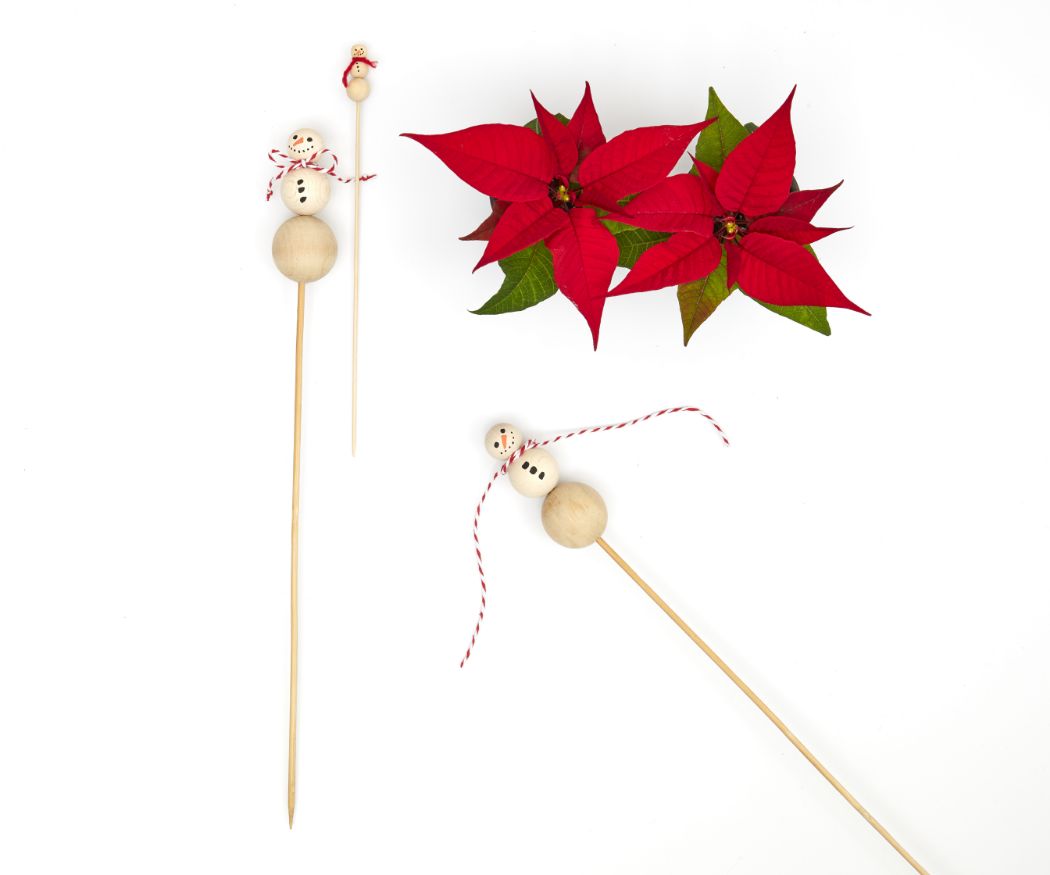 Here's how it's done: Stick the three beads onto the wooden stick in size order from largest at the bottom to smallest at the top. Add hot glue to prevent them from slipping. Draw on the eyes, carrot nose and buttons with the pens and decorate the snowman with a bow or a string scarf.
Finally, gently insert the sticks into the soil between the leaves of the poinsettia. Your unique gift is ready to go.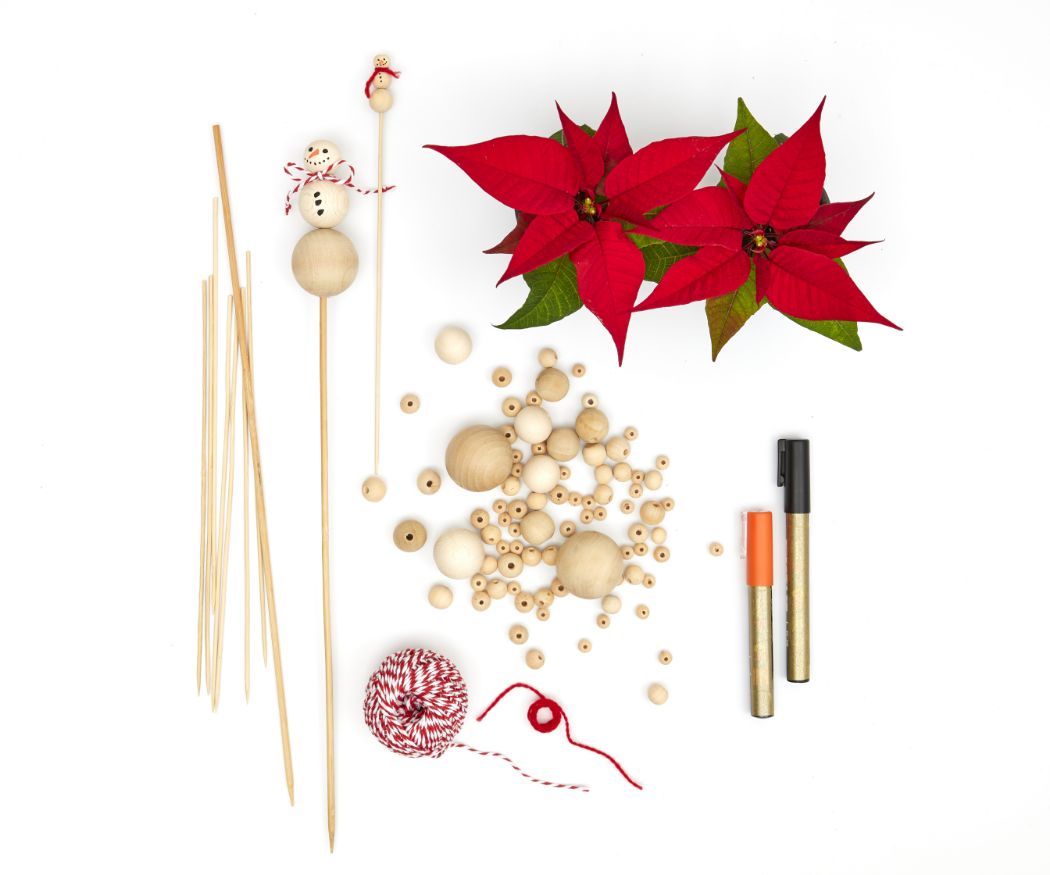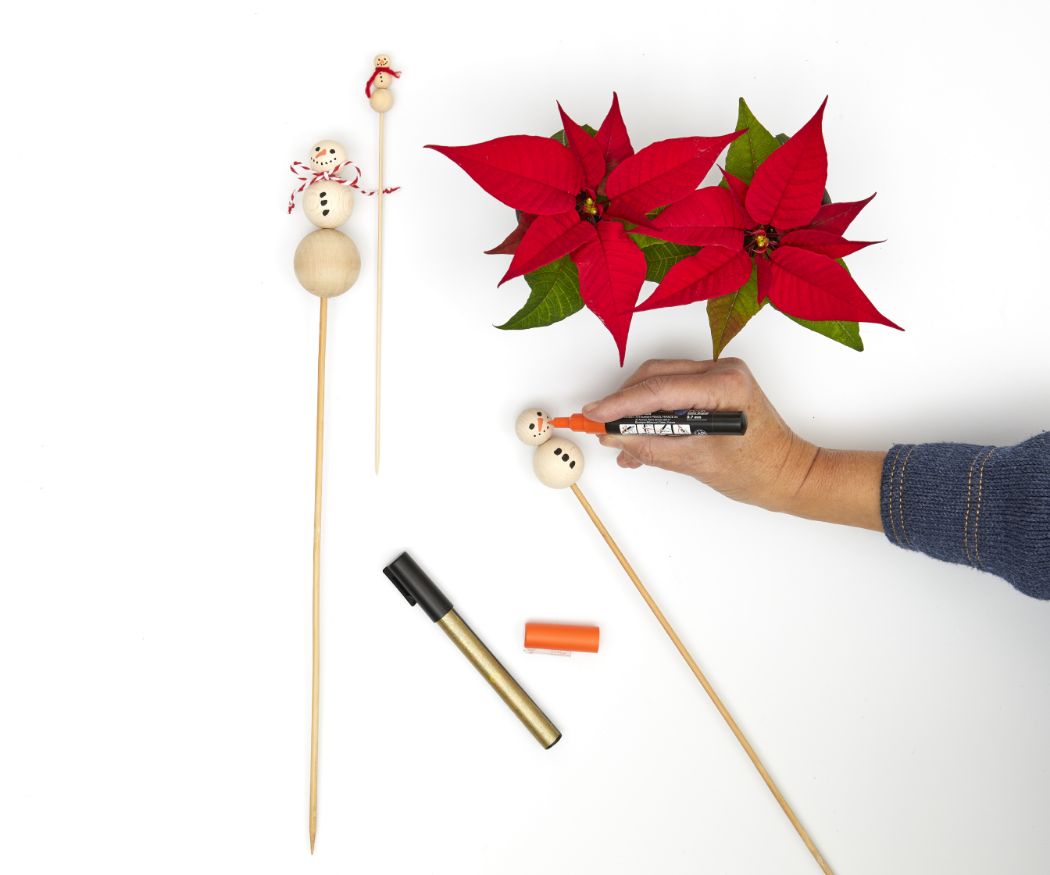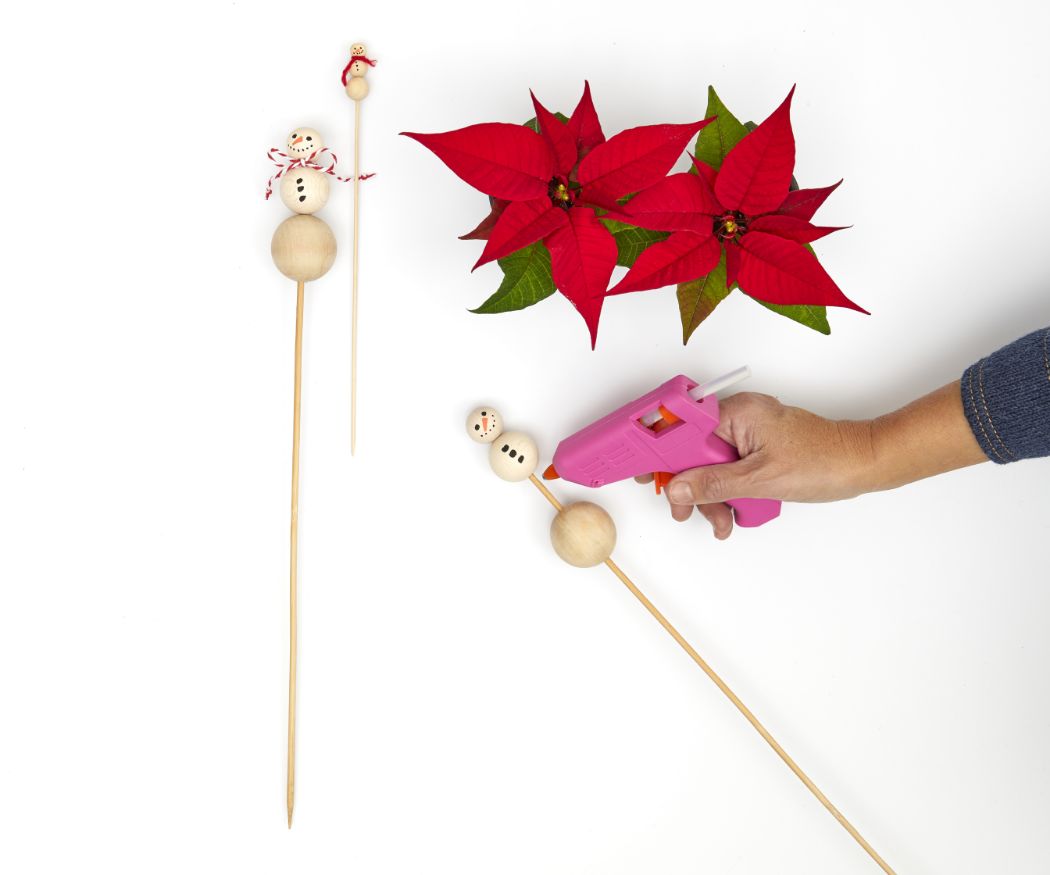 Gift wrapping with cut poinsettias
A lovingly wrapped gift is almost as important as the contents. With cut poinsettias, presents can be beautifully decorated for Christmas making the anticipation of the gift-giving even greater.
A gift lovingly decorated and wrapped in a square of fabric instead of paper looks extra special. Fabric looks superior to wrapping paper and can be reused indefinitely.
In Japan, these so-called "furoshiki" have been widely used for centuries. These cloths are not only used for wrapping, but also as carrier bags or tablecloths.
For sustainable gift wrapping without plastic and paper, all you need are decorative squares of cloth, coloured wool, scissors, pompoms and other accessories of your choice. Depending on the gifts to be wrapped, the fabric squares should be between 70 and 100cm long.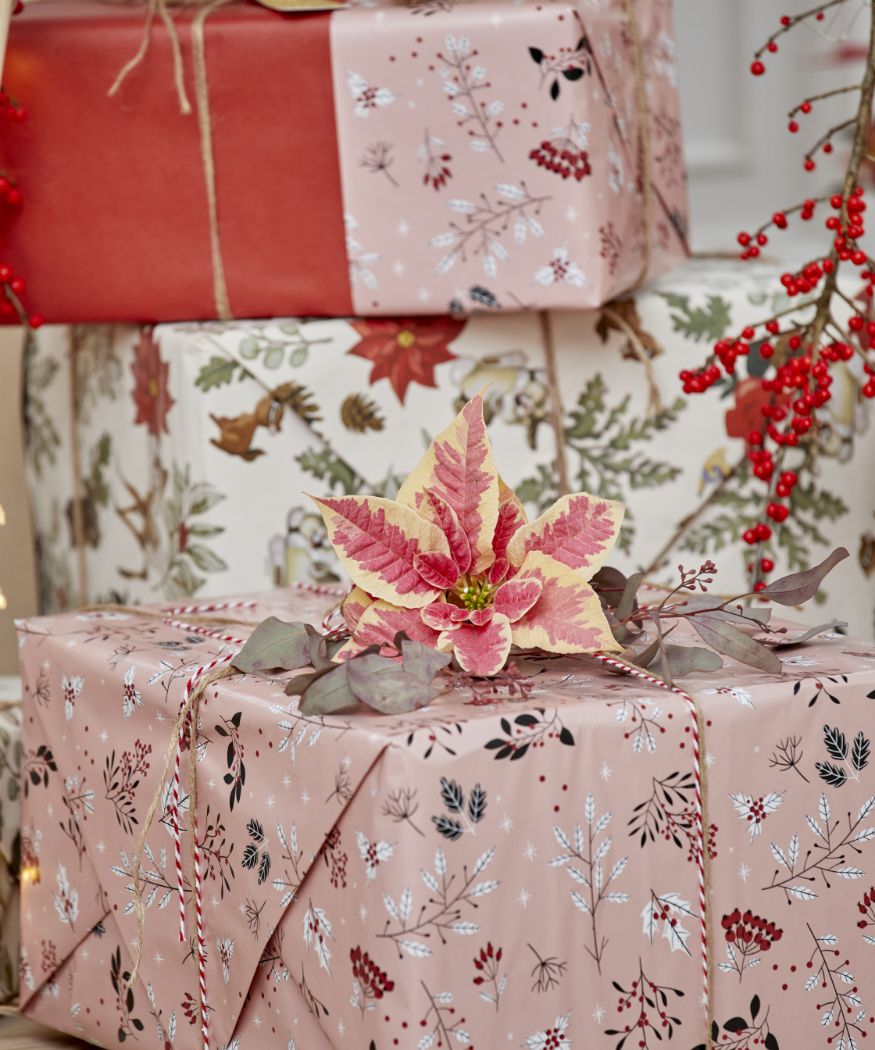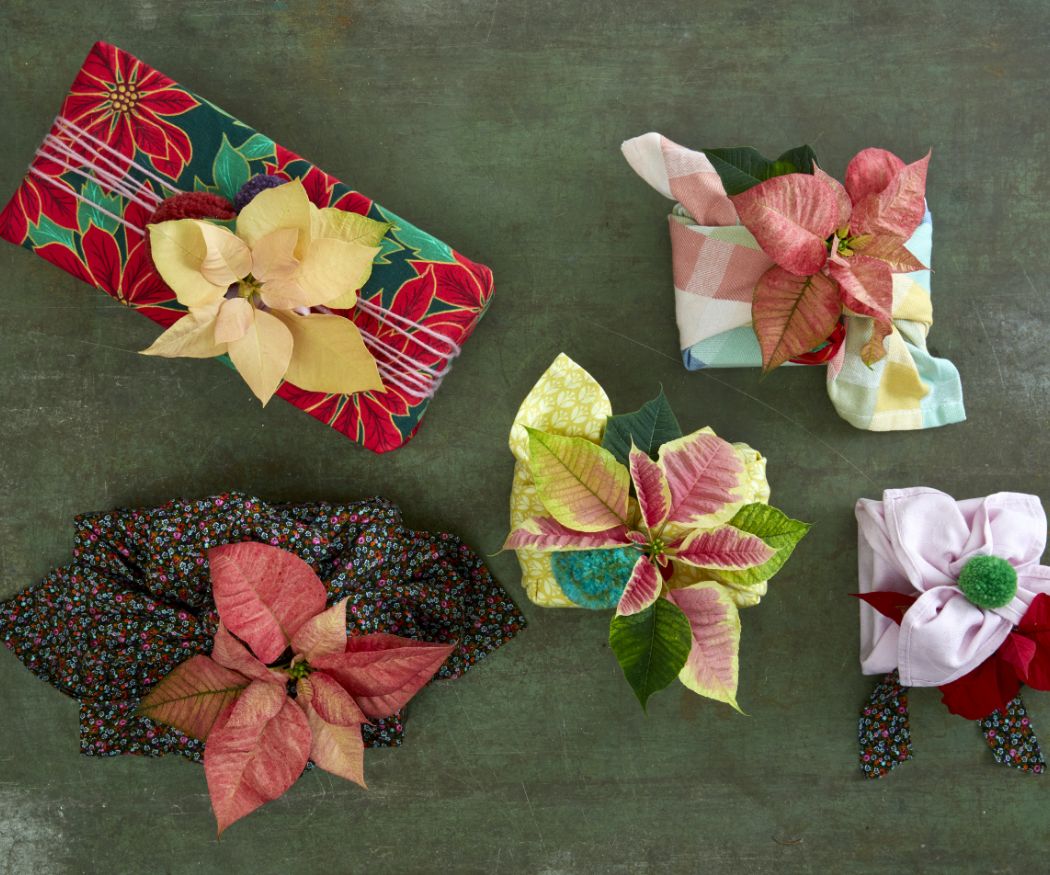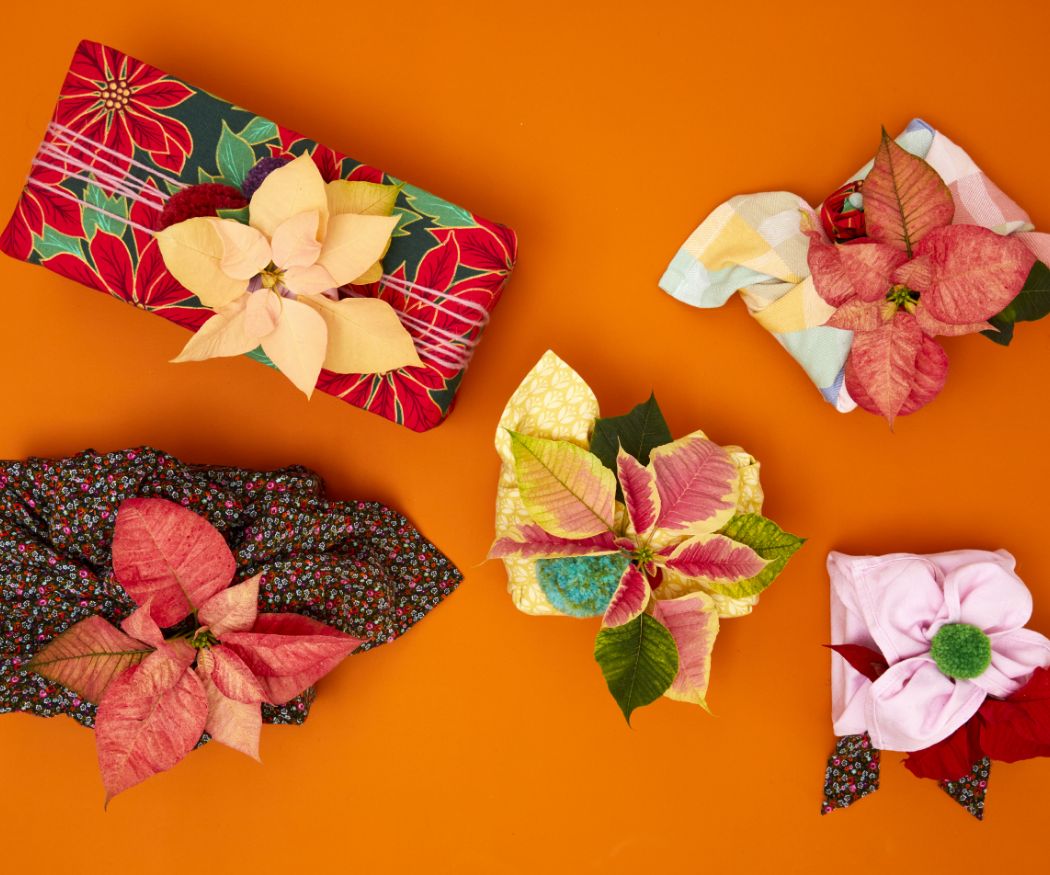 Here's how it's done:
Step 1: Spread out the fabric so one corner is pointing up and one is pointing down, and place the gift in the middle.
Step 2: Fold the left and right corners of the cloth to the middle and knot them together.
Step 3: Now knot the top and bottom ends of the cloth in the middle as well.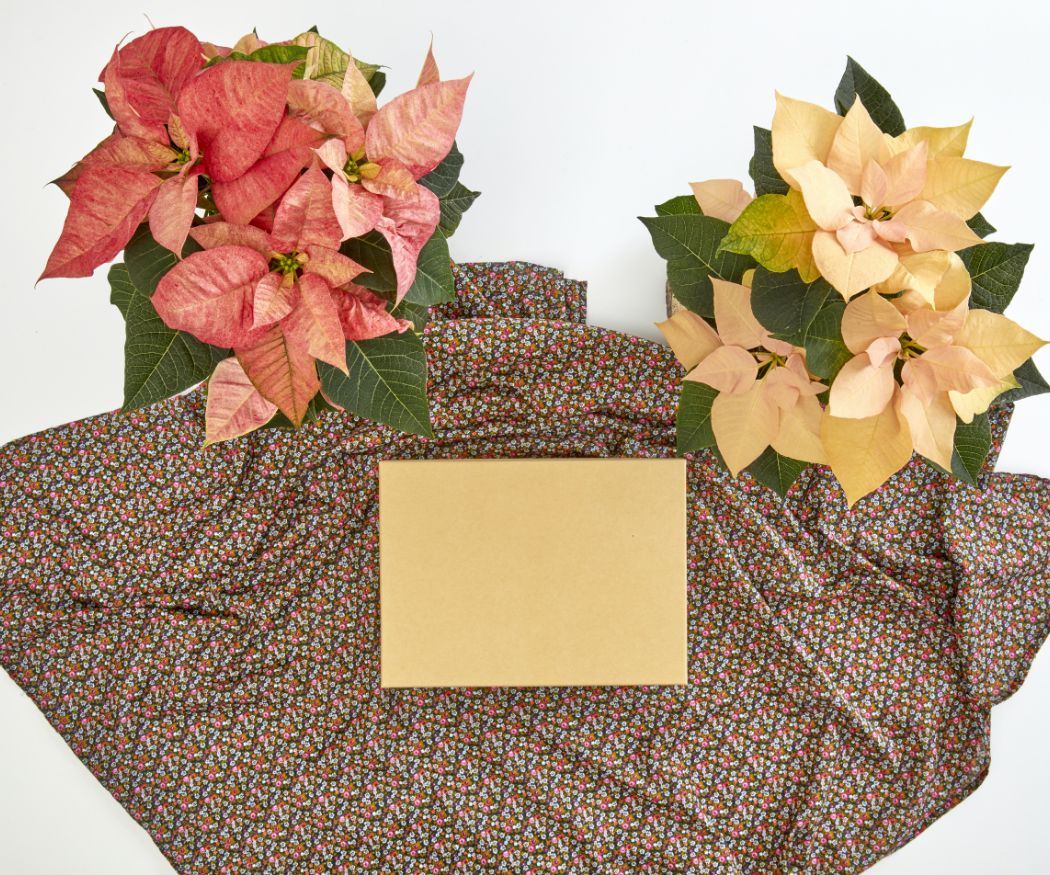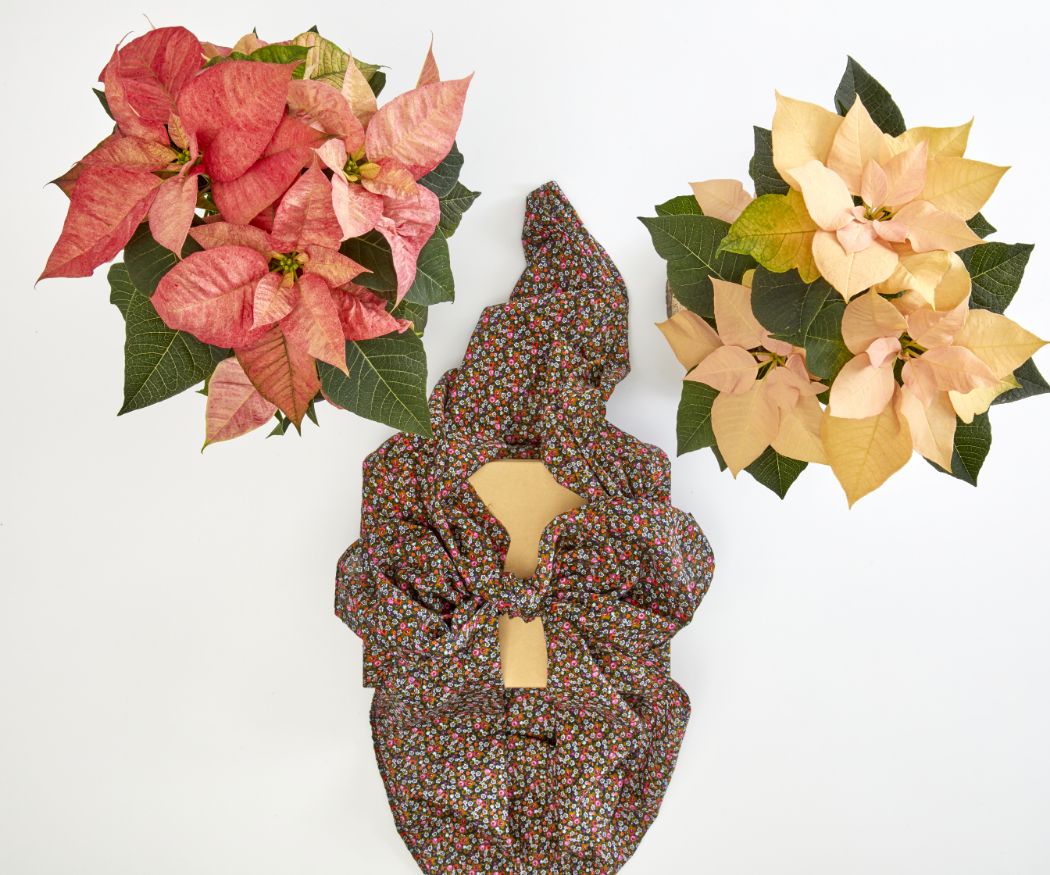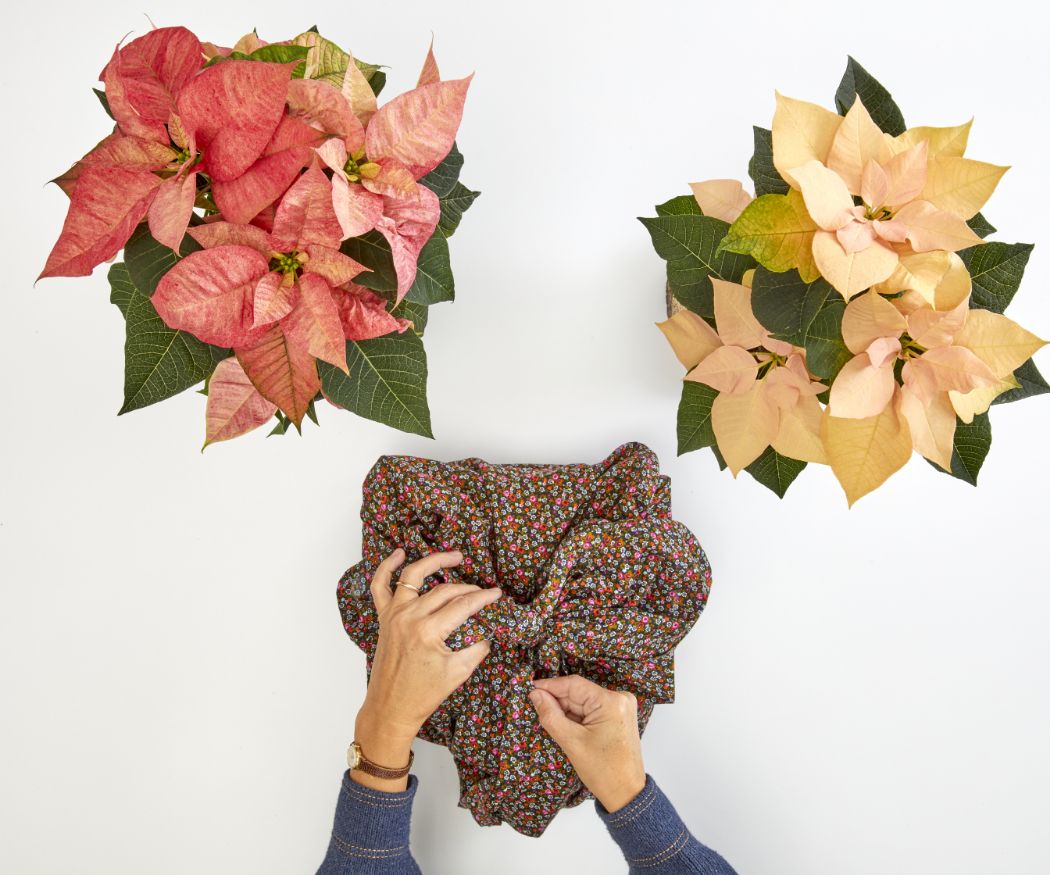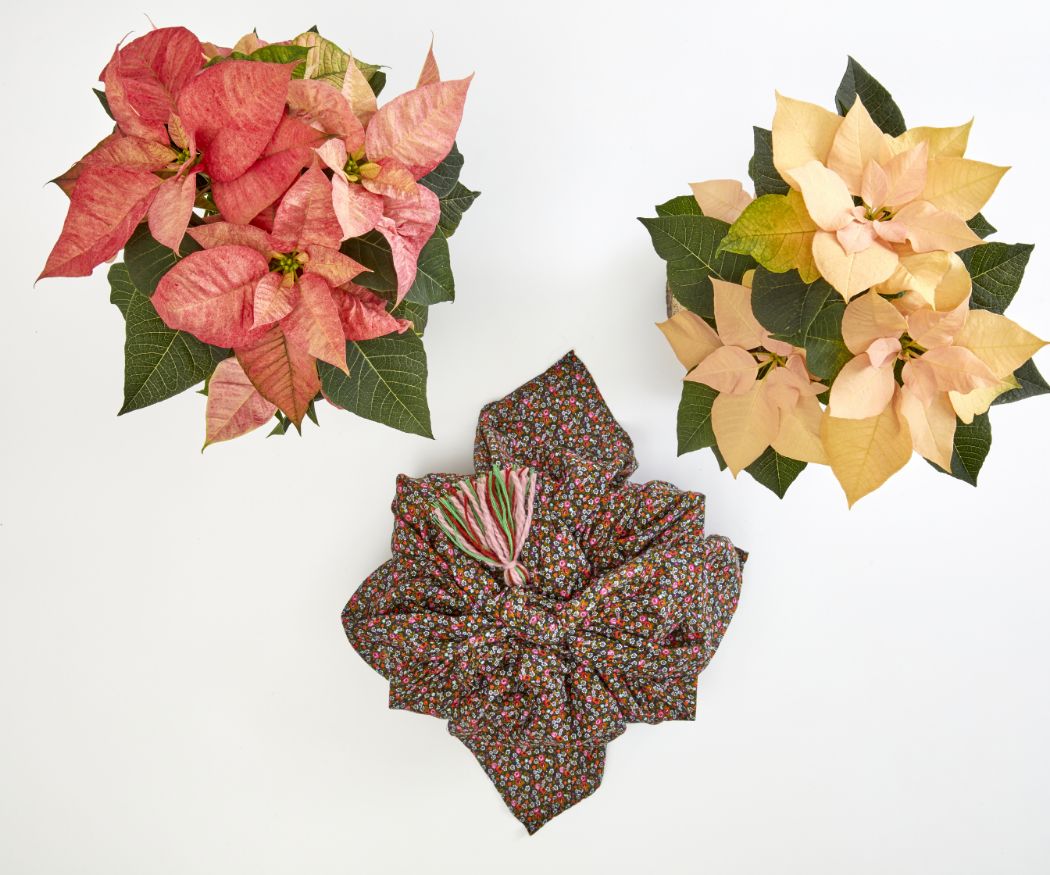 Step 4: Finally, decorate the finished wrapped gift however you like with tassels made from the wool and pompoms.
Good to know: There are various folding techniques and knots. Which one to use depends on the desired visual effect and the item you want to wrap. Learning the art of wrapping requires a little practice and skill. You can find plenty of instructions online with tips and tricks on how to fold and knot correctly.
End the year with a gift
In the final weeks of the year there are always plenty of gift-giving opportunities. In addition to the usual birthdays or other celebrations, there are social invitations, Christmas parties and mulled wine drinking dates. There's also lots of gift-giving in the days around Christmas Day itself. An important day for plant lovers is Poinsettia Day on 12 December. The date goes back to the anniversary of the death of Joel Roberts Poinsett, the first US ambassador to Mexico.
Poinsett brought the plant back from Mexico to the US in 1828. There it was given the name "Poinsettia" in 1836 in memory of the man who discovered it. After Poinsett's death on 12 December 1851, the US Congress declared the day of his death Poinsettia Day in 1852. On this day, Americans traditionally give each other poinsettias, known as Christmas Stars, as gifts.
Poinsett brachte die Pflanze 1828 von Mexiko in die USA. Dort verlieh man ihr 1836 in Gedenken an ihren Entdecker den Namen "Poinsettia".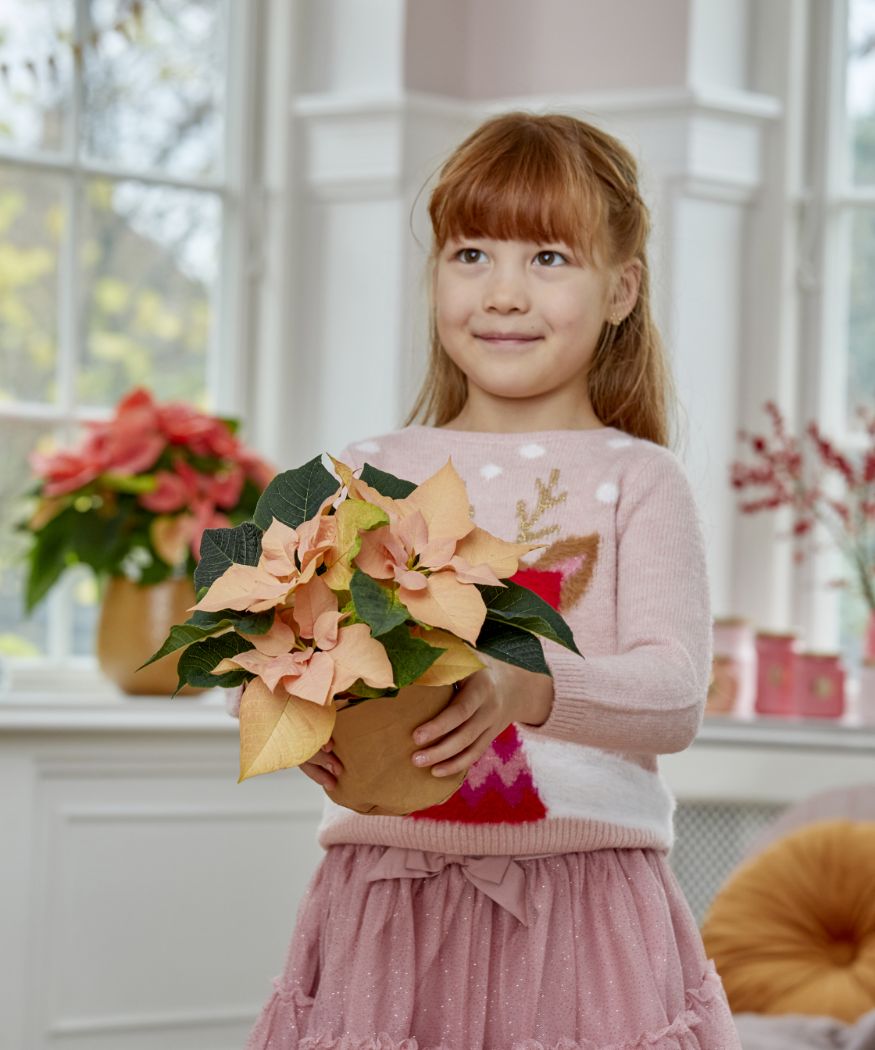 Nach dem Tod Poinsetts am 12. Dezember 1851 erklärte der US-Kongress seinen Todestag 1852 zum Poinsettia Day. An diesem Tag beschenken sich Amerikaner traditionell mit Weihnachtssternen.