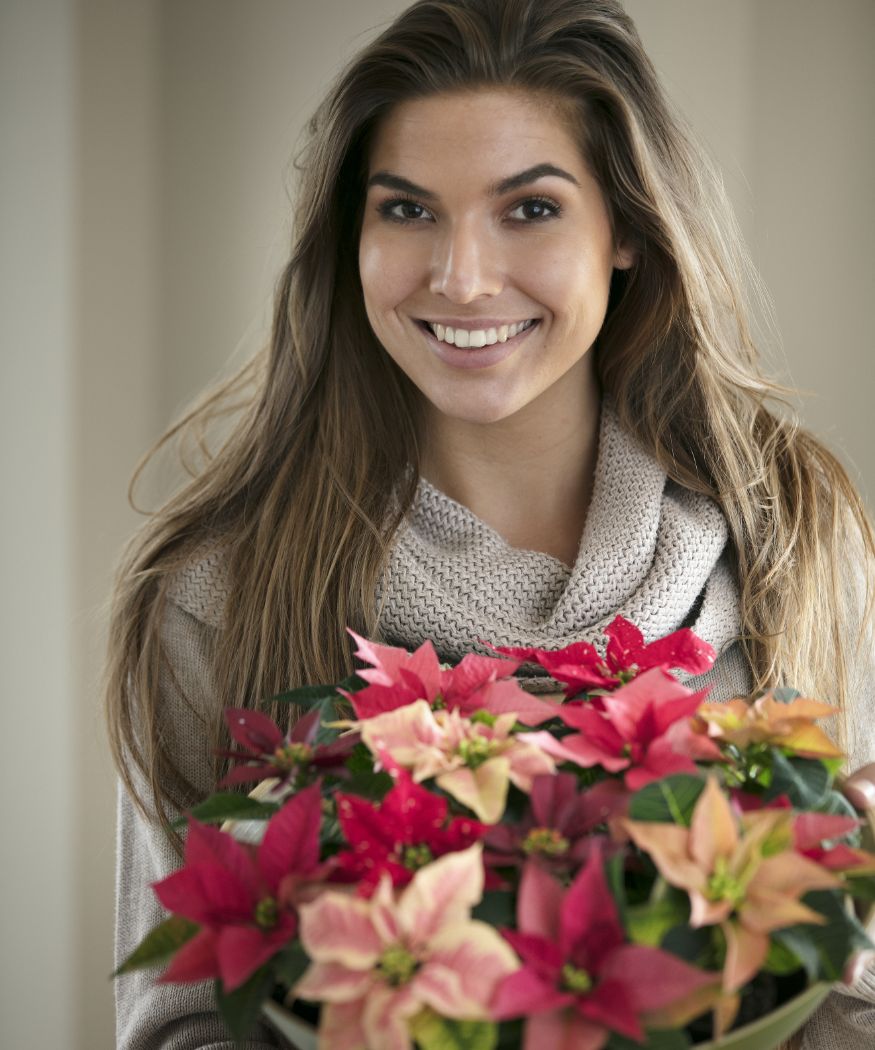 Quick gift ideas with poinsettias
Bonn, 14 december 2017 – In the Christmas season, small gifts are in high demand and with a poinsettia you can't go wrong. Recipients of presents are really happy when a plant with stunning bracts is arranged with love, in a pretty packaging or a homemade pot. The following ideas for small handcrafted poinsettia gifts "to go" will show that neither much time nor crafting skills are required.
Colourful poinsettia charm: maximum impact with minimum effort
Guaranteed "wow" effect: Even those who try to avoid using scissors, glue and paper can score points with a homemade poinsettia gift. This compelling deco idea is a great alternative to a classic bouquet and can be made in no time. Just fetch lots of miniature poinsettias in various colours from your garden centre or nursery and arrange the delicate plants closely in a shallow bowl or on a tray. The more colours this arrangement has, the more beautiful the effect. To prevent leaking when you water them, place the poinsettias in matching cache pots. But be careful: The delicate poinsettias are sensitive to waterlogging, so water with care and drain off excess water immediately.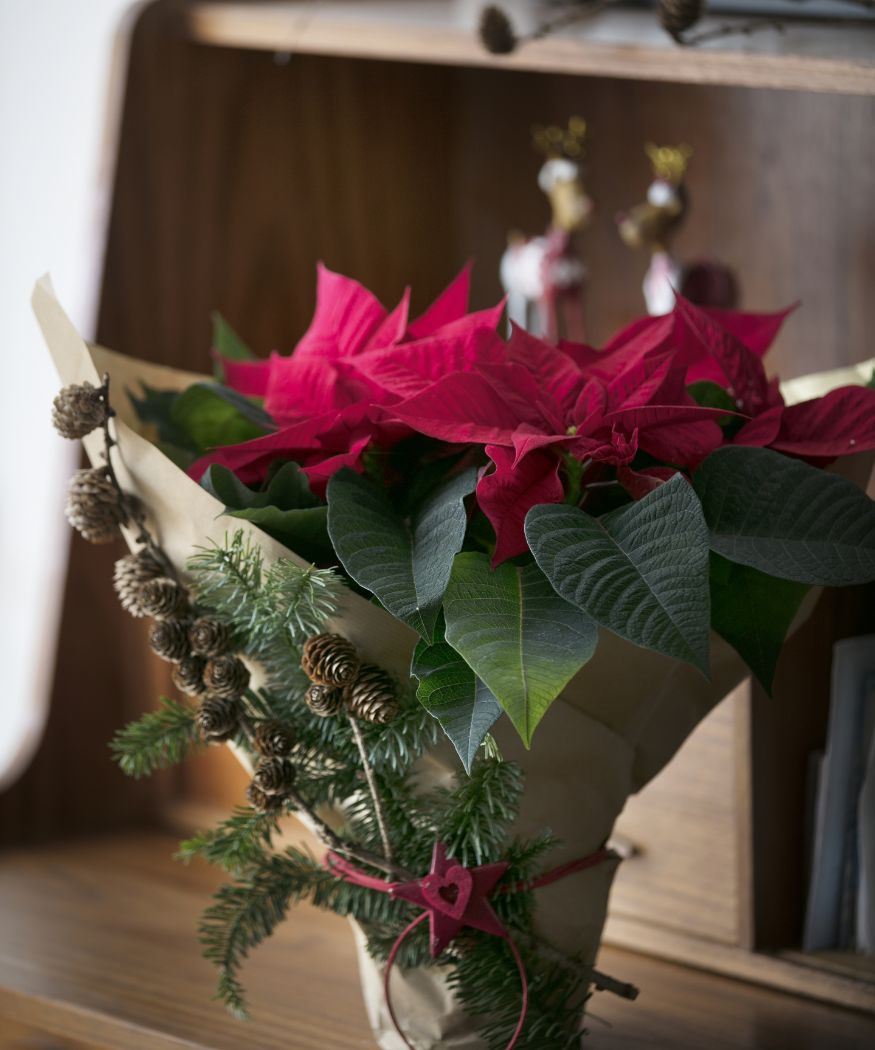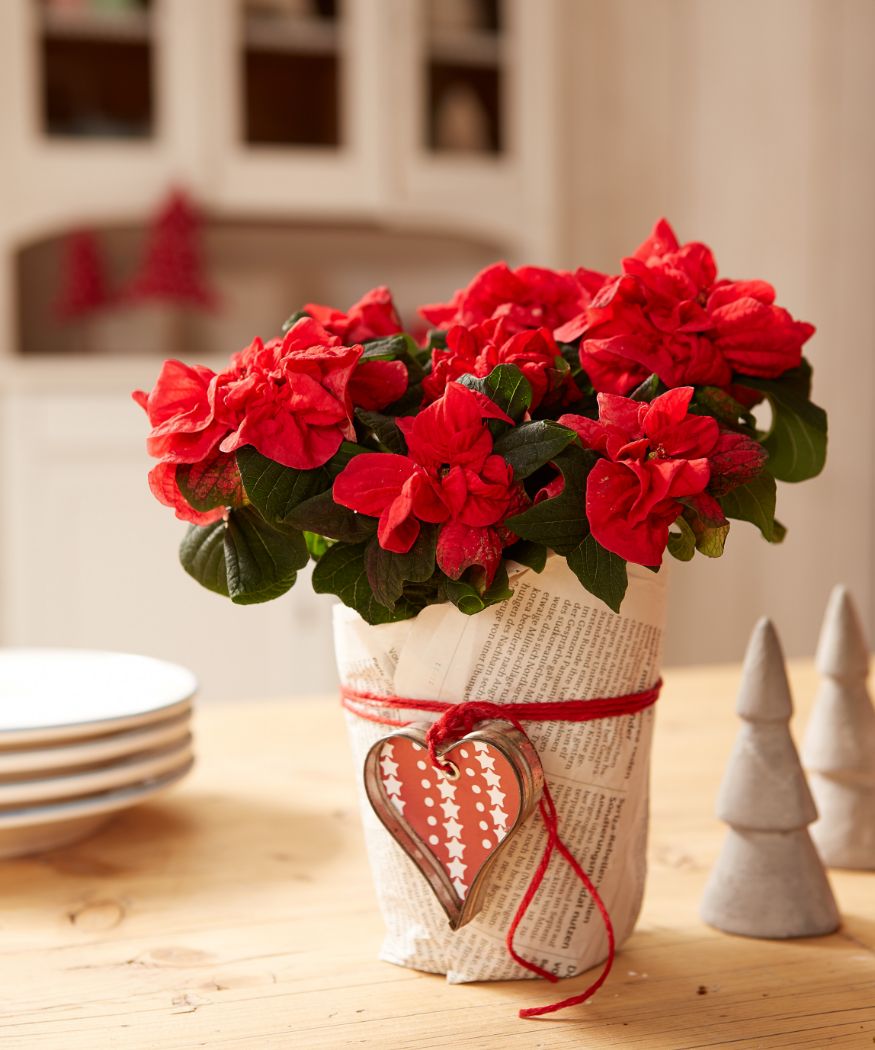 It's all in the packaging
To turn a simple poinsettia into a small personalized gift, special packaging already goes a long way. Here a classic red poinsettia in a pot is wrapped in simple parcel paper. A spruce twig with decorative pine cones and a few fir sprigs attached with string serve as decorative accessories. If you like, the gift can be designed more individually by writing a personal greeting on the paper. Caution: Poinsettias are warmth-loving creations. Temperatures below 15°C and draughts are not good for them. Before you take the arrangement outside, be sure to wrap it in newspaper.
Last-minute gifts with everyday objects: Poinsettia in a newsprint dress
This poinsettia is as beautiful as it is a quick last-minute gift, sure to turn out well even for those without much handcrafting skill. The plus factor: Most of the required materials can be found around the house. An old pot, yesterday's newspaper, a heart-shaped cookie cutter, cardboard, ribbon, wrapping paper, scissors and glue are all you need to turn a simple potted plant from the flower shop into a personal gift for a host or hostess. To make it, cover the pot with glue and wrap it in newspaper. Cut the paper around the bottom to fold it in. To make the heart pendant, glue pretty paper on both sides of the cardboard, press the heart-shaped cookie cutter on it and trace the inside with a pen. Then cut the cardboard heart out along the lines, insert it into the cookie cutter and attach the finished pendant to the pot with matching ribbon. Incidentally, this distinctive poinsettia variety with its curly bracts is the perfect choice for all those who love extraordinary things.
More pictures and texts with decoration and gift ideas as well as further information on poinsettias can be found in a free download at www.stars-for-europe.eu.Reprint free of charge with reference to the "Stars for Europe" image source, specimen copy requested.