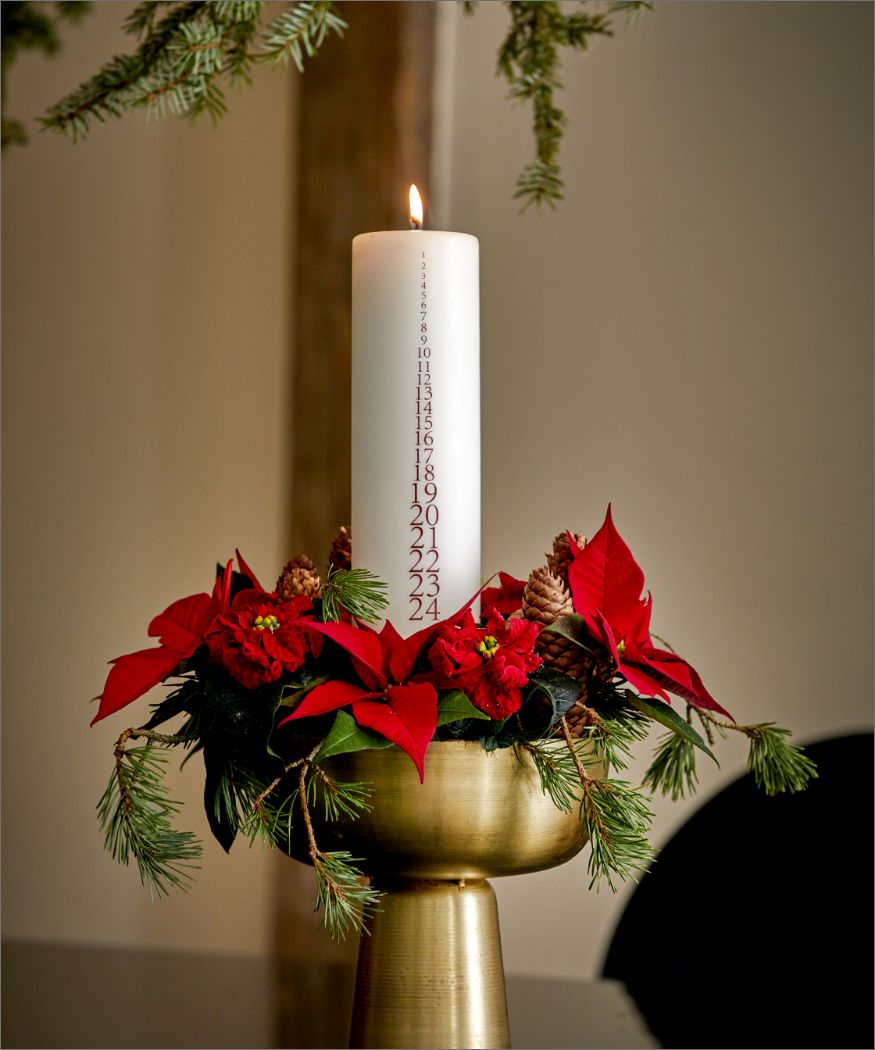 Feel the magic of Advent Advent. Advent wreaths and calendars featuring poinsettias.
For many people, the weeks before Christmas are pure stress. With one appointment after another, it's hard to pause and feel the magic of Advent. This makes it all the more important to cherish traditions and rituals from childhood. Through them, you can experience the magic of Christmas all over again. Advent wreaths and calendars are among the most important customs in the run-up to Christmas.
They create a celebratory mood, fill hearts with anticipation and give the festive season back its contemplative nature. Here the experts at Stars for Europe (SfE) share ideas for Advent calendars and wreaths featuring poinsettias, guaranteed to bring back the magic.
Bright and beautiful Advent wreath ideas for every taste
The Advent wreath has been an integral part of the run-up to Christmas in much of Europe since the 19th century. In the beginning, wreaths were decorated with 24 candles, but today there are usually four, one for each Sunday of Advent. There's a perfect wreath for every taste and interior but, whether you prefer a classic, modern or showy style, poinsettias will make every wreath stand out, as the following examples show.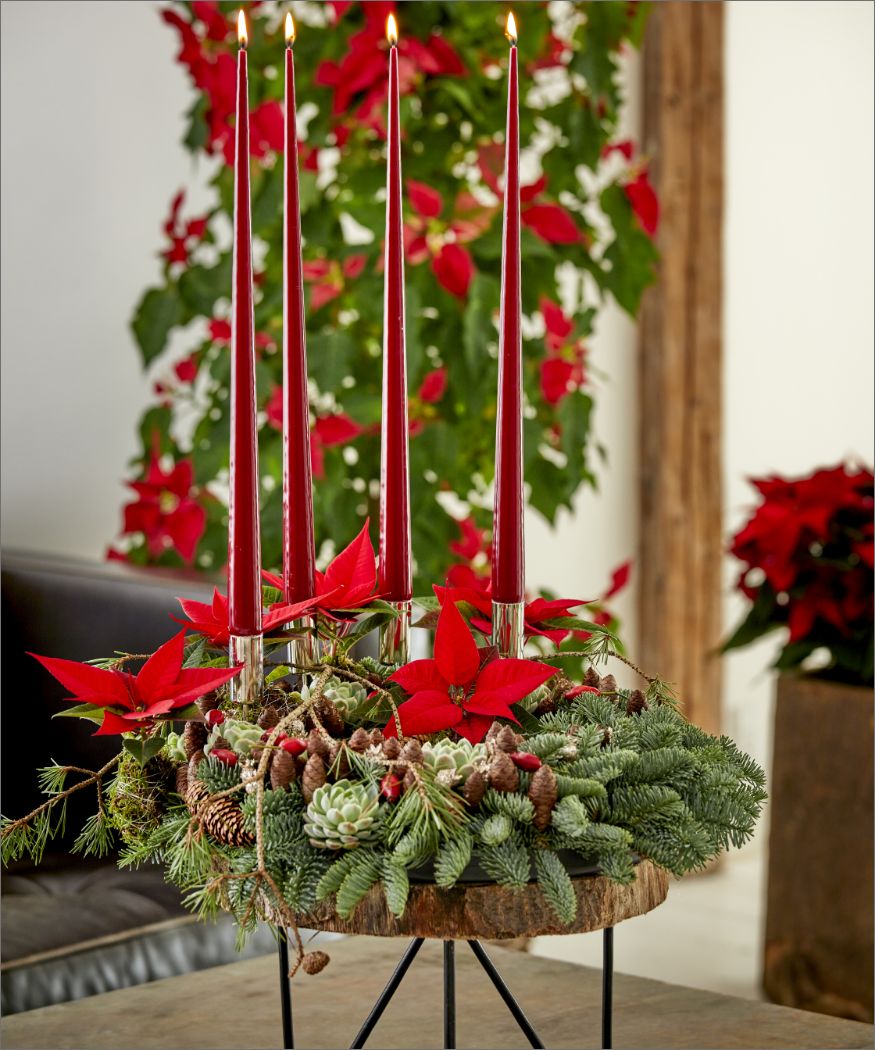 Lush, natural, classic wreath
A natural, freestanding centrepiece with a distinctive look: spruce and fir cones, echeveria, rosehips, evergreen branches, cut poinsettias and four taper candles in golden candle holders all decorate this Advent wreath in the classic Christmas colours of red and green.
Showy poinsettia wreath with retro charm
An Advent wreath doesn't always have to be classically or festively decorated, as this flamboyant, 1970s retro design shows.
For this flokati-inspired poinsettia wreath, you will need a tray or plate, two straw wreath frames (one sightly smaller than the other), faux fur trim, a planting bowl, compost, poinsettia plants, decorative pins, hot glue and a glue gun, dried floral materials for decorating (such as eucalyptus, Carlina Acualis (silver thistle), Lunaria (Honesty) and Rhodanthe (Paper Daisy), mossing pins, plant support sticks, candles and candle holders.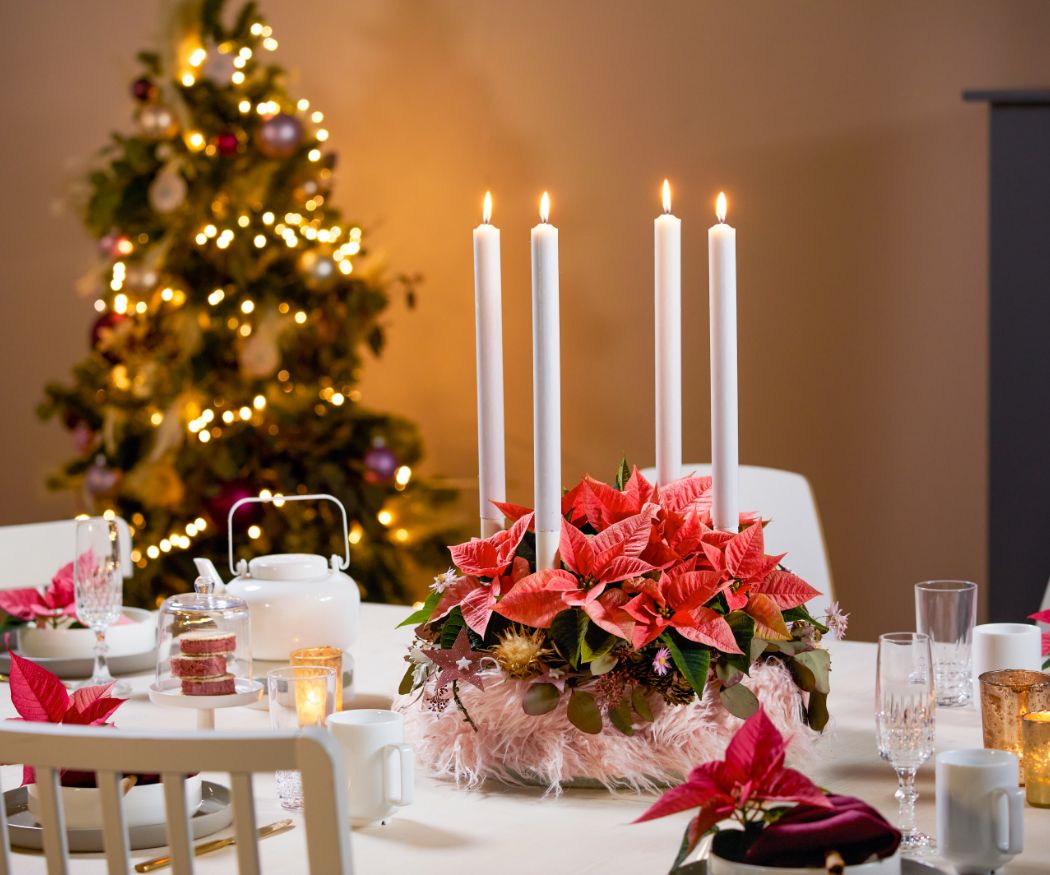 Step 1: Place the smaller wreath frame on top of the larger one and push the plant support sticks, through to join them together. Attach the faux fur trim to this base with the decorative pins.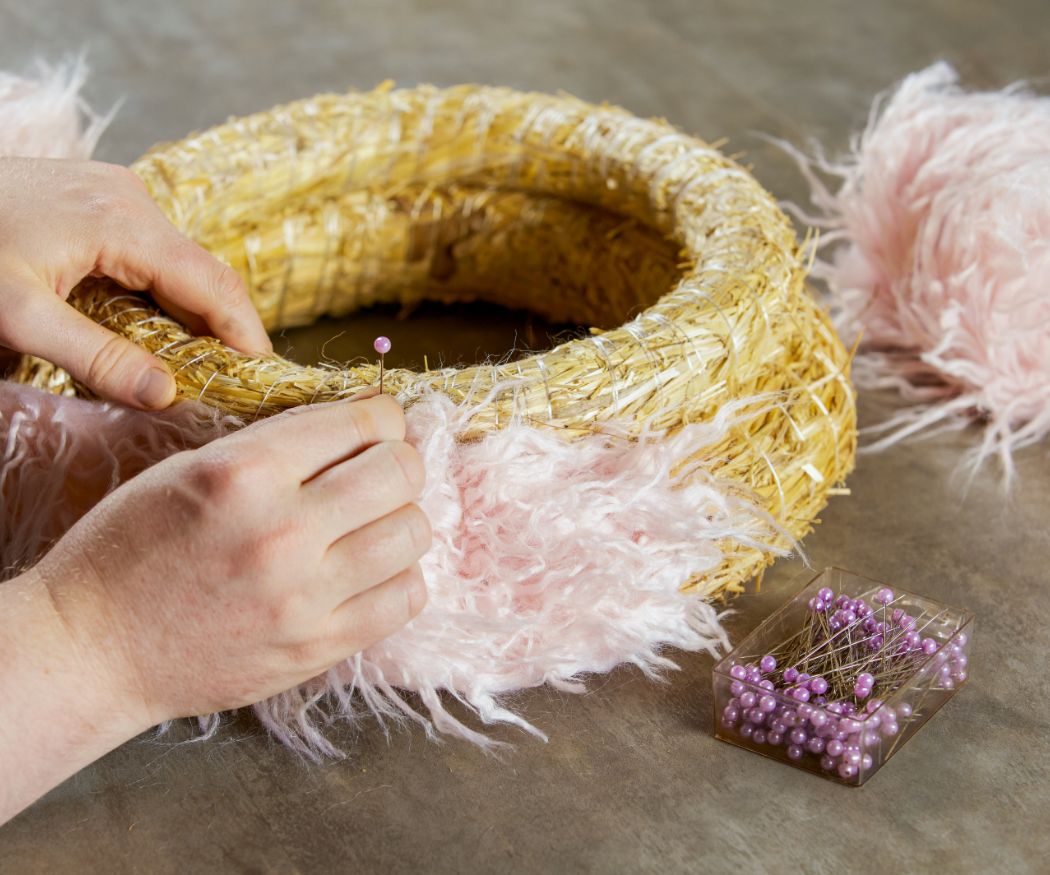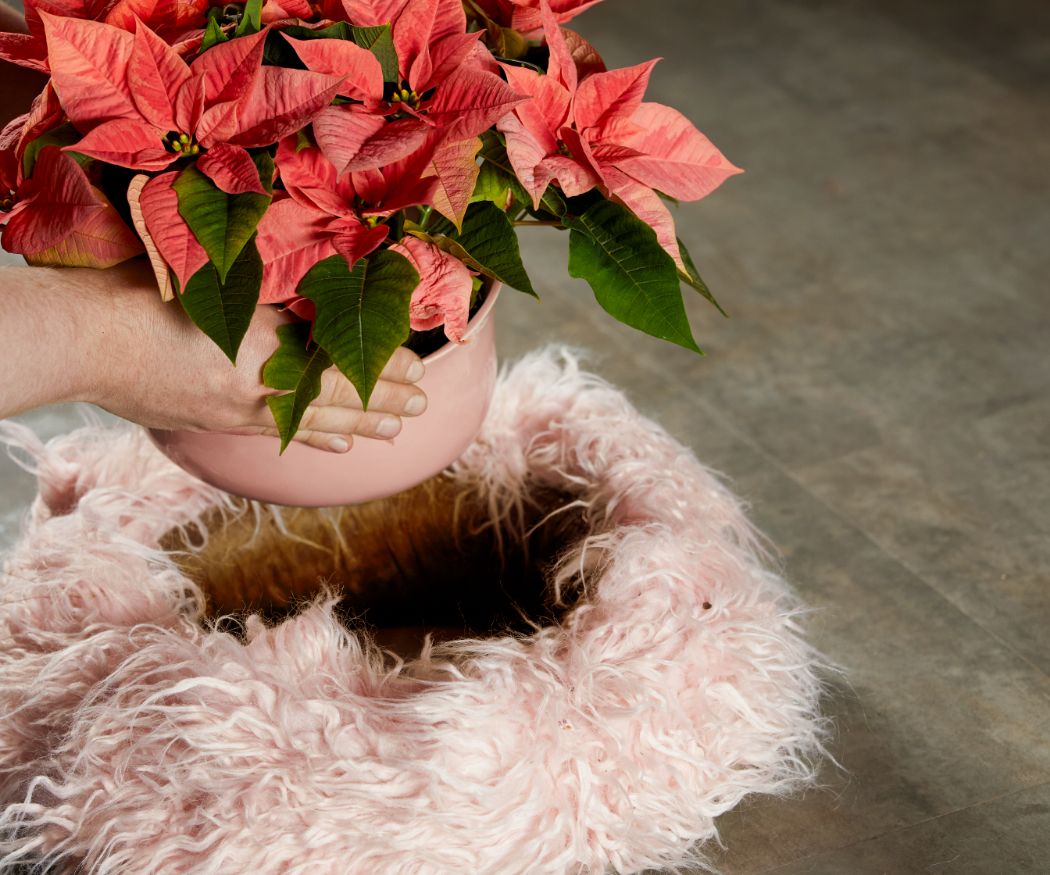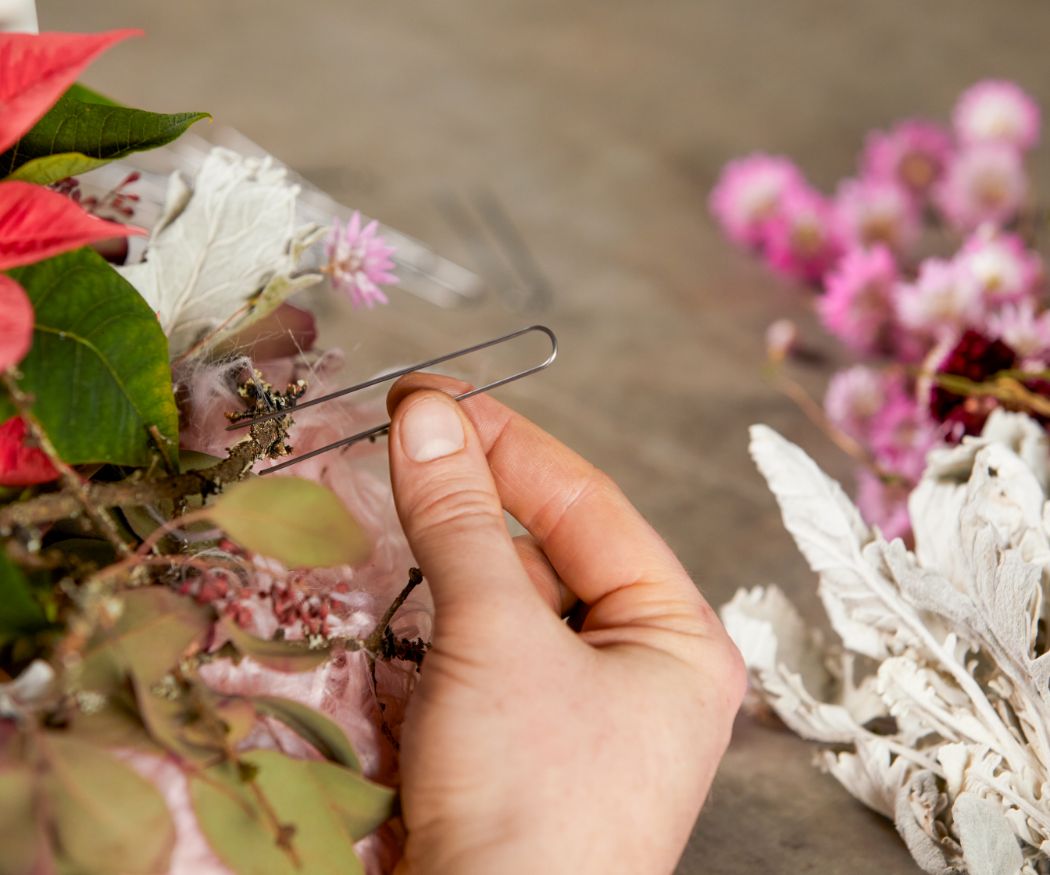 Step 2: Place the plate or tray under the wreath. Plant up the bowl with the poinsettias and place it in the centre of the frame.
Step 3: Attach the dried florals to the top of the wreath frame with the mossing pins. Secure the candle holders in place with hot glue and insert the candles. Done!
Remember: Never leave a candle burning unattended!
Romantic vintage wreath
This crafted Advent wreath, featuring cut poinsettias and candles in warm blush tones, has a romantic vintage feel. It's easy to make.
First cover a straw wreath frame with moss, then add evergreen foliage, tinted eucalyptus, small pine cones and miniature baubles.
Then attach four pillar candles to the wreath and insert eight test tubes. Pour water into the test tubes and place cut poinsettias in them. Finally, tie velvet ribbons around the candles and place the wreath on a vintage cake holder.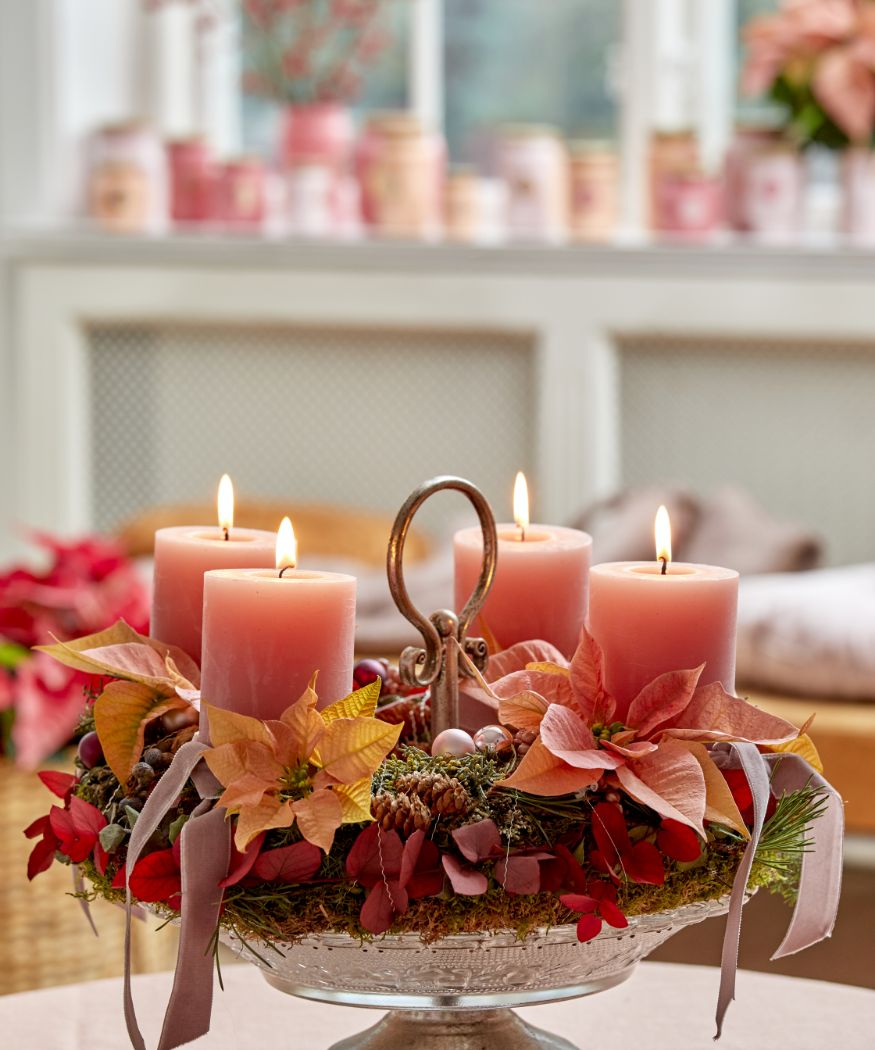 Elegant natural wreath in autumnal tones
This Advent wreath in autumn shades does away with the usual pine greenery. The base is a straw frame covered with dried hydrangea heads and placed on a tray.
For festive glamour, cream-coloured mini poinsettias are planted in the centre of the wreath and it is topped with glittered Christmas baubles and four white taper candles in copper-coloured candle holders.
Ilex and gold sprayed grasses and ears of corn provide an extra festive touch.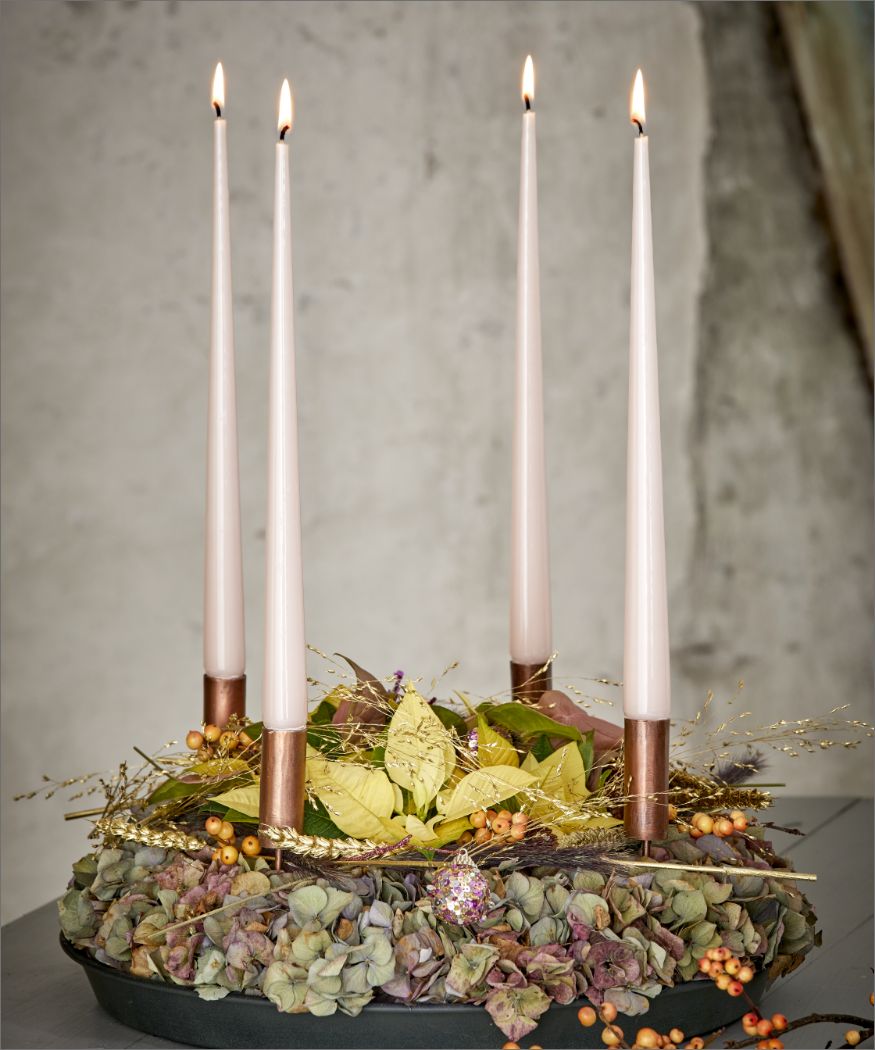 Modern crafted wreath in Scandinavian style
This crafted Scandi-style Advent star in is a modern alternative to the classic round wreath. A minimalist piece, made of pale wooden mini logs, it beautifully sets off the star-shaped, red bracts of the cut poinsettias. The design is very simple to make too.
You will need: lengths of pale wooden dowling of different thicknesses, a fine tooth handsaw, a mitre box for easy cutting of the wood, a cardboard star template, a hot glue gun and glue stick, scissors, four taper candles and a candle holder for each, three test tubes, cut poinsettias, small decorative wooden stars and hearts for decorating.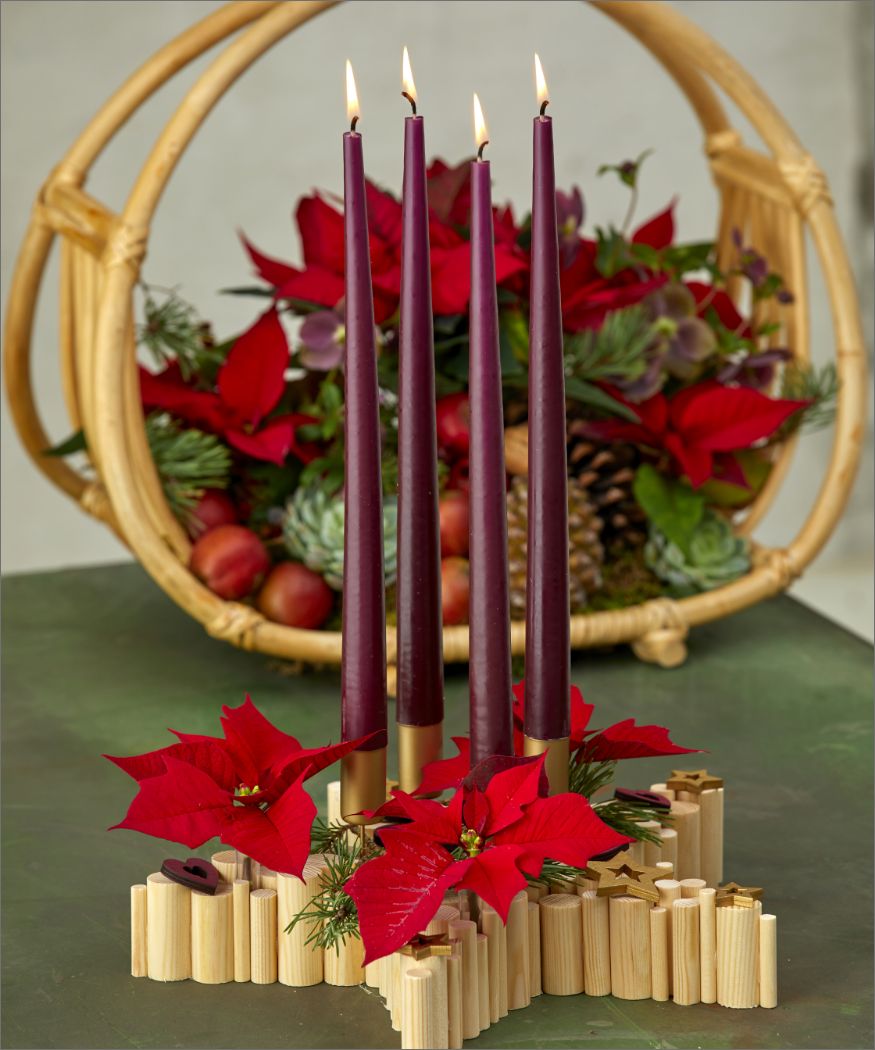 Step 1: Use the mitre box to cut 100-120 pieces of wood of different lengths from the wooden dowling. In the model shown here, the pieces are 4.5, 5 and 5.5 centimetres long.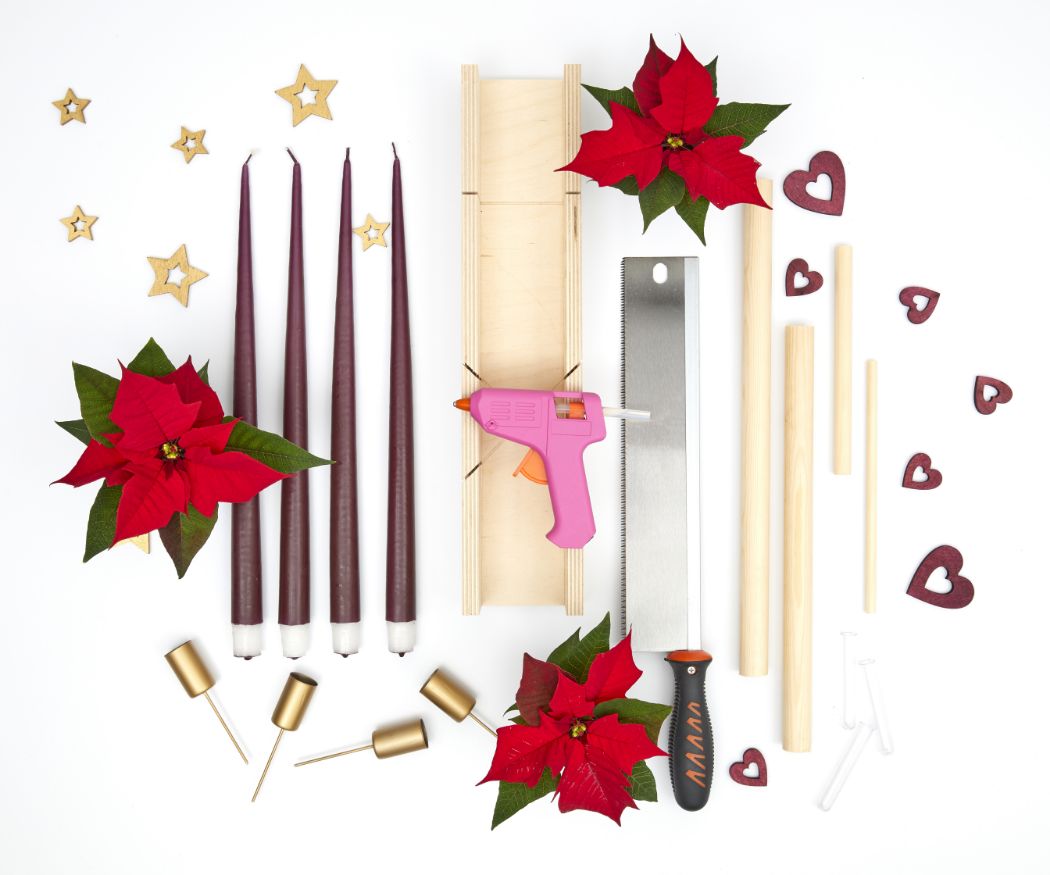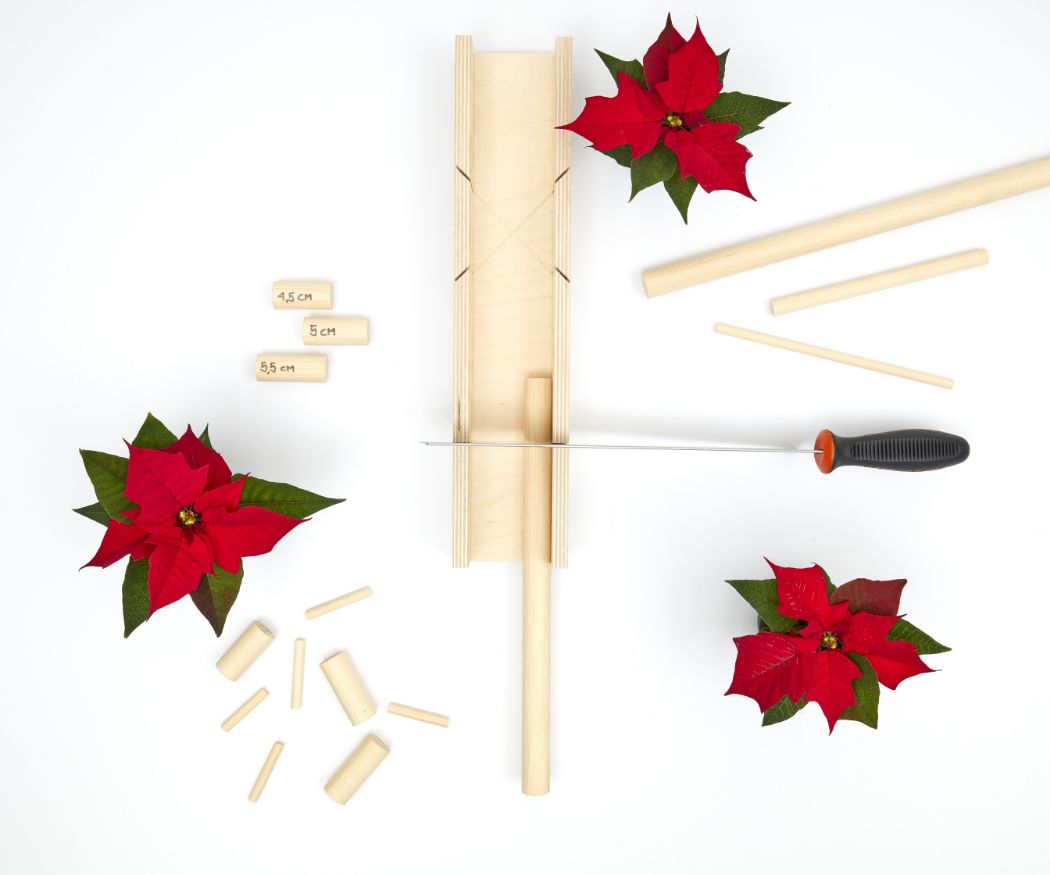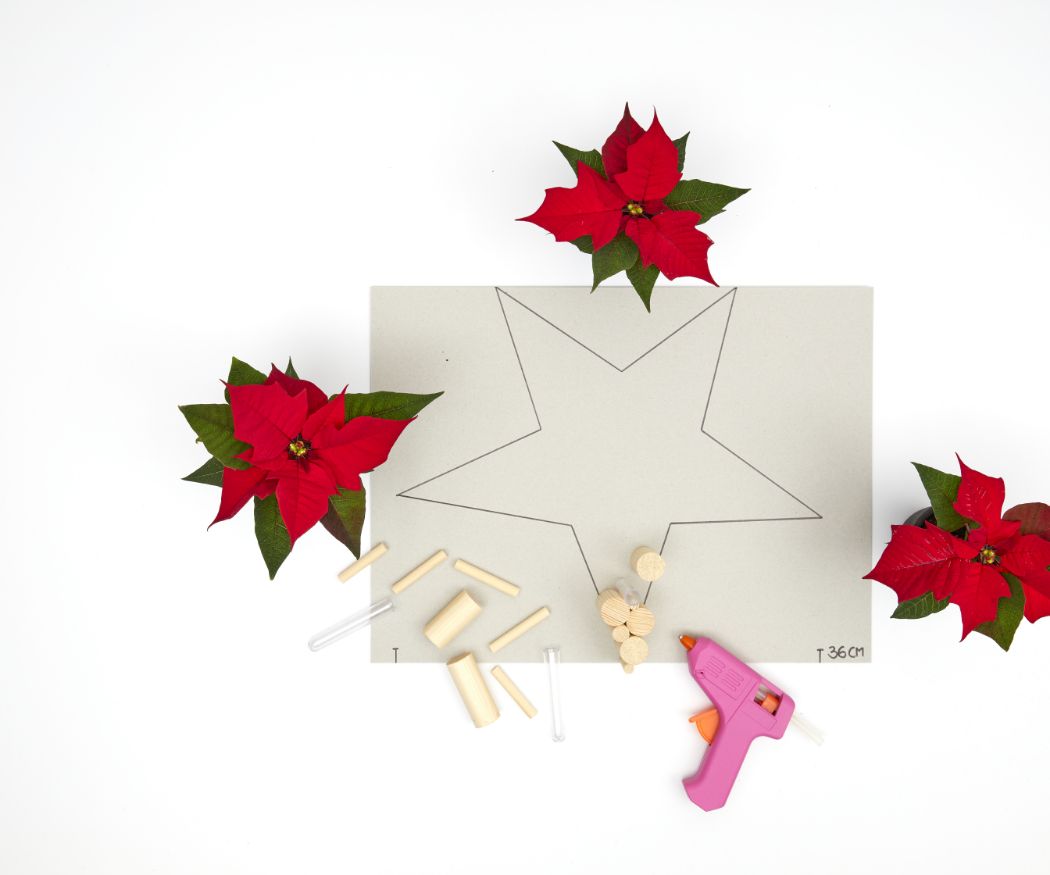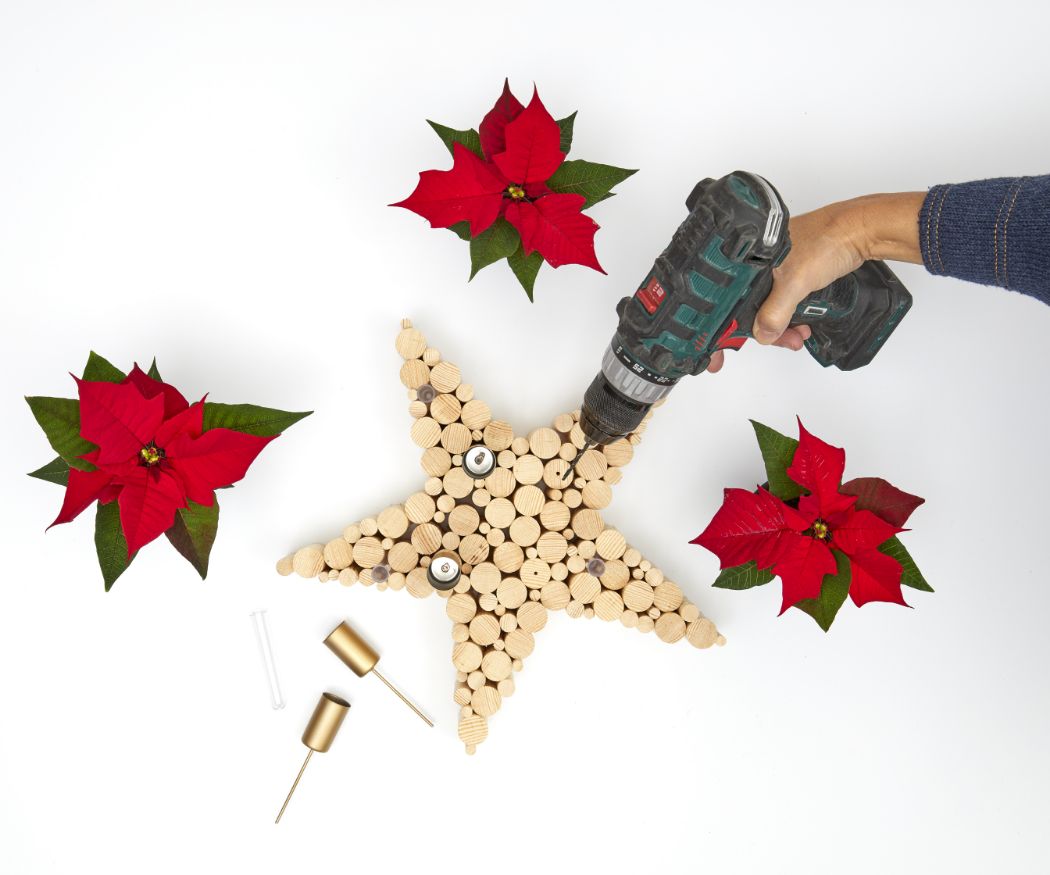 Step 2: Glue the pieces of wood onto the star template with hot glue, alternating different lengths and thicknesses of wood. Make sure you leave three gaps between the lengths of wood, big enough to hold one test tube each. Once the glue is dry, cut away the excess paper around the star template.
Step 3: Place the candle holders and test tubes. Drill holes in four of the thicker pieces of wood to secure the candle holders. Place the three test tubes in the gaps you left between the pieces of wood and secure them with hot glue if necessary. Then place the candles in the candle holders and glue the decorative hearts and stars onto your wooden star. Finally, fill the test tubes with water and place the cut poinsettias in them.
DIY poinsettia Advent calendar
Twenty-four little gifts, one for each day in December until Christmas Eve. Like the festive wreath, the Advent calendar has been an integral part of the run-up to Christmas since the 19th century. And, like the wreath, it's was designed to heighten anticipation of the festivities and speed up the wait until Christmas Eve. Children enjoy an Advent calendar as much as adults. This is especially true if someone has spent time and love making it themselves. Our two DIY poinsettia Advent calendars are real beauties that we're sure you'll love.
Upcycled Advent calendar
In this first DIY upcycled Advent calendar, the pre-Christmas surprises are hidden in 24 upcycled jars with lids. Spray-painted in pastel shades and decorated with number stickers, the jars perfectly match the poinsettias and winterberry (Ilex verticillata) branches standing between them on the windowsill.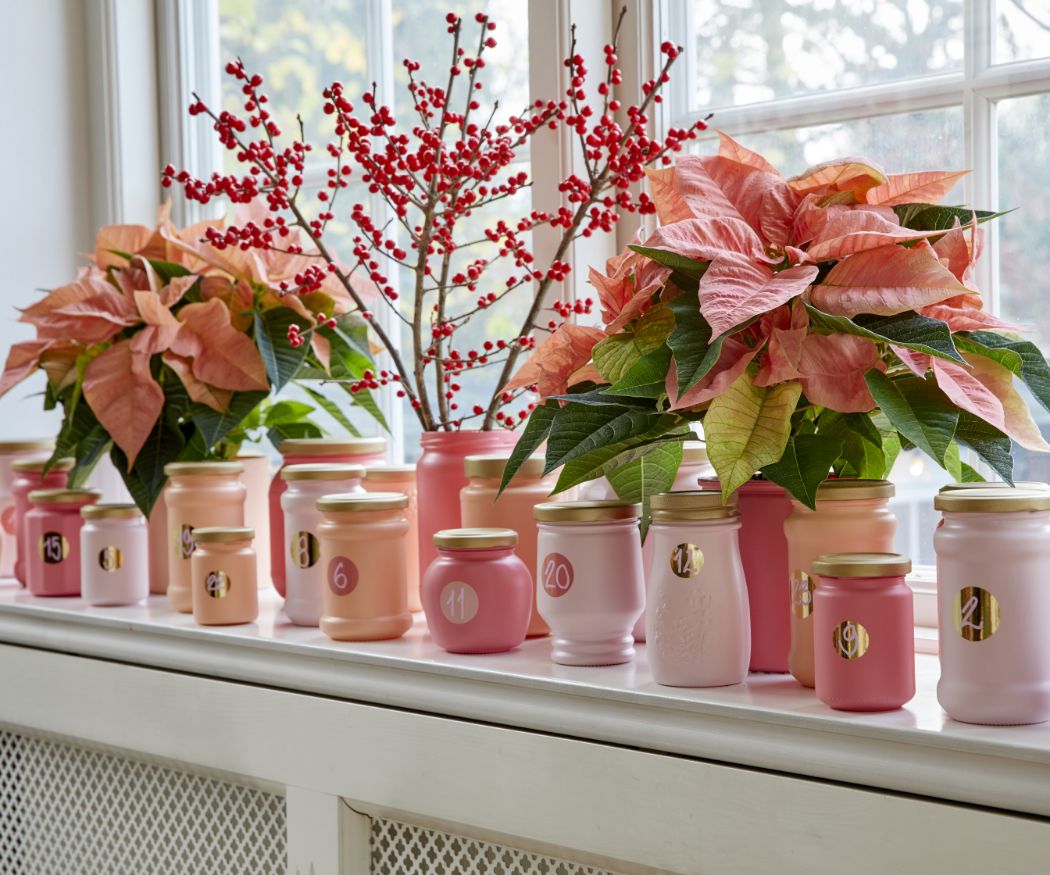 To make this decoration, you will need 24 empty glass jars with lids, spray paints in gold and various pastel shades, gold and pastel stickers, a pen and two pink poinsettias, four or five winterberry branches in matching pots.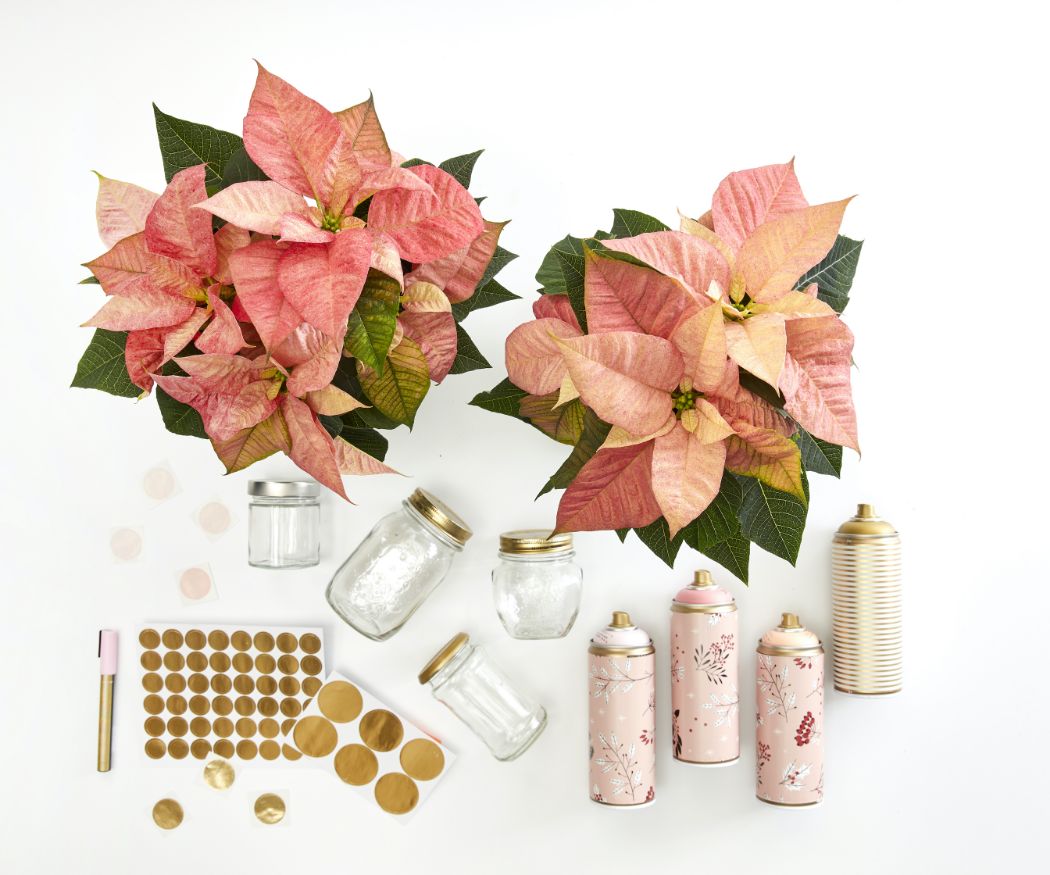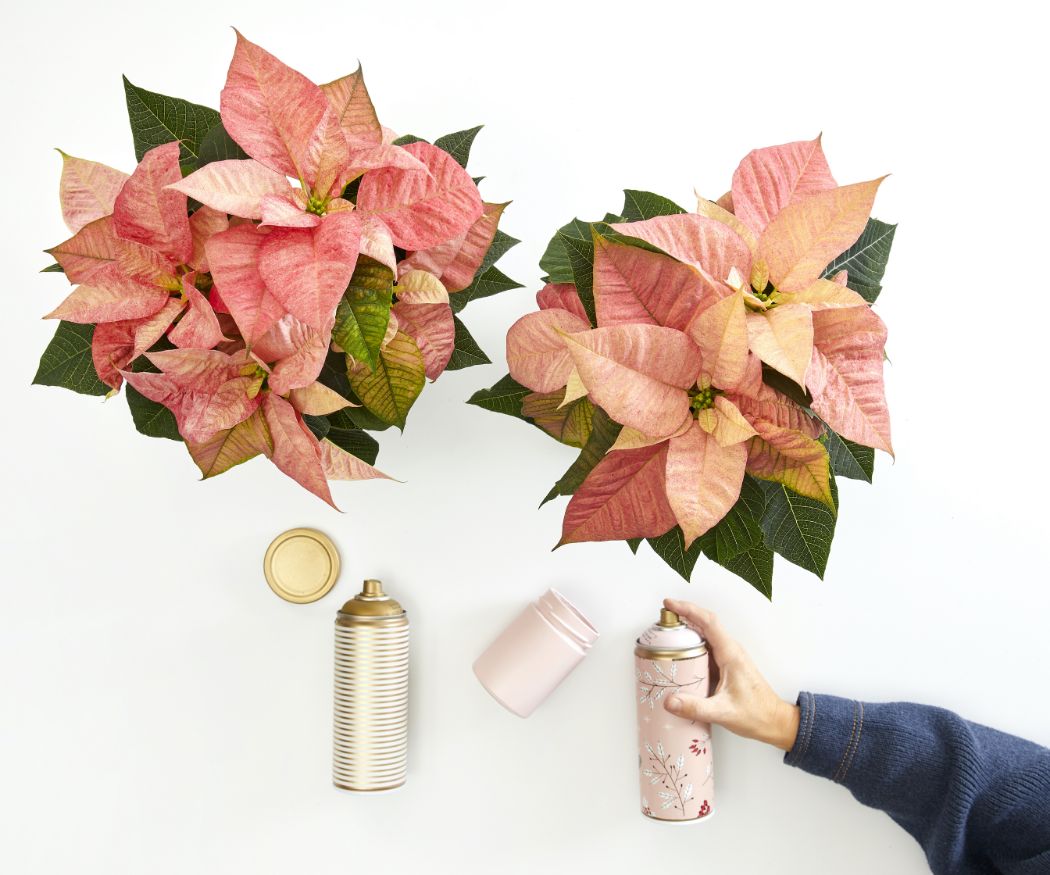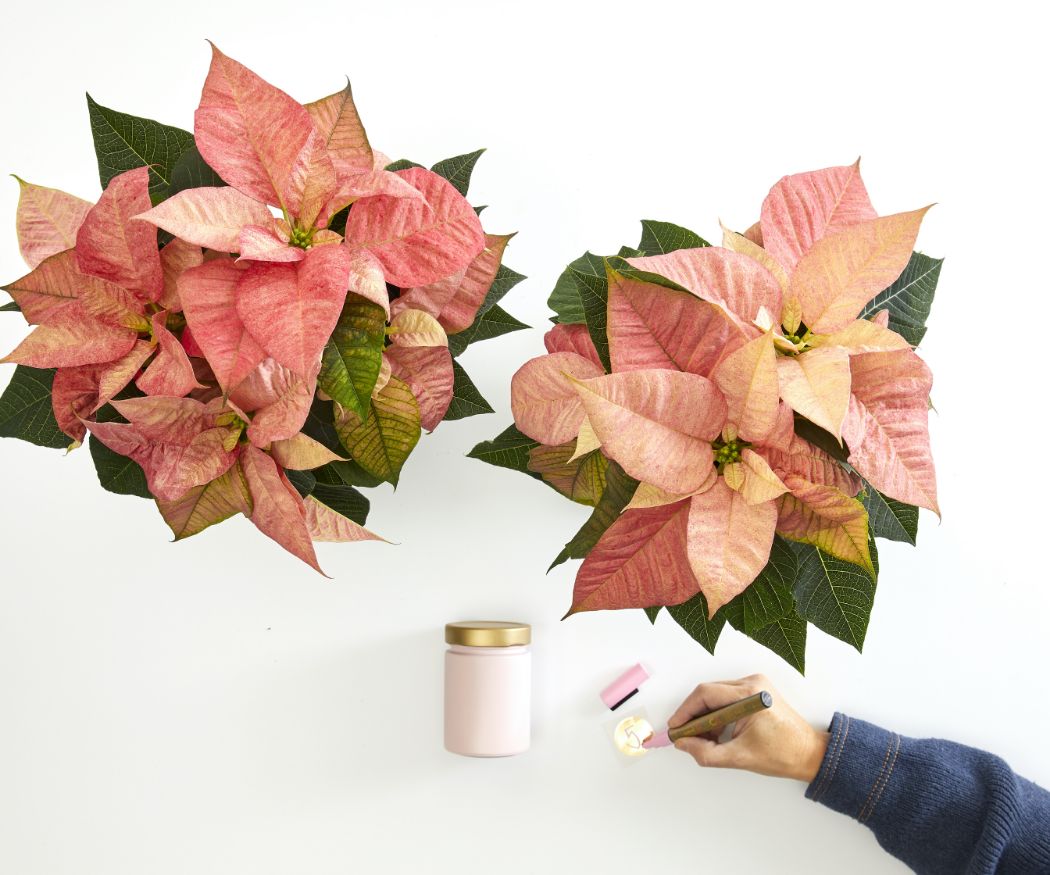 Spray the lids in gold and the jars in different pastel shades. Leave to dry. Once dry, write the numbers 1 to 24 on the stickers and stick them on the jars. Fill the jars with small gifts, close them and arrange them together with the poinsettias and winterberry branches in a suitable place.
Cut poinsettia picture frame Advent calendar
A gold picture frame is the basis for this crafty, vintage-style Advent calendar. Instead of 24 small packages, there are four larger ones. This leaves plenty of room for glittering Christmas baubles, cones and stars, as well as beautiful cut poinsettias in romantic blush shades, making this homemade Advent decoration an evocative piece of wall art at the same time.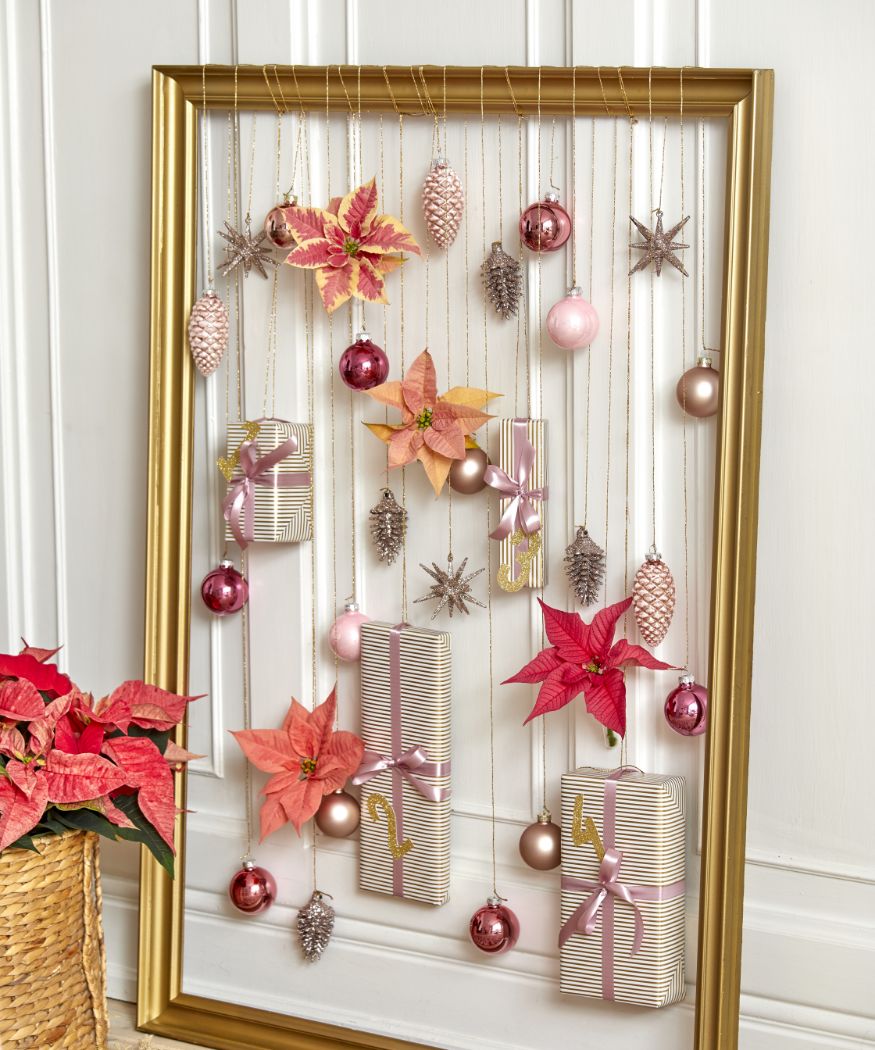 Poinsettias as cut flowers
The star-shaped bracts of cut poinsettias will keep fresh for up to two weeks if, after cutting, you first dip the poinsettia stems briefly in 60°C hot water, then immediately into cold water. Next, place them in test tubes filled with water, which you can then attach to the frame with lengths of gold thread.